Staša Gejo, compétitrice internationale Serbe spécialisée en bloc, aborde dans un article en deux parties sur le site 8a.nu (Partie 1 et Partie 2) la question récurrente des troubles alimentaires en escalade, un sujet tabou dont nous avions déjà souligné l'importance ce printemps à travers la sortie du documentaire Light. Staša revient sur ses régimes alimentaires où elle réduisait ses apports journaliers en calories dans le but de perdre du poids ; ils lui ont fait perdre jusqu'à 10kgs mais ont engendré sur le long terme des troubles hormonaux, une plus grande fatigabilité à l'entrainement, des blessures…
"Une telle forme n'est généralement pas durable. Cela peut durer deux ans, mais ensuite quelque chose se brise – l'esprit ou le corps, littéralement."

Cette question des troubles alimentaires en escalade nous semble particulièrement d'actualité et relativement pertinente au regard de récentes performances en compétition et en milieu naturel. Au-delà du côté sensationnel de la réalisation d'une difficulté inouïe, le morphotype de certains performeurs et compétiteurs interroge… Qu'importe le milieu, on cible les mêmes athlètes et les mêmes problèmes. Qu'en est il de la règle de l'IFSC imposant un suivi aux compétiteurs ayant un faible IMC ? Dans cette note en date du mois d'août, la fédération internationale réaffirme son rôle de recensement et d'information auprès des fédérations nationales et des athlètes concernés. Mais une fois la sensibilisation effectuée, certains athlètes dont la morphologie interpelle restent tout de même engagés sur les compétitions internationales… L'IFSC devrait étendre sa responsabilité au-delà des communiqués de presse, d'autant plus qu'avec l'essor de l'escalade et l'augmentation de sa visibilité auprès du grand public, les athlètes sont susceptibles d'être pris aveuglément comme modèles par de plus en plus de jeunes grimpeurs : quelle image veut-elle donner de notre sport ? Comme le déclare Staša dans la deuxième partie de son interview, "La plupart des athlètes très maigres qu'on continue de voir sur le circuit international doivent quelque part réussir à passer ces règles, je ne sais pas comment exactement." Nous avons demandé une interview au président Scolaris à ce sujet, nous espérons pouvoir vous proposer prochainement des précisions à ce sujet qui nous paraît aussi épineux qu'essentiel dans notre sport.

Photos : Matthias Woidneck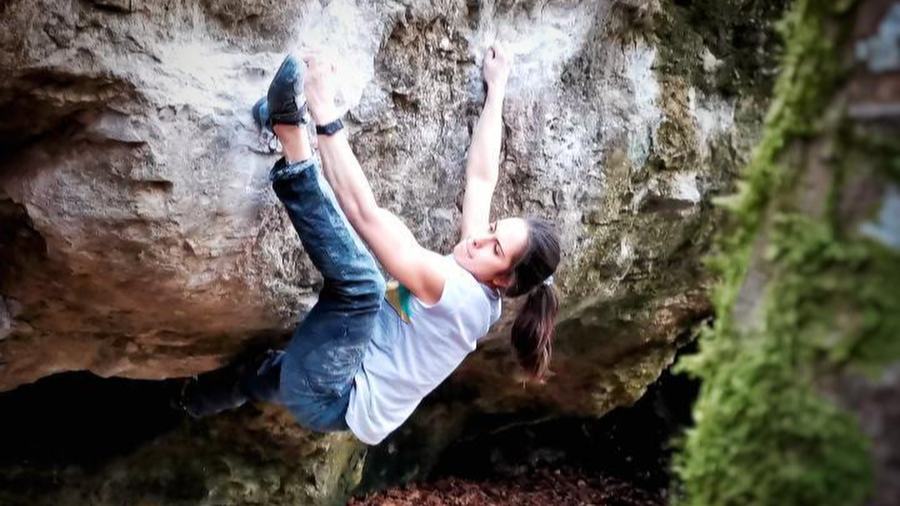 In a long article on the 8a.nu site (Part 1 and Part 2), Staša Gejo, the Serbian world cup boulderer, tackles the recurring question of eating disorders in climbing, a rather taboo topic which we highlighted in the Spring through the release of the aptly-named documentary, Light. Staša recounts her own past eating disorders, when she would shrink her calorie intake (1200cal /day) in order to lose weight; she lost up to 10kg but caused long term hormonal issues, increased tiredness after training, made her more prone to injuries and more… She concludes by saying that "Such a shape is usually not sustainable. It may last for two years, but then something breaks – the psyche or the body, literally".
The issue of eating disorders in the climbing world seems to us to be of heightened relevance in light of recent performances in competition and outdoors. Beyond the sensational achievements, the morphotype of some climbers begs the question of means and ends. Whichever the discipline, what we see is the same athletes with the same problems. What of the IFSC's rule that competitors with a low BMI should be monitored? In a statement dated August 4th 2021, the International Federation reasserted its intention to keep tabs and provide information to national federations and the athletes concerned. Yet once a report has been produced, some athletes whose morphology seems to display the stigma of eating disorders are allowed to keep on competing… It is our view that the IFSC would be well advised to extend its responsibility beyond mere press releases especially since, with the boom on climbing and its increased visibility in the public sphere, athletes are liable to be seen as examples to be blindly followed by more and more young climbers. As declared by Staša in the second part of its interview, "Most of the super skinny cases we still see on the competitions somehow pass these regulations, not sure how exactly." What image of our sport does the IFSC want to show the world? We asked IFSC president Scolaris for an interview on this, and hope to soon bring you more details on a topic that clearly is as tricky as it is essential in our passion.