Qui n'en a pas sué des ronds de chapeaux pour arriver au pied de cette falaise tant convoitée ?
Jour 1, chargé.e comme une mule avec ses 100 mètres de corde, 65 dégaines, 8 litres d'eau quotidiens nécessaires à l'accomplissement de la sacro-sainte performance, pique-nique bien emballé et le courage ceinturé au corps, le grimpeur s'élance droit dans le pentu, en route pour la marche d'approche…
Et parfois, cette dernière s'avère ardue, un peu vicieuse (un déniv' peut en cacher un autre…), ou carrément usante et sans fin, ou de temps en temps tout ça à la fois…
Deux options s'offrent alors à vous : taper le chrono pour arriver là haut le plus vite possible et lâcher un « Putain 33′ les gars, mon meilleur temps, chui une machine! » et vous écrouler discrètement entre 2 cairns pour garder un semblant de dignité, ou bien joindre l'utile à l'agréable et embarquer pour une promenade contemplative.
Car, combien d'entre nous ne prêtent même plus attention aux bords de ces chemins qui nous mènent au spot ? Combien d'entre nous ont comme des œillères quand il s'agit d'accéder à la falaise ou au bloc, focalisés sur leur projet du jour ?
Et si on envisageait la marche d'approche comme partie intégrante de la journée de grimpe, l'occasion de s'échauffer, de méditer à ce qu'on va entreprendre ce jour là, mais aussi de contempler ce petit écrin de verdure que la nature nous offre ?
Car oui, les chemins d'accès au spot eux-mêmes recèlent de petits trésors végétaux, surtout en ce début d'été.
Bel exemple, la falaise de Ceüse, réputée pour sa marche d'approche assez revêche, mais comme souvent, le panorama en récompense là-haut vaut le coup de suée !
Aujourd'hui, on vous embarque donc pour une petite balade le long des sentiers de cette marche d'approche. Chatoiement de couleurs et senteurs des pins sylvestres au programme !
Depuis le col des Guérins, on attaque par une première partie de lande, où fleurissent lavandes, genêts, églantiers…
Cette première portion peu ombragée laisse ensuite place à une section boisée, où vous pourrez admirer une multitude d'espèces végétales : serpolet, aubépine, vélar provençal, phalangère à fleurs de lis, laser de France, orobanche, euphorbe, vulnéraire des montagnes….
Enfin, on arrive au fameux pierrier, aride et très minéral avant de déboucher sur le pied de falaise. Dans cet environnement, on trouve actuellement joubarbe, muscari à toupet, muflier, ciste à feuilles de sauge ou encore la fameuse centaurée de Ceüse entre autres merveilles…
Petit portfolio pris au cours de la montée…et de la descente !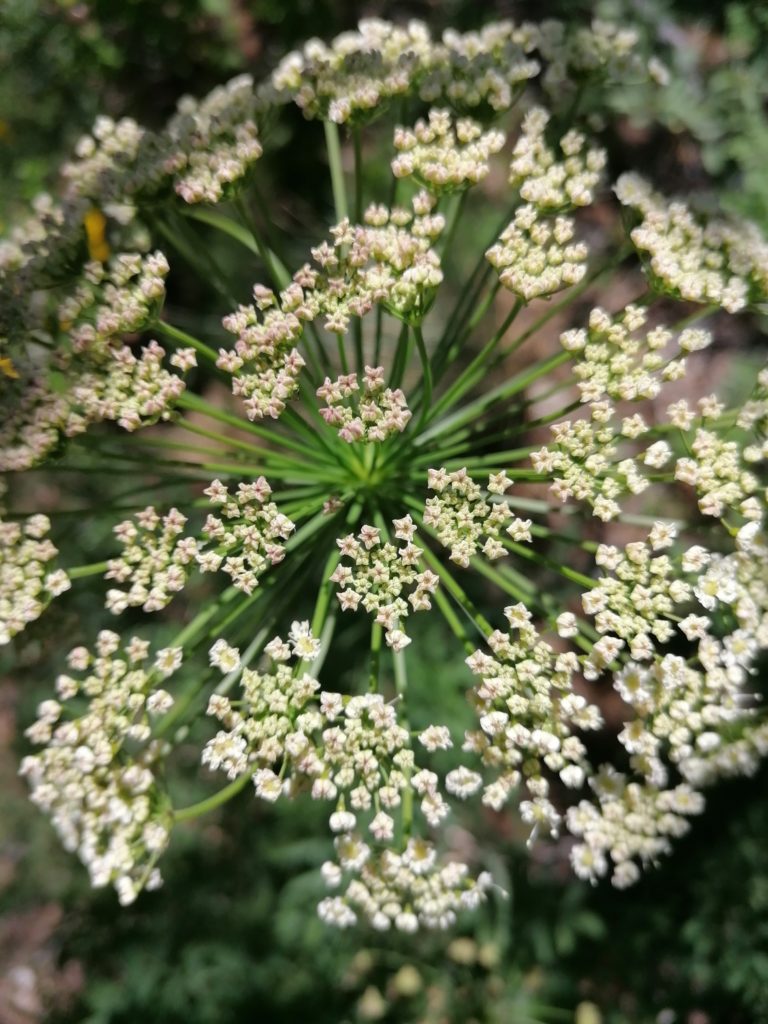 Avec le déconfinement et les ouvertures contraignantes de la plupart des salles d'escalade, beaucoup de grimpeurs optent pour des sessions outdoor.
L'occasion de rappeler certaines bonnes pratiques lorsque vous vous rendez sur des sites d'escalade en extérieur :
restez sur les sentiers pour préserver les écosystèmes
la nature n'est pas un WC à ciel ouvert… si nécessité absolue, pensez à prévoir un petit sac pour ramener votre papier toilette, à moins que vous ne l'enterriez assez profondément, tout comme votre étron… Ramenez bien entendu tous vos déchets avec vous, et n'hésitez pas à ramener aussi les déchets que d'autres têtes en l'air auraient oublié!
la musiqueuh…oui, la musiqueuh… comme le chantait Nicoletta (eh oui, chez Fanatic, on connait nos classiques!)…bah en fait non, la musique c'est dans les écouteurs et pas sur une enceinte pour faire partager vos goûts musicaux douteux à tous les environs…
brossez les prises après vos essais
stationnez-vous sur les emplacements et parkings qui ne gênent pas la circulation des autres véhicules ou l'accès aux secours, respectez les consignes d'accès
ne campez pas si le bivouac est interdit…pour la pérennité des sites en extérieur, il est important que les grimpeurs véhiculent une bonne image auprès des populations locales.
Respecter ces règles élémentaires de bon sens, c'est participer à la pérennisation de notre pratique. Etre un grimpeur responsable et respectueux doit être ancré dans notre ADN pour qu'on puisse continuer à jouir de nos terrains de jeux !
Vous pouvez retrouver les recommandations et bonnes pratiques sur des sites comme bleau.info ou encore greenspits.com
Pour aller plus loin :
– Ouvrage « Flora Verticalis, guide botanique à l'usage des amateurs de verticalité » de Cédric Dentant
– Site internet : Le Chemin de la Nature, formations en ligne sur les plantes sauvages
– Application : Plantnet, pour identifier les espèces végétales.
Cette balade florale est dédiée à Luce, qui, pendant
l'écriture de cet article, virevoltait à Ceüse dans "Mister Hyde".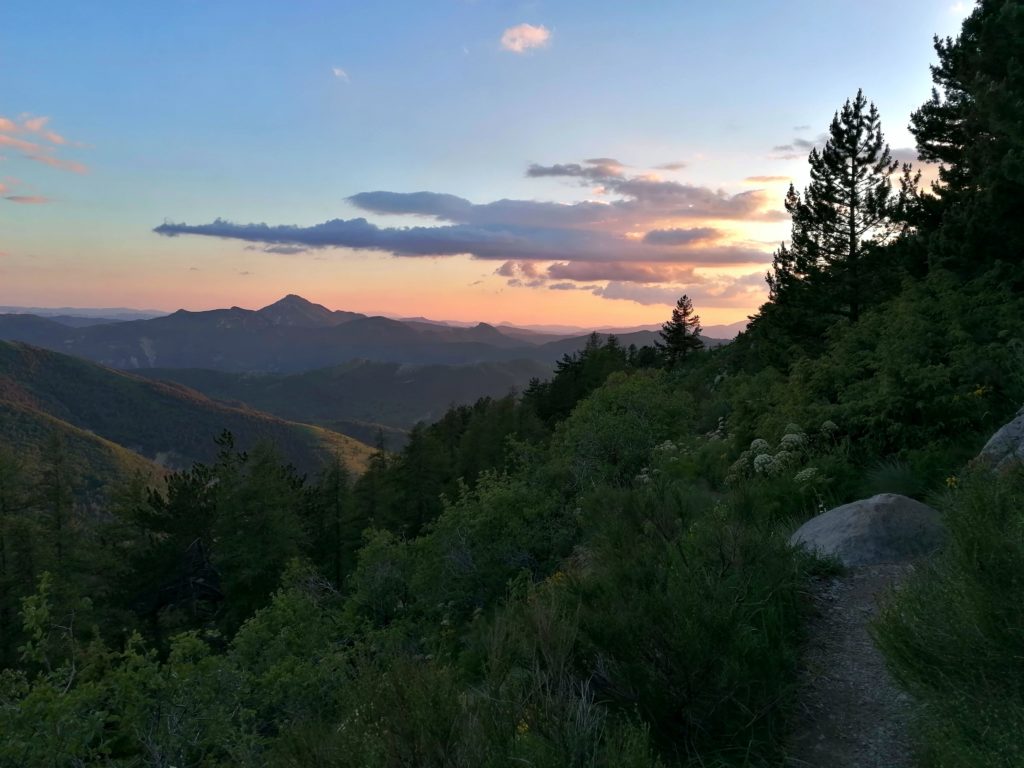 ---
Who did not struggle during the approach of Céüse?

Day 1, the climber is on the trail, off for the approach walk and loaded like a mule, courageously carrying 100 meters of rope, 65 quickdraws, 8 liters of daily water –necessary for the accomplishment of the imperative performance, and well-packed picnic. And sometimes, it turns out to be arduous, a little vicious (one stretch uphill only revealing the next one…), weary and endless…

Two options are available to you at that moment: fight the clock to get up there as quickly as possible and drop a 'Fuck 33' guys, my best time, I'm a machine! »And discreetly collapse between 2 cairns to salvage a hint of dignity, or enjoy the moment and embark on a contemplative walk.

Because, how many of us no longer even pay attention to the wonders of Nature on the sides of these paths that lead to the cliff? How many of us suffer tunnel vision when it comes to accessing the cliff or the boulder, focused solely on our project of the day?

So, what if we considered the approach walk as an integral part of the climbing day, an opportunity to warm up, meditate on what we will do that day, but also contemplate this green world that mother nature offers? Because yes, the access paths to the crags themselves can reveal small plant treasures, especially at the beginning of summer.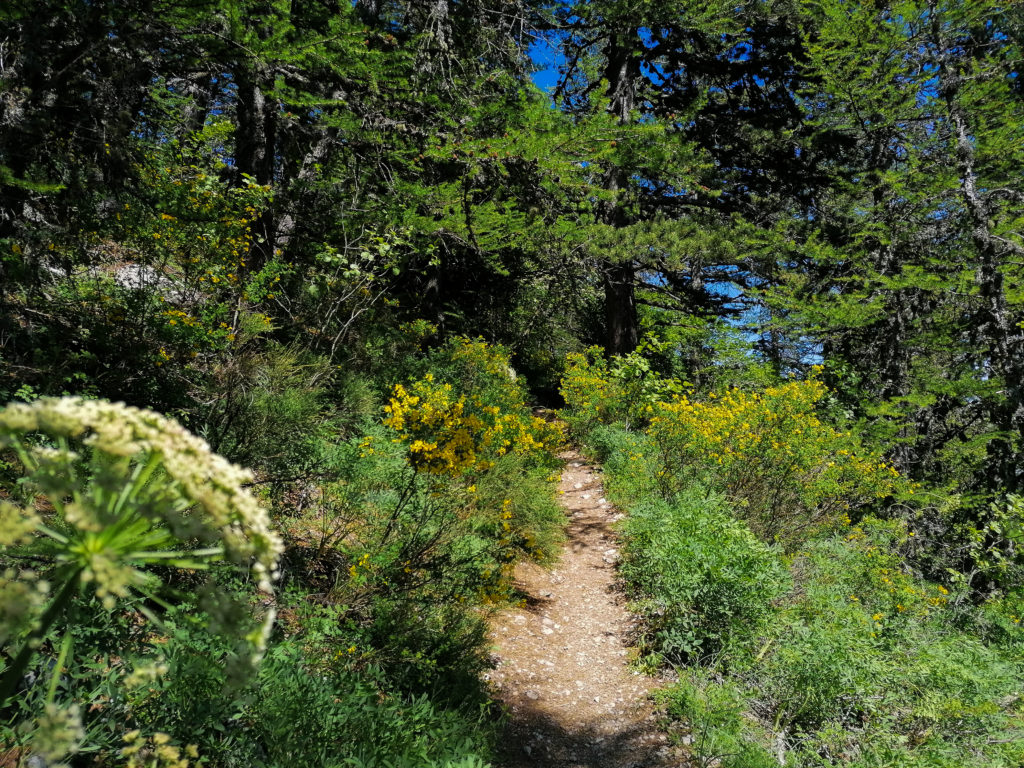 As a fine example, the cliff of Ceüse is renowned for its demanding approach, but as often, the rewarding panorama up there is well worth the sweat!
Today, we embark on a short (or not) walk along the trails of this approach; with shimmering colors and scents of Scots pines ahead!
From the Guérins pass, we start with a first part of the moor, where lavender, broom, rose hips bloom …
This first little shaded portion then gives way to a wooded portion, where you can admire a myriad of plant species: thyme, rose hips again, phalanx with lily flowers, French laser, orobanche, spurge or erysimum ruscinonens …
Finally, we arrive at the famous scree, arid and very mineral before reaching the base of the cliff. In this environment, we now find houseleek, toupee muscari, snapdragon, ceuzian moutain bluet or sage-leaved rockrose among other wonders… A small portfolio taken during the ascent ( … and descent ! ) is visible in the first part of the article (French version).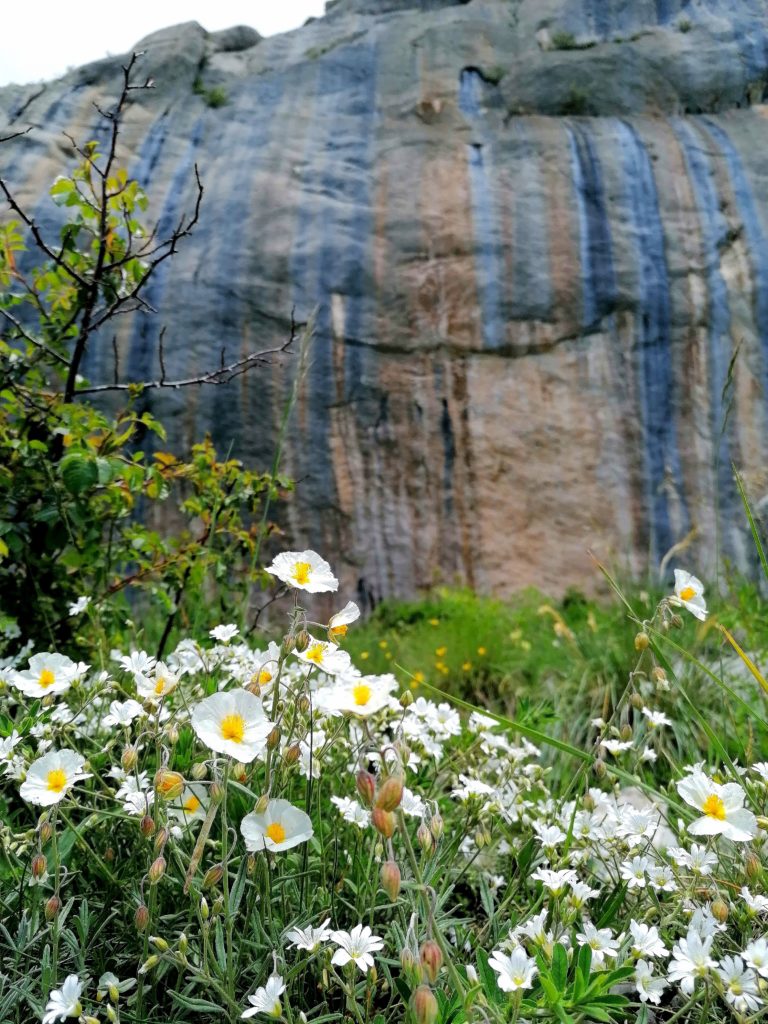 Following the end of lockdown and the complicated reopening of gyms with strict rules, a lot of climbers favor outdoor sessions. This is an opportunity to recall good practices when climbing outdoors:
stay on the paths to preserve ecosystems
nature is not an open toilet … poop at the campsite, not a the crag and if you must, use a bag to pack away your toilet paper unless you bury it deep enough.
Bring all your waste with you of course…but that's not enough.
You've probably accidentally forgotten trash at the crag at some point in your life, so do others a favor and pack the trash they accidentally dropped there.
About music … the music may sound nice in your headphones, but definitely not shared with others through a speaker. Besides, remember that others may find your taste in music questionable!
Brush the holds and tick marks after your tries.
Park in the dedicated spaces and carparks that do not obstruct the movement of other vehicles or access to emergency services, respect the access instructions.
Do not camp if it is prohibited, this can and will result in crag closures. For the sustainability of outdoor sites, it is important that climbers convey a good image to local populations.
Respecting these elementary rules contributes to the sustainability of our practice. Being a responsible and respectful climber must be anchored in our DNA so that we can continue to enjoy our playgrounds !

More:
– Book « Flora Verticalis, guide botanique à l'usage des amateurs de verticalité » (writer: Cédric Dentant, french)
– Website : Le Chemin de la Nature about plants (in french)
– App : Plantnet, to identify the plants
This contemplative walk is dedicated to Luce who was dancing
and twirling around in "Mister Hyde" during this article writing.