(English below)
Il y a quelques semaines se tenait au Grand Rex la première projection en France du film "The Dawn Wall" racontant l'histoire de l'ascension du big wall le plus dur du monde. La voie de près de 1000m se situe à El Cap, Yosemite (USA), compte 32 longueurs avec des difficultés allant jusqu'au 9a, et a été libérée en janvier 2015 par les grimpeurs américains Tommy Caldwell et Kevin Jorgeson. Les deux protagonistes avaient fait le déplacement à Paris, l'occasion de leur en demander un peu plus à propos de cette aventure.
Tommy, comment as-tu entendu parler de la ligne au début ? C'était une ligne d'artif mais comment as-tu eu l'idée du libre ?
Tommy : J'ai passé 15 ans à grimper sur la paroi d'El Cap (Yosemite), j'ai grimpé de nombreuses autres voies et le Dawn Wall (le mur de l'aube) était la dernière face non escaladée de la paroi. La nature du rocher étant différente (pas de système de fissure), il semblait alors impossible de grimper en libre mais j'ai grimpé tant d'autres voies à El Cap que je me demandais s'il était possible de trouver un cheminement…
Kevin, comment un bloqueur peut-il se laisser embarquer dans une telle aventure ?
Kevin : Oui, j'étais à ce moment-là vraiment à fond dans le highball et mes projets devenaient de plus en plus dangereux. J'ai réalisé que tous mes nouveaux projets étaient de plus en plus du solo. J'ai donc voulu changer de style et j'ai vu une courte vidéo de Tommy en train de travailler la voie, en disant essentiellement "Hé ! la prochaine génération, vous voulez l'avenir, obtenez-le '. J'ai pris cela comme une invitation, donc j'ai demandé à Tommy s'il avait besoin d'un partenaire.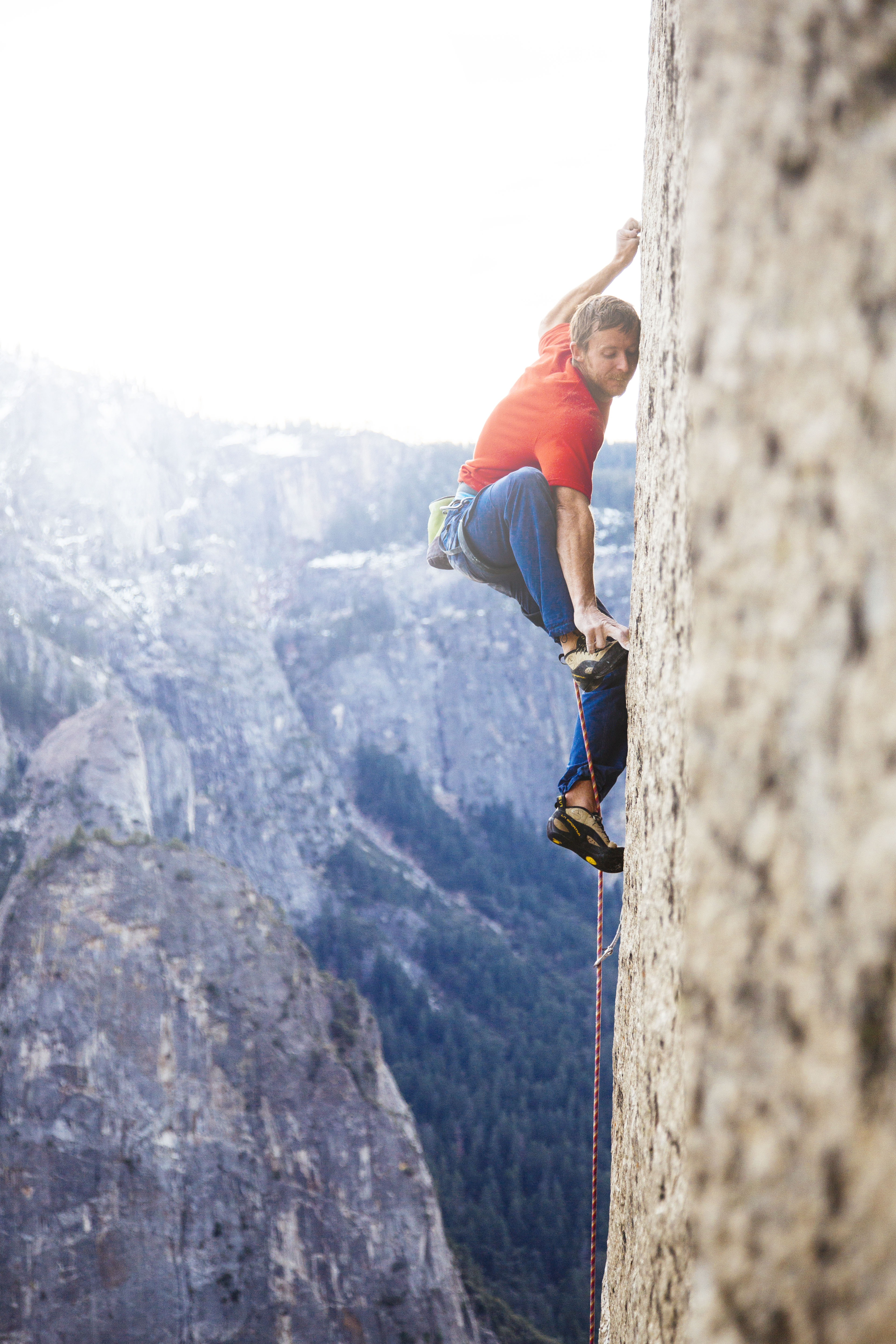 Comment avez-vous réussi à garder pareille motivation à essayer 7 années de suite là où plein d'autres auraient abandonné ? C'est une persévérance hors du commun !
Tommy : Je pense que notre motivation a faibli un peu, mais c'était une expérience tellement cool, être sur la paroi d'El Cap, c'est un endroit magnifique. Nous étions toujours en train de trouver une petite amélioration, nous avions le sentiment de nous rapprocher de l'objectif final, Après c'est vrai qu'il y a eu des moments où nous pensions "Nous n'arriverons pas à le faire, nous sommes juste en train de perdre tout ce temps", mais je pense que dès que nous étions en train d'abandonner mentalement notre corps nous disait "Non je ne veux pas abandonner". J'ai toujours trouvé fascinant les gens qui trouvent la joie là où les autres ne la voient pas, et cet état d'esprit m'a aussi aidé.
Comment cela se passe niveau équipement ? Y a t-il des parties en mixte ou entièrement en trad et les longueurs clés uniquement équipées ? Ou la voie est maintenant complètement équipée ?
Tommy : Nous n'avons équipé que les sections les plus dures de la voie et qui n'avaient pas été grimpées en artif. Nous avons aussi équipé les passages qui étaient totalement vierges et où il n' y avait pas une chance de protection naturelle. Mais c'est quand même un itinéraire assez effrayant, les protections sont très mauvaises et c'est parce qu'on grimpe sur des voies qui sont initialement cotées A3 ou même A4.
Kevin : La longueur 7 est par exemple un vrai longueur d'actif, c'est vraiment très dur à protéger, il faut vraiment des protections toutes petites du style des petits crochet en aluminium.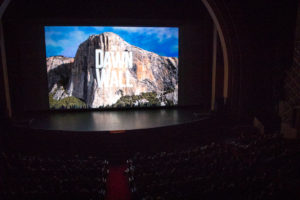 Quand est-ce que vous avez compris que votre tentative de ce mois de janvier 2015 allait être la bonne ?
Kevin : Tommy et moi l'avons abordée un peu différemment. Je pensais qu'il n'y avait plus rien de plus à faire, qu'il n'y avait plus de mystère, qu'il fallait juste y aller.
Tommy : Nous avions passé une partie de l'année dans la voie et chaque fois on cochait une nouvelle petite case dans la liste des ingrédients pour réussir. On était dans cet état d'esprit jusqu'à deux semaines avant la grosse tentative. Et quand on a eu l'impression d'avoir toutes les pièces du puzzle en main, il était alors "seulement" question de les imbriquer.
Les longueurs clés du Dawn Wall, 14 et 15, sont en traversée. Un style spécifique et atypique pour des longueurs si dures, sur des minuscules rasoirs et des mauvais pieds. Comment vous-êtes vous préparés à cela ?
Tommy : Je ne me suis pas entraîné spécifiquement pour ces longueurs, de toute façon je ne suis pas un grimpeur très fort, j'ai besoin de m'entraîner tout le temps avec un routine complète (du bloc pendant un mois, puis un peu de voie, puis aller à Yosemite pour essayer toutes les longueurs). Un point déterminant a été d'obtenir la bonne épaisseur de corne sur la peau des doigts. Il y en avait parfois trop alors nous devions attendre et la laisser s'amincir. Obtenir la composition de la peau des doigts parfaite était très délicat. Nous le faisions en grimpant sur un rocher tranchant similaire environ 3 semaines avant de nous rendre au Yosemite.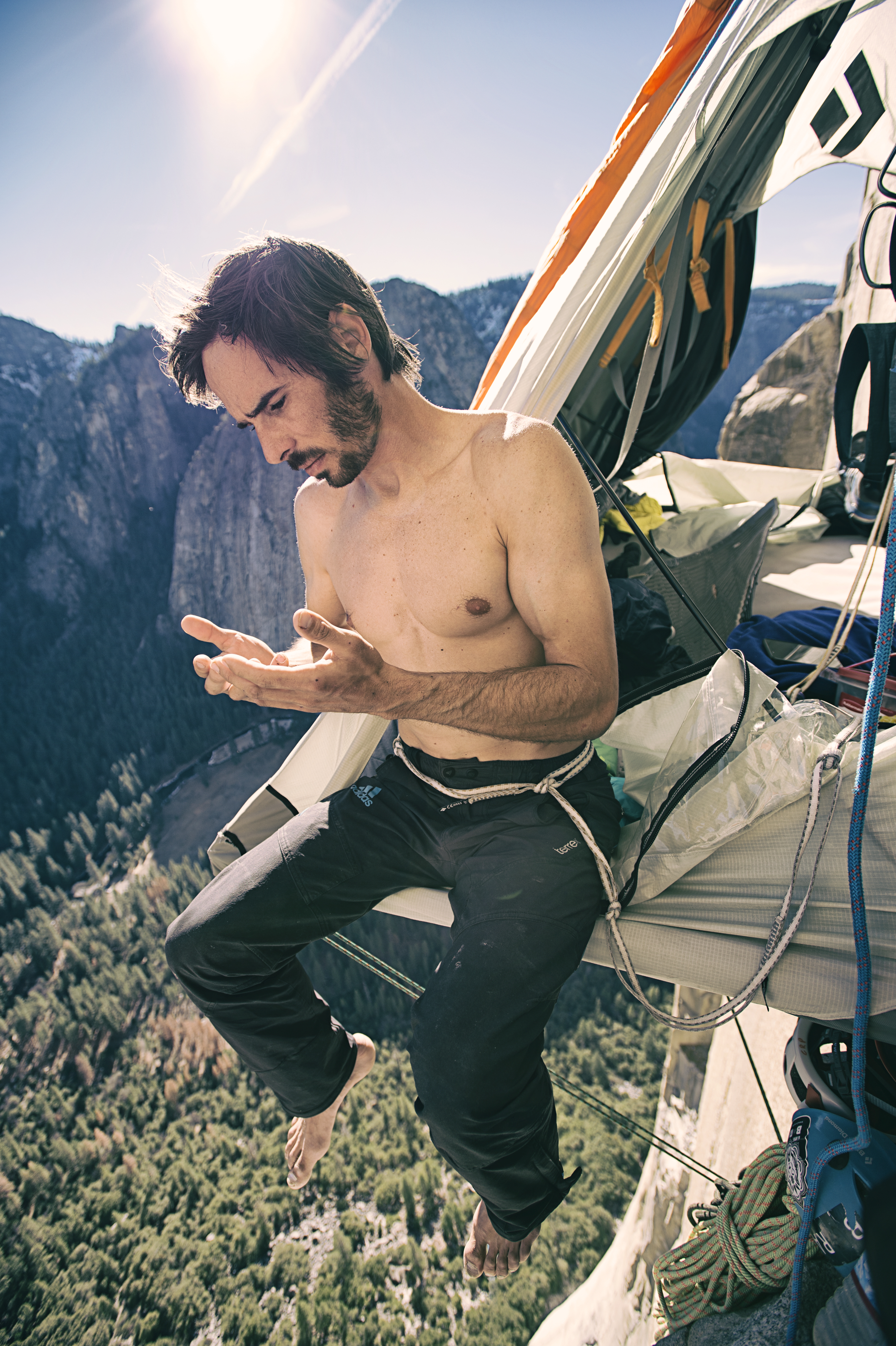 Vous êtes vous entraînés spécifiquement pour The Dawn Wall ? SI oui comment ? Volume ? Ou travail du bloc pour certains passages ?
Kevin : La majeure partie de mon entraînement consistait à m'habituer à la paroi elle-même, mon entraînement était plus mental que physique. J'avais l'habitude de m'entraîner à la poutre et en faisant du bloc mais ma bataille était plus mentale; quand mon esprit a eu le déclic mon corps a suivi.
La dernière longueur clé (N°16) propose ce fameux double jeté ou alors l'alternative avec la boucle et de la désescalade. Vous avez opté chacun pour une option différente du libre (Kevin le jeté, Tommy la boucle). Quelle est pour vous la voie la plus pure ?
Tommy : Si vous êtes capable de faire le jeté, c'est la voie à suivre mais Kevin est le seul à pouvoir le faire ! Nous avons amené Chris Sharma, Jonathan Siegrist, je l'ai essayé des milliers de fois et personne ne parvient à le faire. J'adorerais réussir à passer par le jeté, mais je ne suis pas pour autant triste d'avoir fait l'autre version, c'était créatif, c'est vraiment unique. C'est une expérience dramatique parce que la situation était "il ne me manque que ce mouvement" et ensuite j'ai trouvé cette solution unique de boucle.
Kevin : Je ne pouvais pas croire que la boucle fonctionne, c'était juste fou. Je plaisantais avec Tommy en lui disant que la voie avait toutes les autres choses que de l'escalade peut offrir et qu'il voulait simplement ajouter une section de désescalade pour vraiment avoir tous les styles. Mais moi, je n'ai jamais pensé à faire la boucle. Au début, ce qui m'inspirait dans la vidéo que j'avais vu sur la voie, c'était vraiment le jeté donc je ne me voyais pas ne pas le faire.
Tommy : Au fait, Adam Ondra a fait la boucle, il ne pouvait pas faire le jeté.
Kevin : Adam m'avait dit qu'il envisageait de faire le jeté et ensuite, en l'essayant, il a décidé de faire la boucle…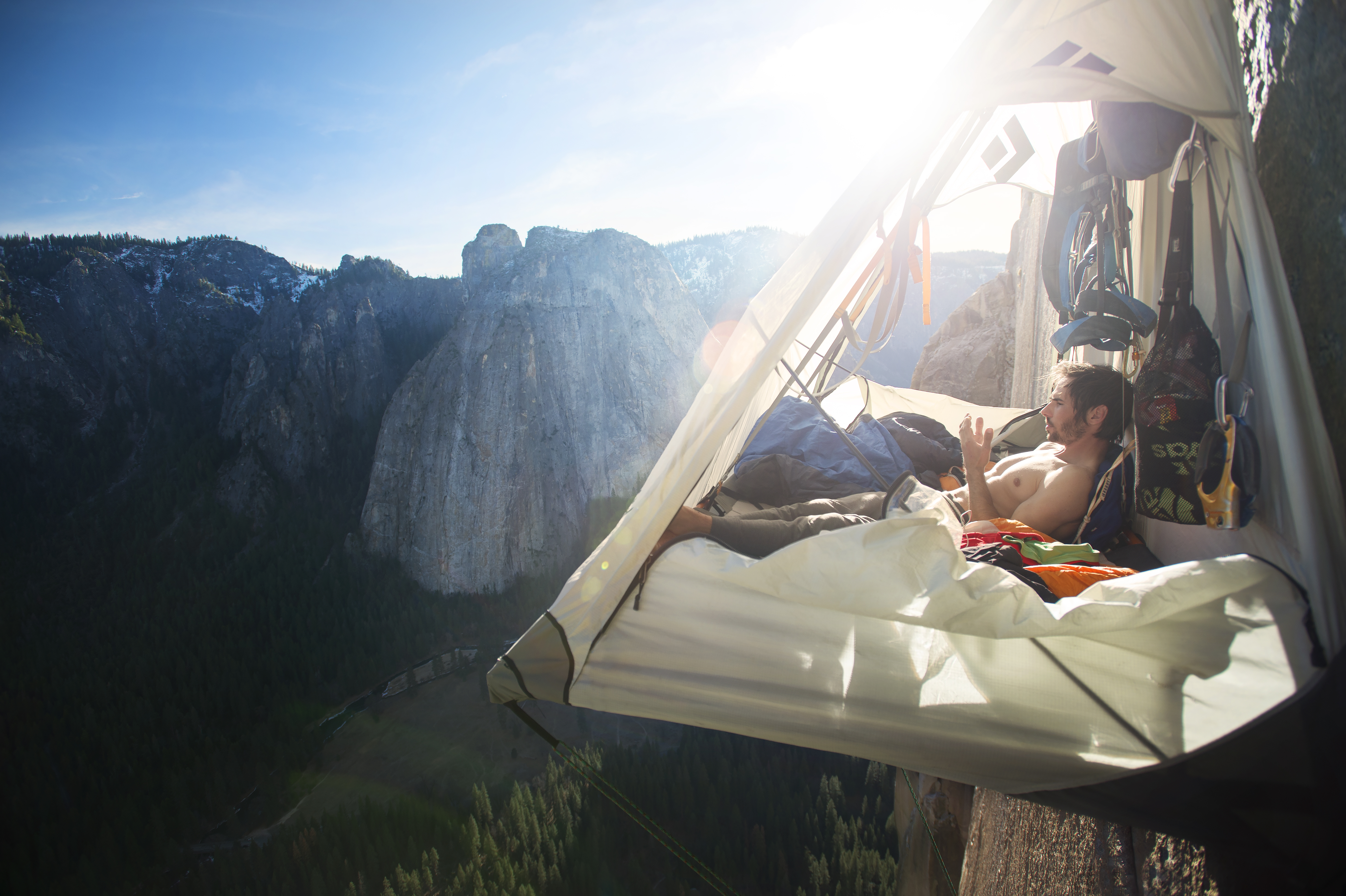 19 jours en paroi laissent des traces, quelles est votre gestion des jours de repos, de la peau, du froid, de l'alimentation et du sommeil en paroi ?
Tommy : Nous ne savions pas combien de temps cela prendrait, peut-être 12 jours. Nous avions pré-équipé beaucoup de matériel sur la voie. Et puisqu'il s'agissait d'un projet de film, il y avait des porteurs qui allaient et venaient pour recharger les batteries, alors on pouvait les appeler et demander "Apportez plus de nourriture !". Il s'agissait plus d'une expédition himalayenne où nous pouvons avoir un porteur pour apporter des choses.
Comment avez-vous géré la question sensibles des déchets humains en parois ?
Tommy : Nous les mettions dans un sac et les gardions dans un bon coin, puis nos porteurs nous le descendaient ! (rires)… Nous étions 4 à 5 personnes au même endroit pendant plusieurs jours, alors si cela n'avait pas été fait, cela aurait été terrible.
En janvier 2015, lors de votre push, vous avez été sous le feu des projecteurs lors de votre ascension, suivi du sol par plein de médias et de télévisions, filmés dans chaque tentative dans les longueurs par une équipe impressionnante de cameramen. Comment avez-vous fait pour gérer la pression ?
Tommy : Dans un sens, il y avait beaucoup de pression sur Kevin et moi parce que nous savions que des gens du monde entier suivaient l'ascension, mais dans l'autre sens, il était facile de l'oublier car même si tout le monde nous regardait, ils étaient loin.
Kevin : Nous étions dans notre petit monde et quand nous grimpions, la pression extérieure ne se faisait pas ressentir. Mais quand nous nous reposions, cela nous distrayait, mais pas lorsque nous grimpions.
Tommy : Nous n'avons fait que deux interviews lors d'une journée de repos (une pour New York Times et une pour NPR, une radio), puis nous n'avons plus accepté d'autres d'interviews, nous ne répondions pas aux autres appels téléphoniques. Comme ça, on pouvait se concentrer sur l'escalade. En ce qui concerne les cameramen qui nous entourent, nous sommes habitués à cela depuis nos 16 ans, ils sont nos meilleurs amis. Tout le monde nous a posé la question, mais c'est comme si vous participiez aux Jeux olympiques, les caméras ne vous dérangent pas, cela fait partie du travail.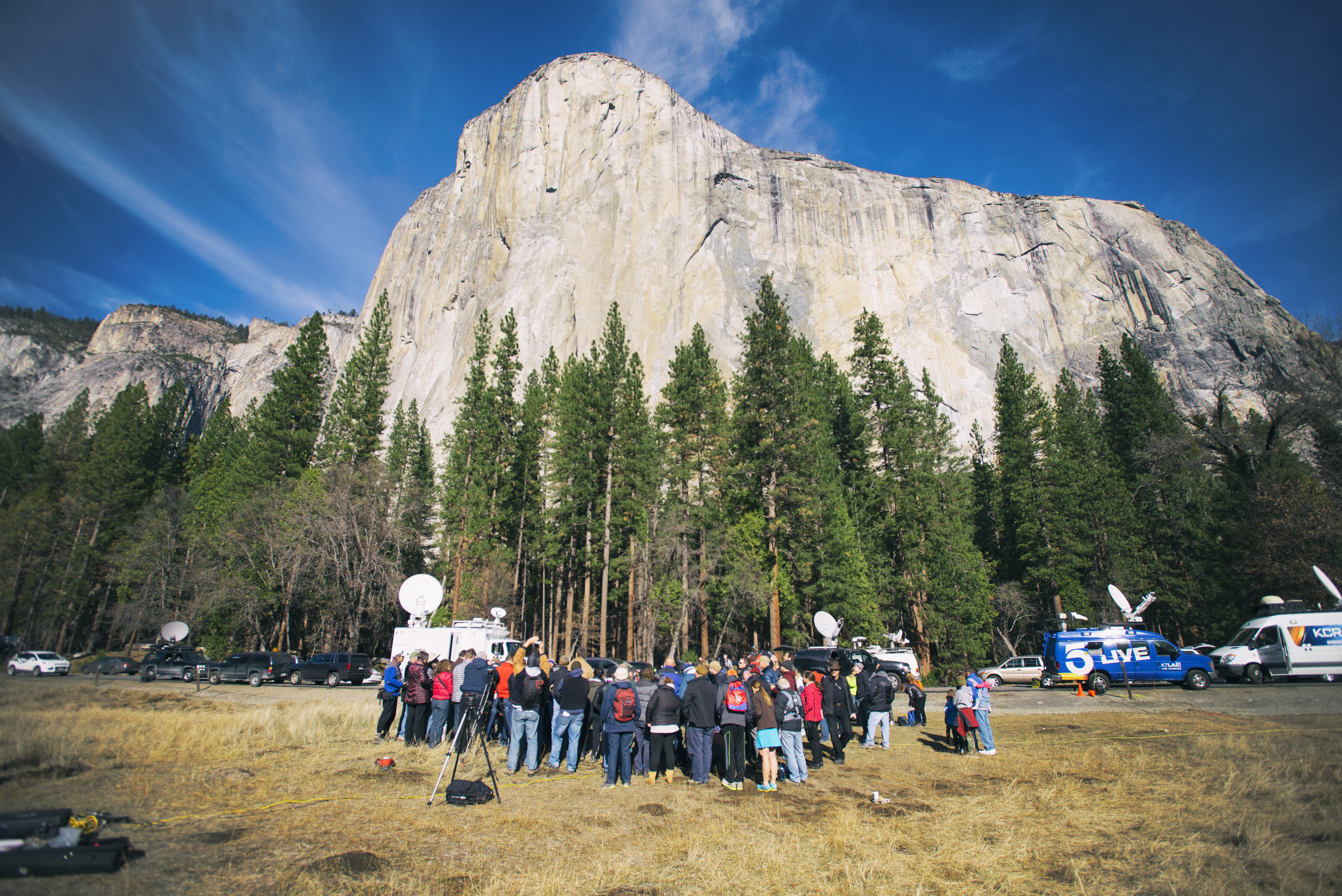 Adam Ondra a répété le Dawn Wall il y a deux ans en quelques jours de travail, 8 jours en paroi, sans avoir d'expérience prononcée au Yosemite. Qu'est-ce que cela vous inspire ?
Tommy : Cela a montré le niveau suivant, il a tellement de talent. J'étais vraiment curieux de voir comment il s'adapterait à ce type d'escalade et c'était vraiment inspirant.
Kevin : C'est une voie pas mal engagée, donc même si je savais qu'il pouvait le faire physiquement, j'étais curieux de savoir à quel point il s'adapterait mentalement à cette escalade. Il s'est avéré être un très bon grimpeur en trad en plus d'être le meilleur grimpeur physiquement parlant.
Y a t-il d'autres projets d'envergure au Yosemite pour les futurs mutants à venir?
Tommy : Il y a un paquet de voies sur El Cap et le Dawn Wall était le projet le plus dur. La plupart des gens viennent essayer une voie précise et personne d'autre que Adam n'est venu essayer le Dawn Wall, il est comme l'exception. Je pense qu'il va falloir attendre un moment avant que les gens commencent à grimper une voie plus difficile… à moins qu'Adam ne décide de venir et d'équiper plus de voies ! Mais il y en a, je pense qu'elles existent, mais je pense simplement qu'elles ne vont pas commencer à être populaires avant un moment, cela peut prendre 10 ans ou quelque chose comme ça.
Avez-vous envie de remettre le couvert dans d'autres projets de grandes voies au Yosemite ou ailleurs ? Ou le Dawn Wall était THE projet et vous pensez qu'une page s'est tournée ?
Tommy : Pour le chapitre de ma vie consacré à l'escalade big wall, c'est sûr que c'était le projet ultime et je ne pense pas que je vais remettre le couvert, je ne le cherche pas vraiment. J'aurais tellement de mal à imaginer que je consacre à nouveau une telle partie de ma vie à une seule voie. Mais je veux avoir d'autres expériences, qui sont riches comme cele-là et grimper sur d'autres grands itinéraires.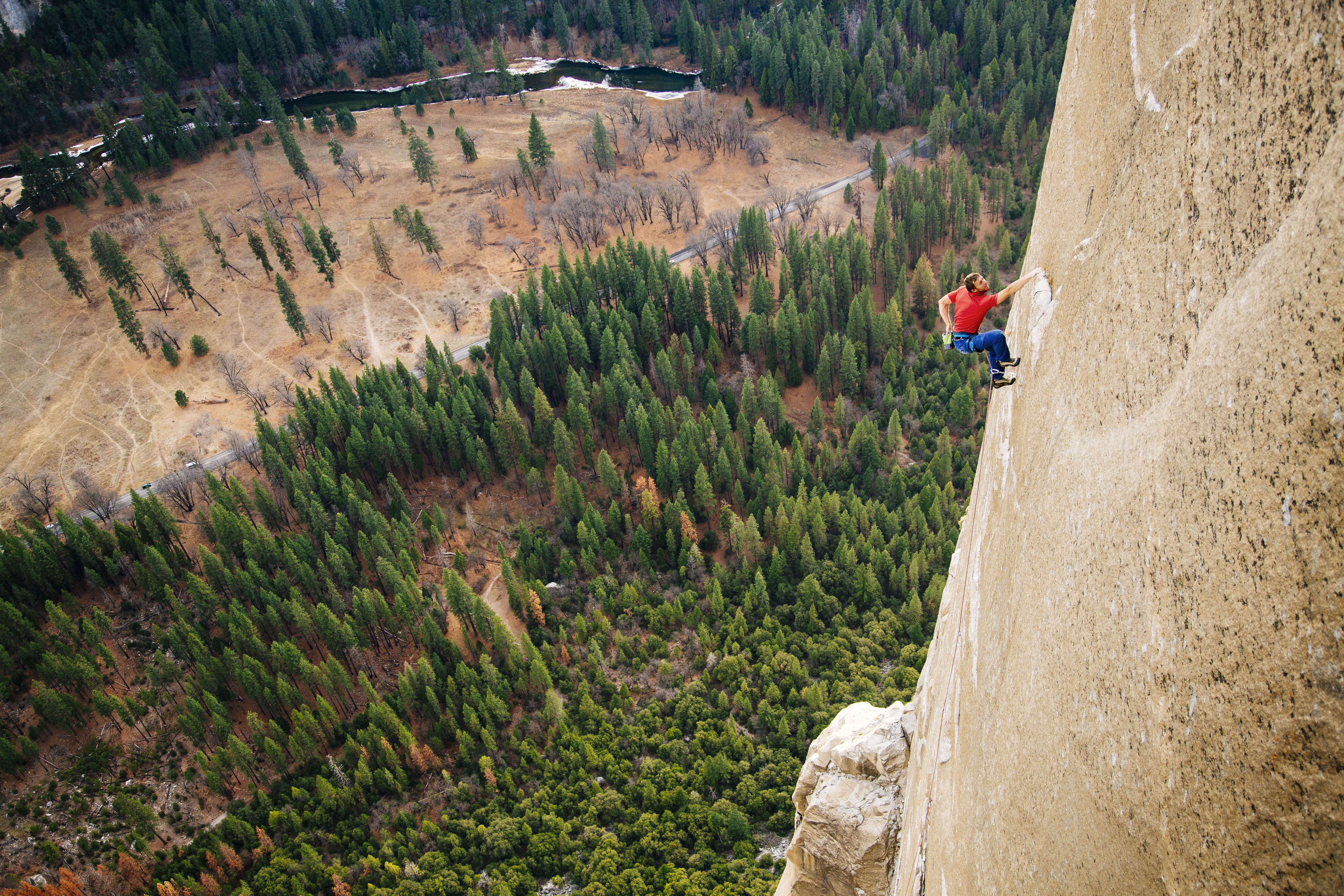 Sinon est ce que vous avez déjà grimpé en France ?
Tommy : J'ai beaucoup grimpé en France, je viens à Fontainebleau chaque année pendant un mois, je grimpe à Chamonix, beaucoup dans le sud de la France, également à des endroits comme Céüse. Quand j'étais adolescent, j'ai fait le tour des falaises dans le coin d'Apt. Pour moi, la France est le meilleur pays d'escalade. En fait, mon épouse et moi-même déménageons en France pour six mois l'année prochaine.
Kevin : J'ai pas mal grimpé en France, pas autant que Tommy, Fontainebleau est l'un de mes endroits d'escalade préférés
Happy ending : félicitation à Kevin pour sa future paternité. Tommy tu es déjà père. Que change la paternité dans ta vie de grimpeur Tommy ? Quel conseil donnerais tu à Kevin là-dessus?
Kevin : Oui je vais être papa dans deux mois, youuuhouuu!
Tommy : Nous voyageons ensemble depuis quelques semaines maintenant, alors j'essaye de lui donner des conseils lol. Nous voyageons beaucoup avec notre enfant. Je pense que l'escalade est un moyen formidable d'apprendre le monde à votre enfant. Ils apprennent très vite et les grimpeurs sont de bonnes personnes. C'est une communauté dans laquelle je veux que mes enfants soient, je trouve cela génial. Quand vous êtes avec votre enfant, c'est difficile de vraiment grimper et les grandes expéditions sont difficiles à organiser, car je ne veux pas partir longtemps, mais même si la partie grimpe est plus compliquée, la partie mode de vie liée à l'escalade est vraiment sympa avec des enfants.
Pour compléter cet interview, on ne peut que vous conseiller d'aller voir le film qui retrace de manière captivante cette aventure. En bonus la bande annonce du film (en fin d'interview) qui tourne encore jusqu'à la fin du mois de novembre partout en France.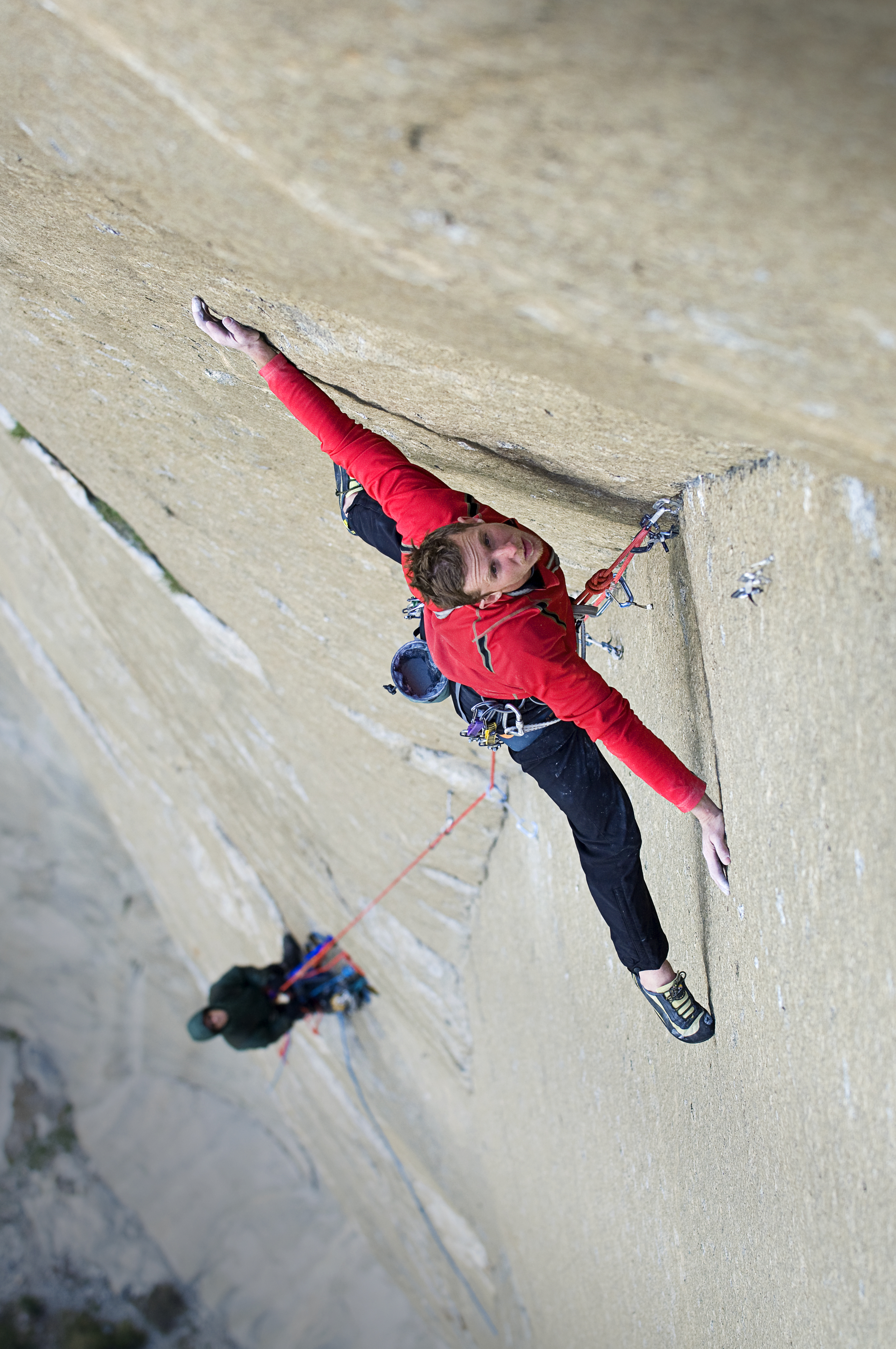 A few weeks ago the first French screening of the movie "The Dawn Wall" was held in Paris, telling the story of the ascent of the hardest big wall in the world. The nearly 1000-meter route is on El Cap cliff, Yosemite (USA) and includes 32 pitches with difficulties up to 9a. It was freed by American climbers Tommy Caldwell and Kevin Jorgeson in January 2015. The two protagonists made the trip to Paris, and we asked them to tell us a little more about this adventure.
Tommy, how did you hear about the line at first? It was a line of aid climbing, but how did you get the idea to free climb it? What's the exact history of the route?
Tommy: I have spent 15 years climbing on El Cap (Yosemite) on the same rock and I climbed a lot of other routes. And the Dawn Wall was like the last remaining unclimbed part of the wall, and just the nature of the rock was different (no crag system) and it looked like it shouldn't work. But I have climbed so many other routes so I wondered if it was possible to climb this one.
Kevin, how can a boulderer get into such an adventure? What was your experience with big walls before the Dawn Wall?
Kevin: Yes, I was at that time more into highball bouldering and my projects were getting more and more dangerous. I realized all my new projects were more and more soloing projects. So I wanted to change my climbing style and I saw a short video clip of Tommy working on the route, basically saying, "Hey, next generation, if you want the future, go get it." I took that as an invitation so I asked Tommy if he needed a partner.
How did you manage to keep up such motivation in order to try 7 years in a row when a lot of people would have given up? It's perseverance that's out of the ordinary!
Tommy: I think our motivation may have flagged a bit but it was such a cool experience being on El Cap, it is a beautiful place. We were always figuring little improvements out so we had the feeling of getting closer to the final goal. But there were definitely times when we thought, "We won´t manage to do it, we are wasting all this time," but I think as soon as we mentally started giving up, our bodies would say, "I don't want to give up". Also, I have always found people fascinating, who find joy where others don't and that way of thinking helped me.
How spare or good is the equipment? Are there parts that are mixed or entirely in trad and where key pitches are the only ones that are equipped? Or is the line now fully equipped?
Tommy: So we only bolted the hardest sections of the route that had not been previously aid climbed and also the really blank section where there wasn't any chance of natural protection. But still it's quite a scary route, the protections are really bad and that's because you're climbing in routes that are initially A3 or even A4.
Kevin: Pitch 7 is, for instance, a true aid pitch, it is really hard to protect, you need very small gears like copper aid hoods.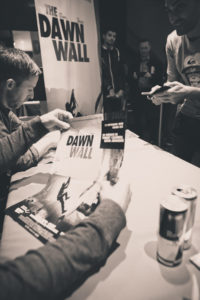 When did you understand that your attempt in January 2015 was going to be the right one?
Kevin: Tommy and I approached it a little bit differently. I thought the push would be ok, there was nothing left to do, there was no mystery anymore
Tommy: So we spent the whole year working on the route and each time we checked a new box off the list of things we needed to accomplish in order to succeed. We were in that mindset until two weeks before the push when I managed to do the last remaining pitch. So once it was done, it was like we finally had all the pieces of the puzzle for the first time so it was ''just'' a question of managing to put it all together.
The key pitches of the Dawn Wall, 14 and 15 are traverses. A specific and atypical style for such a hard pitch, on tiny razors and bad feet. How did you prepare for that?
Tommy: For me, I didn't specifically train for these pitches, anyway since I am not a very strong climber, I need to train all the time with a complete routine (bouldering for one month then some sport climbing and then going to Yosemite to try all the pitches). One big thing was to get the right thickness of the calluses on our fingers. Sometimes it got too big so we had to wait and let it go away. Getting the consistence of your finger just right was tricky. We did it by climbing on a similar sharp rock around 3 weeks before going to Yosemite.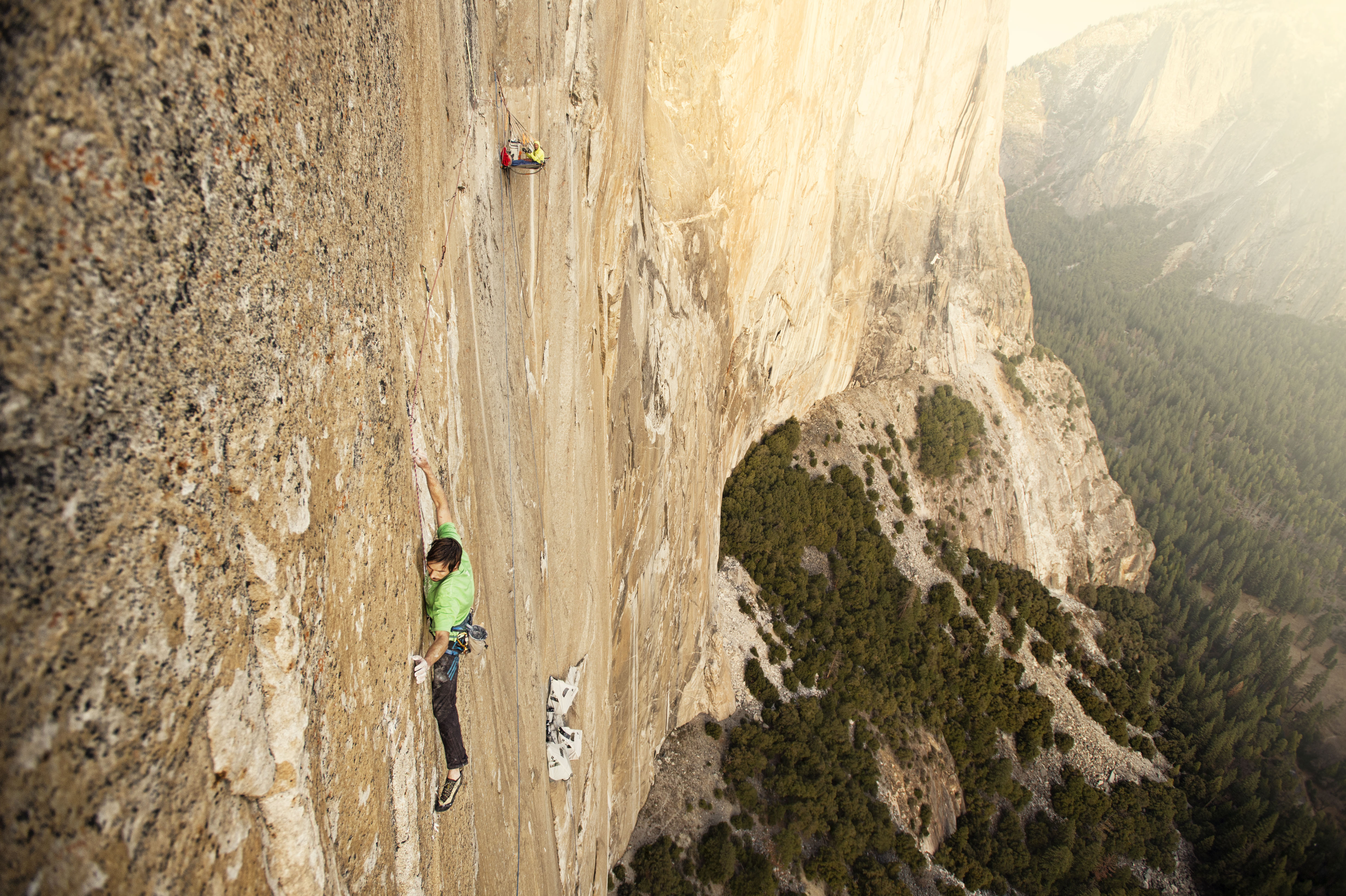 Did you train specifically for the Dawn Wall? If yes, how? Stamina, endurance and power for some boulders? Or something else?
Kevin: Most of my training was on the wall itself getting used to that terrain, my training was more mental than physical. I am used to hang-boarding and to bouldering but my battle was more mental; when my mind got the knack then my body followed.
The last key pitch (No. 16) offers this famous double jump or an alternative with a loop and downclimb. You each opted for a different option to free it (Kevin the jump, Tommy the loop). What is the purest way in your opinion?
Tommy: If you are able to do the dyno it is the way you should go but Kevin is the only one who could do it! We brought in Chris Sharma, Jonathan Siegrist, I tried it thousands of times and nobody managed to do the dyno. I would love to go that way but I am not too sad about doing it the other way, it was creative, it was super unique. It was a dramatic experience because it was like, "I'm missing only that one move," and then I found this unique solution.
Kevin: Yes, I couldn't believe the loop works, it is just crazy. I was just joking with Tommy saying the route has everything except down climbing so he just wanted to add a downclimbed pitch to add it to the whole package. But personally, I never thought of the loop. At first, what inspired me in the video I had seen about the route was really the dyno.
Tommy: By the way, Adam Ondra did the loop, he couldn't do the dyno.
Kevin: Adam told me he was planning to do the dyno and then when checking it on the route, he decided to do the loop.
19 days on the wall leaves its mark. How did you manage rest days, skin, cold, food and sleep on the wall? Do you have tips and tricks to give to our readers?
Tommy: We didn't know how long it would take, maybe 12 days. We had pre-installed lots of gears on the route. And since it was a film project, there were porters going up and down to recharge the batteries so we could call them and ask, ''Bring more food!'' It was more like a Himalayan expedition in that we had porters to bring stuff.
How did you guys deal with the sensitive issue of human waste over such a long time on the wall? Particularly the solid kind. Can you just drop it or is it a potential problem for other people down below?
Tommy: We put it in a bag and kept it in a very good spot and then our porters brought it down for us … lol … there were 4-5 of us on the same spot for several days so if we hadn't done that, it would have been terrible.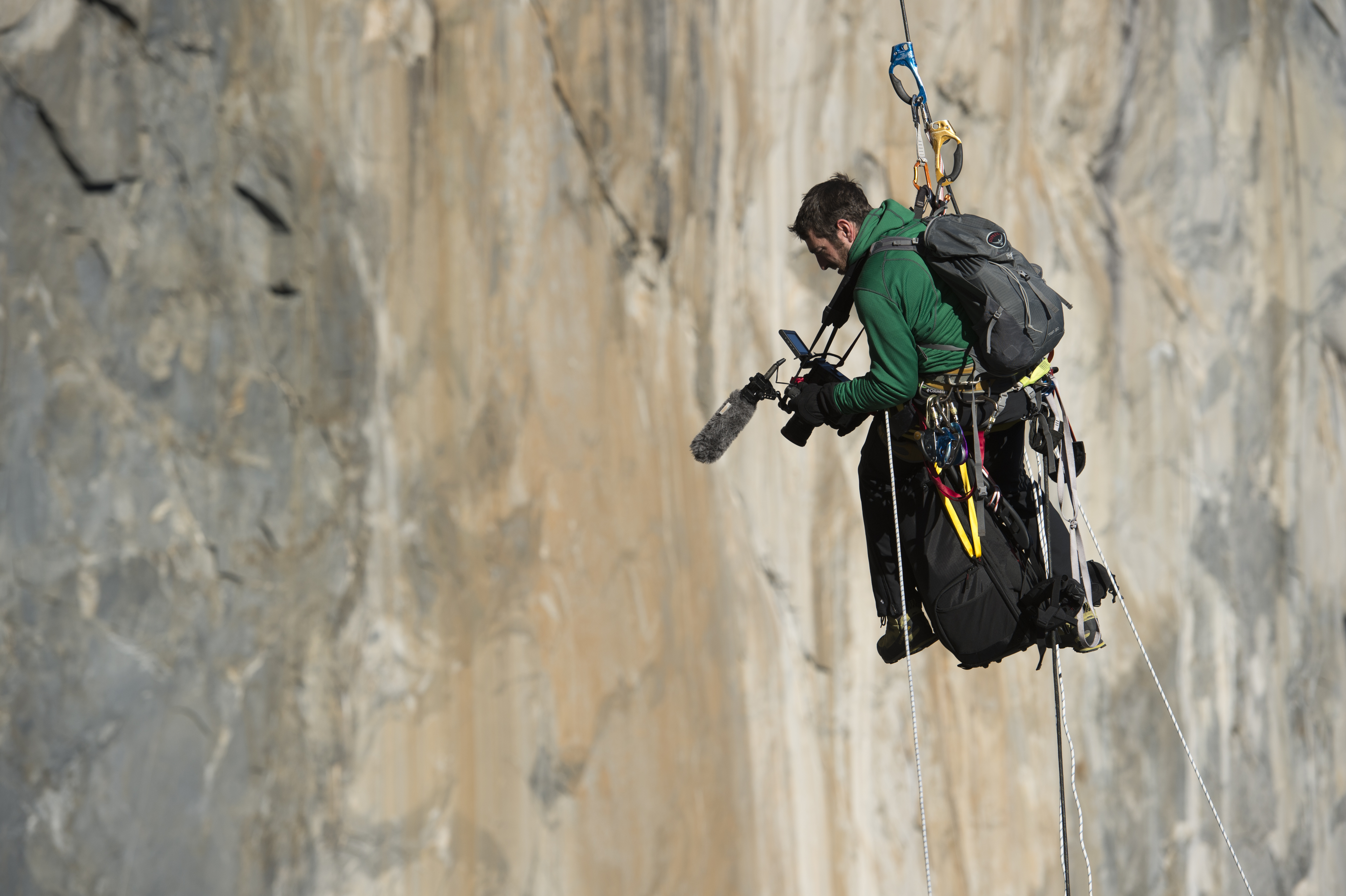 In January 2015, during your push, you were in the spotlight for your ascent, followed from the ground by lots of media and television, filmed in every attempt in the pitches by an impressive crew of cameramen. How did you manage to deal with the pressure?
Tommy: In one way, it was lots of pressure on Kevin and me because we knew people from all over the world were following the ascent, but in another way, it was easy to forget because even if everybody was watching, they were far away.
Kevin: We were in our little world up there and when we were climbing, the external pressure wasn't part of the experience. But when we were resting, it was distracting yes, but not when climbing.
Tommy: We did only two interviews during the ascent on rest days (one for the New York Times and one for NPR – National Public Radio) and then after that, we didn't accept more interviews, we didn't answer other phone calls. That way, we could focus on climbing. Regarding the cameramen around us, we've been used to that, since we were 16 years old, they're our best friends. Everybody asked us that but it's like if you are in the Olympics, cameras don't bother you, it's part of the work.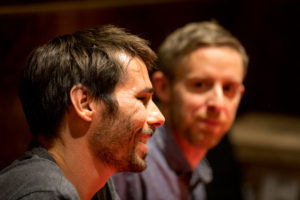 Adam Ondra repeated the Dawn Wall two years ago in a few days of work, 8 days on the wall, without having any experience in Yosemite. What do you think about it?
Tommy: It just shows the next level, he is so talented. I was really curious to see how he would adjust to that sort of climbing and it was really inspiring.
Kevin: It is a pretty bold route so I knew he could physically do it but I was curious about how mentally he would adapt to bold climbing. He has proven to be an extremely good trad climber in addition to being the best physical climber.
Are there other big projects in Yosemite for future mutants to come?
Tommy: There are a bunch of routes on El Cap and the Dawn Wall was the hardest one. Most people come and work one route and nobody else other than Adam came to the Dawn Wall, he is like the exception. So I think it is going to be a while before people start climbing harder routes… Unless Adam decides to come and decides to put up more routes! But they are here, I think they exist, but I just think they're not going to start being popular for a while, it could take 10 years or so…
Do you want to try to put other multi-pitch route projects together in Yosemite or elsewhere? Or was the Dawn Wall THE project and you think a page has turned?
Tommy: For the big-wall climbing chapter of my life, for sure it was the ultimate project and I don't think I will redo it, I'm not really looking to do that. It would be so hard just to imagine again spending that amount of my life focusing on one climb. But I want to have other experiences that will be rich like that and climb other big routes.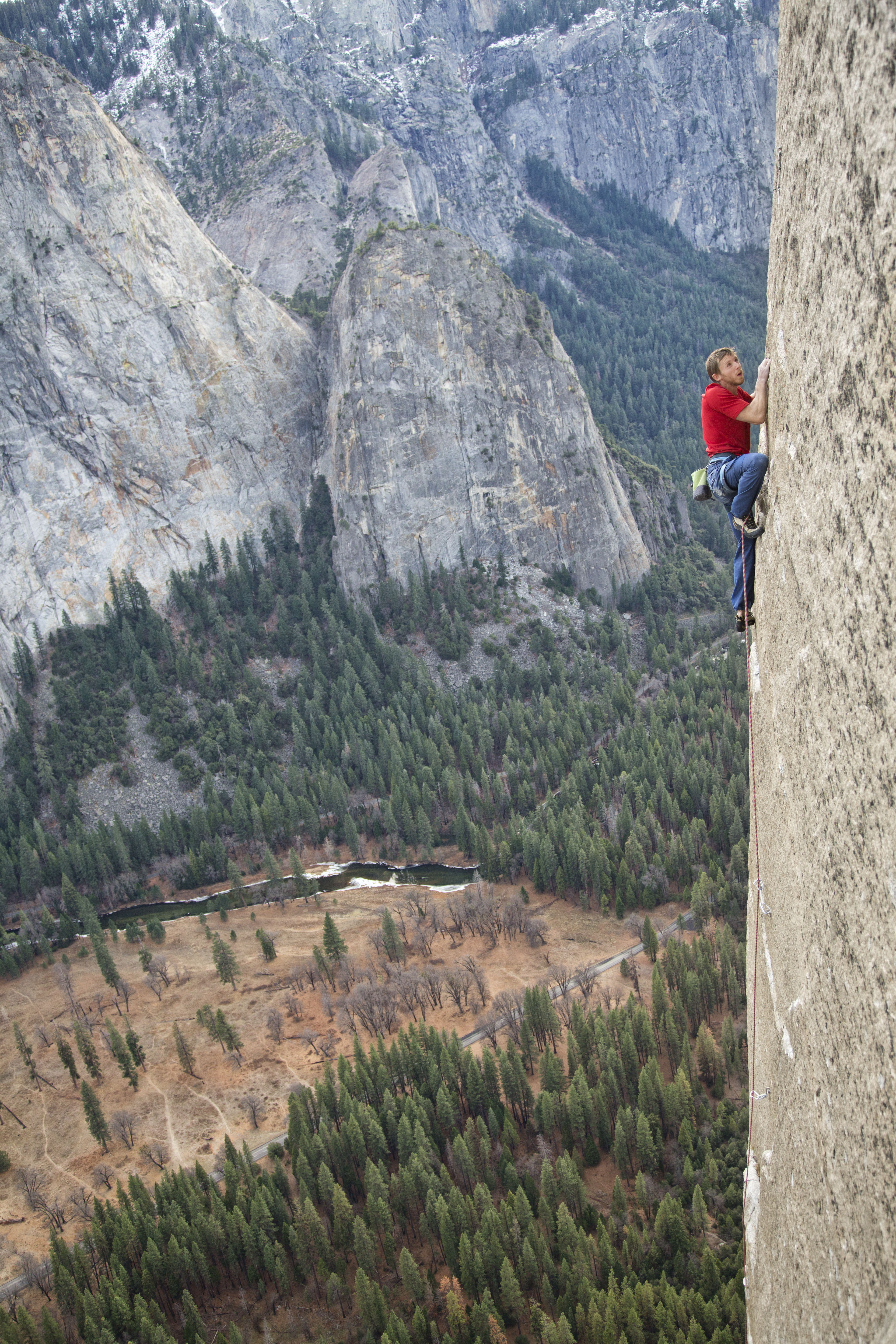 Have you already climbed in France? If not, does some cliff/route inspire you?
Tommy: I've climbed a lot in France, I come to Fontainebleau every year for one month, I've climbed in Chamonix, a lot in the south of France also in places like Céüse. When I was a teenager, I went around Apt and climbed all the sport climbing crags around there. For me, France is the best climbing country. In fact, my wife and I are moving to France for 6 months next year.
Kevin: I've climbed in France quite a bit–not as much as Tommy, Fontainebleau is one of my favorite climbing areas.
Congratulations Kevin for his future fatherhood and Tommy you're already a father. What does that change in your life as a climber? What advice would you give to Kevin about this?
Kevin: Yep I am going to be a father in two months, yoohoo!
Tommy: We've been travelling for a couple of weeks now, so I am trying to give him advice lol. We travel a lot with our kids. I think climbing is an amazing way to teach your kids about the world, they learn so fast and climbers are good people, it is a community that I want my kids to be in. I think it is amazing. But the actual climbing part, when you're with your kids, is hard and big expeditions are harder to organise because I don't want to be away for too long of a time. But kids make the lifestyle part of climbing better.
To complete this interview, we could only advise you to watch the movie that recounts this adventure. It is possible to watch "The Dawn Wall" everywhere in France until the end of November.
Cover photo: Brett Lowell of Big UP Productions