On connaissait le très complet Jorg Verhoeven, Michiel Nieuwenhuijsen pour le bloc ou Bart Van Raaj notamment ses fantastiques topos de Bleau, voici que Tim Reuser, 29 ans, s'impose comme une des nouvelles stars néerlandaises de la grimpe, et ce dernier adore Fontainebleau. En l'espace de quelques mois, ce designeur de produits s'est adjugé quelques classiques durs de la forêt dans le 8B/C comme "The Big Island" ou "L'apparemment assis". Actuellement de nouveau en trip à Fontainebleau pour profiter de la collante liée à la sécheresse de fin d'hiver, Tim passe à la vitesse supérieure avec une rare répétition du bloc de Charles Albert aux Gros Sablons, "La révolutionnaire" 8C+. C'est la 5ème ascension de ce low-ball en toit tout en gainage et compression. Nous sommes allés à sa rencontre.
Interview recueillie par Fabien Bronès – Bloasis.

– Peux-tu te présenter en quelques mots ?
Mon nom est Tim Reuser, je suis des Pays-Bas. Je grimpe depuis 16 ans. Je me suis d'abord concentré sur les voies mais depuis 4 ans je me consacre exclusivement au bloc.

– Depuis quand viens-tu grimper à Bleau ? Il y a un grand nombre de grimpeurs néerlandais qui viennent grimper ici, notamment des très forts grimpeurs…
Je me rends à Bleau depuis un moment. Le caillou est dingue et il y a tant de blocs ! Je pense que la grimpe à Fontainebleau est très technique : le placement compte et des mouvements délicats durs à apprivoiser peuvent devenir soudainement faciles. C'est unique et très caractéristique. Au début c'était très frustrant mais maintenant je suis plus aguerri dans le style et cela me procure beaucoup de fun !
– Tu travailles à plein temps, quels sont tes secrets pour grimper aussi fort ?
Je travaille à plein temps mais j'arrive tout de même à grimper 4-5 fois par semaine. Je grimpe souvent le soir. Je ne pense pas posséder de secret, j'ai juste à me donner à fond et à grimper le plus fort que je peux. Je ne fais pas d'entrainements purement physiques, juste des enchainements sur spray wall. Une chose importante que je dois mentionner est que dans le passé j'ai été habitué à grimper beaucoup, et du coup mon niveau de base est assez élevé. C'est facile de maintenir un niveau de base en grimpant 3 fois par semaine, et avec 4/5 fois tu peux vraiment progresser.

– Par rapport à ta répétition de "La Révolutionnaire", que peux-tu nous détailler ? Que penses-tu du bloc ?
Quand j'ai entendu parler de "La Révolutionnaire" pour la première fois, cela ne m'a pas tout de suite intéressé ; le bloc n'est pas très haut et j'ai entendu dire qu'il y avait une petite fissure à arquer et j'avais peur que mes doigts ne rentrent pas dans la prise. Un jour de repos, je suis allé repérer juste pour le plaisir et j'ai constaté que le bloc n'était pas si bas que ça et que la fissure n'était pas si fine. Plus tard, j'ai vu une vidéo de Niky Ceria et je me suis dit que sa méthode pourrait fonctionner pour moi aussi. Un voyage plus tard, j'y suis allé avec Michiel Nieuwenhuijsen et nous avons travaillé le bloc ensemble. Je me sentais assez bien lors de ma première séance, j"ai fait le bloc en deux parties. Après cela, j'ai eu besoin de 5 autres séances pour l'enchainement. Le bloc est beaucoup plus agréable que vous ne le pensez et les prises et mouvements sont très intéressants !
– Quels autres projets te motivent ?
En ce moment j'aimerais faire "Le Pied à coulisse" au rocher Gréau. J'ai déjà bossé le bloc l'an dernier, je l'ai ré-essayé ce séjour et je l'ai en deux morceaux. Malheureusement le bloc se termine surun réta qui ne me convient pas du tout, un bon challenge pour moi. Je pense que ce bloc est plus dur que "La révolutionnaire". J'ai aussi travaillé le départ assis de "Bélial" qui est probablement 8C+ bloc.

Photo : Gijs Nijenhuis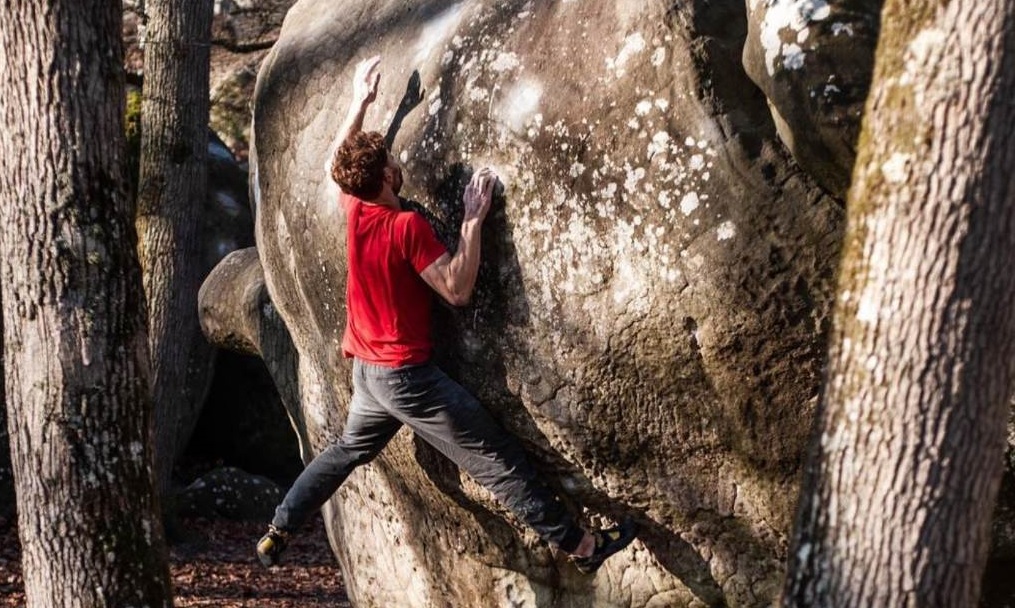 We knew the very complete Dutch climber Jorg Verhoeven, Michiel Nieuwenhuijsen for bouldering or Bart Van Raaj in particular his fantastic Font guidebooks, here is Tim Reuser, 29, establishing himself as one of the new Dutch climbing stars, and he's in love with Font. In the space of few months, Tim, who works as a product designer climbed some hard classics of the forest in the 8B/C range like "The Big Island" or "L'apparemment assis". Currently on a trip to Fontainebleau again, Tim is makign a step further with a rare repeat of Charles Albert's boulder at Gros Sablons, "La Révolutionnaire" 8C+. This is the 5th ascent of this low-ball roof all in body tension and compression.
Interview by Fabien Bronès – Bloasis.
– Can you introduce yourself in a few words?
My name is Tim Reuser and im a climber from the Netherland. I have been climbing for 16 years, first focussing more on lead and since the last 4 years I've been focussing strictly on bouldering.

– How long and why do you like to come and climb in Font? There is a good number of Dutch climbers coming to Font now, isn´t it? And a group of strong climbers too!?
I've been coming to Font for quite some time. The rock is amazing and there are so many boulders! I think that Fontainebleau climbing is very technical, body positions matter a lot and tricky moves can feel easy all of a sudden. This is very unique en characteristic. In the beginning this was quite frustrating but now that im better at the style its a lot of fun!
Yes there are indeed many Dutch climbers going to Font. It's the closest area for outdoor bouldering and the drive is about 5-6 hours. Yes we have quite some strong climbers too! There already four people that have done ' The big island' and I think there are at least another two climbers that can also do it.
– You work full time, what are your secrets to climbing at such a level?
I work full time but I can still climb around 4-5 times a week. I mostly climb in the evening. I don't think there is a secret, you just have to put in the effort and always try as hard as possible. I don't do exercises, only projecting on the spray wall. One important thing I need to mention it that I used to climb a lot more in the past and therefore my base level is quite high. It's easy to maintain a base level with climbing only 3 times a week and with 4 or 5 times you can progress.
– About your ascent of "La Revolutionnaire", how was it? What about this boulder?
When I first heard of La Revolutionnaire it didn't immediately interest me, the boulder is low and I heard there was a small crack you have to crimp and I was afraid my fingers wouldn't fit. On a restday I went to check it out just for the sake of it and found that the boulder isn't actually that low and the crack wasn't that thin. Later saw a video of Nicky Ceria and the beta he uses looked like something that would work for me too. One trip later I went there with Michiel Nieuwenhuijsen and we worked the boulder together. I felt quite steady in it and in my first session I did it in two parts. After that I needed another 5 sessions to finish it. The boulder is much nicer than you would think and the holds and moves are very interesting!

– What other projects motivate you now?
At this moment I want to do 'Pied a coulisse' in Rocher Greau. I work on this boulder last year and now this trip I also tried it and did it in two parts. Unfortunately the boulder finishes with a mantle that doesn't suit me that much so it's quite a challenge. I think for me this boulder is even harder than "La Revolutionnaire". Also I worked a bit in the sitstart of Belial which is probably 8c+ at least.

Photo: Gijs Nijenhuis