Trois ascensions en deux jours de la voie de trad réputée être la plus difficile de France, "Le Voyage", voici ce qui vient de se passer la semaine dernière à Annot ! Ouverte par James Pearson en 2017 dans le mur de la chambre du Roi, "Le Voyage" remonte un mur fissuré et déversant en grès des plus esthétiques sur près de 40 mètres (proposé en cotation anglaise E10 7a). Les protections sont plutôt bonnes (on appréciera tout de même l'engagement final dans le crux) mais la difficulté soutenue, autour du 8b+. Cette semaine ce sont 2 des meilleurs spécialistes mondiaux de la discipline Babsi Zangerl et Jacopo Larcher, accompagnés du belge Siebe Vanhee, qui ont réussi à répéter l'affaire. Jacopo répond à quelques questions.
– Comment as-tu eu l'idée d'essayer "Le voyage" ?
Honnêtement, dès que j'ai vu les photos de l'ascension de James et que j'ai lu ses commentaires sur l'itinéraire. Cela avait l'air si beau et il a dit que c'était probablement sa plus belle première ascension ; connaissant le nombre d'itinéraires qu'il a établi et tous les endroits où il est allé, j'étais sûr que l'itinéraire était un bijou !
Les dernières années ont été en quelque sorte trop chargées et nous n'avions pas trouvé le temps de faire un voyage à Annot jusqu'à la semaine dernière. Le plan était de s'y rendre en avril, mais en raison des différents confinements, nous ne pouvions pas y arriver. De plus, ce voyage était assez spontané, car je devais aller en Norvège avec Siebe, mais nous avons dû annuler le voyage à la dernière minute à cause des restrictions sanitaires. Nous ne pouvons pas nous plaindre du changement de plan!
J'avais entendu parler d'Annot et de ses grès, mais nous avons été positivement surpris et émerveillés par la beauté de l'endroit et de son rocher quand nous nous y sommes finalement rendus. Je suis sûr que ce ne sera pas notre dernier voyage là-bas ! Je pense qu'il y a encore un gros potentiel pour de nouvelles ascensions et que l'endroit est tout simplement incroyable.

– Peux-tu décrire la voie ?
L'itinéraire est très long, je pense environ 40 mètres. La ligne est évidente et c'est probablement la seule option pour gravir cette impressionnante face, ce qui rend l'itinéraire encore plus spécial pour moi. Cela commence par une fissure en 7a qui se termine dans une petite grotte, où il y a un repos sans les mains (on peut même s'allonger !). Quelques mouvements de plus amènent à cette grosse rampe fissurée, qu'il faut gravir en engageant un peu pour atteindre quelques bonnes prises dans la partie la plus blanche du mur (je pense à chaque fois en y arrivant que c'est un miracle qu'elles soient là, merci Mère Nature !). Les mouvements jusqu'à cet endroit ne sont pas trop durs, mais l'escalade est un peu bizarre.
À cet endroit il faut placer des petites protections, avant de partir à gauche là où la fissure recommence. Certains mouvements athlétiques sur des meilleurs prises amènent à un petit repos ou on peut placer une bonne protection. Le crux commence là et après quelques mouvements d'épaule durs / étranges, on arrive en haut de la fissure. L'équipement est très bon, mais on n'a pas vraiment envie de placer trop de protections car cela coûterait trop d'énergie. Cette section est un peu engagée, mais le mur est raide et le matériel est bon.
Après un bon repos, on grimpe une section plus facile sur des écailles fragiles, jusqu'à atteindre la fissure évasée finale. Cette dernière section n'est pas si difficile, mais il est facile de faire des erreurs et c'est assez sollicitant dans la conti ! Vous ne voulez vraiment pas y tomber !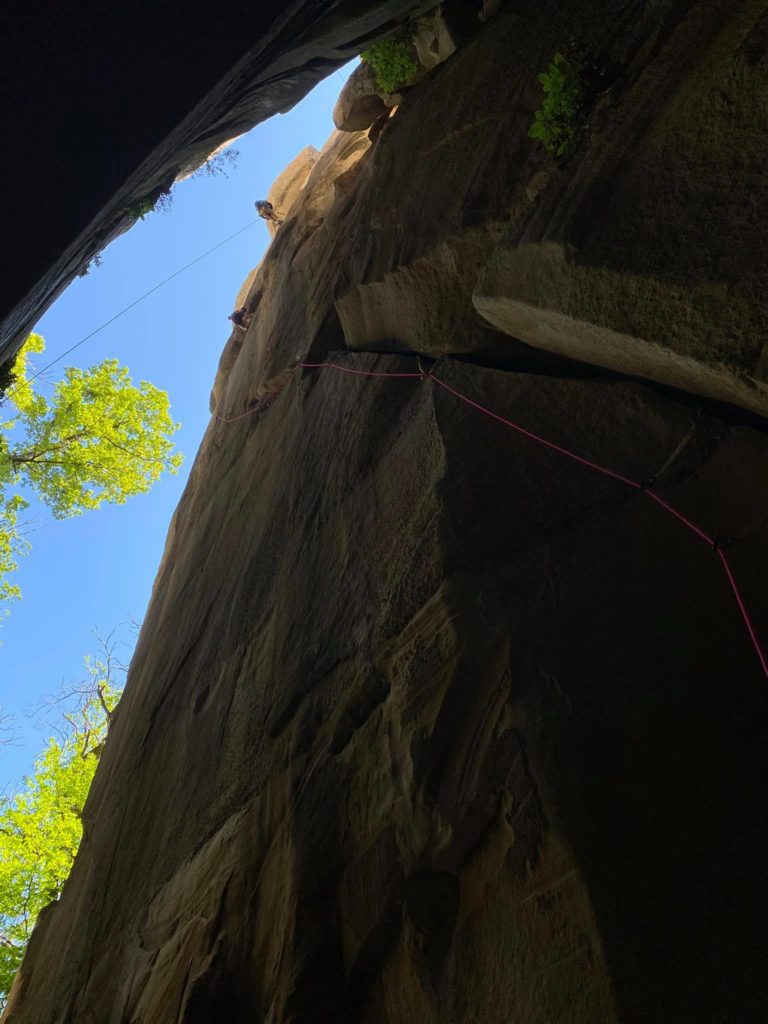 Dans l'ensemble, l'itinéraire est assez sûr, même on peut se prendre prendre de très gros plombs à certains endroits ! Personnellement, je pense que c'est un cadeau de Dame Nature, car il n'est pas si facile de trouver une ascension difficile qu'on peut également protéger en toute sécurité.
Ce qui ressort donc vraiment pour moi, c'est la beauté de la ligne ! Je suis totalement d'accord avec ce que James a écrit à ce sujet après sa première ascension : c'est l'une des meilleures !

– Comment avez-vous travaillé l'itinéraire et comment se sont passé vos réussites avec Babsi et Siebe ?
Nous l'avons travaillé en moulinette puis en tête. Le premier après-midi, Babsi et moi sommes descendus en rappel, on a brossé, on a checké les endroits où placer les protections et on a commencé à travailler les mouvements. Siebe est arrivé le lendemain matin et nous a rejoints.
J'ai réussi à gravir la voie à mon premier essai en moulinette, j'ai donc passé la deuxième journée à essayer de tout régler et finaliser le matériel ; même après avoir grimpé la voie en moul' plusieurs fois, je ne me sentais pas en sécurité pour un essai en tête !
C'était très agréable de travailler la voie tous ensemble, on a pu partager les méthodes, la motivation et des doutes. Le parcours est très long, le seul inconvénient est que ça laisse moins de temps pour l'essayer, mais dans l'ensemble, nous avons passé un très bon moment !
Après une journée de repos, Siebe et moi avons réussi à gravir la voie lors de notre premier essai en tête. Malheureusement, Babsi s'est embrouillée en posant les protections et est tombée à la fin du crux, mais elle l'a réalisée direct lors de son deuxième essai en tête le lendemain !
C'était la fin parfaite pour notre court voyage. C'est toujours plus agréable quand tout le monde réussit après avoir partagé tous ces moments ensemble.

– La voie en trad la plus difficile de France ?
C'était notre première ascension trad en France… donc c'est difficile à dire… La seule chose que je puisse annoncer, c'est que « Le Voyage » est l'une des voies trad les plus cool que j'ai jamais faites. Un vrai bijou !

3 ascents of the trad line that is reckoned to be the hardest in France in 2 days, that's what's happened in Annot this week! Opened in 2017 by James Pearson on the chambre du Roi wall, "Le Voyage" goes up a beautiful overhanging and cracked sandstone rock face over close to 40 metres (British grading of E10 7a). Pro is rather good (still, the commitment in the final crux is not for the faint hearted) but difficulty is sustained, around 8b+. This week two of the world's best in that field, Babsi Zangerl and Jacopo Larcher, sided by Belgian Siebe Vanhee, have managed to repeat it. Here's Jacopo's comment on the ascent.
-How did you get the idea to try le voyage?
Honestly, as soon as I saw the pictures of James climbing it and I read his comments about the route. It looked so good and he said it was probably his most beautiful FA; knowing the amount of routes he had climbed and all the places he had been to, I was sure the route was a gem!
The last years were somehow too busy tho and we hadn't found the time to make a trip to Annot until last week. The plan was to go there in April, but due to the different confinements we couldn't make it there. Also this trip was quite spontaneous, as I was supposed to go to Norway with Siebe, but we had to cancel the trip last minute because of the travel restrictions. We can't complain about the plan change tho! 😉
I heard about Annot and its Gres, but we were positively surprised and amazed by the beauty of the place and its rock when we finally got there. I'm sure it won't be our last trip there! I think there is still a big potential for new climbs and the place is simply amazing.
– Can you describe the style of the route?
The route is very long, I think about 40 meters. The line is very obvious and it's probably the only option for climbing that impressive face, which makes the route even more special to me. It starts with a 7a splitter crack, which ends in a small cave, where you have a no hand rest (you can even lay down!). A few more moves get you to a big thread, form which you have to climb a fairly big run out to reach some good pockets in the blankest part of the wall (I still think it's a miracle they are there; thanks Mother Nature!); the moves up to there aren't too hard, but at the climbing is a little it weird.
You can place some smaller gear, before to move out left where the crack starts again. Some athletic moves on better hold lead you to a small rest and some good gear. The crux section starts there and after some hard/weird shoulder moves you reach the break at the end of the crack. The gear is very good, but you don't want to place to much pieces as it would cost too much energy. This section gets a bit runout, but the wall is steep and the gear is good.
After a good thread you climb an easier section on a loose flake, until you reach the final flared crack. This last bit isn't that hard, but it's easy to make some mistakes and it's quite pumpy! You really don't want to fall there!
All in all the route is quite safe, even if you can take some really big whippers if you fall in certain spots! I personally think it's a gift of Mother Nature, as isn't that easy to find a hard trad climb, which you can also protect quite safely.
What it really stands out for me is the beauty of the line tho! I totally agree with what James wrote about it after he made the first ascent: it's one of the very bests!
– How did you work the route and how was the send with Siebe and Babsi?
We worked in on top rope and then tried it on lead. On the first afternoon Babsi and I rapped down the route, brushed it, checked the gear and started to work the moves. Siebe arrived the next morning and joined us.
I managed to climb it first go on top rope, so I spent the second day trying to get everything dialed and finalizing the gear; even after having climbed the route on tr a couple of times, it still felt insecure tho!
It was very nice to work the route all together, as you can share betas, motivation and doubts. The route is very long, so the only down side is that you also get less time for trying it, but all in all we had a really good time!
After a rest day Siebe and I managed to climb the route on our first lead try; unluckily Babsi messed it up with the gear and fell once at the end of the crux, but she climbed it straight on her second lead try on the following day!
It was the perfect end for our short trip. It's always nicer when everyone succeed after having shared all those moments together.
– The hardest trad route in France?
It was our first (and last) trad climb in France… so it's hard to tell…The only thing I can say, is that "Le Voyage" is one of the coolest trad routes I've ever done. A real gem!