Le fort grimpeur suisse Giuliano Cameroni vient de réaliser la première ascension du bloc le plus dur de Brione (Suisse), proposant "Poison the Well" 8C+. Ce serait la seconde proposition en 8C+ du pays après le départ bas de "Off the wagon" par Shawn Raboutou en fin d'année dernière. Nous sommes allés à sa rencontre afin d'en savoir un peu plus.
-Tu viens de faire une super croix avec la réussite de ce dernier projet, peux-tu nous dire où il se trouve?
"Poison the Well" est situé à Brione, dans le Tessin (Suisse) ; il commence comme "Pamplemousse" (8A) puis part tout droit dans le mur.
-Peux-tu nous dire ce qui t'a attiré dans ce bloc et ce que tu a dû faire pour y arriver ?

Ce problème a toujours été connu comme étant l'un des meilleurs projets du Tessin. Le rocher est incroyable et minimaliste. Je l'ai essayé pendant 8 jours, en me concentrant sur le renforcement musculaire spécifique pour pouvoir réussir.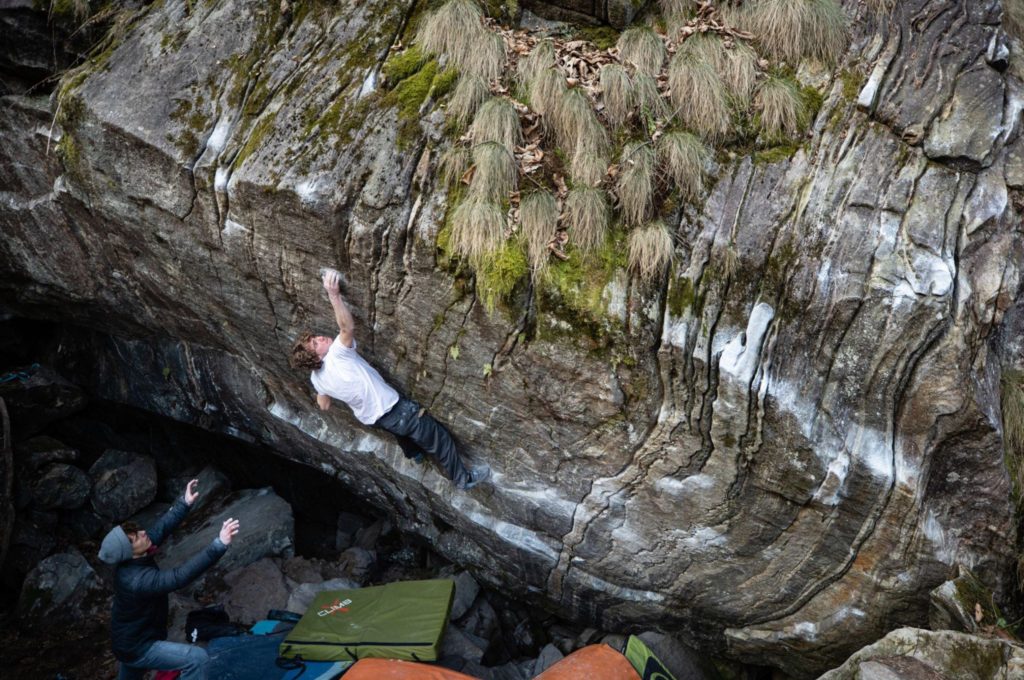 -Est-ce que tu t'entraînes spécialement pour ça ?
Je ne me suis entraîné que sur le problème lui-même, je ne crois pas vraiment à l'entraînement physique si ton objectif est de grimper en milieu extérieur.
-Tu continues à grimper des trucs durs et à trouver des perles rares non loin de chez toi. As-tu quelques lignes à l'esprit de ce calibre en termes de difficulté ou même plus difficiles ?
Oui, ici au Tessin, il y a des tonnes de projets, beaucoup d'entre eux sont aussi incroyables que difficiles. En fait, je suis sur le point d'expédier un autre projet, espérons qu'il ne fasse pas trop chaud trop tôt!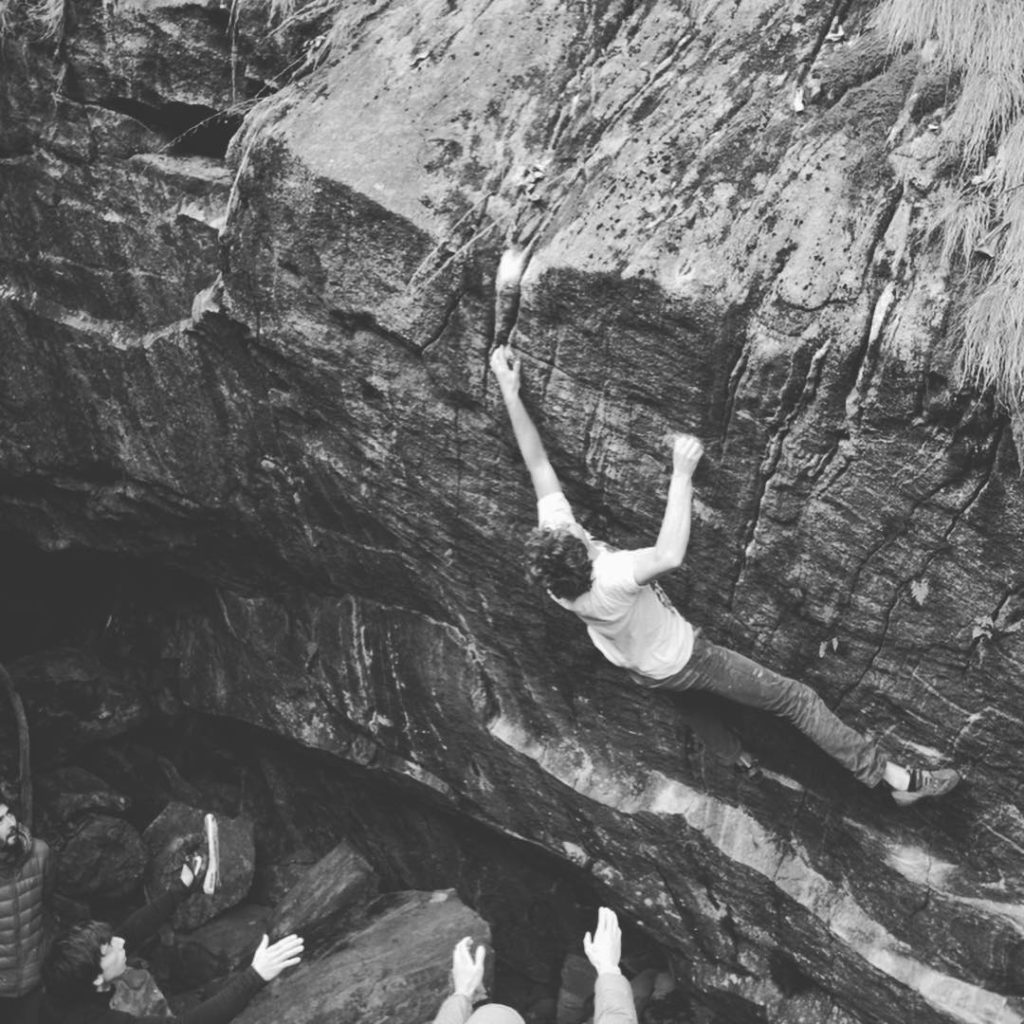 Strong Swiss boulderer Giuliano Cameroni just did the first ascent with « Poison the well » 8C+ in Brione. It's second hardest boulder of the country after the first ascent of « Odd the wagon low » by Shawn Raboutou at the end of last year. Little talk with Giuliano.
-You just made a crazy send with your latest project, can you tell us more about it and where is it located?
« Poison the Well » is located in Brione, Ticino (Switzerland). It starts as Pamplemousse and then it climbs straight up that wall.
-Can you tell us what attracted you in this problem and what was the process like to make it happen?
This problem has always been know as one of the best projects in Ticino. The boulder is incredible and minimalist. I tried it for 8 days, focusing on getting stronger on the specific muscles.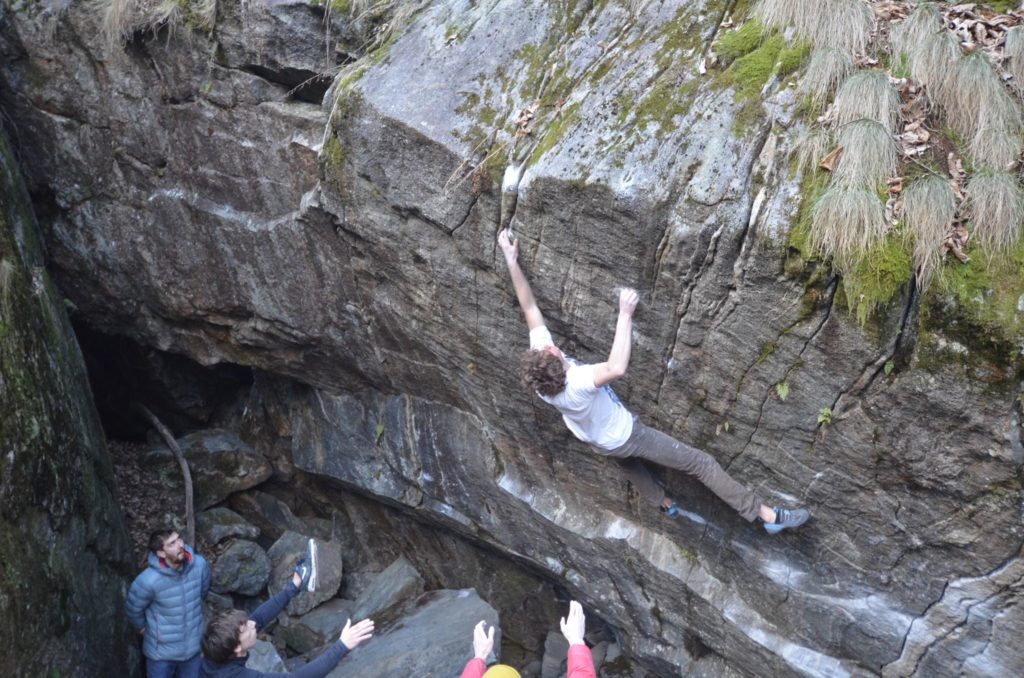 -Did you train specifically for it?
I only trained on the problem itself, I don't really believe in gym training if your goal is climbing hard on the rocks
-You keep pushing hard and finding some gems not far from home. Do you have other lines in mind of this calibre in terms of difficulty; or even harder ones?
Yeah here in Ticino there are tons of projects, many of them are amazing as crazy hard lines. I'm actually really close to sending another project, hopefully it won't get too warm too soon!
STAY TUNED
SOON THE VIDEO FROM MELLOW