On les avait laissé à Seynes, voici que le couple de falaisistes aixois Florence Pinet -Gérome Pouvreau a une nouvelle fois frappé la semaine passée à St-Léger !
Vendredi Gérome ouvrait le bal avec la 3ème ascension de "Supercrackinette" 9a+ à Praniania, une voie équipée par Quentin Chastagnier, libérée par Megos l'an dernier et récemment médiatisée suite à la seconde ascension flash par Adam Ondra. C'est le 3ème 9a+ de Gérome après ses premières ascensions de "Aubade direct" à la Sainte-Victoire et de la "Madone" dans le Lubéron. Gérome qui avait déjà essayé la ligne l'an dernier avait préparé le chemin à merveille car c'est lui qui avait réalisé la première ascension de la fin de la voie, "Crackinette" en 8c il y a quelques années. "Pour la cotation, au vu des 2 loustics : Alex Megos et Adam Ondra qui l'ont répété avant moi, rien à dire ! D'ailleurs un grand Bravo à Adam Ondra avec ce flash magistral, c'est beau ce qu'il fait pour notre sport, c'est fascinant cette rigueur qu'il a, attendre, observer, se projeter, réaliser… Chapeau bas !"
Florence n'est pas en reste empochant samedi "La ligne claire" 8c+, toujours au secteur Praniania après avoir arraché quelques prises pendant ses sessions de travail. "« C'est une voie dure du début à la fin, il n'y a quasi pas de passages faciles… La voie se compose de 3 sections rési ; à mon avis la 1ère est la plus intense avec de bons mouvements de blocs et un 3éme clip bien retord! Ensuite la 2nde est pour moi la plus facile mais elle m'a pourtant toujours malmené et m'a demandé des placements optimums et de l'engagement. Enfin la 3éme est extrêmement résistante avec plus d'une vingtaine de mouvements durs qui s'enchaînent et il n'est pas impossible de tomber avec les coudes levés jusqu'aux oreilles, le nez sous le relais !" C'est la première féminine de la voie.
Plus d'infos sur le blog de Gérome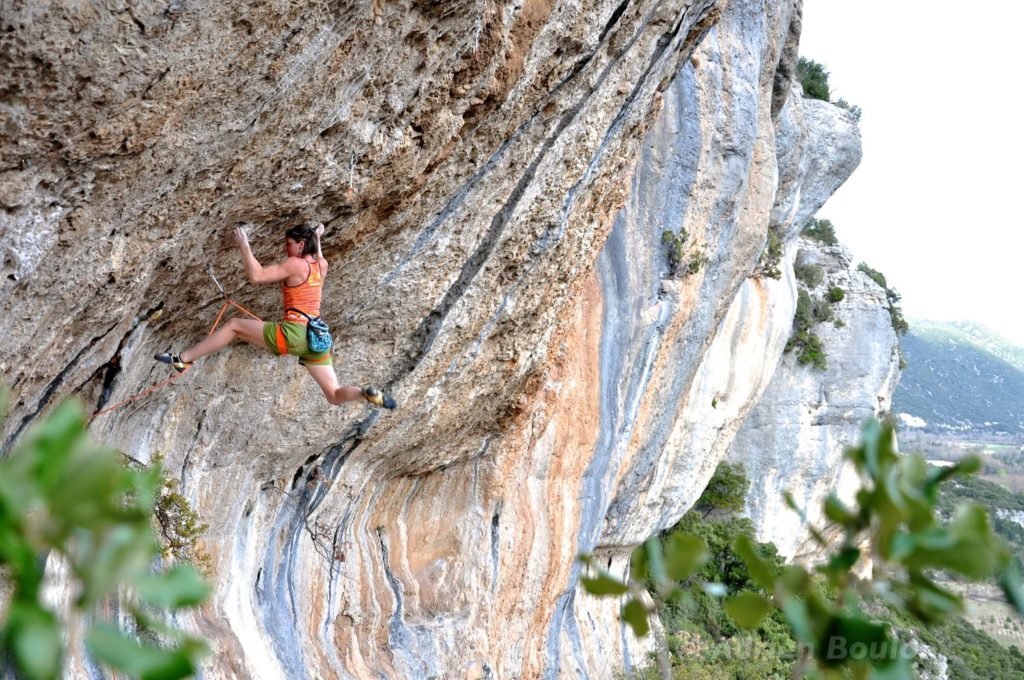 After their recent couple ascent in Seynes, Florence Pinet and Gerome Pouvreau has again striked last week in St-Léger! 
On Friday, Gerome was the first to crush with the 3rd ascent of "Supercrackinette" 9a+ in Praniania, a line bolted by Quentin Chastagnier freed by Megos last year and recently becoming famous with the second ascent flash by Ondra. It's Gerome's 2rd 9a+ after his first ascents of "Aubade direct" and "La Madone". Gerome started to work the line last year before finishing the process this spring. He was also the first to climb the exit "Crackinette" (8c) some years ago so it was a good advantage for the success in the harder direct start version. "For the grade, after the 2 amazing guys who have sent the line before me, nothing to add! A huge congrats to Adam for his flash, it's very nice for our sport, and it's also fascinating how he combines waiting, observation, projecting, sending… Hats off!"
Florence has also striked the day after, with "La ligne claire" 8c+, also in Praniania sector, after having broken some holds during the work of the route. "It's a very intense route from the beginning until the anchor with no easy sections. It's 3 resistance parts. The first is for me the most intense with some bouldery moves and a tricky 3rd clip. Then the second part is easier even if I struggled a lot on it. Then the 3rd part is very sustained with 20 hards moves without rest and it's not impossible to fall before the anchor completely pumped!" It's the first female ascent of the route. 
More in French in Gerom's blog
Photos : Adrien Boulon