La bleausarde Caroline Sinno est de retour aux affaires en forêt avec la réussite de sa seconde traversée en 8B, "Trafic" au Bois des Hauts de Milly (en face du parking de la JA Martin, massif des 3 Pignons), une ligne résistante de 30 mouvements avec un crux en guise de final. En 2017, Caroline avait déjà réussi "Miroir de vanité" au Rempart. C'est la 3ème réalisation féminine de cet enchaînement après Cathy Miquel et Oriane Bertone. Voici sa réaction et ci-dessous le run de son enchaînement non-coupé.
"Je suis vraiment heureuse d'avoir pu grimper cette pièce de résistance et aussi un petit morceau d'histoire car c'est considéré comme le premier 8B féminin avec l'ascension de Cathy Miquel en 2002. Et Cathy Miquel m'a toujours fait rêver, une grimpeuse polyvalente et véritable pionnière à Bleau. Je voulais enchaîner "Voyageur solitaire" (ndlr : la première partie en 7C) à la base et j'ai entraîné deux copines dedans, Zofia et Helen. J'ai commencé à essayer les mouvs juste pour voir à la séance après avoir enchaîné "Voyageur". Je ne pensais pas les réussir à la base, je ne suis plutôt pas mauvaise en arquées et les plats du crux de Trafic sont quasi inexistants alors je ne voyais même pas de prises haha. Et en fait j'ai vraiment adoré les mouvements physiques sur plats avec talons et contre-pointes, et aussi le processus de trouver des méthodes car j'ai trouvé peu de photos/vidéos sur cette trav peu répétée. Je suis rapidement tombée au crux qui est la succession de 3 plats infâmes à tenir avant de mettre un talon pointe droit salvateur. Et puis j'ai mis 2 séances à l'enchaîner, aidée par une bonne collante et les amis présents. J'ai été surprise d'avoir cette rési sans vraiment avoir à la travailler. Je pense que j'étais vraiment motivée et aussi poussée car j'étais toujours avec du monde dedans. Et ça change beaucoup !"
Font local Caroline Sinno just did her second traverse in 8B, "Trafic" in Bois des Hauts de Milly (in front of JA Martin parking, 3 Pignons). It's a 30 moves resistance traverse with the crux at the end. In 2017 Caroline also did "Miroir des vanités" in Rempart. It's the 3rd female ascent of the problem after Cathy Miquel and Oriane Bertone. Here are her words and the uncut video of the ascent.
"I'm very happy to climb this piece of resistance and of history because it's the first 8B female ascent in Font, in 2002 by Cathy Micquel, a very talented and all-rounder girl who is an inspiration for me. She is a pioneer of bouldering here. I first wanted to repeat "Voyageur solitaire" (note : the first part in 7C) with 2 friends, Zofia and Helen. I just checked the moves of the extension just after the send of "Voyageur". I wasn't thinking about sending, the slopers of the crux were hard to stick for me. I'm better in crimpy style. But I liked so much these physical moves on slopers with heel and toe hooks and also the process of beta search which was big for me, even I didn't find a lot of photos or videos of the problem. I quickly fell in the crux of the traverse, a 3 successive bad slopers rail before a saving heel hook. It took to me 2 sessions more for the send, in a very cool day with friends and good conditions. I was very surprised to get the resistance required without working on it. I was very motivated, always with friends to play with me during working sessions. It changes a lot!"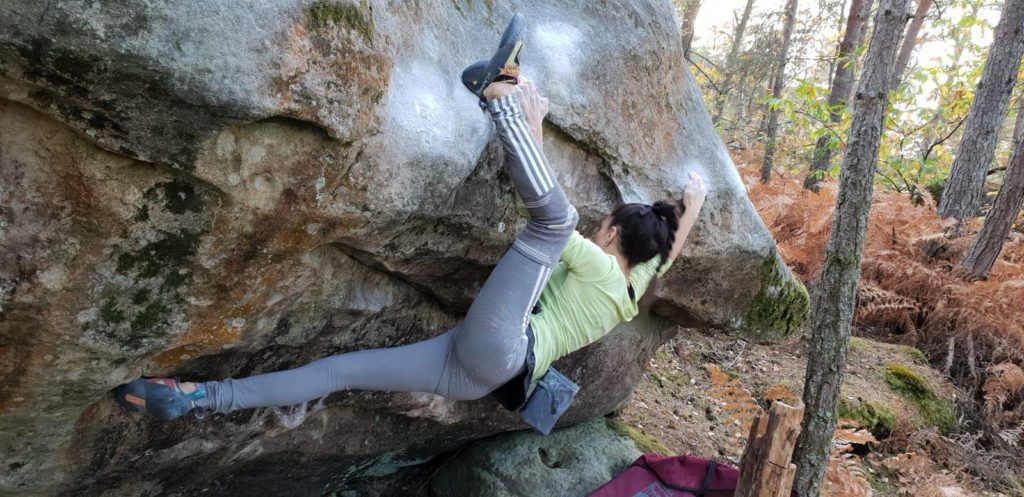 Photo de couverture – Cover pic :  Andy Day