Avec un très beau palmarès (6 fois championne de France de bloc, 7 médailles en coupe du Monde), Fanny Gibert, 30 ans, fait partie des figures incontournables de l'escalade de compétition en France. Basée en région parisienne où elle jongle quotidiennement entre entrainements, compétitions et son travail d'ingénieure, Fanny n'en oublie pas le milieu naturel avec quelques sorties et réalisations remarquées à Fontainebleau, comme l'atteste son compte YouTube. Il y a quelques jours, Fanny réalisait "Trafic", magnifique traversée des Bois des Hauts de Milly connue pour être le premier 8B traversée féminin en forêt de Fontainebleau, par Cathy Miquel en 2002. C'est la 4ème réalisation féminine du passage après Cathy et Caroline Sinno en 2018 et Oriane Bertone. Nous en avons profité pour envoyer quelques questions à Fanny.
– Combien de temps cela t'as pris ? Tu l'as fait dans la séance ?
J'avais fait une séance en septembre, j'avais calé tous les mouvements mais je n'avais pas mis d'essais en raison d'une gêne au coude qui m'empêchait de monter en rési. Cela me semblait faisable rapidement, mais j'y suis retournée très longtemps après, ce mardi. J'ai recalé les mouvements et à mon premier run j'étais hyper bien et j'ai zippé à la fin, pareil au 2ème run où je zippe bêtement en délayant, et je fais la croix à mon 3ème essai bien entamée par mes précédents essais et me battant.
– Qu'as tu pensé de cette traversée ?
J'ai choisi ce bloc car les mouvements étaient sympa et ça donnait envie. Je trouve cette trav' hyper classe, c'est dégagé, des prises hyper sympas et des mouvements très variés, j'ai adoré, cette partie de la forêt est hyper belle, c'était un bon moment dehors sur ces deux séances que j'ai faites. De base, je ne suis pas forcément fan des traversées, mais celle ci vaut le coup, la gestuelle est vraiment classe.
– Tu as décidé de ne pas défendre ton titre de championne de France de bloc ce week-end pour te consacrer à tes entrainements pour les coupes du Monde. Peux-tu détailler ? Quels sont tes objectifs en compétition ?
J'ai décidé de ne pas participer au championnat de France pour m'entrainer car la saison précédente a été très longue, jusqu'à octobre avec la compétition de combiné à Laval, du coup la période hivernale n'a pas été optimale pour m'entrainer et en vue de 2024 et du combiné, je m'entraine aussi en diff ce qui laisse peu de temps. Du coup, stratégiquement, on a décidé que je ne ferai pas les championnats de France pour plutôt m'entrainer et être au taquet sur les toutes premières coupes du Monde en avril. L'objectif est de refaire finale et d'accrocher les podiums en bloc, de faire finale ou rentrer dans le top 10 en diff, et la qualification aux JO 2024 et ça passe par marquer des points sur les coupes du Monde 2023.
– As-tu d'autres projets sur le feu à Bleau ?
J'ai laissé tomber mes projets à Bleau cet hiver car j'avais des gênes sur les mouvements de compression et les doigts qui tiraient, mais là cela va mieux du coup je peux retourner dehors. Il y a un projet que j'aimerai concrétiser c'est "Saruman" (8B), je sais pas si je vais pouvoir y retourner tout de suite, cela dépendra de l'état de forme et du temps que j'ai avant les compétitions. J'espère pouvoir y retourner ! J'ai aussi pas mal de blocs dans le 8 que j'ai essayé une séance ou deux et où j'aimerai aussi retourner, mais le seul projet où j'ai vraiment passé du temps c'est "Saruman".
– Que penses-tu de la fréquentation massive de la forêt ces dernières années ?
C'est sûr que cela fait un peu peur, je me pose des questions en effet. Oui on a envie de partager ce sport avec le plus grand nombre parce que je suis convaincue que c'est un sport génial et j'ai envie que tout le monde puisse en profiter, mais à la fois j'ai à l'idée que le rocher n'est pas éternel et la forêt inépuisable, du coup quand on voit l'affluence c'est sûr que cela fait réfléchir sur comment envisager une pratique sereine et pérenne dans le temps, mais je n'ai pas la solution !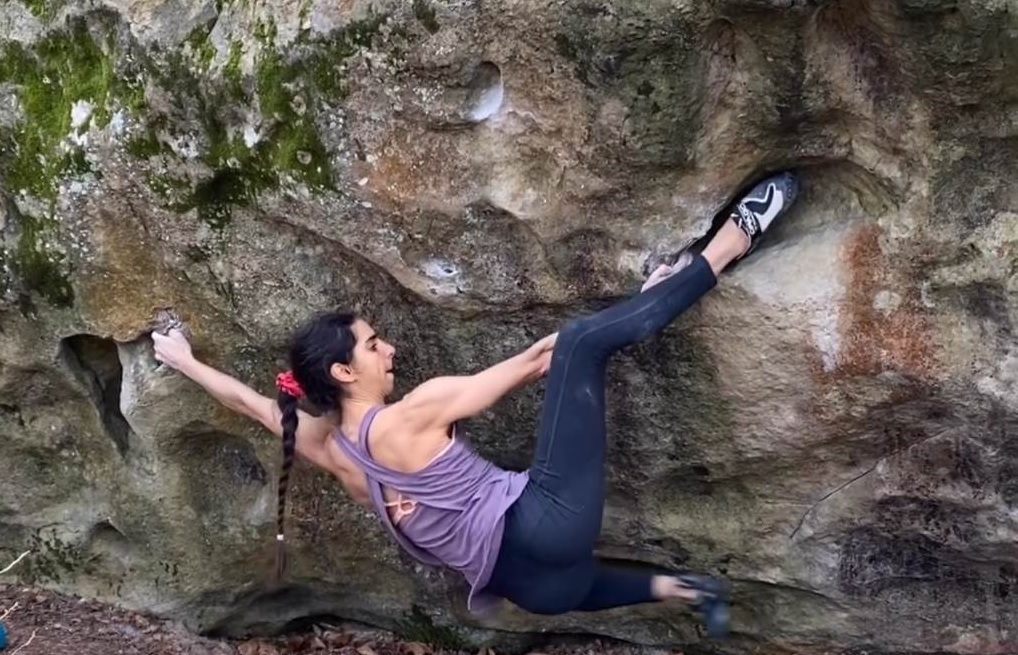 With a very fine hit list (6 times French bouldering champion, 7 World Cup medals), Fanny Gibert, 30, is one of the key figures in competition climbing in France. Based in Paris surburb where she juggles daily between training, competitions and her work as engineer, Fanny doesn't forget outdoors with some remarkable achievements in Fontainebleau, as you can watch on her YouTube account. A few days ago, Fanny made "Trafic", a magnificent traverse of the Bois des Hauts de Milly known to be the first female 8B in the forest of Fontainebleau, by Cathy Miquel in 2002. It is the 4th female repeat of the problem after Cathy, Caroline Sinno and Oriane Bertone. We took the opportunity to send some questions to Fanny.
– How long did it take you?
I had a session in September, I checked all the movements but put no tries due to a little injury in my elbow which prevented me from doing resistance efforts. It seemed doable to me quickly, but I went back there a long time later, on Tuesday. I checked again the movements and on my first go I was super good and I slipped at the end, the same at my second go where I stupidly slipped while shaking, and I finally sent it on my 3rd go, fighting with the pump of my previous tries.
– What do you think of this traverse?
I chose this boulder because the movements were nice. I find this trav' super classy, whith a nice setting, super shaped holds and very varied movements, I loved it, this part of the forest is super beautiful, it was a good time outside on these two sessions. Basically, I'm not necessarily a fan of traverses, but this one is worth it, the moves are really cool.
– You decided not to defend your title of French bouldering champion this weekend to devote yourself to your training for the World Cups. Can you detail? What are your goals in competition?
I decided not to participate in the French championship to train because the previous season was very long, until October with the combined competition in Laval, so the winter period was not optimal for me in order to train in view of 2024 and the combined and also especially in lead which takes time so strategically we decided that I will not do the French championships to train instead and be ready for the first World Cups in April. The objective is to reach bouldering finals and to grab podiums as I can, to make lead finals or enter in the top 10 and qualify myself for the 2024 Olympics and that means scoring points on the 2023 World Cups.
– Do you have other projects in Font?
I dropped my plans in Bleau this winter because I had problems with the compression movements and little pain in my fingers , but now it's getting better so I can go back outside. There is a project that I would like to send, it's "Saruman" (8B), I don't know if I'll be able to go back to it right away, it will depend on my shape and the time I have before the comps. I hope to be able to go back! I also have a lot of boulders in the 8th grade that I tried a session or two and where I would also like to return, but the only project where I really spent time was "Saruman".
– What do you think of the massive frequentation of the forest in recent years?
It is sure that it is a little scary, I ask myself questions indeed. Yes, we want to share this sport to many people as possible because I'm convinced it's a great one and I want everyone to be able to enjoy it, but at the same time I have the idea that the rock is not eternal and the forest not inexhaustible, so when you see the crowds it sure makes you think about how to consider a serene and sustainable practice over time, but I don't have the solution!