James Pearson, fervent maniaque du trad s'est lancé dans une quête pour réaliser son projet trad ultime depuis quelques années. Rhapsody, "Le voyage" à Annot, et plein d'autres voies dures en trad autour du Monde -dont certaines sont répertoriées dans le récent ouvrage paru chez Glénat, "Un Monde d'escalade" co-écrit avec son épouse Caroline Ciavaldini- font parties de cette quête  .
"C'est un processus assez frustrant, mais au final, je suis chanceux de trouver tous ces joyaux et de grimper ces incroyables nouvelles voies de trad. Chaque nouveau projet démarre avec une question : est-ce que ce sera celui-là ? Est-ce que je l'ai trouvé ? Je me sens d'abord submergé, je m'inquiète de ne pas y arriver… Puis je joue et je me rapproche de plus en plus du succès. Puis mon coeur se serre un peu car je sens que ce n'est pas ma voie de rêve ultime, une nouvelle fois. Du coup mon succès a un goût amer."
C'est par ces mots que James introduit sa dernière réalisation en trad cette semaine : "Power Ranger", une superbe face à Sunset Rock, au-dessus de Chattanooga dans le Tennessee. Voici sa pub sur ce nouveau projet extrême libéré :
"Après un départ facile mais audacieux et un repos, les difficultés démarrent. Les mouvements sont intenses et exigeants avec des grands mouvements qui amènent à un crux délicat puis à un grosse section de résistance jusqu'au sommet, La voie propose une magnifique séquence sur du grès parfait, et depuis que j'avais trouvé cette ligne, j'étais obsédé d'y retourner. Je ne reviens pas en détail sur le niveau, je pensais que ce serait très dur et que ce serait ma voie la plus dure en trad, mais en vérité je ne sais pas. Je dirai que c'est d'un niveau assez proche de mes dernières croix au lieu de dire que c'est la millième histoire de l'année sur l'ascension la plus dure de l'année. Pouvons-nous nous focaliser sur autre chose ? La voie est superbe, une voie seule dans un mur blanc avec rien d'autres autour pour pouvoir s'échapper et tricher, tu as juste ce que la nature a donné. Les mouvements sont puissants et délicats, avec un crux marqué mais aussi la possibilité de tomber à chacun des mouvements. Les protections sont bonnes et évidentes mais c'est engagé et il faut chuter de manière contrôlée si tu veux rester en un seul morceau. L'escalade est exigeante. où la position de la corde entre les jambes en cas de chute est à prendre en compte si on veut éviter de chuter dans la mauvaise direction. C'est une voie fantastique, j'ai pris beaucoup de plaisir à la travailler et elle mérite d'être grimpée encore et encore. Qu'attendez-vous ?"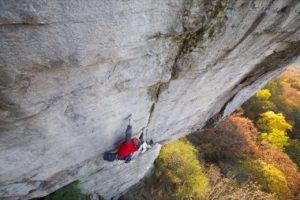 Since several years, James Pearson, one of the trad climbing icon is permanently on a quest to find his ultimate trad route. "Rhapsody", "Le voyage" and several other hard routes -as the one you can find in his latest book co-written whth his wife Caroline "Climbing beyond"– are part of this quest.
"It's been a tough, sometimes frustrating process, but along the way, I've been lucky enough to find some gems, and climb some really awesome new Trad routes. Every new project starts with the question: is this the one? Have I found it? I first get overwhelmed, I worry that I won't be able to do it, then I play, and as I get closer and closer to success, my heart sinks a little as I realize it isn't my dream route yet. Success is bittersweet."
It's with this words that James introduce his lastest trad tick, "Power Ranger" on a  incredible clean face at Sunset Rock above Chattanooga Tennessee. Here is James' advertisement about it: 
"After a bold but easier lower wall, you make the most of a great rest before starting the difficulties of the headwall above. From this point on, the moves become intense and unforgiving, with long powerful reaches leading into an intricate and delicate crux, and onwards to a run-out power endurance sequence to the top. It's a beautiful flowing sequence up almost perfect sandstone, and for the last year since I put my hands on it, I have been obsessed with returning to this line. I could go on to talk in detail about the grade, go big and tell you that it is my hardest route ever, but the truth is I don't know. Its somewhere close to my latest ticks for sure, yet instead of the 1000th story of "hard ascent of the year", cant we focus on something else?
This route is beautiful – a single line of holds up an otherwise blank wall. No way around, no way to cheat, you get only what nature has given. The moves are powerful, yet delicate, with an obvious crux but also the chance to fall on any move. The gear is good, the run-out quite big, and provided you fall in a controlled way you should be ok, yet the climbing is awkward, the rope runs behind your legs, and falling off the upper moves would send you exactly in the direction you don't want to be! It's a great route, hell, I'd go as far as to say it's a fantastic route! I had so much fun working and climbing upon it, and it deserves to be climbed, again and again, and again! So what are you waiting for!"