Un monde d'escalade est un livre photo paru fin octobre aux éditions Glénat et écrit par le couple de grimpeurs professionnels Caroline Ciavaldini et James Pearson. Ils y partagent les destinations grimpe qui les ont marquées à travers le globe. Ce livre est une ode au voyage vertical que l'on peut prendre pour source d'inspiration ou pour simplement dévorer des yeux des falaises d'exception tout en restant dans son canapé.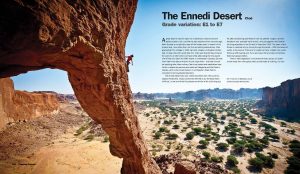 Le livre: Caroline et James ont choisi de mettre en avant leurs destinations escalade favorites ou celles qui les ont plus marquées. A leur images, on ne retrouve pas forcément les falaises ou les voies les plus connues mais plutôt un panel de lieu où l'aventure est plus où moins présente. Des grandes voies en trad dans le reculé désert d'Ennedi aux blocs dans les Asturies en passant par l'escalade sportive en Malaisie, il y  en pour tous les goûts. Les 39 destinations mises en avant dans cet ouvrage sont organisées par continent (dommage il manque l'Antarctique !). Pour chaque destination, on y retrouve des détails sur la grimpe, des anecdotes de voyages, des informations sur l'histoire et la logistique, une carte et le topo d'une ou deux voies en particulier.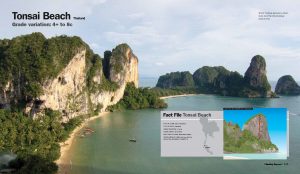 Un mot sur les auteurs:  Caroline Ciavaldini, originaire de l'île de la Réunion est issue du monde de la compétition mais fait ses armes depuis plusieurs années sur les plus beaux rochers du monde au coté de son mari James Pearson qui lui a transmis , entre autre, l'amour de l'escalade en trad. James Pearson est un grimpeur anglais qui a grandi au Peak District et qui s'est fait connaître grâce à plusieurs ascensions extrêmes en trad. Il varie désormais les plaisirs en ayant une pratique très complète de toutes les facettes de l'escalade (bloc, grandes voies, etc).. Le couple parcourt maintenant le monde depuis plusieurs années en quête d'aventures verticales qu'ils racontent sur leur site www.onceuponaclimb.co.uk..
Où trouver le livre: Un monde d'escalade au édition Glénat, 37€ distrubé sur le site de l'éditeur, dans les librairies (Fnac, etc) ou sur Amazon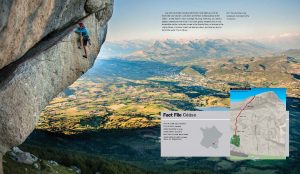 Climbing Beyond is a photo book published at the beginning of the October and written by professional climbers Caroline Ciavaldini and James Pearson. They share the climbing destinations that have marked them across the globe. This book is an ode to the vertical journey that one can take as inspiration or simply devour eyes on the exceptional cliffs while staying on a couch.
The book: Caroline and James have chosen to highlight their favorite climbing destinations or those that have marked them most. Just like them, one does not necessarily find the most known climbing routes or cliffs but rather a panel of places where the adventure is more or less present: from traditional climbing routes in the remote desert of Ennedi in Chad, to the boulders in Asturias and sport climbing in Malaysia, there is something for everyone. The 39 destinations highlighted in this book are organized by continent (too bad the Antarctic is missing!). For each destination, there are details on the climb, travel stories, information on history and logistics, a map and the topo of one or two routes in particular.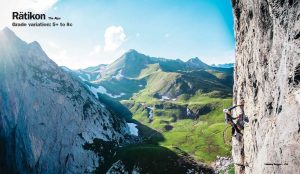 A word about the authors: Caroline Ciavaldini, a native from Reunion Island comes from the competition world but gained outdoor experience on rocks of the world. James Pearson is an English climber who grew up in the Peak District and made himself known through several extreme climbs in trad. Having succeeded some of the world's hardest traditional routes, James shifted his focus to include various climbing disciplines as bouldering, sport, and multi-pitch. Today, the married couple travels the world in search for vertical adventure that they share on their website www.onceuponaclimb.co.uk.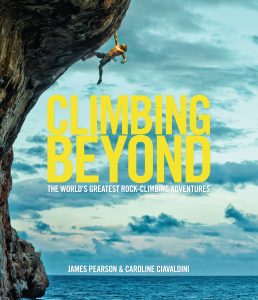 Where to find the book: Climbing Beyond £25 on Amazon
Photos: Onceuponaclimb