Grâce à l'œuvre de deux locaux très passionnés, Christophe Louis et Élie Morieux, deux secteurs de couennes ont été récemment développés dans les gorges du Verdon.
Le premier, qui ne porte pas de nom pour l'instant, a été développé par la légende varoise Christophe Louis. Il se situe à l' extrême droite de la Ramirole, en rive gauche.
"Il faut suivre une main courante bien visible en gardant le baudrier. C'est du rocher jaune et bleu qui broute moins que la Ramirole. Les voies font entre 15 et 40m pour une quinzaine de voies de tous les niveaux, 5+ à 8b, avec une prédominance de 8a (5 voies) et 3 projets autour du 8b. Deux voies majeures sortent du lot : "Verdon subutex", 8a ( L1 d' une voie de 7 longueurs) et "The walk of shame" 8a+. À l'abri de la pluie, le secteur résurge moins que la baume de la Ramirole. Le matos a été fourni par Greenspits et jegrimpe.com. Il y a aussi deux 8a+ sur la droite de la Ramirole, juste avant le secteur : une variante de "Red tag" et une voie de 40 m sur du rocher orange. Ces deux voies, ainsi que le secteur du bas, sont sèches, alors que toute la Ramirole est trempée !"
Le second secteur est juste à côté de La Palud sur Verdon : au bout de la route des crêtes, une face Nord nommée le "jardin des dindes", où une petite dizaine de voies ont été équipées par Élie Morieux, dont un projet dans le 9ème degré, "L'un des 6 ions minéral". De La Palud, prendre la route des crêtes et se garer au parking du canyon de Mainmorte ou le sentier du bastidon. La falaise se situe au dessus, sur la gauche de la route (sentier cairné 100 mètres après la sentier qui descend à Mainmorte). Le topo en photo ci-dessous avec de belles voies comme "The british lizard" 7a+ et "Smiling Robert" 6c puis 7b+.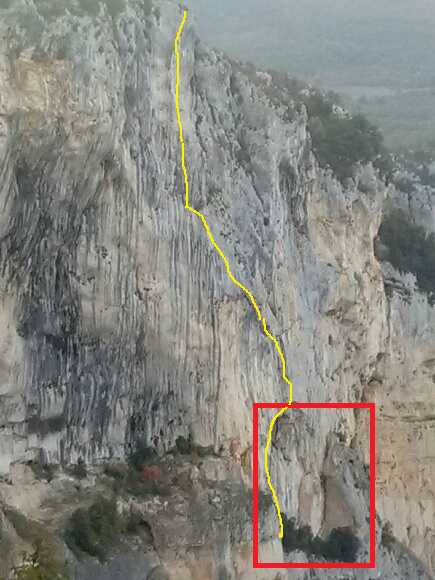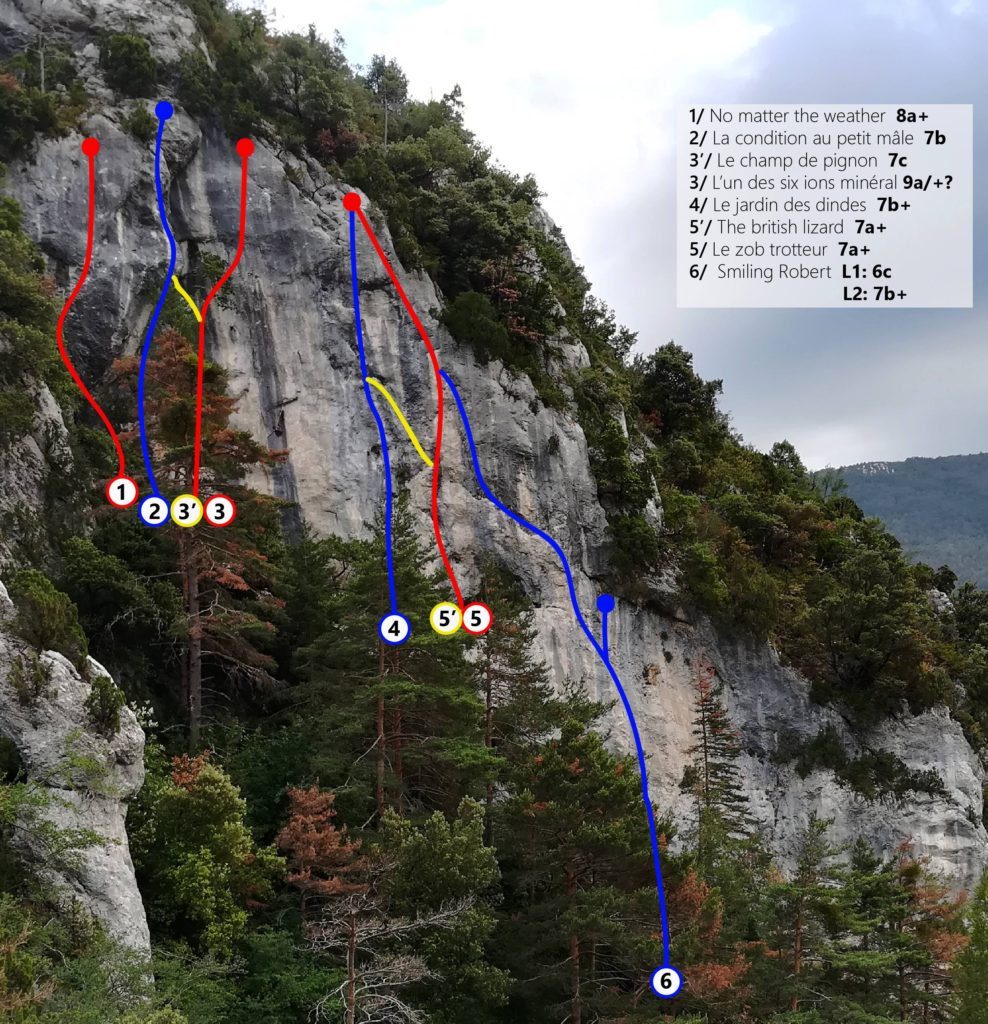 Thank to 2 active local bolters who are very passionate, Christophe Louis and Elie Morieux, 2 new sportclimbing areas have been recently developed in Verdon gorge.
The first, which has no name yeat has been developed by Christophe Louis. It's in the extreme right of Ramirole cave (left bank).
"You need to follow fixed ropes at the very right of the cave, you need to go in direct with your harness. It's a yellow and blue rock which is less sharp than in Ramirole cave. The routes are between 15 and 40 meters long for 15 routes in all level range, 5+ to 8b with a lot of 8a (5 routes) and 3 projects around 8b. 2 amazing routes are gems : « Verdon subutex » 8a (pic just up, L1 of 7 multi pitch route) and « The walk of shame » 8a+. You can climb under the rain and the sector is drying quickly compared to the cave. Bolts have been given by JeGrimpe.com and Greenspits. There are also 2 new routes in the right of Ramirole cave, just before the sector, 2 8a+, a variation of « Red tag » and a 40 meters route in an orange rock."
The second one named "jardin des dindes" (aka turkey garden) has been developed by Elie Morieux. It's a new North face with around 10 routes close to La Palud (right bank), at the beginning of route des crêtes. Park at Mainmorte canyon parking, crag is up, at the left of the road going to Verdon, path is 100 meters after the Mainmorte track. You have the guidebook of this area in pic just up with nice routes like "The british lizard" 7a+ or "Smiling Robert" 6c then 7b+.