La grimpeuse Suisse Katherine Choong vient de réaliser son premier 9a au pays avec "La cabane au Canada" 9a au Rawyl. Enchaînée il y a quelques jours par Julia Chanourdie, cette voie est en train de devenir la voie à la mode de cette fin d'été chez les filles !
"Un de mes buts cette année en falaise était d'enchaîner un 9a. Après être tombée deux fois au sommet d'"Era Vella" au printemps passé, j'ai décidé de m'attaquer à un projet plus proche de la maison au Rawyl, une magnifique falaise en Valais. J'y avais fait un tour l'année passée mais ne parvenais pas à faire un des mouvements tout en haut de la voie, un mouvement loin pour les naines aux bras de T-Rex comme moi. Mais cette année, m'étant entraînée beaucoup plus en bloc pour les compétions internationales, j'arrivais enfin à passer ce fameux crux mais de manière hyper aléatoire et continuais de tomber encore et encore à ce mouvement dynamique dans l'enchaînement. Ayant d'autres projets pour l''automne, notamment les championnats du monde en septembre, c'était mes derniers essais dans la voie avant un bon moment. Mais c'est là que la magie de la dernière chance a fait son effet. Pourtant la journée avait plutôt mal commencé. Une belle rincée en fin d'après-midi, la fatigue du 4ème jour de grimpe dans les bras, mal à la peau et aux doigts, bref pas mal d'excuses pour ne plus vraiment y croire. Mais dans ma 2ème montée de la journée, les mouvements me paraissent étonnement plus faciles. Juste avant la nuit, je décide donc de mettre un 3ème et dernier run de la journée persuadée que ça allait faire. J'arrive au sommet de la voie, réalise le mouv' dynamique et clippe enfin le relais dans la pénombre !"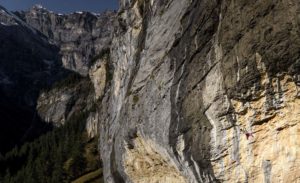 Quelques jours auparavant c'est "Tornado Power" 8c à Gimmelwald qui avait été réalisé par Katherine . "C'est une super voie de rési d'une vingtaine de mètres avec une petite section bloc en début de voie que l'on m'avait conseillée d'essayer. La voie parfaite pour moi quoi.  Il y a quelques semaines, j'ai donc décidé d'aller tâter le caillou de Gimmelwald. Le simple fait d'aller au pied de cette falaise en vaut la peine, tellement le cadre y est splendide ! Un vrai voyage au cœur de la Suisse traditionnelle. Et même si on croise pas mal de touristes, perches à selfies et autres accessoires en tout genre au début de la télécabine, on se retrouve vite dans une petite vallée bucolique entourée de glaciers, de montagnes à gambader direction la falaise au son des beuglements des vaches et des chèvres. L'enchaînement ne s'est pas passé si facilement. Je me suis quand même retrouvée 2-3 fois le nez à quelques mètres du relais sans parvenir à le clipper. Mais les températures un peu plus clémentes de cette semaine m'ont permises d'enchaîner finalement assez vite cette voie."
The Swiss climber Katherine Choong just did her first 9a at home in Rawyl, "La Cabane au Canada". Sent by Julia Chanourdie few days ago by Julia Chanourdie, this route is starting to be famous for women! 
"One of my goal this year was to climb 9a. After 2 falls at the top of "Era Vella" this spring, I decided to try a project closer from my home, in Rawyl, a superb crag located in Valais. I tried it briefly last year but I didn't manage to stick a long move at the top of the route. This year, more trained with a lot of bouldering for comps, I was able to climb the crux but I keep falling at this damned dynamic move. Having others projects for this fall, with the World championships in September, it was my last tries in the route these days. And the magic of the last times gew on! The day had badly started with a poor rain in end of afternoon, tireness of 4th day climbing, sore skin, a lot of excuses for not believe in yourself…But at my second go in the route, I surprisely felt the moves easier. Just before the night, I decided to make a last run with a certain chance of success. I climbed the route, did the dynamical move and arrived at the top in the dark!"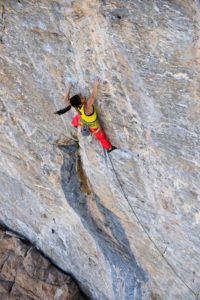 Fews days before, Katherine climbed too "Tornado Power" 8c in Gimmelwald, a route she recommends. "It's a nice resistance route of 20 meters with a bouldery start. The perfect route for me. And the landscape is beautiful here! You cross a lot of tourists at the begining of the cable car, but after some minutes of walking, you are lost in this valley with mountains, glaciers, cows and goats. The route was hard to send. I fell 2 or 3 times just under the anchor, without managing to clip it. But low temps of this week have helped me to finish it."
Photos : Rainer Eder