*** Lucien Martinez réussit ce dimanche la seconde ascension de "Beyond" 9a au Pic St-Loup dans l'Hérault. La première ascension de cette voie équipée par l'équipeur local Fedric Ferraro avait été réalisée par Seb Bouin ce printemps. Cette voie de 25 mètres se situe entre "Les rois du pétrole" et "Légende". C'est la 4ème voie en 9ème degré de Lucien après "FFF", "Descente en terre inconnue" et "3 degrees of separation". Mini-interview.

Pourquoi avoir jeté ton dévolu sur cette voie ?
Au début je voulais essayer Légende, la voisine de gauche, également 9a, mais à ma première montée de calage dedans, je me suis jeté sur la troisième dégaine sans avoir vu que le point était presque dévissé. Avec le ballant, la dégaine et la plaquette me sont restés dans les mains et seul un bon assurage m'a évité le retour au sol. Alors, vu qu'il manquait un point et que je n'avais pas le matos pour le remettre, je suis allé voir la voisine de droite, "Beyond".

Comment s'est passée la découverte de la voie ?
La découverte de la voie a été assez drôle. Seb Bouin m'avait parlé d'une première section terrible sur petites règles dans du 45°, le crux, et n'avait que très vaguement évoqué un petit mouv' au dessus, pas très dur mais à bien caler. À ma première montée, j'ai fait les mouvs du prétendu crux quasi directement. Je me suis dit "cette voie, je vais la défourailler". DEux minutes plus tard, en arrivant au deuxième crux, j'ai méchamment déchanté : impossible de comprendre le mouv'!

Décris la voie et ses difficultés. Qu'est-ce qui t'as posé le plus de problèmes ?
La ligne démarre par un dizaine de mètres autour du 7c, dans du dévers à 50 degrés et propose une escalade sur patates assez jouissive. Sur 5m, les concrétions laissent alors place à de petites arquées très franches, en compression rapprochée, qui s'achèvent par un jeté improbable sur une bonne colonnette. Là, il faut profiter d'un genou correct pour se refaire et repartir sur quelques mouv's de patates avant le crux final : un petit cube à serrer, une grosse lolotte et un autre jeté sur une colo ! Il reste alors 10m pour savourer, exceptionnels, sur la gigantesque colo unique du centre de la baume. Je pense que la beauté de la grimpe, avec ses patates et cette section sur réglettes dans du 45, couplée à son cadre sur cette baume suspendue, en font une des plus belles voies du Monde dans ce niveau. Mais ce n'est qu'un avis. Dans le travail de la voie, j'ai rencontré deux problèmes. Le premier a été de comprendre le deuxième crux. J'ai d'abord trouvé une méthode un peu bizarre que j'ai dû abandonner en cassant le talon clef. J'ai alors du me rabattre sur la lolotte de Seb que je n'arrivais pas a rentrer, j'ai fini par réussir mais ça a été laborieux. Ensuite, je savais que j'avais tout en main pour faire la voie, que je n'avais plus d'excuses, et donc je mesuis mis une énorme pression pour taper des runs, pas évident à gérer.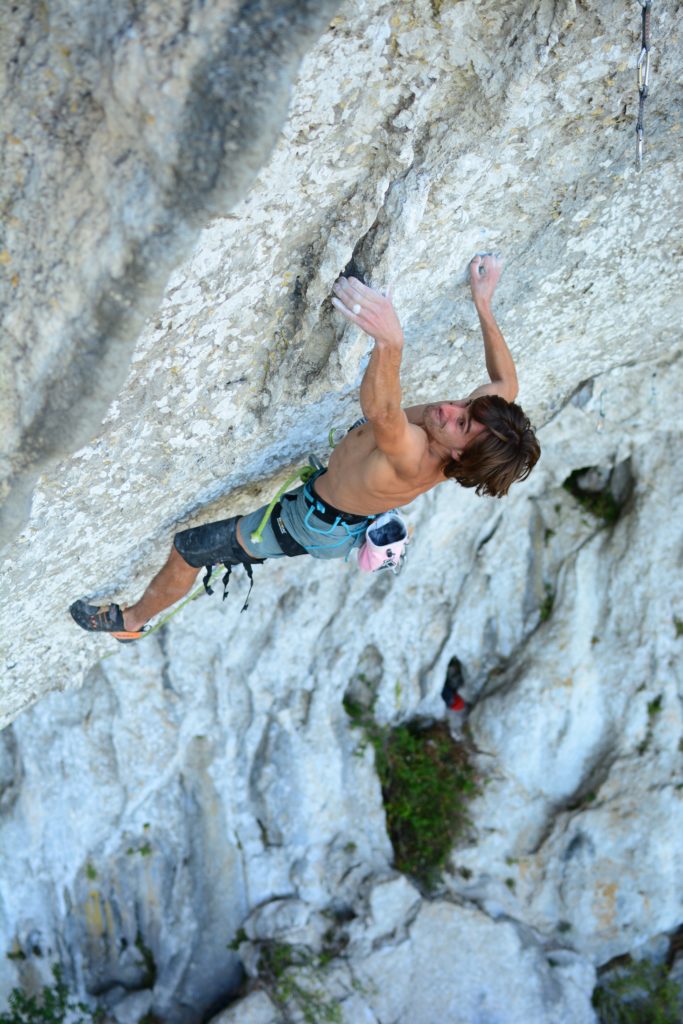 Comment s'est passé l'enchaînement ?
L'enchaînement s'est passé au deuxième jour d'affilée dans la voie, après deux chutes la veille au crux 2. J'étais émoussé en force donc j'ai pas mal subi dans la section sur les réglettes, mais c'est passé. Je savais qu'au deuxième jour je serais moins bien en force mais mieux en rési, et c'est ce qui s'est produit : j'étais assez mal dans les mouvs' mais j ai réussi à me battre.

Que retires-tu de cette voie ?
Dur à dire. Pour le coup je pense que je n'étais pas à ma limite avec "Beyond", donc j'en retire plus une expérience dans une voie de rêve qu'un réel accomplissement.

Quels autres projets as-tu à l'esprit dans un futur proche ou lointain ? "Fight or flight" ?
A court terme je voudrais réussir un projet que j'essaie depuis 4 bonnes années à Supermanjoc, ma falaise de cœur. Je suis pas loin et je vais vraiment essayer de la faire cette cet automne. À moyen terme, si j'ai le courage et que j'arrive à m'organiser, j'irai repasser un mois à Oliana pour essayer "Fight or Flight". À long terme, et c'est le plus important, je vais essayer la voie équipée par Sharma à Face de Rat à Céüse.

9a ou 9a+ pour "Beyond" ? toi qui a un avis assez tranché niveau cotation, dis-nous.
9a, sans hésiter. Pas assez dur, pas assez de rési entre les pas de bloc pour faire 9a+, mais quand même trop dur pour 8c+, surtout avec ce deuxième crux qu'il faut négocier un peu attaqué…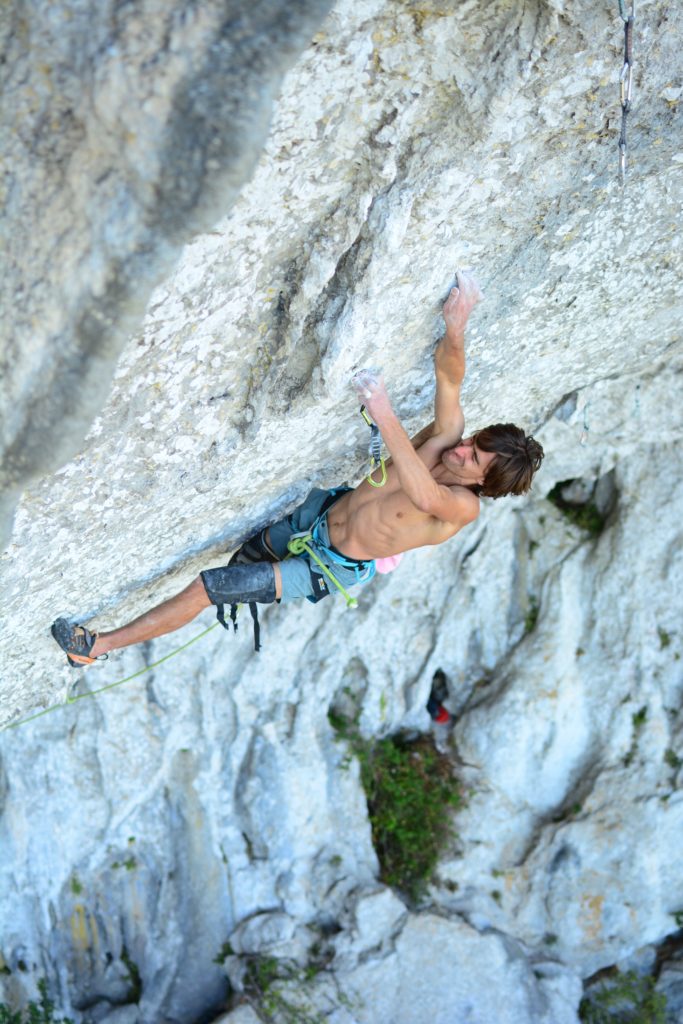 *** Loic Zéhani gravit sa voie la plus dure au secteur Bergerie d'Orgon avec la première ascension du "Poisson pilote" qu'il propose à 9a+. La voie, équipée par ses soins, est très explosive : seulement 24 mouvements dans un dévers prononcé avec très peu de pieds. 15 séances auront été nécessaires avant la réussite. Loic estime la niveau de cette voie légèrement supérieur à celui de "Sachidananda" autre 9a+ d'Orgon (secteur Canal, enchaînée l'an dernier) qui était jusqu'alors sa voie la plus difficile. Ci-dessous Loic au travail de la voie.

*** Romain Schieber en état de grâce avec son premier 9a : le grimpeur Bordelais expatrié à Barcelone vient de connaître un début de mois de septembre en état de grâce avec la réussite de ses 2 premiers 8c+ dans la grotte de La Cova de l'Ocell (Sant Miquel del Fai, Catalogne). Ce week-end sur la même falaise, le point d'orgue de cet état de forme a été atteint : la réalisation de son premier 9a, "El ordre del Factors + El Mon" qui combine un 8B traversée de 24 mouvements avec un 8c/c+ jusqu'au 1er relais pour un petit 9a. Il reste à finir le travail en s'offrant l'intégrale qui rajoute un peu de continuité mais ne fait pas grimper le niveau. C'est la 5ème ascension de la voie après Diego Marsella, Ramon Julian, Dani Andrada et Jose Agusti. Sensationnel !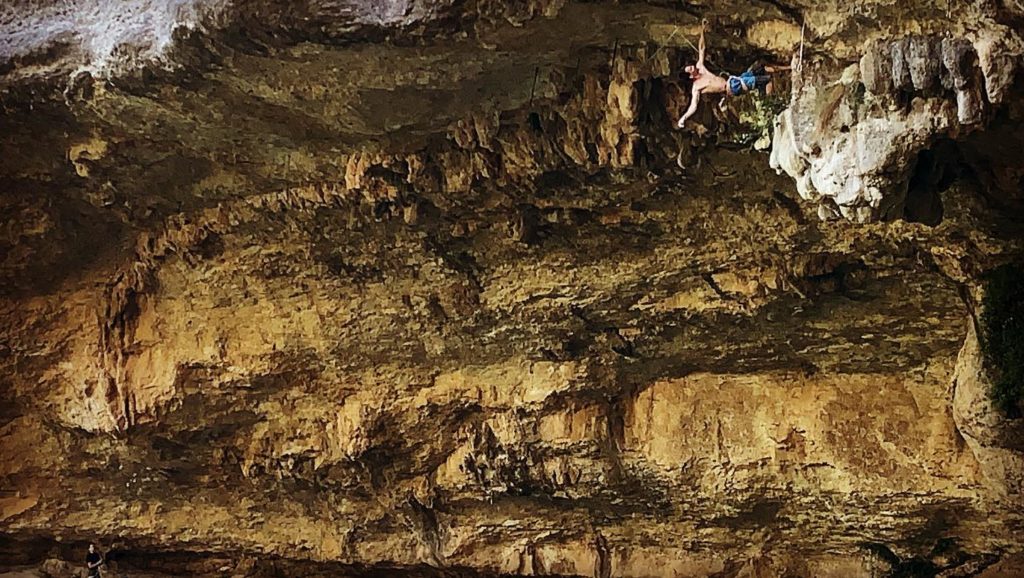 *** Pierre Le Cerf réalise son second 9a avec la classique des gorges du Loup "TripTikTonik" qu'il travaillait depuis quelques semaines. fin juillet il s'était déjà offert "Kick Ass" sur la même falaise.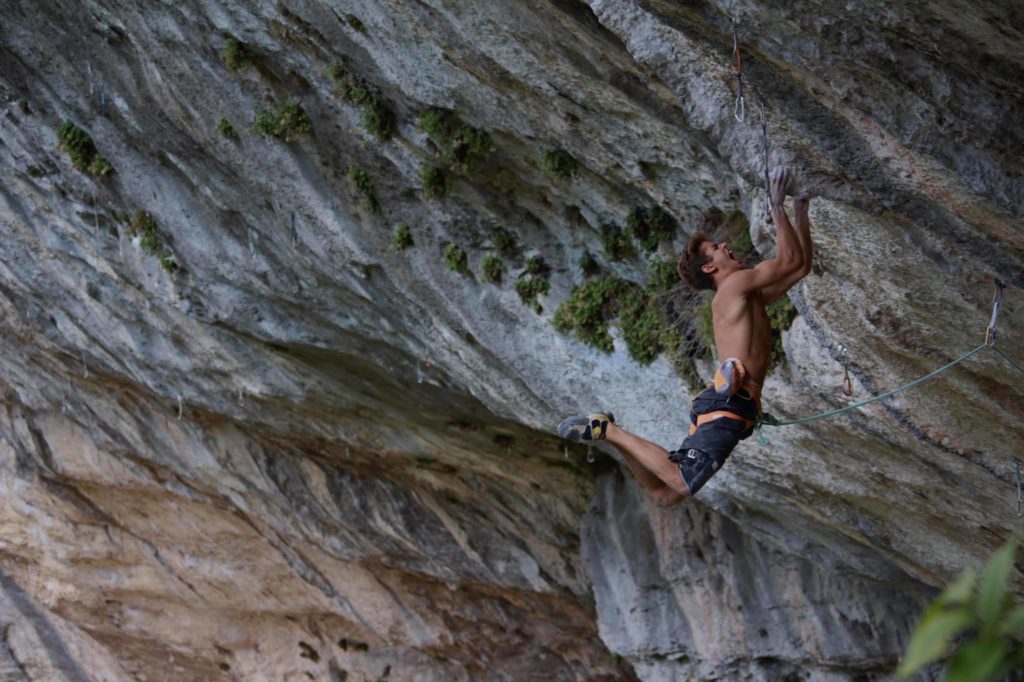 Photo de couverture : Lucien Martinez dans "Beyond" 9a (Photo : Pierre Trolliet)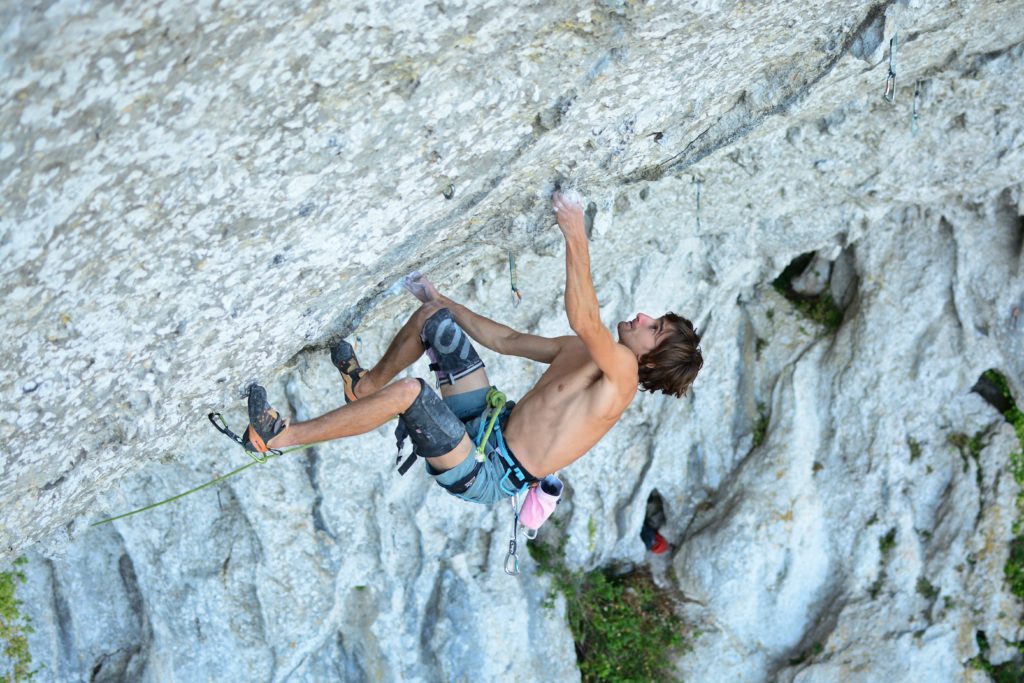 *** Lucien Martinez just succeed last Sunday in his summer project, "Beyond" 9a Pic St-Loup, France (second ascent). The first ascent of this route bolted by local Fedric Ferraro was completed by Seb Bouin this Spring. This 25 meters line is located between "Les rois du pétrole" and "Légende". It's Lucien's 4th 9a grade route, he did before "FFF", "Descente en terre inconnue" and"3 degrees of separation". Interview.
Why did you choose this route?
At the beginning I wanted to work "Légende" (ndlr : other 9a of the crag) but when I gave my first check, the 3rd bolt went out when I was falling. Without a very good belay reaction, I will probably hit the ground. So after this frightening moment and the 3rd bolt out, I decided to go on the neighbouring route, "Beyond".

How was the check of the route?
Discovering "Beyond" was fun. Seb Bouin told me that the first section was heinous on little crimps in a 45° overhang with the crux, and completely ommited to speak about the second crux, not so hard but so awkward to deal with. You need to find good betas. At my first go, I did all the beginning quite easy, so I was confident. 2 minutes later at the second crux, I suddenly came into troubles…

Describe the route and the difficulties. Which section cause you the most important problems?
The line starts with 10 meters 7c in a very big overhang, it's a very pleasant climb on bowls. Then you have 5 meters of good crimps and compression moves into the crux, a dyno to a tufa, then after a kneebar rest and some moves on bowls you arrive to the final crux: a little hold to stick, a big dropknee and another dyno to a tufa! The end is very cool, climbing on easy terrain on the big central tufa of the cave. The beauty of climbing, the overhang and the landscape are creating a special atmosphere. For me, one of the best route of this grade of France! The 2 problems I got in the route were to solve the second crux beta. I broke a foothold during a heelhook beta so I finally did Seb's beta with the complicated dropknee. The second problem was to deal with the pressure and the mental game when I was ready for the send.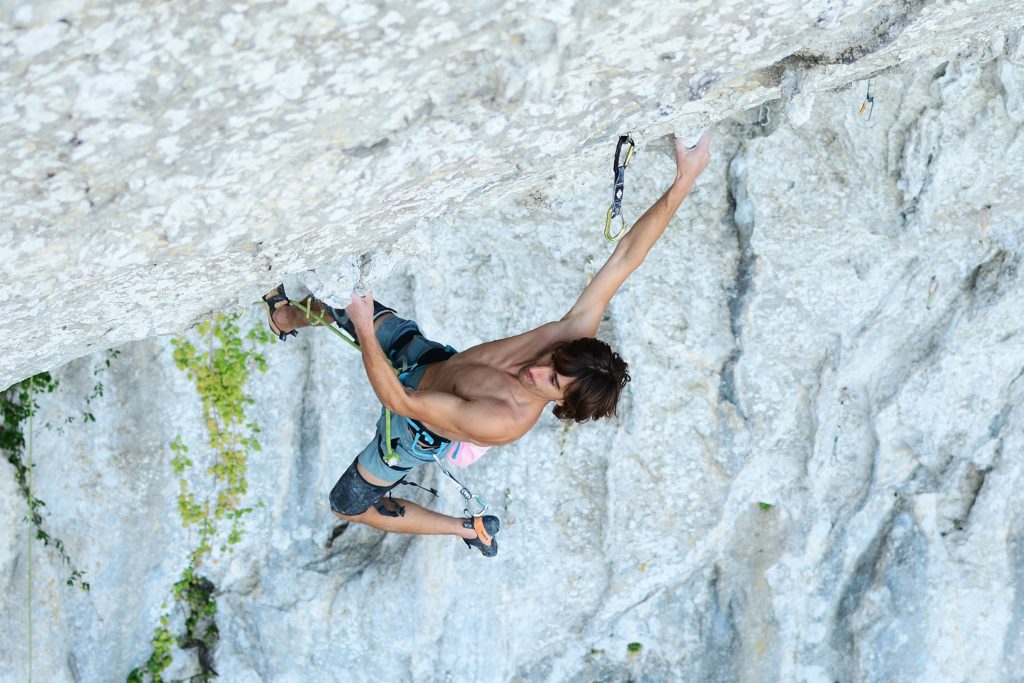 How was the send?
The send was at my second consecutive day in the route, after 2 falls the day before in the crux. I was out of power so the crimp section was hard this time. I knew at my second day on it, my power will be low but my resistance better. I struglled a lot in the moves but I could complete it.

A thing you will keep about this route?
Hard to answer. I think I'm not at my limit, so with "Beyond" I get more an experience and a dream line than a real accomplishment.

What about your other projects?
Shortly I want to invest some time into a project I have in Supermanjoc (St-Antonin Noble Val), my favourite crag. I'm close and I will probably continue to attempt it this Fall. If I arrive to organize my schedule, I will go a month in Oliana this Winter for "Fight or flight". And in a long perspective, I would like to continue to try Chris Sharma's project in Face de Rat sector, Céüse.

9a or 9a+ for "Beyond"? Give us you opinion!
Without hesitation 9a. It's less harder, it miss resistance for getting for 9a+. But it's too hard for 8c+, specially the second crux when you are pumped.

*** Loic Zéhani climbed his hardest route with the first ascent of "Le Poisson Pilote" 9a+ in Bergerie sector, Orgon, France. The route bolted by himself is 24 moves long in a very impressive overhang and poor feetholds. 15 sessions have been done before the success. Loix thinks this route is a little bit harder than "Sachidananda", the first 9a+ he did last year. You fin above a video of the moves.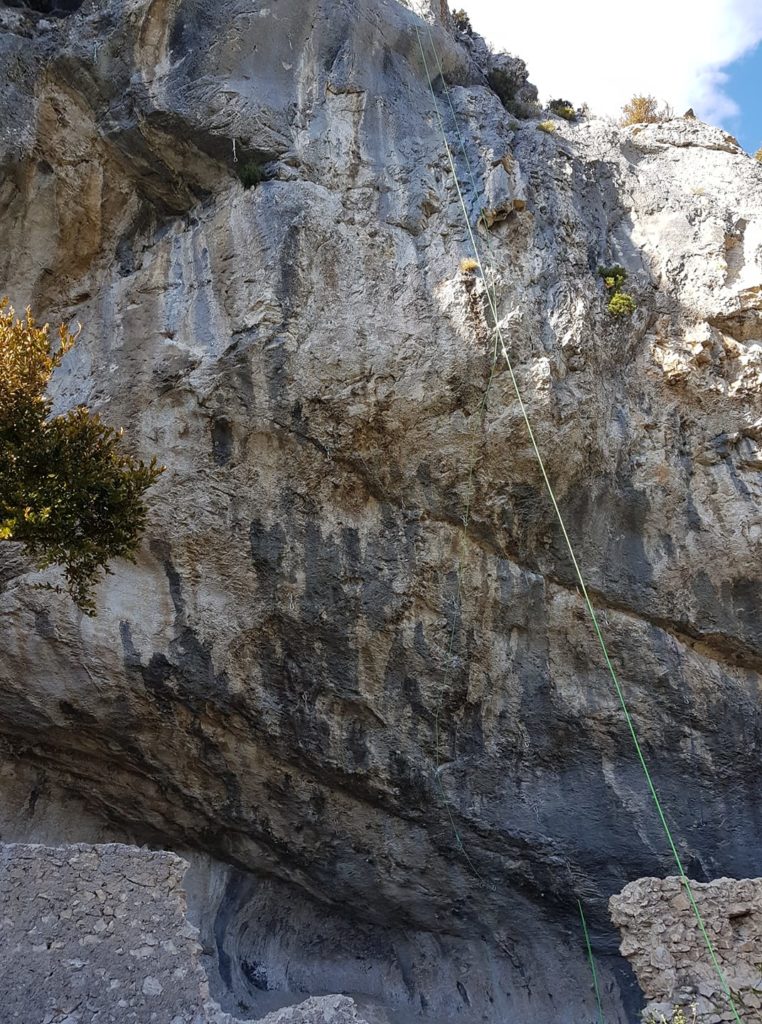 *** First 9a by Romain Schieber !
The French climber living in Barcelona Romain Schieber just lived a dream week with the success in his 2 first 8c+ in Cova del Ocell (Sant Miquel del Fai) followed last week-end with his first 9a. He did the link "El ordre dels factor into El Mon" which proposes an 8B traverse into an 8c/c+. To the first anchor it's low end 9a, Romain needs now to finish the buisiness with the whole route, 9a too (just adding a stamina part) with "El super mon" finish. It's the 5th ascent of the route after Diego Marsella, Ramon Julian, Dani Andrada and Jose Agusti. Mega!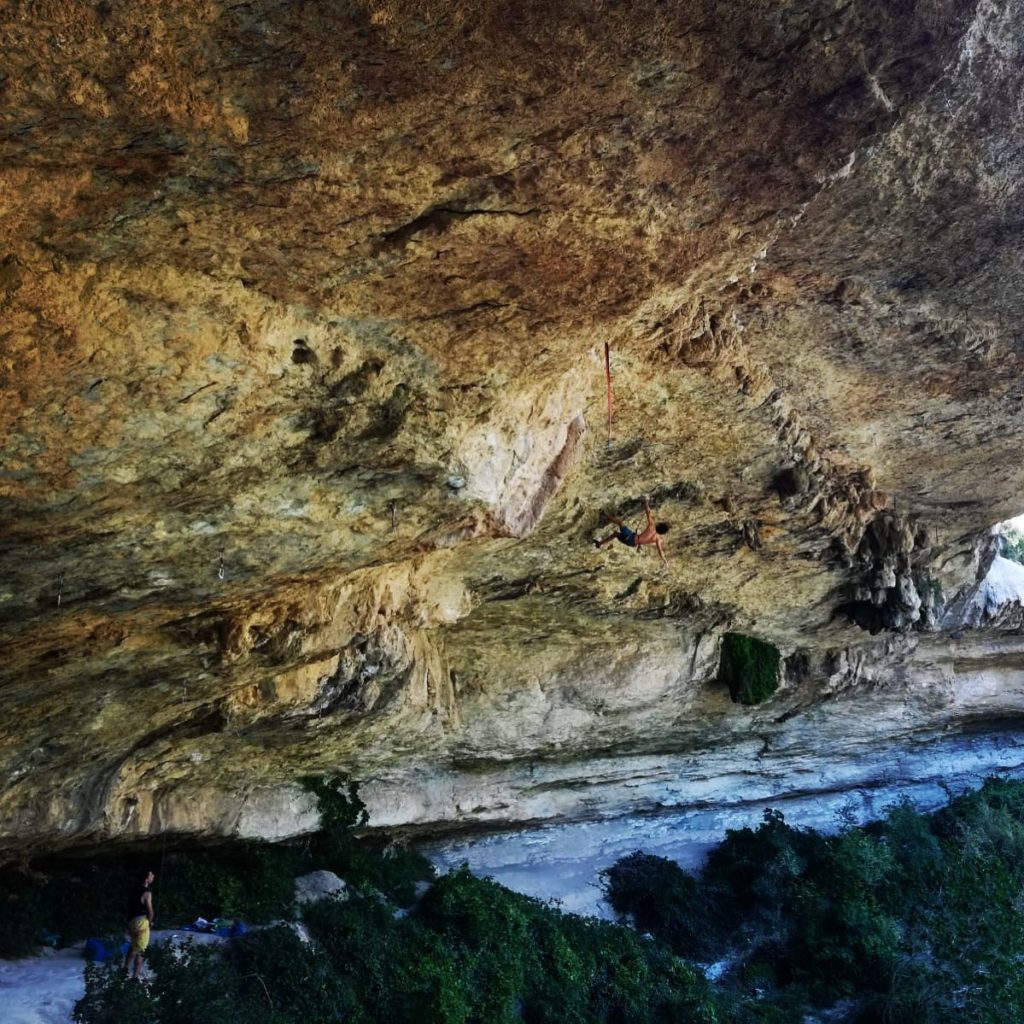 *** Second 9a by Pierre Le Cerf: The young gun from Nice just climbed the classical line of Déversé, Gorges du Loup "TTT" that he was working since few weeks. At the end of July he catched his first 9a in the same crag with "Kick Ass".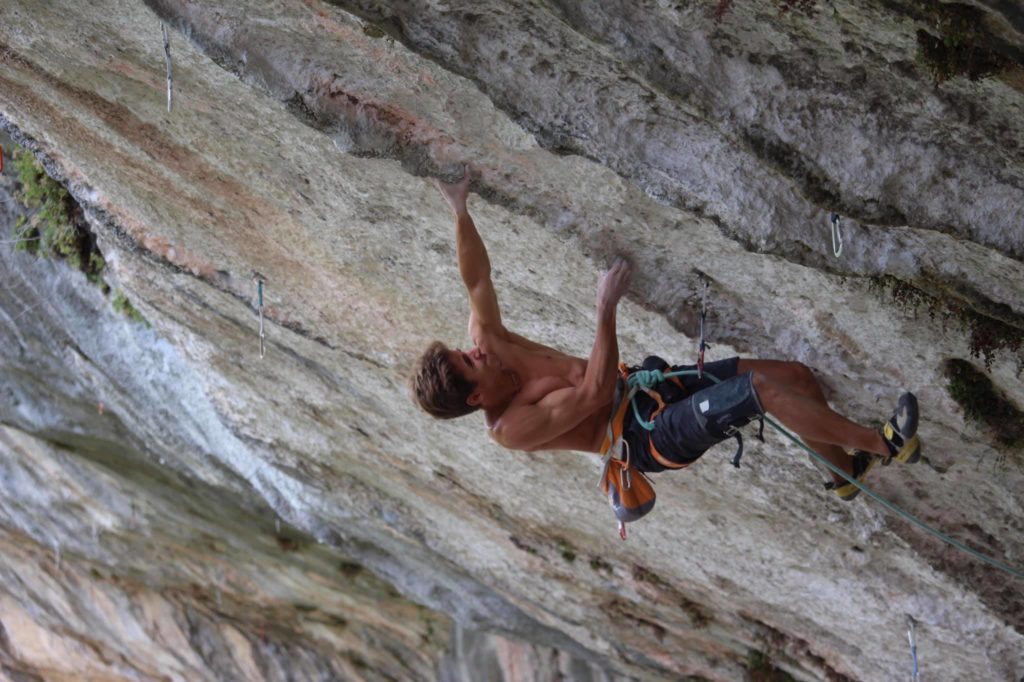 Cover Pic: Lucien Martinez in "Beyond" 9a (Photo : Pierre Trolliet)