Il arrive parfois que sur le grès de Fontainebleau, roche relativement tendre, certaines prises mâles (qui ressortent, ndr) cassent. Fragilisation dûe à la fréquentation, au gel, à l'humidité… On se rappelle de la patate du "Surplomb statique" à Isatis, de la réglette de la "traversée de la Mée" au Potala… Ou encore des destructions volontaires de "l'Alchimiste" à Apremont dans les années 90.
Dernièrement, c'est la réglette de sortie d'un des blocs iconiques de la forêt, "Eclipse" au Cul de Chien (l'autre toit), qui a cédé. Le passage a été refait et il s'agit maintenant de dynamiser sur un plat situé plus haut que la bonne réglette sommitale qui a volé en éclats. Afin d'éviter l'effritement de la zone érodée qui est devenue silicieuse et friable, une opération de durcissage grâce à un liquide minéralisant peut être nécessaire. Tony Fouchereau, illustre ouvreur de la forêt, nous en dit plus sur le processus.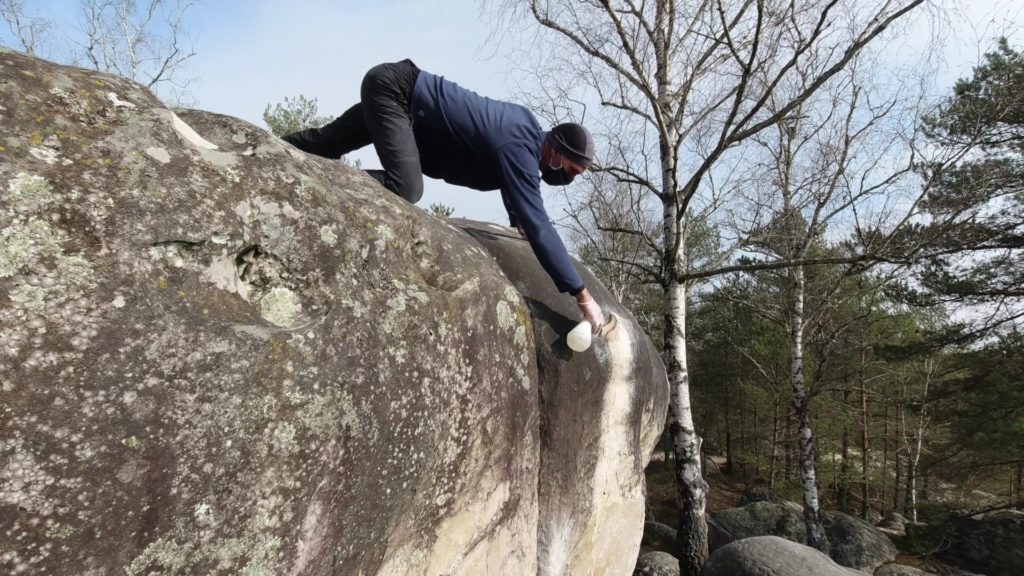 En tant que local, tu utilises régulièrement le durcisseur pour consolider des prises fragiles ou abîmées à Bleau ?
Non, c'est assez rare, le grès est assez sain en général. Si les prises n'ont pas été touchées suite à la casse, la plupart du temps ce n'est pas nécessaire. Il faut bien regarder si la prise cassée est proche de la nouvelle prise qui va être utilisée, et dans ce cas traiter le grès abîmé.
Si j'ai bien compris il y a utilisation du durcisseur. En quoi cela consiste-t-il ?
Je ne suis pas spécialiste, le produit m'a été donné sans le nom de celui-ci (avec protocole d'utilisation), j'ai juste regardé si les insectes étaient touchés. Il s'agit de pulvériser la prise et de laisser sécher une journée pour consolider la partie effritée.
Peut-on aussi l'appliquer sur des prises fragiles en prévention d'une éventuelle casse ? Et les prises marbrées abîmées ?
Sur les prises marbrées cela ne marche malheureusement pas. J'ouvre des blocs régulièrement donc les prises peuvent être fragiles (assez rare quand même), il est utilisé partiellement sur celles-ci si je le considère comme nécessaire.
Au vu de ton expérience, quelles recommandations te semblent primordiales pour prendre le plus possible soin du grès bellifontain ?
Les consignes habituelles : s'essuyer les pieds, le sable est la principale source d'érosion du grès, utiliser peu de magnésie, nettoyer les prises avec des brosses douces…
Je serais favorable à la fermeture de certaines parcelles de forêt (2 à 5 ans environ avec réouverture en faisant tourner celles-ci) pour un renouvellement de la végétation et limiter l'érosion de certains terrains. Mais ça c'est juste mon opinion !
Quel regard portes-tu sur l'évolution de la grimpe à Bleau, toi qui y grimpes depuis de nombreuses années ?
Je suis régulièrement en forêt et je ne connais pas la moitié de celle-ci tellement elle est vaste. Difficile à dire mais je suis confiant, soyons respectueux !

Les bonnes pratiques en forêt de Fontainebleau : sur le site de l'association Respect Bleau ou encore sur le site du Cosiroc.
Pour suivre les dernières ouvertures en forêt de Tony, direction son compte Instagram.

Merci à Ludo Delmotte et Xavier Raynal (Xray Climbing Pics) pour les clichés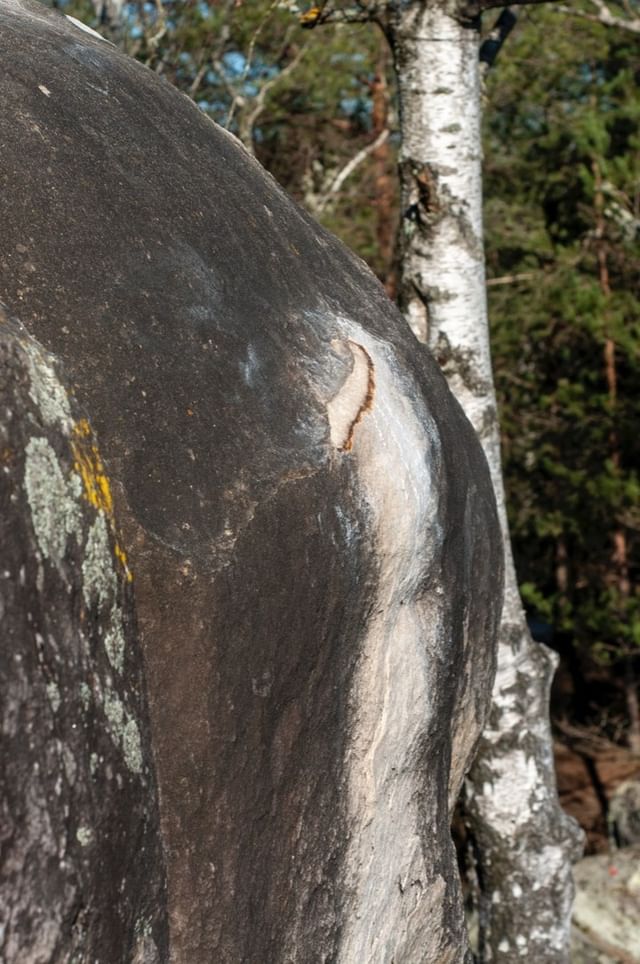 It sometimes happens that on the Fontainebleau sandstone, a relatively soft rock, some male holds (i-e protruding) break. Weakenesses due to traffic, frost, humidity… We remember the potato of the "Surplomb statique" in Isatis, the edge of "Traversée de la Mée" in Potala… or even the deliberate destruction of "l'Alchimiste" in Apremont the 90s…
Lately, it is the exit crimp of one of the iconic boulders of the forest, "Eclipse" at Cul de Chien (Autre toît) that came down. The boulder has been reclimbed since and it is now a question of going on a sloper located higher than the good summit hold which has been shattered. In order to avoid the eroding of the missing zone which has become siliceous and friable, an operation using a mineralizing liquid may be necessary to fix the hold. Tony Fouchereau, famous forest local tells us more about this process.

As a local climber, do you regularly use the hardener to consolidate fragile or damaged holds in Bleau?
No, it is quite rare, the sandstone is quite good quality in general. If the holds have not been touched after a break, most of the time this is not necessary. You have to look carefully to see if the broken hold is close to the new hold that will be used, and in this case treat the damaged sandstone.
If we understand correctly there is a miralizing operation. What does it consist of?
I am not a specialist, the product was given to me without the name of it (with protocol for use), I just looked to see if the insects were affected. This involves spraying the damaged sandstone and allowing it to dry for a day to consolidate the crumbled part.
Can it also be applied to fragile holds to prevent possible breakage? And the damaged marbled holds?
Unfortunately, this does not work on marbled crimps. I open boulders regularly so the holds can be fragile (quite rare anyway), and it is partially used on these if I consider it necessary.
Considering your experience, what recommendations do you think are essential to take as much care of the Font sandstone as possible?
The usual instructions: wipe your feet, the sand is the main source of erosion of the sandstone, don't use a lot of chalk, clean the holds with soft brushes…
I would be in favor of closing certain areas of the forest (around 2 to 5 years with reopening according to a rotating pattern) for a renewal of the vegetation and to limit the erosion of certain zones. But that's just my opinion!
What's your opinion on the evolution of climbing in Font, you who have been climbing there for many years?
I am regularly in the forest and I do not know half of it because it is so vast. Hard to say but I'm confident, let's be respectful!

Read (in French) what's good practice for climbing in the forest of Fontainebleau : Respect Bleau and Cosiroc.
Follow Tony's latest first ascent in Font on his Instagram account.

Thanks to Ludo Delmotte and Xavier Raynal (Xray Climbing Pics) for the pics