Description : Situé dans l'état de Victoria en Australie, à environ 300 kilomètres à l'Ouest de Melbourne, le massif des Grampians offre un paysage somptueux et un cadre sauvage. Très étendu (1500 km2), ses affleurements proposent un grès rouge très sculpté et coloré, et au pied des faces ou au sommet des collines nous trouvons une multitude de blocs. Nous avons été conquis par la grimpe dans ces chaos et nous vous proposons notre sélection !
Saison : Ça grimpe toute l'année. L'hiver (de juin à septembre) est doux (15° les jours ensoleillés) mais assez humide avec pas mal de précipitations, que ce soit de la bruine ou des régimes d'averses de courte durée (les australiens appellent ça « showers » ou douche, c'est exactement ça…). Cependant la collante est au rendez-vous, pas besoin de prévoir des stocks immenses de magnésie. L'été est caniculaire (40°) donc à part du bloc dans les grottes sur les heures les plus fraîches, c'est compliqué. Donc si vous voulez avoir une belle météo et des températures clémentes, le printemps et l'automne peuvent être des saisons propices.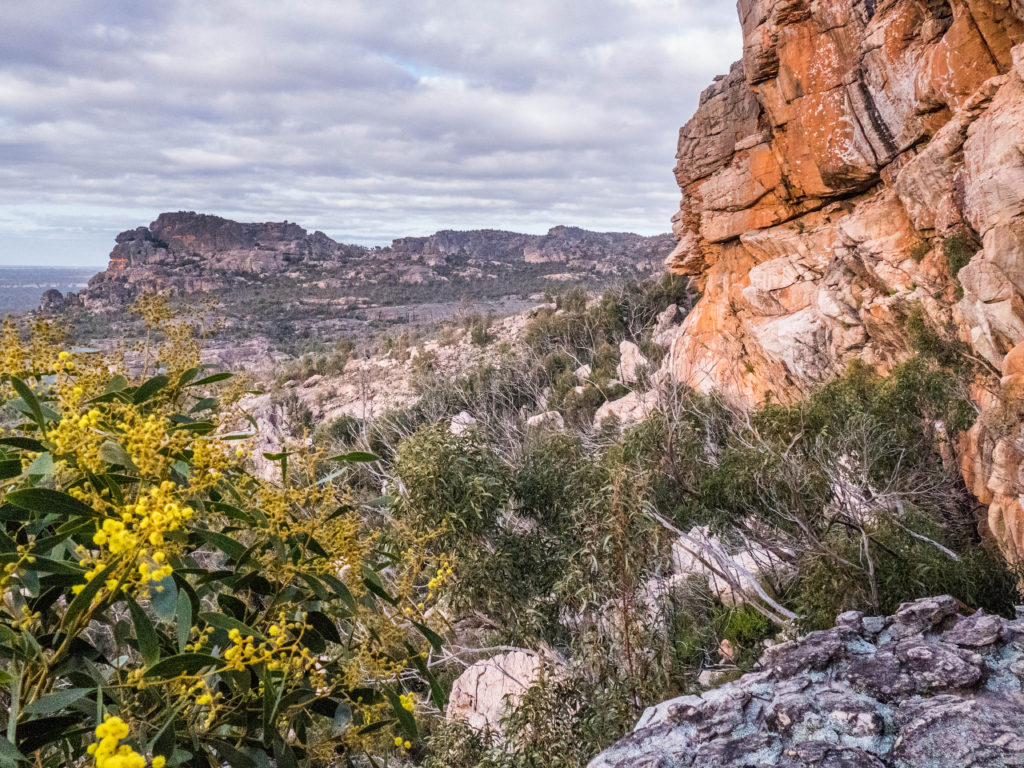 Meilleurs secteurs :
– Andersen's situé dans le Nord du massif (Mont Staphylton) juste au-dessus du parking d'Hollow Mountain. C'est un peu le Cuvier des Grampians par sa grande concentration de blocs superbes et peu exposés. Idéal pour débuter un trip et prendre ses marques. Une qualité de prises incroyable. Du V0 au V11, c'est le régal !
– Hollow Mountain cave : ce secteur, c'est un tout ! Une marche d'approche sympathique qui crapahute d'une petite demi-heure, un point de vue sur Mount Zero ou sur le Taipan wall derrière magnifique, et cette grotte avec ces passages très pans incroyables. Les moins forts pourront se rendre juste au-dessus sur les petits panneaux déversants de Loopeys. Ils valent le coup !
– Trackside : niché sous le Taipan wall, ce petit secteur propose des passages superbes, principalement entre le 6B et le 7A. Le grain est plus gros et la vue magnifique
– Beetween the sheeps : Une belle marche de 40 minutes sous le Taipan Wall vous amènera à ce gros panneau dévers proposant des passages sur trous. Toujours très venté, l'escalade y est athlétique et ludique. Attention ça penche, il faut y aller en forme car la gravité se fait sentir !
– Buandik : Situé dans le Sud du massif, c'est peut-être le site où la qualité du grès est peut-être la meilleure ! Une grosse concentration de blocs durs (merci Nalle et Dave !) et une vue sur la forêt et le bush à couper le souffle ! Le secteur est très sauvage et la marche d'approche est assez rude (40 minutes très raides), une baffe tous les matins
– Campground : juste au-dessus du campground du Mont Staphylton, ce petit site, développé à l'époque par Klem Loskot et Tony Lamprecht en personne ! Ce spot propose des passages de tous les niveaux majoritairement athlétiques sur mauvais pieds avec une marche d'approche nulle. Vraiment cool, notamment les jours de météo difficiles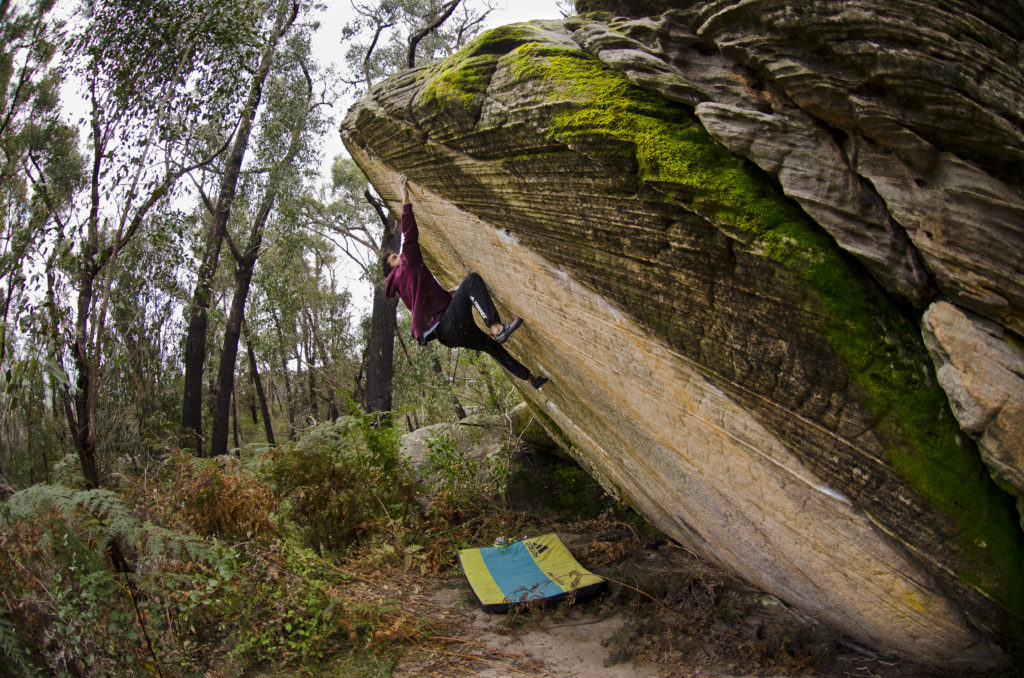 Sélection de blocs :
– Sydney Highrise 5C à Andersen's, un super highball prisu
– Faith 6A à Andersen's, belle fissure pieds à plat
– Old Henry's fun climb 6B à Loopeys, un mur à strates superbe
– Fashion 6B à Loopeys, un dévers sur trous crochetants
– Drop and the hats 6B à Andersen's, une arête sculptée extra
– Out of bleau 6C à Andersen's, quelle qualité de prises !
– Master bate 6C à Andersen's , sur arquées puis mouvements tournants avec l'arête
– Anonymous arete 6C à The Bleachers, un dévers et un réta coquin
– Wimmel Friedhoff 6C+ à Hollow Mountain cave, du pan comme à la maison
– Bleausard 7A à Andersen's, une proue haute avec un final torride sur plats, attention à la chute
– Phantom cart 7A à Andersen's, festival du médaillon arqué
– Remains of the sheeps 7A à Between the sheeps, belle traversée athlétique sur bacs
– Mr Knox 7A+ à Andersen's, long et une qualité de prises incroyable
– Gay Hip Flexor 7A+ au Campground pour sa superbe séquence
– The nevin rule 7B à Kindergarten, des nervures plates tout en équilibre
– Spanking the monkey bars 7B+ à Kindergarten, la classique athlétique
– Rave Heart 7B+ à Hollow Mountain, on se croirait presque à Bleau !
– Cave Man 7C à Hollow Mountain, cochon pendu et conti
– Hillary step 7C à Buandik tout en talons, blocages et tenue de plats
– Butcher's choice 7C+ à Trackside, un toit avec un cheminement génial; Le final facile dans la fissure évasée est excellent. Un pur joyau
– The Departed 7C+ à Valley of Giants, belles prises et un réta bleausard
– Between the sheeps 8A au même secteur. Du panneau sur trous, attention ça tire fort dans les doigts
– Sleepy Hollow 8A+ à Hollow Mountain, fantastique, un enchaînement de rêve. Long.Très à gainages et à calages. Merci Fred Nicole
– Ammagamma 8B à The Citadel, et Mana 8B à project wall, les définitions de la base !
– Cherry Picking 8B à Buandik, compression et cadre somptueux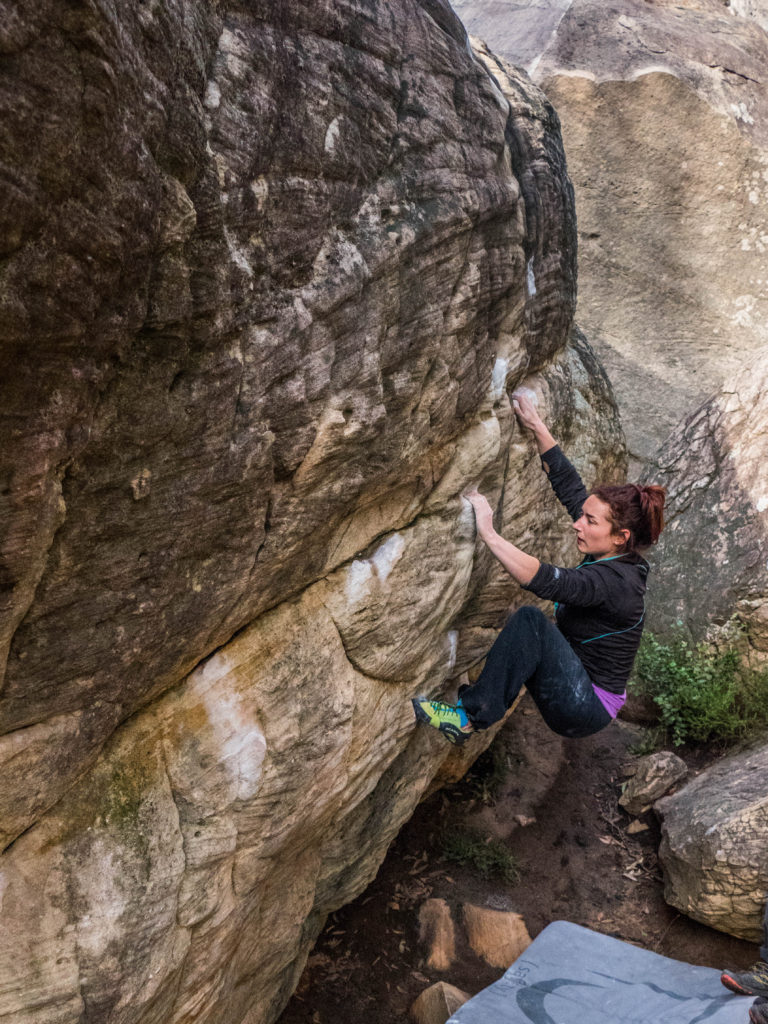 Y aller : avion jusqu'à Melbourne (on a préféré Qatar Airways à Emirates) puis le mieux et de louer un van (3h de route environ depuis Melbourne).
Dormir : Nous vous conseillons 2 applis pour trouver des points pour vous poser avec le van. Camper Mate (gratuit) et Wikicamps (gratuit 10 jours) qui recensent tous les endroits avec les campgrounds gratuits et payants, les douches chaudes, les toilettes, les points d'eau, stations service,… Sur place aux Grampians, les campgrounds sont généralement payants car situés dans le parc national. Vous y trouverez des toilettes sèches dans le bush et des points d'eau non potables. Dans le Sud, une nuit dans le très sauvage Buandik campground est à programmer si vous aimez la nature. Se retrouver isolé en pleine forêt au milieu des kangourous, émeus , cacatoès ou autres possums est une expérience unique. Attention aux feux car il y a souvent beaucoup de vent et les incendies sont très fréquents en saison estivale. Si vous êtes douillets et que vous préférez le dur, le mieux est de chercher des AirBnB sur Horsham et alentours.
Topo : Grampians Bouldering 2016 Edition par Simon Madden, Ross Taylor, David Pearson et Chris Webb-Parsons. Les blocs sont super bien décrits et photographiés, les plans et accès assez précis. En revanche, le fait de souvent ne pas avoir les passages détaillés sur les même pages que les photos associées est un peu pénible. On est tout le temps en train de tourner les pages.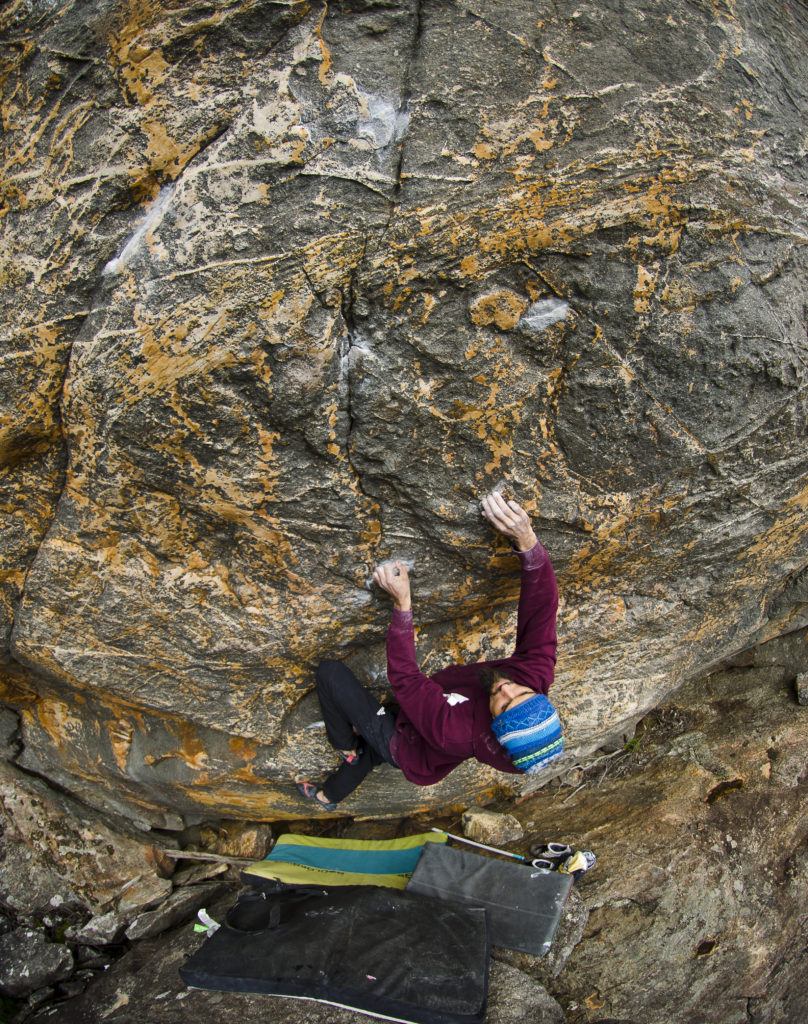 Louer un crash : Mount zero log cabins,entre Hollow Mountain et la highway A8 : 10 dollars le petit, 15 dollars le gros à la journée (Un dollar australien = 0.6 euros)
Manger et boire un coup : pour les restaurants à burgers on a bien aimé 2 coins, Superfeast à Horsham et Mountain View café à Dunkeld. Pour les bières on vous conseille la James Boag's, une bière de Tasmanie douce et maltée. Pour les commerces, cela se passe à Horsham niveau supermarchés. A Melbourne, notre coup de cœur s'est porté sur le pub-restaurant "The Duke of Wellington" et sur le restaurant végétarien Crossways.
Eau : Attention, la plupart des points d'eau dans le bush aux Grampians sont non-potables. Si vous devez la boire, portez-là à ébullition pendant au moins 2 minutes. Robinet d'eau potable à Horsham. Pour prendre une douche, douches chaudes gratuites à côté de l'office du tourisme à Dunkeld, et à l'office du tourisme de Halls Gap. Douches chaudes payantes à la piscine municipale de Horsham.
Sites météo : Weatherzone et Bom sont à glisser dans vos favoris. Ils sont assez fiables.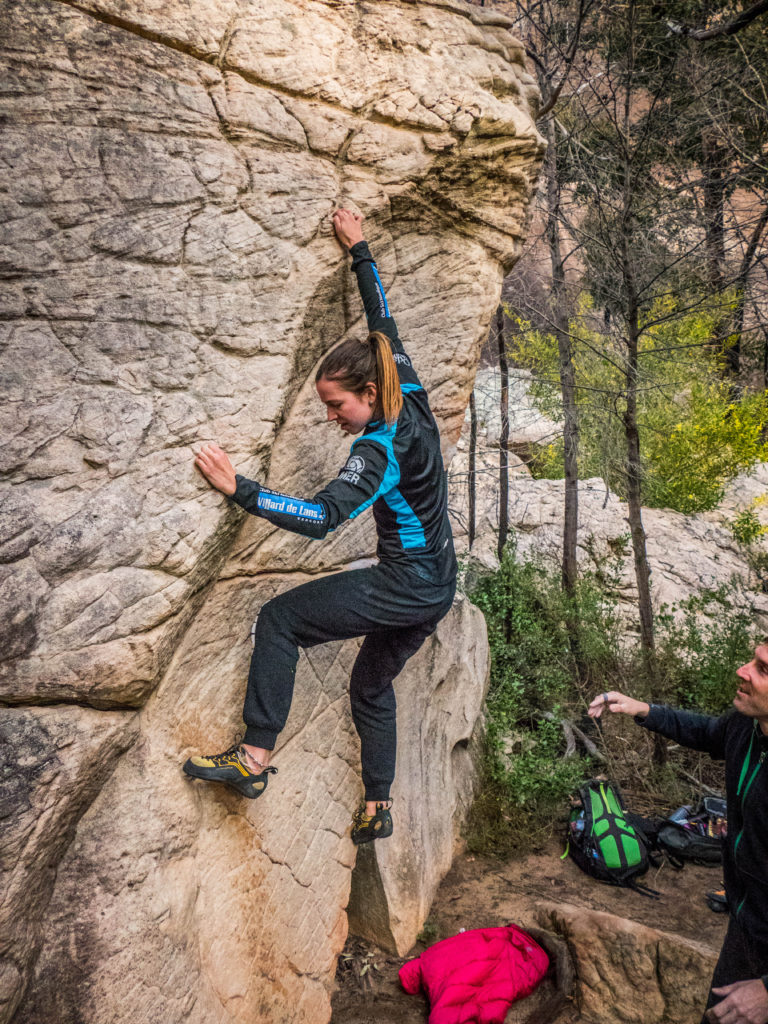 A côté de la grimpe : le musée Brambuk à Halls Gap (art aborigène et culture), randonnées traces rupestres aborigènes à Buandik et Hollow Mountain, faire des voies au Taipan Wall ou sur Buandik, des balades au-dessus d'Halls Gap avec notamment les chutes d'eau McKenzie falls , aller se balader et faire du trad au mont Arapiles (30 kms à l'Ouest de Horsham), et prévoir plusieurs jours pour effectuer la Great Ocean Road et ses curiosités (le mieux est de conduire de l'Est vers l'Ouest, de Torquay à Warnambool. On vous conseille Logan beach pour les baleines, Lorne et environs, Loch Ad Gorge, Kennet River pour les koalas), visiter Melbourne (notamment Queen Victoria Market, réputé être le plus grand marché de l'hémisphère Sud, le tramway gratuit touristique faisant le tour du centre-ville, la station balnéaire de St-Kilda), plus loin Philipp island pour les pingouins…
A éviter :
– Conduire très vite de nuit car les animaux sont de sortie au crépuscule et il n'est pas rare de se retrouver avec un kangourou devant les phares
– Nourrir les bêtes sauvages, wallabies ou autres. Contentez-vous de les observer, laissez-les évoluer, c'est déjà super ! Ils n'ont pas besoin de l'homme. Notre coup de cœur : les possums !
– Dormir à l'arrache hors campground dans le parc national des Grampians. Toutes les infos sont ici
– Partir sur les autoroutes sans regarder s'il y a des tronçons payants. Pas de péages ici, et les tronçons payants sont très mal indiqués, voire incompréhensibles à appréhender. Après avoir pris une autoroute, se logger sur Vic Roads et payer dans les 3 jours son dû sous peine de recevoir une amende. On a testé pour vous, cela nous a coûté 55 dollars australiens la prune pour 5kms d'autoroute !
– Les taxis australiens qui ne sont pas tous intègres et honnêtes sur le prix de leurs courses. A Melbourne leur préférer le Skybus et de nombreux bus et tramways.
– Le très connu site touristique des 12 apôtres sur la Great Ocean Road, à moins que vous ayez envie de basculer sinophobe.

General description: Located in Victoria state, Australia, around 300 kms West of Melbourne, the Grampians mountains are an idyllic landscape in a very wild area. It's a very big place (around 1500 km2) with rocky outcrops which offer sculpted and colored red sandstone. At the foot of the cliff faces, you find numerous boulders everywhere. We have been won over by bouldering in this place and we offer you our selection !
Season: You can climb here all year. The winter (June to September) is not so cold (around 15° on sunny days) but very humid with a lot of showers. But the rock sticks, the friction is really good, you don't have to use a lot of chalk. The summer is very hot (around 40°), so, except in some caves during the cooler hours, bouldering is difficult. So if you want nice weather and some cool temps, Spring and Fall may be the best seasons.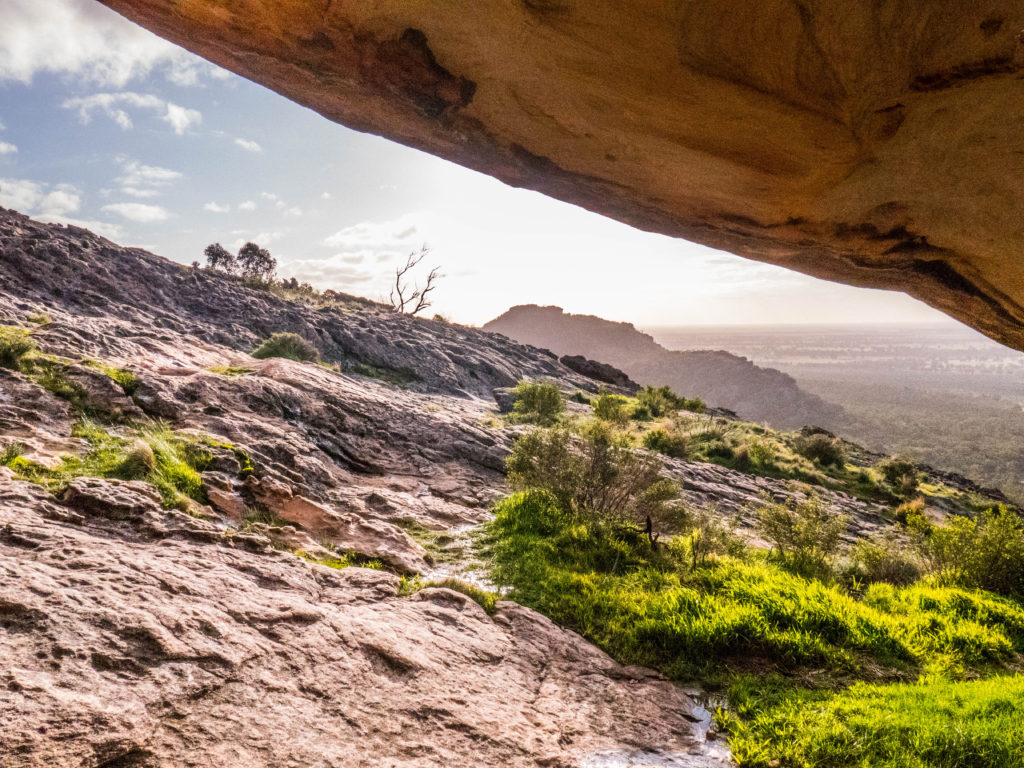 Best sectors:
– Andersen's in the Northern area (Mount Staphylton) is located above the Hollow Mountain carpark. It's a little bit the Cuvier of the Grampians for its high concentration of problems with good landings. It's very good for starting a bouldering trip here and taking your marks. Amazing quality of holds and shapes. Easy climbing to 8A, it's a delight!
– Hollow Mountain cave : This sector is superb all around. A nice walk up to the hill (half an hour), a stunning point of view of Mount Zero, the whole valley and Taipan Wall in the background, this wonderful cave which offers some friendly roof climbing like in the gym. Climbers who are not in the V8/9 range could also climb in the nice overhangs of Loopeys sector close to the cave. It's very good too.
– Trackside : Just down the Taipan Wall, this sector has some nice boulders in the 6B-7A range. Sandstone has a bigger grain here and the view is magnificent.
– Beetween the sheeps : A nice 40 minute approach walk under the Taipan Wall leads to the top of the hill. It's a very overhanging wall with problems on pockets. Very windy, this sector offers playful and athletical problems. Beware of the high-gravity days, it's very steep and it's better to be in good shape !
– Buandik : Located in Southern Grampians, Buandik is perhaps the place where the quality of the rock is the sickest ! A high-concentration of hard boulders (Thanks to Nalle and Dave !) and a heartbraking point of view ! The sector is very wild and the approach (40 minutes of very steep path) is like a slap in your face every time.
– Campground : just up to Mount Staphylton campground this small private area is historical because it was mainly developed by cimbing legends Klem Loskot and Toni Lamprecht. The boulders are physical, often with bad feet. There is no walk to go there. Very good for climbing when the weather is crap.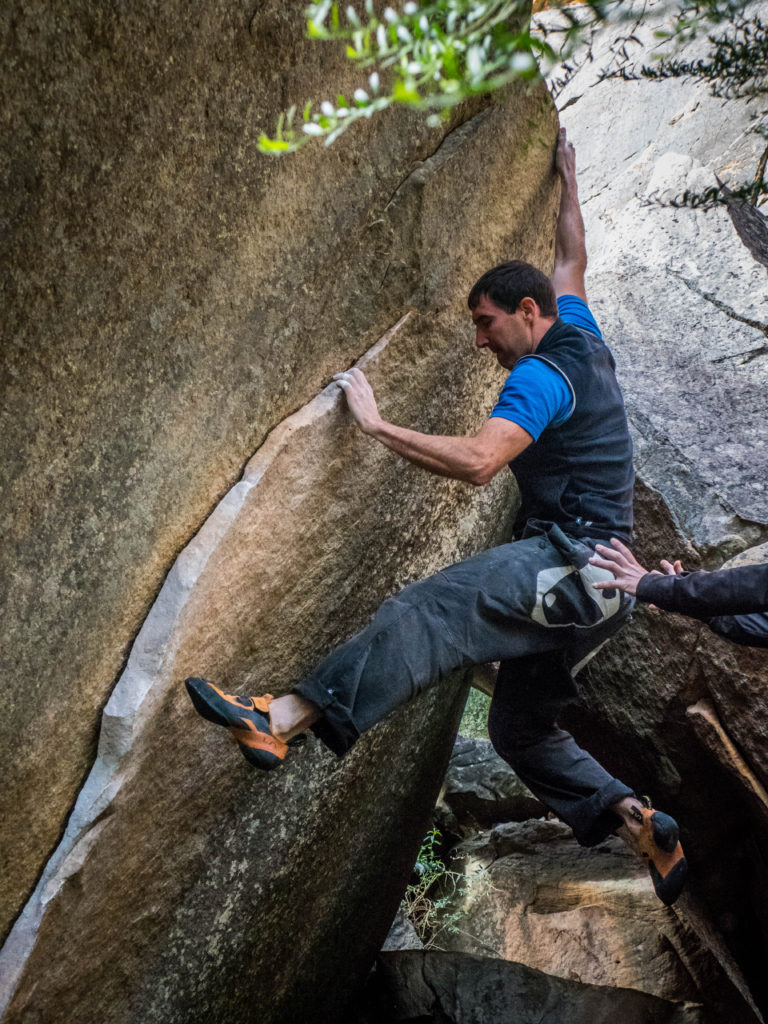 Ticklist:
– Sydney Highrise V0, Andersen's, very nice highball
– Drop and the hats V2, Andersen's, arete with perfect holds
– Faith V3, Andersen's, nice crack with bad feet
– Old Henry's fun climb V4, Loopeys, perfect laminated overhanging wall
– Fashion V4, Loopeys, pocket climbing at its best
– Out of bleau, V5, Andersen's, quality of slopers close to Font
– Master bate V5, Andersen's, crimp then balancy moves with arete
– Anonymous arete V5, The Bleachers, overhang with a tricky mantle
– Wimmel Friedhoff V5, Hollow Mountain cave, gym like in your home
– Bleausard V6 , Andersen's, a high scary prow with a committing final on slopers, beware of the fall
– Phantom cart V6, Andersen's, crimp festival on knobs
– Remains of the sheep V6, Between the sheeps, nice overhanging traverse on jugs
– Mr Knox V7, Andersen's, long and amazing sculpted jugs
– Gay Hip Flexor V7, Campground for the move sequence and the final swing
– The Nevin Rule V7, Kindergarten, find your balance on these slopy rails. Unique.
– Spanking the monkey bars V8, Kindergarten, classical and powerful
– Rave Heart V8, Hollow Mountain, close to Font style in roof climbing
– Cave Man V9, Hollow Mountain, sustained spiderpig climbing
– Hillary step V9, Buandik, heelhooks, body tension and slopers.
– Butcher's choice V10, Trackside a long roof with an excellent easy top out in a large crack. It's a gem!
– The Departed V10, Valley of Giants, nice holds and mantle
– Between the sheeps V11 in the same area. Very steep wall on pockets. It's amazing but beware of your fingers, it's as good as it is painful !
– Sleepy Hollow V12, Hollow Mountain, dream line, roof climbing at its best. Sustained, requires good betas and a lot of body tension. Thanks to Fred Nicole for this jewel!
– Ammagamma V13, The Citadel, Mana V13, project wall, such pure lines!
– Cherry Picking V13, Buandik, compression climbing with the best view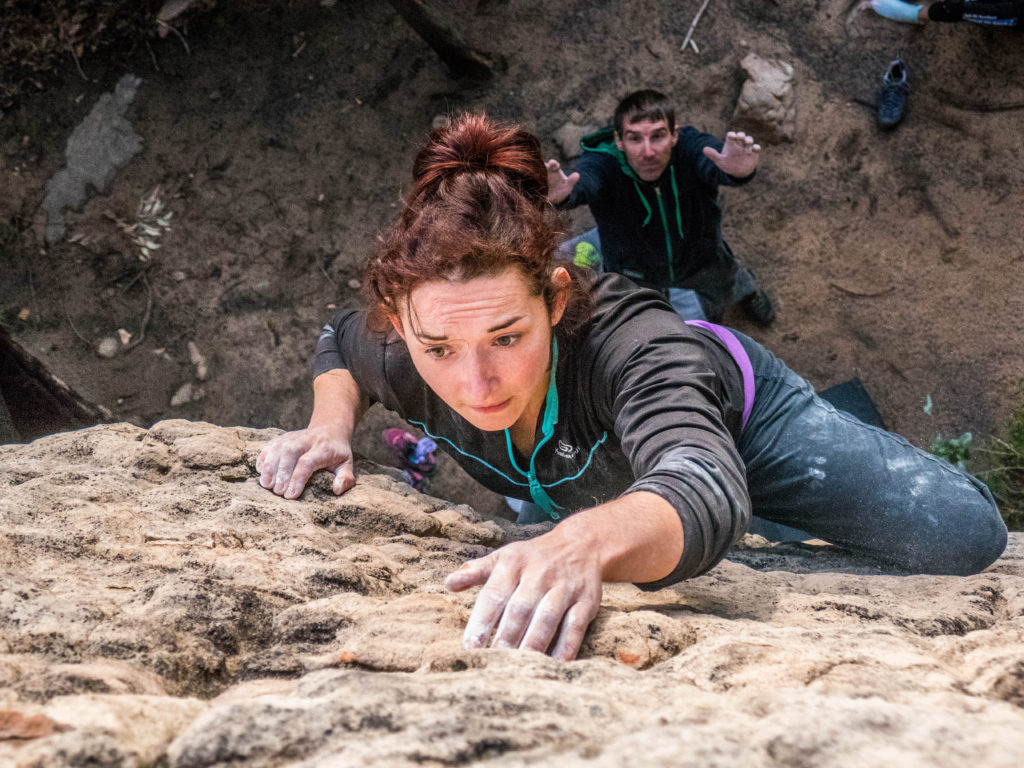 To get there: plane to Melbourne airport (from Europe we prefer Qatar Airways to Emirates) then the best is to rent a van (around a 3 hour drive from Melbourne)
Where to sleep: We recommend 2 apps that are very useful to find places for your van. Camper Mate (free) and Wikicamps (free for 10 days) list all the free and paying campgrounds or rest areas around your position, and also the toilets, cold and warm showers, water sources, petrol stations…Often in Grampians National Park you need to pay for staying in campgrounds. You will find dry toilets and no drinkable water. In the South, spending a night in the wild Buandik campground is a unique experience if you like nature. Wallabies, emus, possums, cockatoos are everywhere. Beware if you are making fires, there is often a lot of wind, and wildfires are sadly frequent during summer. If you want more comfort, the best is to search for AirBnB apartments around Horsham town.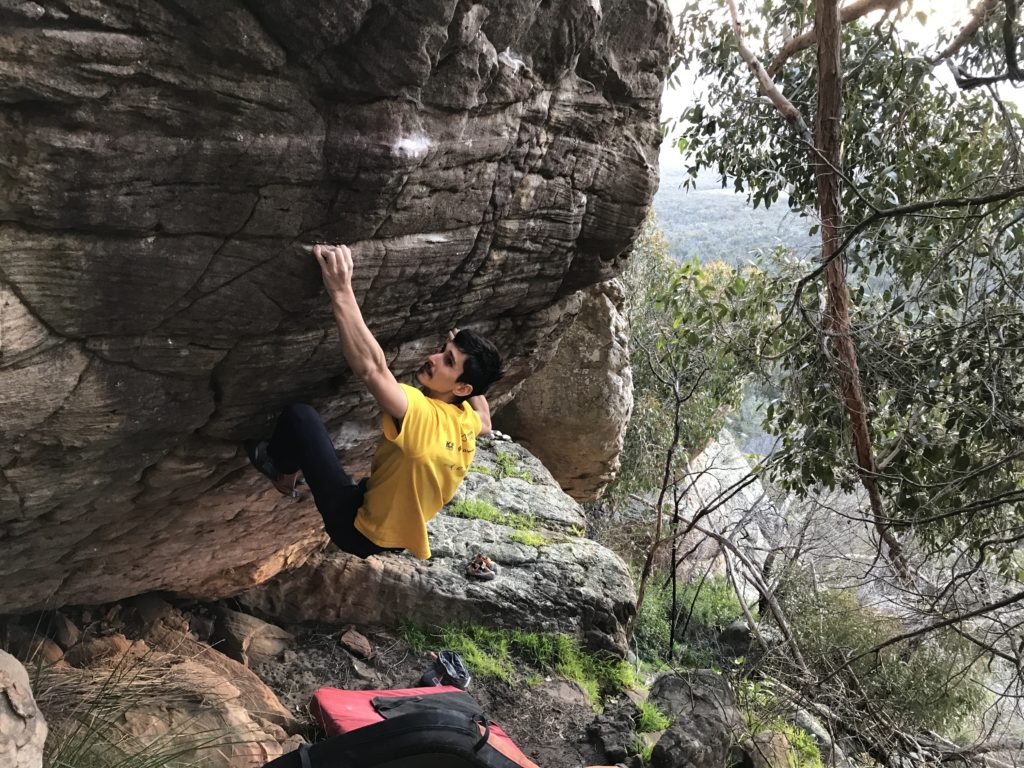 Guidebook: Grampians Bouldering 2016 edition by Simon Madden, Ross Taylor, David Pearson and Chris Webb-Parsons. Very large description of the boulders, pictures of the problems, very precise maps.. But not having pics and the description on the same page is often tedious. You are constantly turning pages.
Rent a crashpad: Mount Zero log cabins, between Hollow Mountain and A8 highway : 10 dollars per day for the small pad, 15 dollars the big pad (Australian dollar is around 0.66 euro).
To get food and drink: For burger restaurants, 2 places we tested were very cool : Superfeast in Horsham and Mountain View Café in Dunkeld. For beer, we are very picky and we were fond of James Boag's, a beer from Tasmania, sweet and malted. For shopping, you'll find all facilities in Horsham. In Melbourne, we recommend a good pub-restaurant : "The Duke of Wellington" and the veggie restaurant Crossways.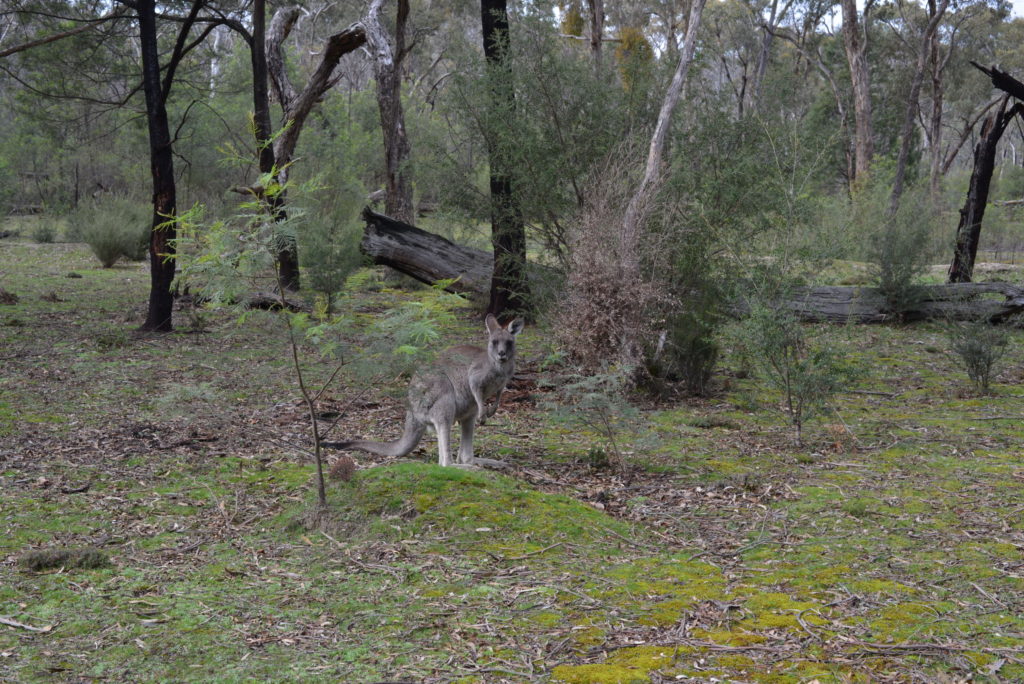 Water: Beware, most of the water sources in the Grampians don't deliver drinkable water. If you want to drink it, you need to boil it for at least 2 minutes. There is a water fountain in Horsham. For taking a shower, you can go to the free warm showers of Dunkeld's or Halls Gap's tourist office. You can find warm showers in Horsham's pool for a few dollars.
Meteo: Weatherzone and Bom are the 2 essential websites for checking the weather, They are quite reliable.
Aside from climbing: Brambuk Cultural Museum, walking to Billimina shelter and Hollow Mountain Art Rock Sites, tradclimbing or sportclimbing in the Northern or Southern areas, walking in the forest up to Halls Gap, watching the McKenzie Falls, having a look and tradclimbing in Mount Arapiles (30 kilometers west of Horsham). Take several days off for driving on the Great Ocean Road. It's better to do the road from east to west, from Torquay to Warnambool. We recommend Logan Beach for whale spotting, Lorne and surroundings (Otways Park), Kennet River and the koala place, Loch Ard Gorge and the amazing sea caves. In Melbourne, Queen Victoria Market is considered the biggest market of the southern hemisphere. A must see. You also have the free tramway around the city center, St-Kilda or Philipp Island for spotting penguins.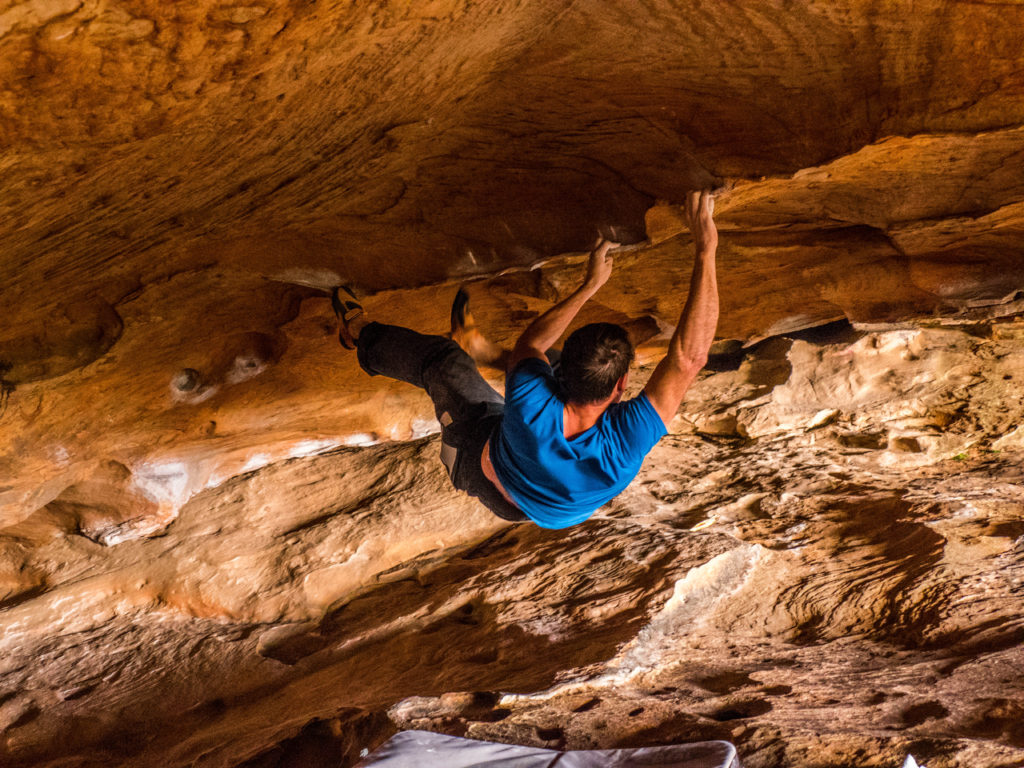 To avoid:
– Driving fast after the dusk because animals are out. It's very usual to have kangaroos in your headlights
– Feeding the wild animals, wallabies etc. It's enough to watch them, leave them alone. They don't need human presence to live their life. Our favourites are the possums, they are very good climbers!
– Sleeping in the bush in Grampians National Park. All information is here
– Driving on the highway without checking toll sections ; It's very hard to understand which section is free, which is not. After a highway drive, log in to Vic Roads You have 3 days to pay, after that you'll get a fine. We tested for you, for 5 kilometers of highway we paid a 55 Australian dollars fee…
– Australian taxi drivers who are not very honest like in a lot of places in this world. In Melbourne, use Skybus instead to the airport and numerous bus and tramways.
– The very well known tourist site of 12 Apostles in Great Ocean Road, very crowded there, a place to become Chinaphobic…
Photo de couverture: Cave Man V9, Hollow Mountain Cave, Aurel Gelot