Voici une courte interview avec Seb Bouin après sa belle croix le week-end dernier à la Ramirole, la première ascension de "La côte d'usure", un projet de longue date qu'il avait équipé il y a 9 ans. Histoire d'accompagner ses paroles, voici une belle vidéo de présentation de la voie qui vient de sortir.
– Quelle est l'histoire de cette voie et son descriptif ?
– j'ai équipé cette ligne quand j'avais 16 ans, j'étais relativement inexpérimenté, j'ai mis 3 jours à poser les points, et cela m'a paru trop long et trop dur donc je n'ai pas essayé tout de suite. Il y a un mouvement vraiment pénible en bas et je n'effectuais que quelques montées de temps en temps. Cette année, j'ai décidé de m'investir à fond dans cette ligne. Après deux semaines de nettoyage et défrichage, j'étais au point dans les méthodes. Il m'a fallu pas moins de 2 autres semaines d'essais avec des conditions pas top. La voie était souvent mouillée.
– Pourquoi ne pas avoir persévéré dans le très raide projet "La rage d'Adam" dans lequel tu t'étais investi l'an dernier à la Ramirole?
– "La rage d'Adam" est très court et très bloc, le genre de voie qui te met pas trop en forme. "La côte d'usure" fait 60 mètres, c'est plus long et pour l'entrainement Norvège c'était mieux. Tu es complètement sec après 60 m de grimpe. Et puis c'est davantage plaisant et plus fun à grimper.
– Un petit mot sur le niveau de cette nouvelle première ascension ?
– J'ai vraiment galéré au travail et quand j'ai enchaîné je me suis senti très facile. Je pense que c'est un 9a+ pas facile, un cran au-dessus de "L'homme demain". Mais pour moi c'est la plus belle des voies dans le neuvième degré ici.
– Parle-nous de ta préparation d'un mois et demi pour "Move" que tu ne pourras concrétiser cette année faute de moyens financiers.
– Oui, c'est bête qu'un projet capote à cause de l'argent. Je m'étais préparé en faisant pas mal de pan et de muscu, toujours le même combo que j'aime bien que j'avais détaillé dans votre interview entraînement : falaise la journée et muscu le soir. Quand j'ai su que je ne pouvais pas partir, je n'ai plus fait que de grimper dur et de me faire plaisir.
– Les projets de la fin d'année ?
– Retourner en Espagne pour "Pachamama" à Oliana et "Detectives" à Rodellar, et j'aimerai aller tâter les prises "Lapsus" à Andonno.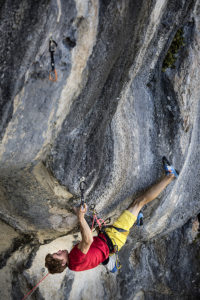 Brief words and an amazing video with Seb Bouin in his latest tick in Ramirole Cave, the first ascent of "La côte d'usure" 9a+, a long term project he bolted 9 years ago.
– What the story of the route and how can you describe the line?
– I bolted this line when I was 16, I was quite a beginner in bolting, it spend me 3 days. It was too long and too hard for me so I didn't try it a lot. There is an awkward move at the beginning, so I just gave few visits to the route. This year, I decided to attempt more seriously the line. After 2 weeks of checking and cleaning, I was quite ok for the betas. It took to me 2 weeks more for freeing t with bad conditions. It was often wet.
– Last year you were working "La rage d'Adam" project there. Why did you change your project?
– "La rage d'Adam" is very short and bouldery. It's not the type of route which gets you fit. "La côte d'usure" is 60 meters long, longer and better for the training for Flatanger. You are completely exhausted after 60 meters climbing. Ans it's more fun to climb!
– What about the grade?
– I was really struggling during the work, and I was very easy during the send…I think it's not an easy 9a+, it's harder than "L'homme demain" 9a/a+ I did last year. For me it's the nicest route of the cave.
– Tell us about the training for "Move", which finally will not be used this year due to financial aspects.
– Yes, it's sad not to try a project for a money problem. I was well prepared with a lot of gym and musculation, the mix that I like, go climbing then the evening musculation. When I knew that I couldn't return to Flatanger, I only focused on hard climbs outside.
– What are your projects for the end of the year?
– Go back in Spain for "Pachamama" and" Detectives", and I want to check "Lapsus" in Andonno.
Photos : Tilby Vattard – Tilby.fr