Inoxydables ! Malgré les années, certains pionniers du bloc maintenant quadras sont toujours particulièrement actifs, avec de récents développements.

A Bleau, Olivier Lebreton, 45 ans, récent champion de France vétéran de bloc, tient toujours la grande forme. En ce début d'année 2022 Olivier vient de concrétiser deux projets qu'il avait parmi les blocs majeurs de la forêt, "Partage assis" 8B à Buthiers et "The Big Island" 8B+/C au Coquibus Rumont. Les deux réalisations sont présentées dans la vidéo ci-dessous.
Dave Graham, 40 ans, passe lui la saison hivernale en Suisse sur les blocs du Tessin avec une répétition du méga highball "Roadkill" 8C à Val Bavona juste avant Noël, une double croix avec notre frenchie Clément Lechaptois. Ce gros pavé ouvert en 2020 par Shawn Raboutou avait déjà vu précédemment des répétitions de Jimmy Webb et Kim Marschner. Dave (qu'on peut considérer comme un des acteurs majeurs du développement de l'escalade sportive US ces 20 dernières années avec Chris Sharma) semble toujours au sommet de son art. Appréciez la qualité de sa gestuelle et sa technique dans le bloc dans la vidéo ci-dessous. Un délice !
D'autres quadras, plus discrets serrent encore fort les prises…
En Grande-Bretagne, Dave McLeod 43 ans, est de retour aux affaires après une blessure au coude. Dave vient de réaliser la seconde ascension de "Below zero" 8B+ à Rooftown, un projet qu'il avait depuis de longs mois et dont il s'est fait piquer la première par Will Bosi. Le processus de travail du bloc est décrit dans la vidéo ci-dessous.
Plus à L'Est, Bernd Zangerl est toujours à fond dans l'extrême, bossant dernièrement sur un projet vieux d'une décennie…Tout comme Klem Loskot, qui, aux dernières nouvelles, est toujours très actif bien qu'il soit silencieux sur les réseaux.

Evidemment traiter du sujet sans évoquer Dai Koyamada serait une erreur. Depuis la casse intentionnelle des prises de son 8C+ "Nayuta" au Japon en 2018 ainsi que de certains autres de ses projets et premières ascensions, le pionnier du bloc nippon, 45 ans, se fait plus discret concernant ses ouvertures. Dai a quand même réalisé plus d'une dizaine de premières ascensions de bloc dans le 8ème degré en 2021, et développe en concertation avec le gouvernement local plein de nouveaux blocs dans la zone très vaste d'Hinokage (à Kyushu, au Sud de l'Archipel) là où se trouve déjà "Eternal" qu'il avait établi en 2013. Il s'y trouve un potentiel de blocs durs encore très important, peut-être là où se trouve le futur du bloc naturel au Japon. A suivre !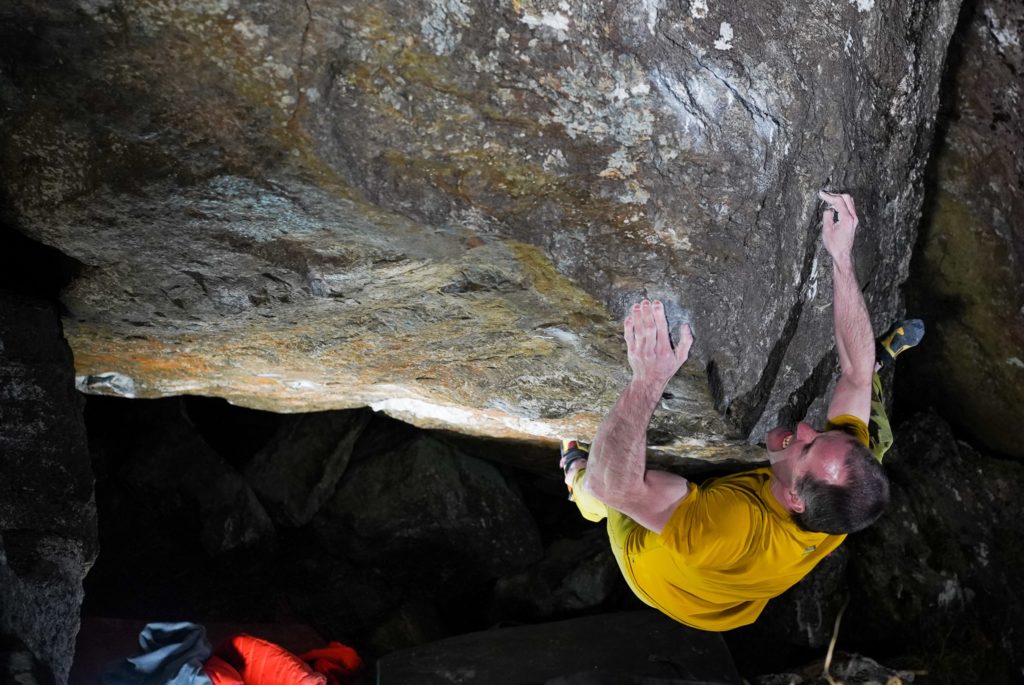 Unstoppables! Despite the years, some bouldering pioneers now in their forties are still particularly active with recent developments.
In Font, Olivier Lebreton, 45, recent veteran French bouldering champion is still in great shape. This beginning of the year 2022 Olivier has just completed two projects he had among the major boulders of the forest, "Partage assis" 8B at Buthiers and "The Big Island" 8B+/C at the Coquibus Rumont. These two achievements are presented in the video above.

Dave Graham, 40 years old, is spending all his winter in Switzerland on the boulders of Ticino with a repeat of the "Roadkill" 8C mega highball in Val Bavona just before Christmas, a double send with our Frenchie Clément Lechaptois. This big pice of rock was opened in 2020 by Shawn Raboutou and had previously seen repeats by Jimmy Webb and Kim Marschner. Dave, who can be considered one of the major actors in the development of US sportclimbing over the past 20 years with Chris Sharma, always seems to be at the top of his game. Appreciate the quality of his climbing and his technical skills in the boulder in the video above. A delight!

Other climbers in their forties, more discreet, are still strong.
In Great-Britain, 43-year-old Dave McLeod is back to affairs after an elbow injury. Dave just completed the second ascent of "Below zero" 8B+ at Rooftown, a project he had for many months. The first ascent of this line was stolen recently by Will Bosi. Dave's process on this boulder is described in the video above too.

Further East, Bernd Zangerl is still climbing hard, lately working on a decade-old project…just like Klem Loskot, who, according to the latest news, is still very active in bouldering despite being silent on social media.
Obviously, dealing with this subject without mentioning Dai Koyamada would be a mistake! Since the intentional brake of the holds of his 8C+ "Nayuta" in Japan in 2018 as well as some of his other projects and first ascents, the 45-year-old Japanese bouldering pioneer has been more discreet about his developements. Dai has still made more than a dozen of bouldering first ascents in the 8th degree in 2021, and is developing in consultation with the local government many new boulders in the very large area of ​​Hinokage (in Kyushu, South of Japan) where is already "Eternal" which he established in 2013. Here is still very important hard bouldering potential, perhaps where the future of outdoor bouldering in Japan is…To be continued !