Didier Berthod, grimpeur Suisse connu pour ses réalisations en trad au début des années 2000 avec entre autres la première ascension de "Greenspit" à Valle Del Orco revient sur le devant de la scène près de 20 ans après avec la première ascension de la fissure de "The Crack of Destiny" (8b+) à Squamish (The Chief) au Canada, une ligne qu'il avait commencé à projeter l'an dernier et qui lui a pris environ 35 séances. A noter que les protections étaient déjà en place lors de l'ascension, et que 3 jours plus tard, Didier est retourner faire la voie en plaçant les protections pendant l'enchainement, dans la plus pure éthique de la discipline. Voici le commentaire laissé sur les réseaux par Didier sur la voie après son premier enchainement de la voie avec les protections en place.

"L'année dernière, je me suis rendu à The Chief pour jeter un coup d'œil à cette incroyable fissure facilement repérable grâce à la photo de North Star dans le nouveau topo de Squamish.
C'était un coup de foudre. Et voilà, une fissure parfaite qui a envahi mes rêves pendant si longtemps. Et dans un cadre parfait, avec une vue parfaite et une vire parfaite. Et même la promenade d'une heure est également parfaite car elle vous permet de vous éloigner de la foule…
J'ai passé beaucoup de temps là-haut, 30 jours la saison dernière, 6 celle-ci. Mais il n'y avait rien à jeter. Un grand merci à tous mes amis qui sont venus là-haut pour tout ces moments d'escalade incroyable !
Réussir cette longueur signifiait tellement pour moi. Avant-hier, c'était comme si je n'avais jamais effectué la marche retour depuis The Chief avec une croix en poche. Et c'est le cas depuis 2005 quand j'essayais le "Cobra"… Presque 20 ans !
J'ai choisi de nommer cette fissure "The crack of destiny". Beaucoup de sens peut être tiré de cette phrase. Mais l'un d'eux est juste pour souligner ma relation avec l'escalade en fissure. Et avec cette beauté en particulier. D'une certaine manière, c'était comme si elle n'attendait peut-être que moi… comme un certain nombre de personnes par ici, surtout deux d'entre elles…
Parce que les cotes font partie du jeu, parlons un peu. Je propose 5.14. Cela me semble plus difficile qu'un simple 14a, mais je ne peux pas être plus précis. Ça me parait un peu plus dur que le "Tu-sais-qui", mais je suis bien conscient que le dire est un peu effronté, étant donné que je ne l'ai toujours pas réussi !
"Grimper avec les paires en place n'est rien" dirait un bon pote à moi. Il a tort, car c'est quand même quelque chose ! Mais il a raison car le gros problème est de réussir en plaçant le matériel. Je reviens bientôt pour faire quelques essais !"
Plus d'infos avec une interview

Photo : Fred Moix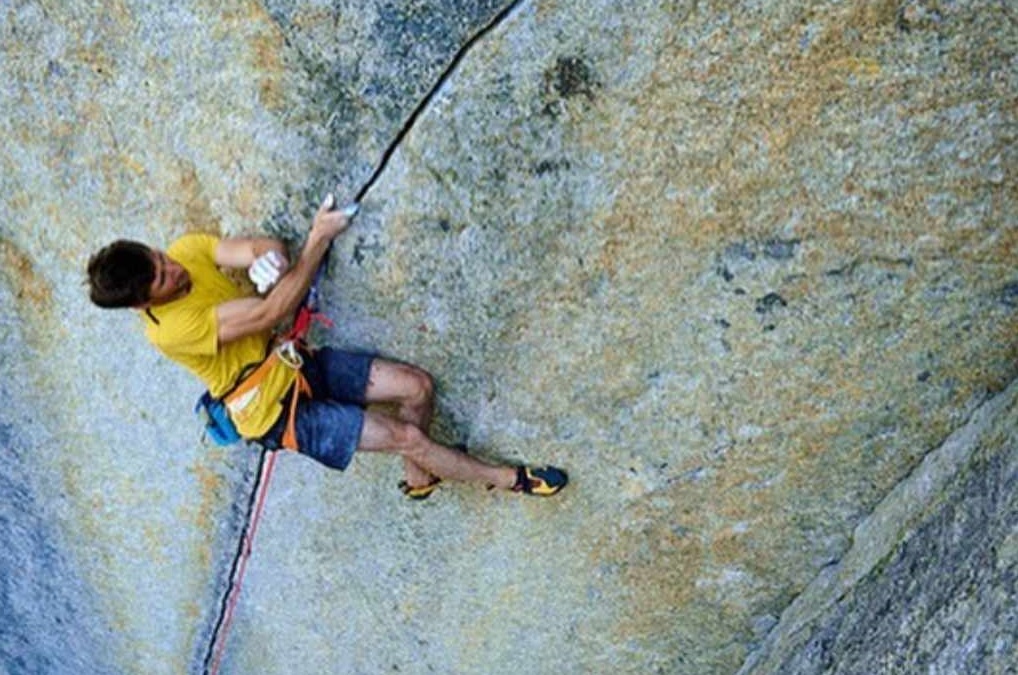 Didier Berthod, Swiss climber known for his achievements in trad in the early 2000s with among others the first ascent of "Greenspit" in Valle Del Orco is back to th game almost 20 years later with the first ascent of the crack of "The Crack of Destiny" (8b+) at Squamish (The Chief) in Canada, a route he started projecting last year and which took him around 35 sessions. Note that the protections were already in place during the ascent, and that 3 days later, Didier returned to the route by placing the protections during the send, in the purest ethics of the discipline. Here is the comment left on the networks by Didier after his first send of the crack "pinkpoint" aka with the protections already in place.

"Last year I walked up the Chief to have a look to this amazing splitter easily spotted thanks to the photo of North Star in the new Squamish guidebook.
It was love at first sight. So there it was, this perfect splitter crack that had haunted my dreams for so long. And in a perfect setting, with a perfect view, and a perfect ledge. And even the hour-long walk is also kinda perfect as it gives you a break from the crowds…
Spent a lot of time up there, 30 days last season, 6 this one. But there was nothing to throw away. A big thanks to all my friends who came up there for all this amazing moment of rock climbing!
Sending this pitch meant so much to me. Before yesterday, it was like I had never walked down the Chief with a send in my pocket. And that's been the case since 2005 when I was trying the Cobra… Almost 20 years !
I choose to name this crack « the crack of destiny ». Lots of meaning can be drawn from this sentence. But one of them is just to stress my relationship with crack climbing. And with this beauty in particular. In a way, it was like she was maybe just waiting for me… like a certain number of people around here, especially two of them…
Because grades are part of the game, let's give a little talk. I propose 5.14. It seems to me harder than just a 14a, but can't be more specific. Seem to me a bit harder than the « You-Know-Who», but I'm well aware that saying this is a bit cheeky, given that I still haven't sent it !
"Pink pointing is nothing" use to say a good buddy of mine. He is wrong, cause it still something ! But he is right as the big deal is sending placing gear. I'll be back soon to give it some tries !"