Florence Pinet a profité des conditions enfin un peu plus froides cette semaine pour réaliser probablement la seconde ascension féminine (après Cathy Bardon) d'une classique du Sud de la France, "Treblinka directe" 8b+ au Cimaï. Cette voie équipée par Denis Garnier en 1989 aussi connue sous le nom de "Polémiques" (nom jugé trop choquant par certains grimpeurs de l'époque ?) a été gravie pour la première fois par Alex Duboc. Depuis longtemps, le Cimaï et ses murs coupés au couteau dans un style légèrement déversant, très à doigts conviennent fort bien aux filles. On rappelle que c'est ici qu'en 1988 Isabelle Patissier réalisait le premier 8b féminin avec "Sortilèges" et en 1990 Lynn Hill y réussissait le premier 8b+ féminin  avec "Masse critique".
Voici son retour :
"Il y a déjà presque 10 ans de ça, on avait fait une belle session Cimaï avec Gé (Gérôme Pouvreau) et j'avais pu « cocher » une belle trilogie en 8b : « Treblinka », « Sortilèges » et « Les Sucettes », j'étais ravie mais pour moi, la ligne vraiment majeure de cette falaise, celle qui attire le regard, c'est « La directe de Treblinka » équipée par Denis Garnier en 1989. Après ces quelques réalisations, j'étais allée faire un tour dans cette ligne… La désillusion… Était-ce un mauvais jour ? Faisait-il trop chaud ?… Quoi qu'il en soit, j'avais trouvé ça vraiment trop dur pour une réalisation rapide… Et je m'étais dit qu'il fallait être plus forte… Le temps a passé, j'avais toujours cette voie dans un petit coin de ma tête mais jamais trop de copains pour y mettre des runs car nous étions tous occupés à d'autres projets… Du coup, je n'y suis jamais retournée."
"C'est Carole (Palmier) la semaine dernière qui me propose cette destination et Amandine (Loury) qui est surmotivée pour rendre visite à cette voie, d'autant plus que Manu (Lopez) sera là, il vient de l'enchaîner et a de nombreuses méthodes à nous vendre !!! Bingo, je m'inscris à la sortie, et ce petit covoiturage fait de 3 filles pour aller en falaise n'est pas classique, ça change et tant mieux. Je fais une 1ère montée express juste pour poser un devis et là, je sens que ça peut faire vite. Dès mon 1er essai, je tombe au crux car mal calée, je finis donc ma journée à peaufiner les méthodes… On replanifie une journée dedans, cette fois-ci je mets cash un run, une alerte à un doigt me fait stopper à la 3éme dégaine mais rien de grave, je repars et enchaîne la suite… J'ai bien peur d'avoir fait une bêtise en cramant un grand nombre de mes cartouches… Un bon repos plus tard, j'y retourne passe le crux du bas, rame un peu en rési par-rapport à l'essai précédant mais arrive au bon repos, je doute un peu pour les derniers mouv mais ma récup est bonne et ça le fait !"
""Treblinka directe" comme je l'ai toujours appelée s'appelle en fait « Polémiques » et je ne l'ai appris que vendredi dernier en regardant le topo, C'est une voie plutôt physique et conti, les prises ne sont jamais trop microscopiques… L'effort qu'elle requiert avec parfois des mauvais repos à gestion est vraiment sympa, et puis c'est dur dès que tu lèves ton second pied du sol et tu peux tomber le nez sous le relais, il ne faut rien lâcher ! J'ai adoré ! "
Retrouvez notre interview avec Florence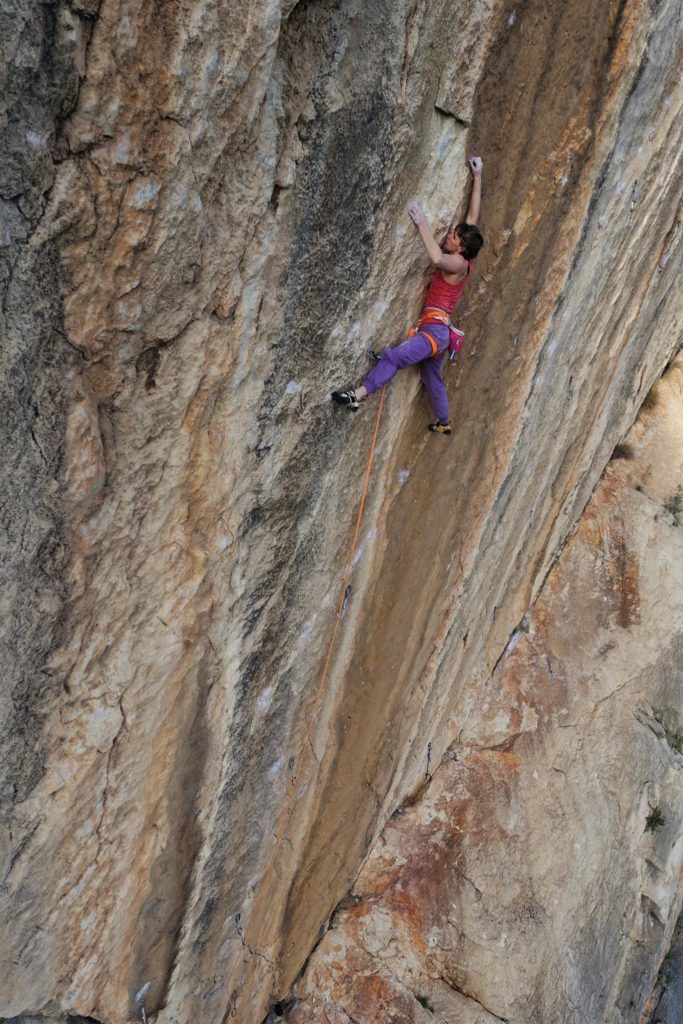 Florence Pinet took advantage of cold conditions this week in South of France to probably take the second female ascent of the classical (after Cathy Bardon) « Treblinka directe » 8b+ in Cimaï. This route bolted by Denis Garnier in 1989 was also known by the name « Polémiques » (at that time the name was considered as too shocking by some the climbers) was first ascended by Alex Duboc. With its straight and very fingery walls, Cimaï has suited very well to ladies since some time. In 1988, Isabelle did the first female 8b here with « Sortilèges » and Lynn Hill the world's first female 8b+ with « Masse critique » in 1990.
Here is Florence's insight :
« I did a very good trip in Cimaï 10 years ago, sending 3 nice 8b « Sortilèges », « Treblinka » et « Le sucettes ». It was very funny, but for me, the king line of the crag was « La directe de Treblinka » bolted by Denis Garnier in 1989. After having sent the 3 8b, I was attempting this line… Disappointment  Bad day ? Too hot ? I found it very hard for me for a quick send. I needed to be stronger…The time flied, I kept this route in my mind, but without anyone to join me in order to try. Last week, Carole Palmier gave me the idea to go, and with Amandine Loury we quickly formed a little girl team to try this route. I did a first go to see, I immediately got good feelings and I finished my day by finding good betas. The next day I tried it, a pain in a finger stopped me at the 3rd bolt. I did a run in the upper part of the route and finally completed the end. I was scared to have used all my power for this day but after a good rest, I finally climbed the bottom crux, got pumped and fighted in resistance mode for the send ! This route is physical with bad rests and requires stamina and the holds are not too small for Cimaï. As soon as you leave the ground, it is hard and you fight, you can fall from under the anchor, a muerte spirit. I love it ! »
Find our interview with Florence