La semaine dernière, les machines belges, Siebe Vanhee et Sébastien Berthe, ont libéré "Histoire sans Fin" – une grande voie de 200m avec 10 longueurs dans des cotations allant jusqu'au 8b+. Ils ont ainsi réalisé la 1ère et la 2ème ascension libre de ce projet de longue date sur le Petit Clocher du Portalet (Suisse).
Siebe nous raconte :
« La semaine dernière, Sébastien Berthe et moi avons eu une chance incroyable de faire les deux premières ascensions libres de ce que nous considérons comme le meilleur grande voie en granite pour cette cotation en Europe. C'est peut-être même la seule dans ce niveau. Cela fait un an que j'ai entendu des rumeurs sur une nouvelle ligne, incroyablement propre et dure, sur le Petit Clocher du Portalet en Suisse près de Martigny."
"En 2001, Didier Berthod et François Mathey ont ouvert la deuxième longueur, une fissure en 7c+ de 45 mètres de long, entièrement en trad: top classe ! Cette fissure se termine au milieu d'un beau pilier, au milieu de nulle part. Le granite lisse situé au-dessus a dû attendre près de 20 ans avant que Fabien Borter et Bertrand Martenet imaginent une incroyable suite (celle ci est équipée), qui suit des dalles et des arêtes jusqu'au sommet. Malgré leur lecture visionnaire, c'est en 2020 que cette grande voie a pu être finie d'être équipée avec l'aide de Didier Berthod pour trouver la longueur manquante, une belle arête orange cotée 8b."
« Fin juin, avec Jean-Elie Lugon, nous avons trouvé un petit créneau pour aller essayer cette voie. Je me suis fait botter le cul et j'étais dans un état physique lamentable! Malgré ça, je me suis dit que c'était une des plus belles lignes que je n'ai jamais essayée. La semaine dernière, je suis revenu avec Sébastien, physiquement en meilleure forme mais toujours intimidé par la ligne. J'y suis allé en mode repérage. Mais avec les good vibes de Seb sur la paroi, j'ai rapidement changé d'état d'esprit. Nous avons tous les deux travaillé la longueur clé jusqu'à ce que Seb l'enchaîne. Je sentais que j'avais besoin de quelques essais supplémentaires pour l'enchainer aussi, mais Seb n'avait plus de temps et on est tenté directement la suite de la voie. Ça a été un gros combat physique et mental , nous avons terminé à la nuit ! Ce jour-là, Seb a ainsi fait la première ascension libre. Comme toujours, il a été super fort et a essayé chaque longueur jusqu'à l'enchainement. "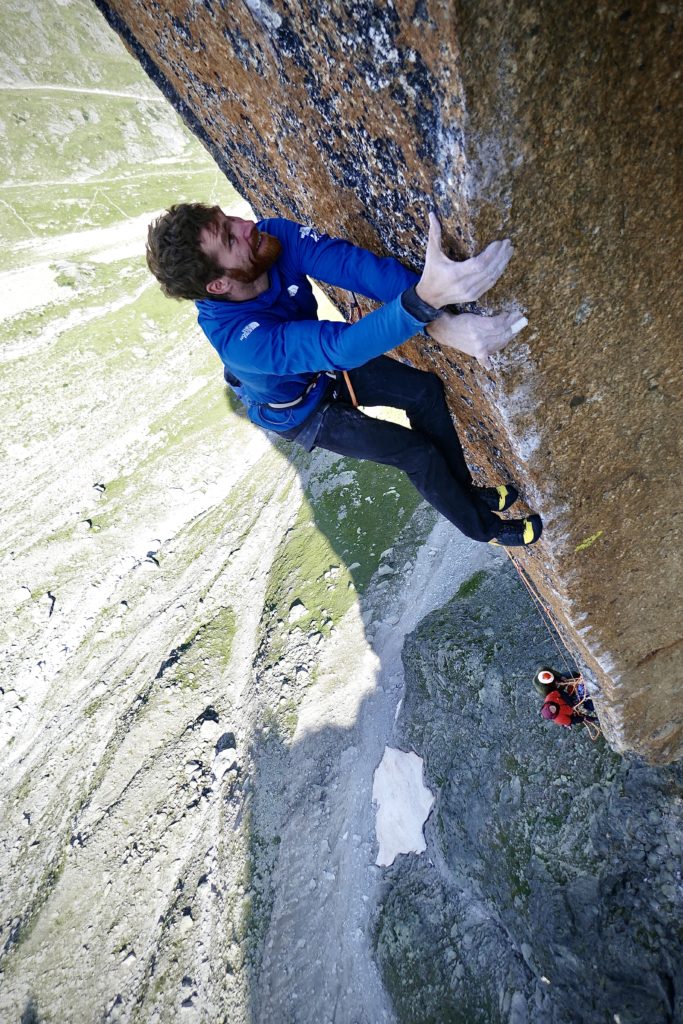 "Trois jours plus tard, c'était mon tour, je suis revenu avec le soutien de Seb et Soline. Cette fois-ci convaincu que je pouvais enchainer la voie. Je me suis lancé dans la fissure en 7c+, puis dans la traverse en 7c jusqu'à arriver au crux. Je me suis alors retrouvé au milieu de la longueur en 8b+, au niveau du crux qui est un pas de bloc super technique. Il faut trouver la bonne pression sur des prises de pied microscopiques qui permettent des mouvements qui semblent impossibles: tout est dans la tête, il faut oser et pousser sur les pieds. J'ai réussi à enchainer cette longueur au premier essai ce jour là. Il y a également une longueur en 8b, une arête lisse mais costaud, qui a été un bon combat mental: effrayante mais magique! Ça m'a semblé tellement impossible au premier essai, mais quand tu doses bien la pression sur les pieds et tu géres correctement l'équilibre, la magie opère. Encore une fois, j'ai enchainé au premier coup ! La dernière longueur dure est une dalle corsée en 8a+. J'ai réussi à bien grimper mais j'étais nerveux d'imaginer tomber dans cette dernière section difficile… et c'est arrivé. Merci à Seb et Soline, j'ai relativisé ma chute, je suis retourné au relais et j'ai atteint le haut de la voie ! "
et le commentaire de Sébastien :
« La différence entre l'enchainement de la voie par Siebe et la mienne est assez amusante : en enchainant toutes les longueurs les unes après les autres, Siebe était vraiment dans un mode de croisiére impressionnant. Il a quasiment laissé aucune chance à la voie et il y a eu très peu de facteurs incertains. Au contraire, j'ai été en mode freestyle total, tombant à chaque longueur en mettant essai après essai jusqu'à ce que ca passe ne sachant rien à propos des longueurs suivantes, mais croyant fermement que j'avais la capacité de le faire. Un vrai ascenseur émotionnel ! J'ai adoré ça car ça m'a apporté les meilleures sensations jamais ressenties en escalade !

Photos : Fred Moix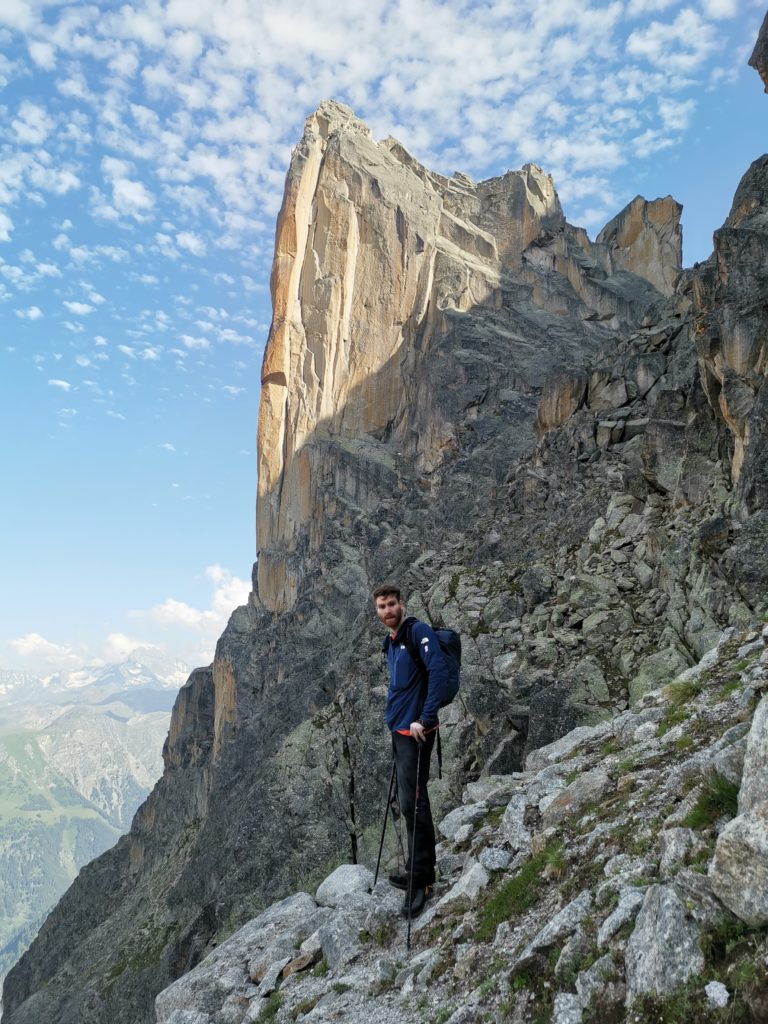 The belgian climbers, Siebe Vanhee and Sebastien Berthe, sent last week "Histoire sans Fin" – a 200m route with 10 pitches up to 8b+. They thus realised the 1st and second free ascent on their longstanding project on Petit Clocher du Portalet (Switzerland).
Siebe Vanhee comments:
"Last week, Sebastien Berthe and I where incredibly lucky to make the first two free ascents of what we consider the best granite multipitch of the grade in Europe. It might even be the only of the grade. It's been a year since I've heard some rumors about a new, incredibly clean and hard, line on Swiss' Petit Clocher du Portalet near Martigny."
"In 2001 Didier Berthod and Francois Mathey opened the famous second pitch off the ledge, a 45 meter long 7c+ splitter crack, naturally protected. One of the best! The splitter ends in the middle of the beautiful pillar, in the middle of nowhere – the "Never Ending Story". The smooth granite above had to wait almost 20 years before Fabien Borter and Bertrand Martenet imagined an incredible bolted continuation of the route, following blank slabs and arêtes to the summit. Despite their great visioning, the climb had to wait until 2020 when they got help of Didier Berthod to find the missing link pitch, a beautiful orange arête graded 8b."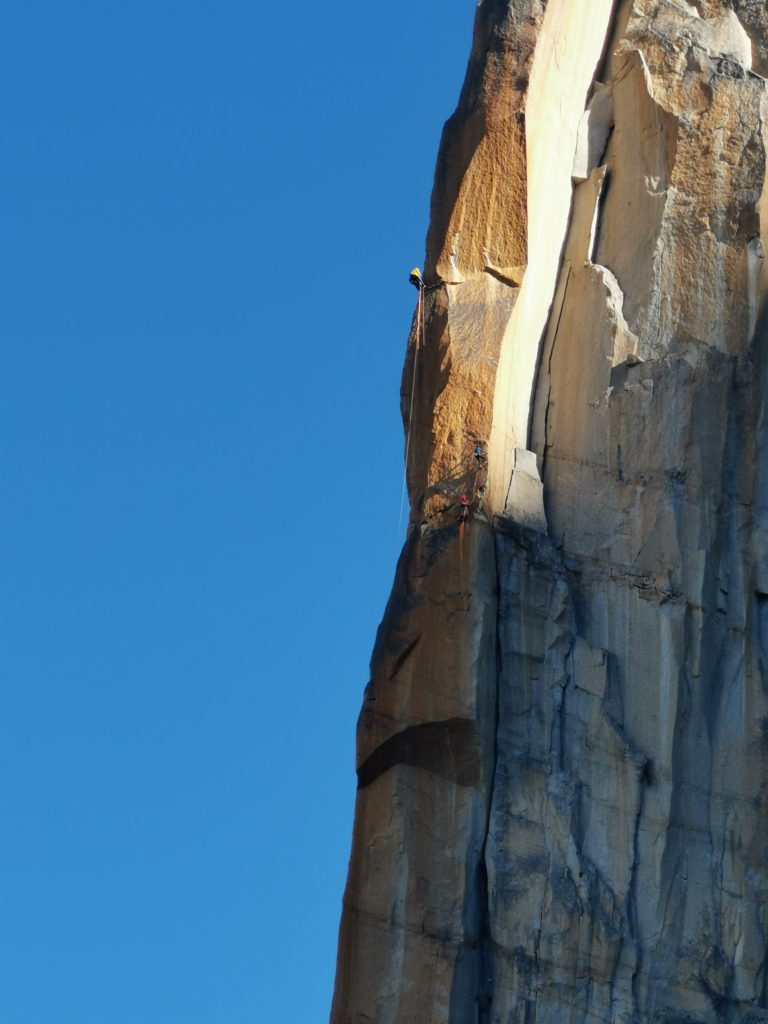 "The end of June, together with Jean-Eli Lugon we found a small window to go and try 'Histoire'. I got my ass kicked completely and was in a terrible physical state. Despite, I realized it was one of the best lines I had ever tried. Last week I returned with Sebastien, physically in a way better shape but still intimidated by the line. I mainly went up to have another look and see how it would go. But with the sending vibe Seb brought with us on the wall I was quickly contaminated. We both worked the crux pitch until Seb strongly send. I felt I needed little tries more to send as well but Seb's time was running for a 'one day first day' ascent. We continued and he pulled out a strong physical and mental fight, we topped out at night! This day Seb made the first free ascent. As always, he was strong and kept giving every pitch sending tries until he surprisingly did! "
"Three days later it was my turn, I returned with the support of Seb and Soline. This time convinced I could climb the route. I fired up the 7c+ splitter, continued the 7c traverse pitch to the base of the cruxpitch. Suddenly I found myself in the crux of the 8b+ pitch, a super technical boulderproblem where the right pressure on microscopic footholds makes the seemingly impossible moves possible. It's all in the head, you need to dare and push on the feet. It went smooth, I could send on the first go. The 8b pitch, the slabby but strenuous arete, was a mental fight. Scary but magical, that's what comes to mind when I think of that pitch. It felt so impossible on the first try, it's scary to push so much on the feet but ones you find the right pressure and balance, the magic happens. Again, I send this pitch on the first go! The last challenge, a spicy 8a+ slab. I climbed well but nervous, a brainfart happened and I fell at the very last difficult section. Thanks to Seb and Soline, I relativized my lame fall, returned to the anchor and just cruised it to the summit!"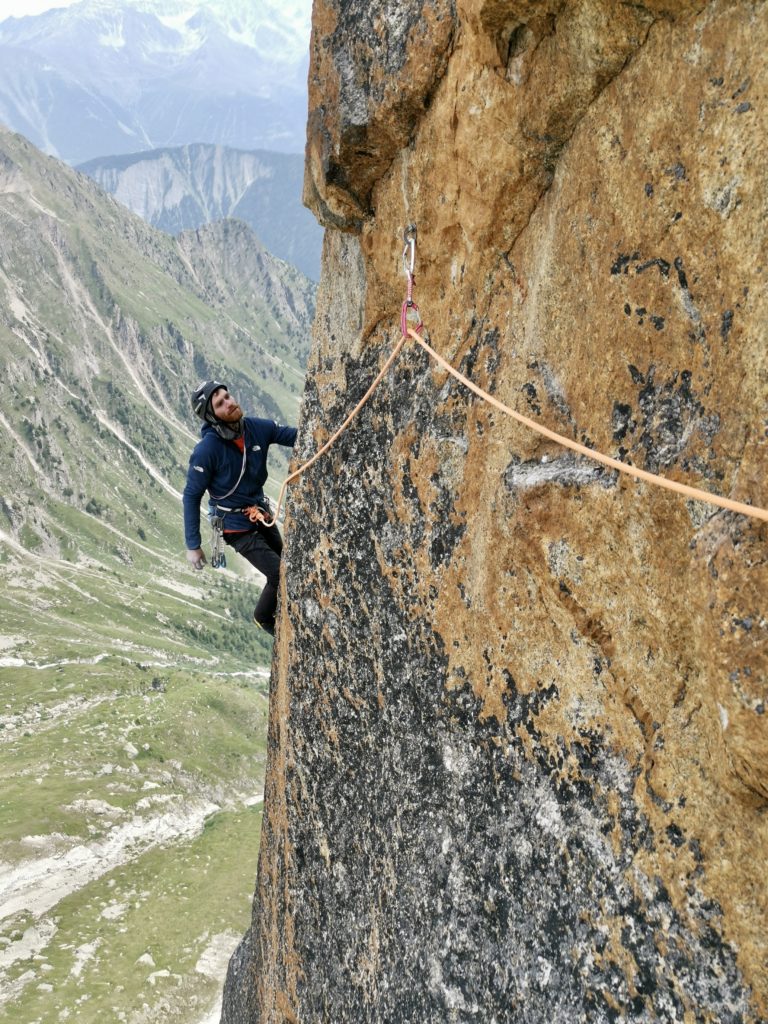 And the comment from Sébastien Berthe:
The difference between Siebe free ascent and mine was pretty fun to notice: while sending all the pitches one after another, Siebe was really in an impressive cruise control mode, he did not let much chance to the route and had very few uncertain factors. On the contrary, I was in total freestyle, falling in every pitch and putting tries after tries until it eventually goes, knowing nothing about the next pitch, but believing strongly I have the ability to do it. A true roller coaster day! I love this style because it brings me the best sensations ever felt in climbing!"

Photos : Fred Moix