À l'été 2020, le talentueux falaisiste français Hugo Parmentier s'attaquait à un beau projet, "La Rage d'Adam" 9b/+, à la baume de Ramirole dans le Verdon. Cette voie a été libérée par Seb Bouin en septembre 2019 et demeure non-répétée. Suite à la récente parution d'une vidéo retraçant ses premières tentatives dans cette voie très dure (à la fin de cet article), nous avons fait le point avec lui.
Commençons par cette vidéo sur la Rage d'Adam. Qu'est–ce qui t'a donné envie pour la première fois d'aller mettre tes mains dans cette voie, et depuis quand la travailles-tu?
La vidéo de Seb dedans !! Les photos aussi. Le crux est majeur, surtout le grand croisé et le ballant qui s'ensuit. On en avait aussi parlé avec Clément Lechaptois car on avait bien compris que la voie était très bloc et que ça pouvait nous convenir. Finalement je suis allé début juin dans le Verdon pour tâter le chantier et faire quelques grandes-voies avec les "Deblayes" ❤️.
Au vu des progrès déjà réalisés dans l'enchaînement de la voie et ceux encore à faire, est-ce que tu as déjà en tête un "plan d'attaque" pour optimiser tes chances l'été prochain ? Si oui, quel est il ?
Les combattants sont en pleine préparation hivernale! À base de soupe d'orties, de lentilles et de grands fights sur les rochers de Fontainebleau lol !
Pour le moment je n'ai pas vraiment de programme spécifique. J'ai compris que le pas de bloc était encore trop dur pour moi, je le subis. Mes chances de réussite cette année étaient encore faibles car le premier mouv' me demandait trop d'énergie. Il "m'explosait en force". Selon le concept du : "quand on manque de force il faut encore plus de force" je me suis attelé à la tâche en faisant plein de bloc.
Quand on approchera de la saison ramirolienne peut-être que je ferai du spécifique.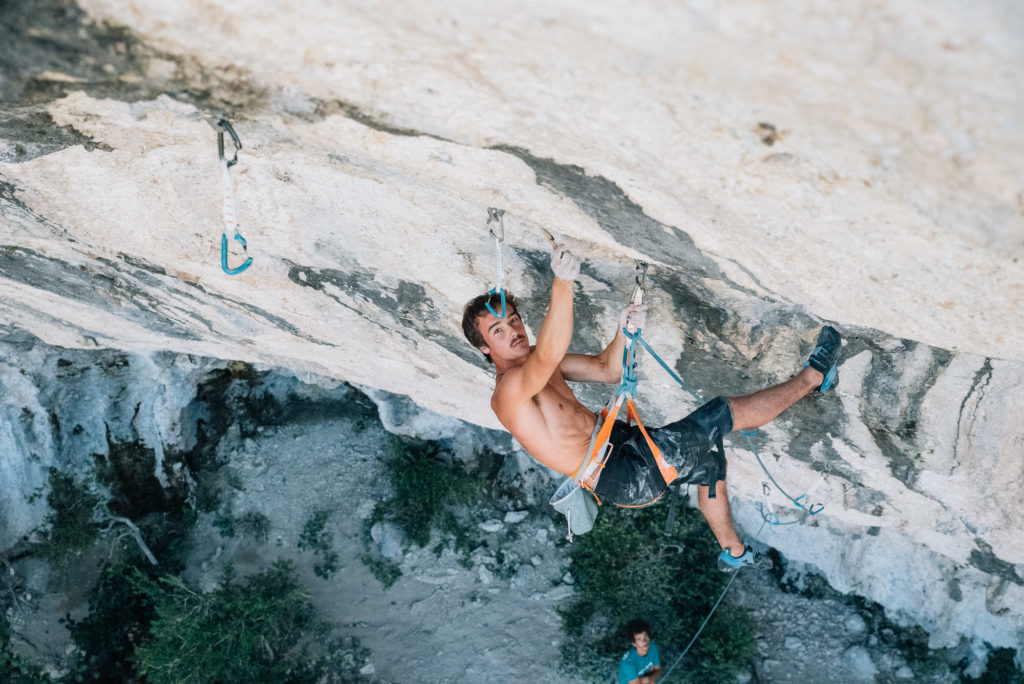 On ne peut que regretter que tu n'aies pas opté pour un joli motif fleuri pour tes genouillères, fashion faux pas qui va probablement te coûter cher en followers… Mais plus sérieusement, le recours à cet "outil" te paraît–il indispensable dans cette voie pour toi à l'heure actuelle ? Que t'apporte t-il ? L'éternel débat sur le port des genouillères et son impact éventuel sur la cotation n'est pas près de finir… mais ton avis nous intéresse 🙂
L'éthique en escalade est bien vague. Chacun a la sienne. Moi je ne sais jamais où me placer. Par contre j'essaie d'être honnête avec moi-même. Par exemple dans le bloc "Millénium" à Bleau je n'ai pas la taille pour atteindre les prises de départ. Pourquoi je me priverais de faire ce joli bloc quand on peut me hisser jusqu'aux premières prises. Je n'ai pas l'impression de triche, juste de m'amuser. 
Pour une performance reconnue ou valorisée alors je pense qu'il faut être dans les clous et expliciter la méthode utilisée pour l'ascension. Pour les passages établis sans genouillères, je trouve ça cool d'essayer de faire comme lors de la première ascension. Et si on a la flemme d'avoir les genoux en sang pendant 1 semaine alors l'honnêteté sur la difficulté du passage est primordiale. 
Aujourd'hui je pars du principe que la genouillère est un outil comme les chaussons d'escalade. Les meilleures performances mondiales sont toutes réalisées avec les grenouillères, Adam, Jimmy Web les utilisent. Pourquoi s'embêter à ne pas les mettre? Si c'est pour le plaisir masochiste ou pour ne pas se faire déplumer je comprends…
On voit dans la vidéo à quel point le crux demande un engagement total du grimpeur et combien les mouvements sont teigneux : quel(s) a/ont été le(s) déclic(s) au cours de l'été pour progresser dessus ?
Aucun ! Ahahah j'ai presque eu l'impression de régresser entre le 7ème jour et le 20+ ème dedans. Quand j'y suis retourné en octobre pour seulement quelques sessions je n'en pouvais plus de cette voie, j'avais trop grimpé dedans. C'est assez dur de grimper toujours le même 8b+, se reposer longtemps sur une même prise et tomber au mouvement d'après.
Au fur et à mesure du temps les mouvs du crux me paraissaient de plus en plus durs. Je ne sais pas si c'est la forme physique qui déclinait, ou juste la motivation qui joue un rôle énorme dans la performance.

Sans vouloir vendre la peau d'Adam avant de l'avoir fait rager… Qu'est ce que tu aimerais aller chatouiller comme projet ensuite ? Quels sont plus généralement tes projets pour 2021?
Il y a une voie à Grenoble que j'aimerais bien faire en 9a/+? , un "retry" dans la Voie Petit au Grand Cap, la saison de coupe du monde de diff si je me qualifie (et qu'elle a lieu) ou bien l'inverse… 
Des projets en bloc. Un projet à Céüse aussi mais je crois être encore assez loin de la vérité.
En fait j'adore grimper alors avant d'avoir essayé tous mes projets…
Enfin, plus généralement, pour ceux qui te suivent sur les réseaux sociaux, on peut voir que tu fais pas mal de bloc en ce moment. Tu reviens notamment de Suisse il y a peu avec quelques belles croix en poche.
On voit que tu es un grimpeur polyvalent à plusieurs égards : bloc et diff, falaise et compétitions. C'est finalement assez rare. Est-ce un réel choix de ta part ou plutôt une volonté au contraire de ne pas avoir à choisir ?
Qu'est–ce que cette polyvalence t'apporte dans ton escalade voire dans ta vie tout court ?
J'aime bien découvrir de nouvelles choses dans cet univers qui me passionne. Mon rêve est d'être un grimpeur/montagnard capable de faire de tout quand l'envie lui prend. C'est sans doute d'avoir bénéficié d'un apprentissage diversifié de l'escalade qui me pousse à essayer plusieurs choses.
L'escalade rythme ma vie. Ne pratiquer qu'un seul type d'escalade me frustrerait je pense. Changer de discipline apporte beaucoup de fraîcheur au quotidien, de nouveaux objectifs, une nouvelle progression, des rencontres, de nouveaux paysages.
On est encore en janvier, c'est donc encore l'occasion de faire ses vœux et/ou de prendre de bonnes résolutions pour 2021? Des ptits messages à faire passer pour l'occasion ?
J'ai hâte que l'on puisse tous ressortir légalement quand bon nous semble.
Peut être qu'on se croisera au pied d'un bloc pour parler genouillère 😉 
Pour finir j'aimerais évoquer la préservation nécessaire du milieu dans lequel nous évoluons. Pour que chacun puisse bénéficier de la meilleure expérience possible, il nous incombe de respecter la nature et autrui : en ramassant nos propres déchets et ceux qui traînent, en brossant les prises à la descente, en achetant local, moins de plastique… 
Love
Photo de couverture : Aurèle Bremond
---
Last summer, French climber Hugo Parmentier started work on his new project, "La Rage d'Adam" 9b/+, in la Ramirole, Verdon. This route has been freed by Seb Bouin in 2019 and remained unrepeated. Following the short video released a few days ago, we asked him some questions.
Let's start with the project itself. What made you want to check out this route in the first place, and when did you start working on it?
Seb Bouin's movie! The pictures too. The crux is mega, especially the cross-through and the barn door after. I had also spoken with Clément Lechaptois about this route, because we felt it was very bouldery, hence it could suit us. Eventually I went there at the beginning of June to have a look and also climb some multi-pitch routes.

Considering the big progress you have made in it already, but considering also what is left to climb, do you have a plan to optimize your success for next summer?
The fighters are in full-on winter preparation! Nettle soup, lentils and big fights in Font!
For the moment I don't have any specific training program going on. I have realised that the boulder crux is still too hard for me, it kills me. My chances of success last year were very slim, due to the first crux move being too demanding.
As the saying goes: "When you lack for strength, you need more strength", so I'm doing a lot of bouldering.
And when Ramirole season will be around the corner, maybe I'll try something more specific.

We can only be disappointed that your kneepads aren't more flowery… But joke aside, does the use of this tool feel essential on this route? How does it help you?
Of course, the debate about kneepads and its potential impact on grading will not end today… But we'd love to hear your opinion 🙂
Ethics in climbing is a rather vague concept. Everyone has its own views. I don't know where I fit on this map. But I always try to be honest with myself. For instance, on Millenium (in Font) I'm too short to reach the start holds: why shouldn't I allow someone to prop me up to be able to try it? I don't feel it's cheating, it's just having fun.
But, sure, for a higher-end performance, I think you should stick to the rules and be open about the method you used to climb.
For the routes and boulders opened without kneepads, I find it cool to try as per the first ascent. And if you're tired of bleeding after a week, just be honest about the resulting difficulty.
Today, I think kneepads are as much a piece of climbing gear as climbing shoes. Top level performances are all done with kneepads nowadays, Adam, Jimmy Webb are 'using'. Why struggle without? If it's just for the masochistic pleasure or to not get broke (90€ for a Send Kneepad) well, then I understand…

One can see in the video how demanding the crux is, how it requires a total involvement from the climber, and how nasty the moves are: what spurred you on to keep trying?
Nothing ahahah! I almost felt like I was getting worse and worse between day 7 and day 20.
I went back on it in October for a few sessions, and I was sick of it, I couldn't stand the sight of it anymore, too much climbing on this route. It's quite hard to always climb the same 8B+, rest on the same hold, and then fall at the very next move. Little by little the crux moves seemed more and more difficult. I don't know if it was just physical fatigue, or if motivation played a huge role in the drop in performance.

Not that we're counting your chickens before they are hatched… But what would you like to try next? More generally, what are your 2021 plans?
There's a route in Grenoble that I would love to climb (9a/+?), I want another attempt on la Voie Petit (Grand Capucin), the lead world cup season if I qualify (and if it actually takes place) or the other way around.
Boulder projects too. And also a project in Ceüse, but I'm still miles away on that one.
Actually I just love to climb, so it'll be a long while before I run out of things to do.

For those who are following you on social media, you're bouldering a lot at the moment. You were in Switzerland in December and sent some nice boulders.
You're a very versatile climber: boulder and lead, outdoor and competitions.
It's actually not that common. Is it a conscious choice or on the contrary a desire not to choose? What does this versatility bring to your climb, but also to your life?
I really enjoy discovering new things in this sport I'm so passionate about.
My dream is to be a climber/mountain guy able to do whatever he wants whenever he wants. What pushes me to try different things is without a doubt my multi-faceted climbing education as I grew up.
Climbing gives rhythm to my life. Practising only one kind would be so frustrating. To switch between lead and boulder, outdoor and competitions brings so much renewed appetite on a daily basis, new goals, new gains, new encounters, new landscapes.

We're still in January, so it's still time to make a wish or take some resolutions for 2021. Do you have anything to wish our fanatic community?
I can't wait for us to be allowed to go outside whenever we want, legally I mean.
Maybe we'll meet again at a crag and talk about kneepads 🙂
Lastly, I would like to use this platform to spread the word about the vital preservation of our playground. In order for everyone to enjoy the best possible experience, we must respect and protect nature but also each other: so please pick your garbage and what's lying around, brush your chalk off, buy locally, use less plastic…
Love

Cover pic: Aurèle Bremond