Habitué à défrayer la chronique pour ses ascensions de voies dures en falaise, Lucien Martinez a réalisé la semaine dernière, entre deux piges pour Grimper Magazine, un bloc très dur à Fontainebleau, avec une répétition de l'emblématique "The Big Island". Nous revenons avec lui sur cette réalisation.

– Un falaisiste taillé comme une brindille qui coche un frigo surphysique en compression en guise de premier 8C bloc, surprenant !? Plus sérieusement, pourquoi t'es-tu attelé à ce projet et à cet objectif élevé en bloc, toi qui te fixes généralement plutôt des gros objectifs en falaise ?
C'est contre-intuitif mais Big Island n'est en fait pas un bloc physique du tout. Comme c'est une compression large, les pecs ne sont pas du tout mis au supplice comme dans les compressions rapprochées. C'est plutôt un bloc de poulpe ou d'étoile de mer, catégorie de grimpeurs à laquelle j'estime faire partie. Je me suis attelé à ce bloc parce qu'il me fait rêver depuis longtemps et que ça me faisait un super prétexte pour aller grimper avec les copains qui travaillent le départ assis.
C'est vrai que je suis plutôt un falaisiste, mais je me fixe aussi des gros objectifs en bloc. Malheureusement, je ne suis en général pas trop en réussite. C'est vraiment très dur de progresser en force. Dernière chose, parce que c'est dans la question, tu parles de mon premier 8C mais il faudrait pour être juste parler de mon premier 8B+, ce qui est déjà pour moi une perf presque incroyable.
– Tu habites en forêt de Fontainebleau depuis quelques années, explique-nous ce choix surprenant pour un falaisiste.
J'habite à Bleau pour deux raisons très précises. La principale c'est que vivre à Bleau était le rêve de ma copine. L'autre, c'est que mon travail pour Grimper Mag' me permet d'aménager mes journées comme je veux, donc au moindre créneau de 2 ou 3h je peux faire du caillou, ce qui est une chance incroyable et qui n'est possible quasi nulle part ailleurs. Mais, comme tu le dis dans la question, je reste et resterai un falaisiste, et si je passe trop de temps à Bleau sans essayer mes projets je ne me sens pas bien. À cause du coronavirus, j'ai passé les meilleurs mois de l'année 2020 (de février à mai) sans faire de falaise et je l'ai assez mal vécu.
– "The Big Island" est devenu est un classique dur de la forêt, qu'est-ce qui en fait pour toi ce côté emblématique ?
Ce bloc a tout pour être un classique. La gestuelle est magique, il sèche très vite ce qui est une grande qualité à Bleau où il pleut souvent et la cotation papier de 8C est extrêmement gentille, ce qui est aussi un gros atout pour faire d'un bloc un classique. Mais ce qui le rend avant tout emblématique, je crois que c'est cette baffe et ce « CLAC » sur le plat main droite qui émoustille forcément tous les amateurs de bloc. En tout cas, moi, que ce soit en vidéo ou en vrai, je ne me suis jamais lassé de ce gros « CLAC ».
– Décris-nous le processus, comment se sont passés les essais, jusqu'à la réussite.
Ça a été une grosse bataille. J'ai mis une dizaine de séances la saison dernière ou j'ai passé beaucoup d'énergie à caler les méthodes et une autre grosse dizaine de sessions cette saison. Il faut savoir que, pour tous ceux qui réussissent "Big Island", il ne s'agit pas d'un défi physique mais plutôt d'un défi technique. Sur la vingtaine de vidéos que j'ai pu voir de ce bloc, aussi incroyable que cela puisse paraître, il n'y a pas deux grimpeurs qui utilisent les mêmes placements. Chacun doit trouver les petits ajustements au millimètre qui lui vont bien. Par exemple, il y a un plat main droite, la prise clef, sur laquelle il y a un petit rebord qui fait un angle, et il faut décider combien on met de doigts de chaque côté de l'angle. Il y a ceux qui font 4 doigts à droite, ceux qui font 3 et 1, et ceux qui font 2 et 2 (je fais partie de ceux-là). C'est par exemple un détail très important qui m'a fait perdre plusieurs séances l'an dernier où j'essayais en vain la combinaison 3 et 1 alors que j'étais mieux avec la 2 et 2. Et dans ce bloc, plus on est faible, plus on est obligé de compliquer les séquences pour ne pas être en sur-régime. Je dois avouer que j'ai utilisé des séquences vraiment compliquées. Une fois calé, j'avais l'impression de devoir faire une chorégraphie où la moindre erreur était fatale même si j'avais encore du jus. À part à la toute fin, il est presque impossible de se battre : soit tu passes rando, soit tu ne passes pas. Durant les dernières sessions, j'ai senti la réussite se rapprocher et je suis tombé plusieurs fois dans les tout derniers mouvements, dont une où j'ai dû arrêter la séance juste après parce qu'il s'est mis à neiger alors que j'étais à un cheveu de réussir. Bref, ça a été un gros combat jusqu'au bout.
– T'entraines-tu spécifiquement pour ces projets ? Si oui, comment ?
Pas vraiment d'entraînement spécifique. J'ai dit un peu plus haut que je suis plutôt à la rue en bloc, mais en fait je navigue entre deux eaux : quand je fais du bloc, j'ai l'impression de manquer de force, mais quand je fais de la voie, la force est rarement pour moi le facteur limitant. Donc mes entraînements, je les oriente plutôt sur la rési et l'endurance de force (des circuits training avec des blocages, du gainage et des tractions), ce qui, en vue de la falaise, est je pense complémentaire avec tout le bloc que je fais à Bleau.
– En ce moment c'est la course à la réalisation pour le départ assis, entre Nico Pelorson, Camille Coudert et le belge Simon Lorenzi. Pour avoir vu les essais de près, sur qui mettrais-tu une pièce ? Le belge qui tombe en haut semble-t-il avoir une longueur d'avance ? Parle–nous de cette émulation !
Clairement, c'est Simon Lorenzi qui est pour l'instant le plus proche. Il tombe vraiment dans les tous derniers mouvements. C'est amusant parce qu'il fait dans le crux du debout une méthode radicalement différente des séquences classiques (parce qu'il manque d'allonge pour la baffe). Sa méthode est plus dure intrinsèquement mais elle a l'air de mieux marcher en venant du départ assis, peut-être parce qu'elle est moins à friction. Quant à l'émulation, c'est incroyable, c'est tout ce que j'aime en escalade. Les gars qui essayent n'ont pas de fausse modestie, ils ne font pas semblant de se ficher de réussir la première de ce bloc mythique. Ils se font même pas mal de blagues entre eux à ce sujet. Mais en même temps, ils se respectent, s'apprécient, et on sent que, si c'est la guerre sur le caillou, derrière il n'y a que de l'amitié. Il y a eu de grands moments d'escalade ces derniers temps à "Big Island".
– Quels sont tes objectifs pour 2021, toi qui as réalisé pas mal de voies dures ces deux dernières années ?
Le projet numéro 1, c'est "Fight Or Flight", j'ai mis tellement de sessions dedans que maintenant je ne peux plus lâcher l'affaire ! J'espère que le coronavirus ne va pas m'empêcher d'y retourner en mars. Ensuite il y a quelques voies moins dures qui me motivent, comme un petit projet à Entraygues que j'aimerais bien libérer quand les beaux jours reviendront. J'aimerais bien aussi aller poser un devis dans "Beyond Intégrale".
– Comment t'y prends-tu justement pour sélectionner et réaliser tes projets, car tu nous sembles particulièrement efficace dans le domaine !?
Pour sélectionner mes projets, je suis attiré par les voies où il y a des gros jetés ou des gros dynamiques, et aussi par les voies mystérieuses. J'aime également les arquées franches dans le gros dévers. Bien bouger dans une voie dure, faire les mouvements, c'est très facile. Réussir, par contre, ça demande un engagement psychologique énorme. Il faut multiplier les trips, aller là où il y a ton projet coûte que coûte même si les amis vont ailleurs, toujours chercher à motiver des gens pour aller là où tu veux, grimper dans le froid glacial pour avoir les condis, accepter de te mettre la pression à la falaise. Tout ça, pour moi c'est un parcours du combattant et ça m'épuise mentalement. Alors il faut vraiment que les voies dures que j'essaye me fassent rêver, qu'elles allument en moi cette petite flamme qui fait que j'ai vraiment, vraiment envie de les faire. Le rêve, c'est d'essayer le même projet à 2 ou 3 amis. Quand Chris et Adam essayaient "La Dura Dura" en même temps, c'était tellement cool ! Mais tous ceux qui essaient des voies dures savent bien que c'est super dur de se coordonner, et que bien souvent on est obligé de mener la bataille seul.

Crédit Photo : Stephan Denys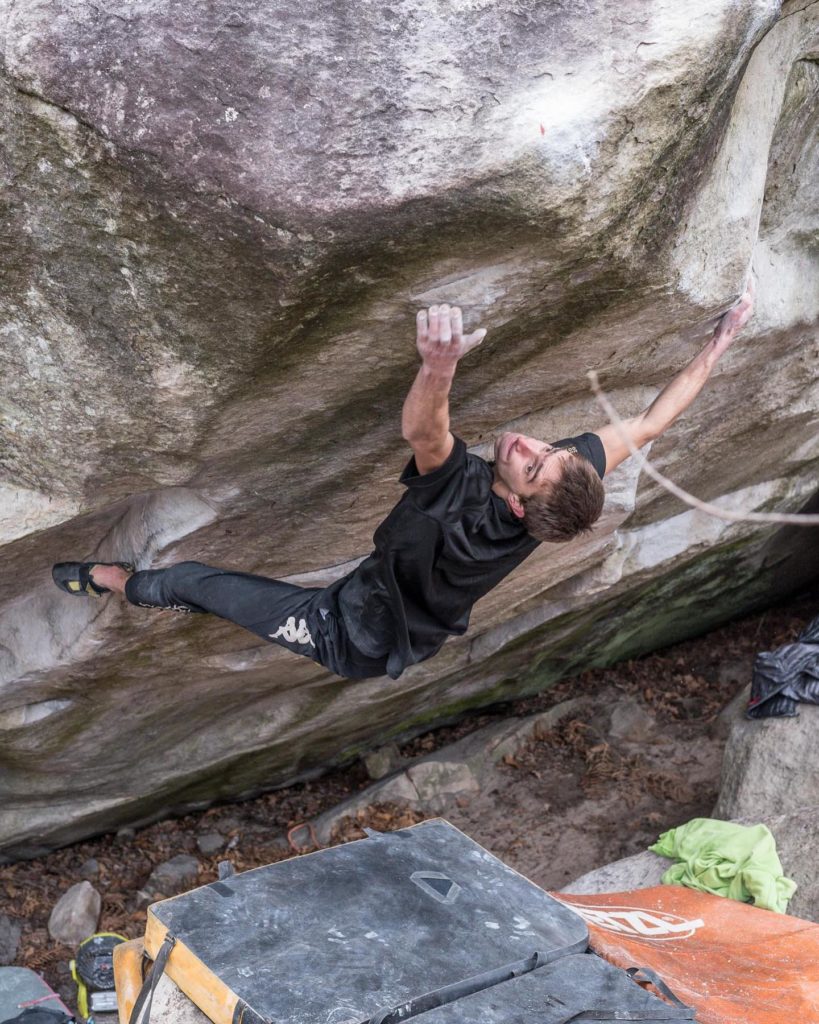 A regular grabber of hard roped climbs, Lucien Martinez, editor for Grimper Magazine, last week ticked a very hard boulder in Fontainebleau with a repeat of "The Big Island".

– A pretty thin rock climber who tops out a superphysical compression fridge as his first 8C boulder, surprising!? More seriously, why did you project such a hard boulder, you who usually prefer big sport climbs?
It's counterintuitive, but "The Big Island" isn't actually a physical boulder at all. Since the compression is very wide, the pectorals are not ruined at all like with narrower compressions. It's more like a boulder for octopuses or starfishes, a category of climbers I feel I belong to. I projected this boulder because it has made me dream for a long time, and it also gave me a great excuse to go climbing with the friends who are working on the sit start.
It's true that I'm more of a sport climber, but I also set big bouldering goals for myself. Unfortunately, I'm generally not that successful at it. It's really, really hard to improve in strength. Last thing, because it's in the question, you're talking about my first 8C but it would only be fair to talk about my first 8B+, which for me is already an incredible performance.

– You've been living in the forest of Fontainebleau for a few years now, can you explain this surprising choice for a 'roper'?
I live in Font for two very specific reasons. The main one is that living in Font was my girlfriend's dream. The other is that my work for Grimper Magazine allows me to organize my days as I want, so at the slightest weather window of 2 or 3 hours I can climb on the rocks, which is an incredible opportunity and not possible anywhere else. But, as you say in the question, I remain and will remain a sport climber, and if I spend too much time in Font without trying my projects I do not feel well. Due to the coronavirus, I spent the best months of 2020 (February to May) without roping up and I actually had a pretty miserable time.
– "The Big Island" is an extreme classic of the forest. For you, what makes it so iconic?
This boulder has everything to be a classic. The movements are magical, it dries very quickly which is a good point in Font where it's often raining, and the official grade of 8C is extremely soft and therefore also a big advantage for making it a classic. But what makes it so emblematic, I think, is that "SLAP" on the right hand sloper that must titillate all bouldering fans. In any case, whether in video or in real life, I never get tired of that big "SLAP".

– Can you describe the process, the tries, until the send?
It was a big battle alright! I took me about ten sessions last season, where I spent a lot of energy looking for the right betas, and another ten sessions this season. For anyone who succeeds on the "Big Island", it is not a physical challenge as much as a technical one. Out of the 20 or so videos I've seen of this boulder, as unbelievable as it sounds, no two climbers use the same beta. Everyone must find the minute adjustments that suit him well. For example, there is a right hand sloper, the key hold, on which there is a tiny lip that creates an angle, and you have to decide how many fingers you put on each side of the angle. There are those who put 4 fingers on the right, those who put 3, and others who put 2 (I am one of those). It's a very important detail which made me lose several sessions last year, when I tried the 3 and 1 combo in vain, whereas I was better with the 2 and 2. And on this boulder, the weaker you are, the more you have to optimize your own sequences. I have to admit that I used some really complicated ones. Once I nailed my betas, I felt like I had to do a choreography where the slightest mistake was fatal even though I still had power left. Except at the very end, it is almost impossible to fight: either you walk up or you fall. During the last sessions, when I felt the send was close, I fell several times in the very last movements, including one where I had to stop the session just after because it started to snow. In short, it was a big fight until the very end.

– Do you train specifically for these projects? If yes, how?
No specific training really. I said a little earlier that I am more a rock climber than a boulderer, but in fact I mix both: when I boulder, I feel like I lack strength, but when I go rock climbing, strength is rarely the limiting factor for me. So with training, I focus more on power and strength endurance (training circuits with arm locks, body tension and pull-ups). For rock climbing, I think it's complementary with the numerous boulders I try in Font.

– Right now it's a race for the first ascent of the sit start, between Nico Pelorson, Camille Coudert and Belgian climber Simon Lorenzi. For having seen the tries up close, who would you bet your money on? Does the Belgian falling at the top seem to have an the upper hand? Tell us about that emulation!
For sure, right now Simon Lorenzi is the closest. He is falling in the very last moves. It's funny because he does the stand version crux in a drastically different way to others (because he can't do the slap due to his size). His method is inherently harder, but it seems to work better coming from the sit start, perhaps because it's less friction-dependent. As for the emulation, it's amazing, and it's all I love about climbing. The guys aren't downplaying their ambition, they give everything to bag the first ascent of the sit start. They even take the mickey off of each other. But at the same time, they respect each other, appreciate one another, and you can feel it: it's a war on the rock, but beyond that there is only friendship. There have been some great climbing moments lately on "Big Island".

– What are your goals for 2021, you who have climbed a lot of hard routes over the past two years?
Project number 1 is "Fight Or Flight", I put so many sessions into it that I can't give up now! I hope Covid 19 won't stop me from going back in March. Then there are a few easier routes that motivate me, like a small project in Entraygues that I would like to finish when the summer is be back. I also would like to take a look at "Beyond Intégral".
– How do you choose your projects, because you seem very efficient on that front?
When it comes to selecting my projects, I am attracted to routes with big dynos, and also by the more mysterious lines. I also like sharp crimps on big overhangs. Moving well on a hard line, doing the moves, it's quite easy. Sending, on the other hand, requires an enormous psychological commitment. You have to multiply the trips, to go where your project is at all costs even if your buddies go elsewhere, you are always trying to motivate people to go where you want, to climb in the freezing cold for the conditions, to work on your psyche at the cliff and so on.
All this is tough and I often feel mentally exhausted. So the hard routes that I try really have to appeal to me, they must ignite in me that little flame that makes me really, really want to do them. The best is to try the same hard project with 2 or 3 friends. When Chris and Adam were trying "La Dura Dura" together, that was so cool! Having said that, anyone who tries hard routes knows that it's super hard to plan, and that most of the time you have to go into battle by yourself.

Photo Credit: Stephan Denys