Nous sommes allés à la rencontre de l'allemand Markus Bock. Très discret, ce grimpeur originaire du Frankenjura a établi un nombre incalculable de voies dures dans le berceau de l'escalade sportive d'Outre-Rhin. Depuis la fin des années 90, Markus écume les secteurs franconiens afin de répéter ou d'ouvrir tous les projets extrêmes qui passent sous son nez. Des voies devenues des références du coin comme "Der Heilige Graal", "The essential", "Corona", "The Elder statesman" ont été libérées par ses soins. Au total, Markus possède à son actif pas moins de 20 voies dans le 9ème degré, uniquement des premières ascensions à l'exception de 2 voies : "Elfe" en Suisse et le mythique "Action directe". Et on vous passe les premières de 8c, 8c+ qui se comptent par centaines… et les blocs durs, dont "Gossip" en 2002, 3ème 8C bloc de l'histoire… À coup sûr Markus est un des grimpeurs locaux les plus actifs et les plus forts du Franken ! Entretien.
– Peux-tu te présenter ?
Markus Bock, 40 ans, j'habite à Bamberg en Allemagne, je travaille comme vendeur. J'ai démarré la grimpe il y a 30 ans dans le Frankenjura. Mes parents grimpaient aussi.
– Combien de voies as-tu ouvert dans le Franken ?
Je ne sais pas exactement combien de voies j'ai ouvert mais ce que je peux dire c'est que j'ai ouvert 80% des voies dures ici. Je me rappelle surtout de la première ascension de « Corona » 9a+ en 2006 qui est la voie la plus dure que j'ai gravie.
– Comment expliques-tu cet intérêt pour les voies dures du Franken ?
J'aime bien ouvrir des voies dures à ma limite. C'est de là que vient ma motivation.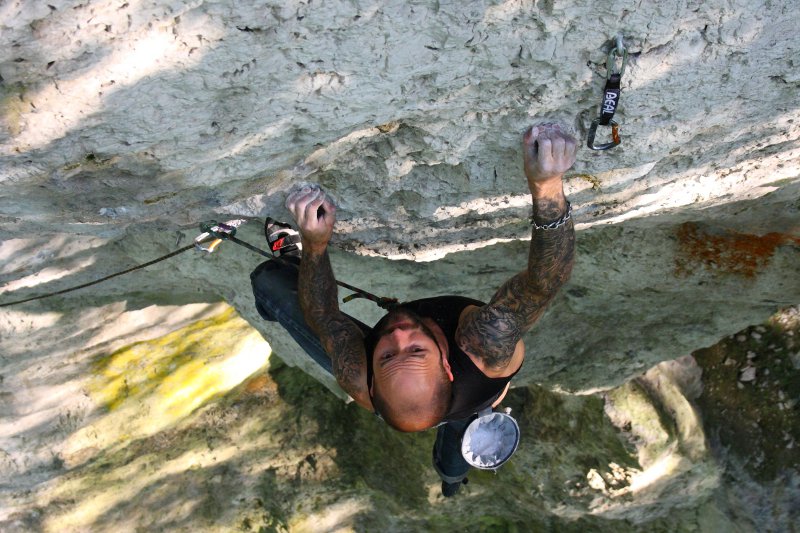 – Suis-tu un entraînement particulier afin d'être performant dans ce style assez bloc et retors, parfois douloureux ?
Pour être honnête, je ne me suis jamais beaucoup entraîné, même spécifiquement. Je préfère être dehors, et grimper dehors le plus possible.
– Comment décrirais-tu la grimpe au Franken ?
J'ai grandi ici et il y avait beaucoup de potentiel dans le passé. L'escalade ici est courte et puissante, souvent sur des trous crochetants ou des petites réglettes.
– Et en dehors du Franken ? Aimes-tu grimper et essayer des trucs ailleurs ?
J'ai toujours aimé Céüse pour la falaise. Pour le bloc, j'aime bien le Valais, Hueco et Rocklands.
– Et le bloc ?
Entre 1995 et 2002 je faisais à peu près 50% de bloc et 50% de voies. Après j'ai changé jusqu'à 2013 et je me suis plus ou moins tourné vers les voies. Depuis 2013, je fais du bloc 80% du temps.
– Quelle importance donnes-tu à la première ascension et au processus d'ouverture ?
C'est le processus qui m'intéresse le plus je dirais. Trouver une voie ou un bloc, le nettoyer et défricher, essayer les mouvements et trouver les séquences et finir par le grimper. Ceci a constitué et constitue toujours ma passion pour la grimpe.
– Et en dehors de la grimpe ?
Certainement la musique métal !
– Tes secteurs préférés au Frankenjura ?
Schneiderloch là où il y a « Corona » en raison de la très bonne qualité du caillou et de la forte concentration de voies dures dans le secteur.
– Ton top 5 de voies dans le Franken?
"Corona" 9a+, "The man that follows hell" 9a+, "Action directe" 9a, "Sautanz" 7b+, "Kaum Zeit zu Atmen" 8a+.
– Des grimpeurs qui t'ont marqué et inspiré ?
Jerry Moffatt
– Que dirais-tu aux gens pour leur donner envie de venir au Franken ?
Il y a des super paysages et des bonnes bières !
– Tes projets cette année ?
Aha c'est secret. Mais essayer des trucs à ma limite comme toujours !

Photo de couverture : Black Label 9a – coll. Jochen Meyer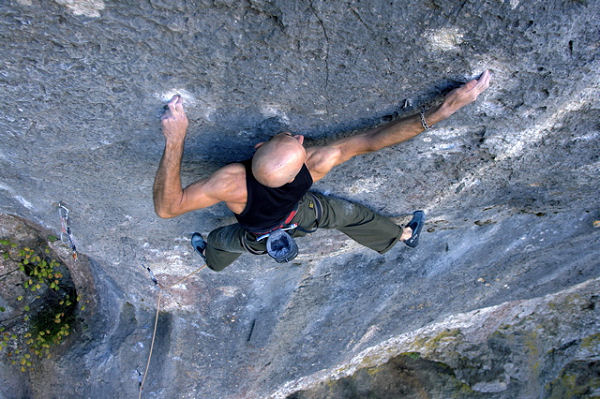 We decided to join German Markus Bock for an interview. Very discreet, this climber from Frankenjura etablished numerous hard routes in the cradle of sportclimbing on Germany since 2 decades. Since the late 90's Markus roamed the countryside all around Frankenjura for opening new extreme lines. Some of his first ascents are considered like major testpieces : "Der Heilige Graal", "The essential", "Corona", "The Elder Statesman" have been etablished by him. Markus has climbed 20 routes in the 9th grade, all first ascents except « Elfe » in Switzerland and a repeat of mythical "Action directe" in 2005. And we didn't count the first ascents of 8c and 8c+, by hundreds, and the hard boulders like "Gossip", 3rd 8C boulder of the world…For sure Markus is one of the most active and strong locals in Frankenjura ! Interview.
– We start with presentation.
Markus Bock, 40 years old, I live in Bamberg, Germany, I work as a salesrep. I started climbing 30 years ago in the Frankenjura. My parents were climbers too.
– How many routes have you opened in Frankenjura?
I don't know exactly how many routes I have opened but I opened 80% of the hardest routes here. I mostly remember the first ascent of « Corona » 9a+ from 2006 which is also my hardest route.
– How do you explain this attention to extreme routes in Frankenjura?
I just really liked to open new routes at my limit. Thats all where motivation came from.
– Are you following a special training for being performant in a sharp and bouldery style, sometimes painful?
To be honest I have never trained very much, nore specifically. I just liked to be outside and climbing outside as most as possible.
– How can you describe climbing in Frankenjura?
Its just that I grow up here and that there was a lot potential in the past. The climbing here is short and powerful, often on pockets and small crimps.
– What's your favourite crags except in Frankenjura?
I always like Ceuse for climbing. For Bouldering I like Valais, Hueco and Rocklands.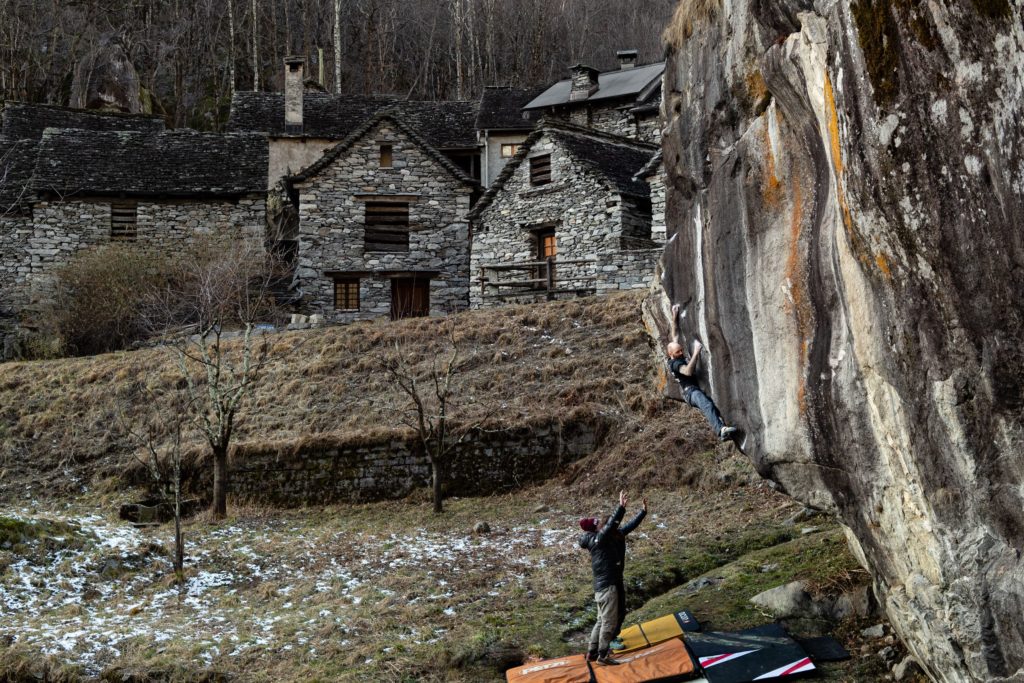 – And what about bouldering for you?
1995-2002 I would say I went bouldering/climbing 50% each. Than it changed a lot till 2013 and more or less I only went climbing. After 2013 till today I would say I go bouldering 80% of the time.
– Which importance do you give to first ascent and opening process?
Its the process I would say. Finding a route or boulder, bolting it, cleaning it, trying the moves and figure out the sequences, and climbing it in the end. That was and is my passion for climbing.
– What are your passions outside climbing?
Definitely Metal Music!
– Your favourite sectors in Frankenjura?
Schneiderloch where Corona is cause about the high quality rock and cause its the crag with the most hard routes here.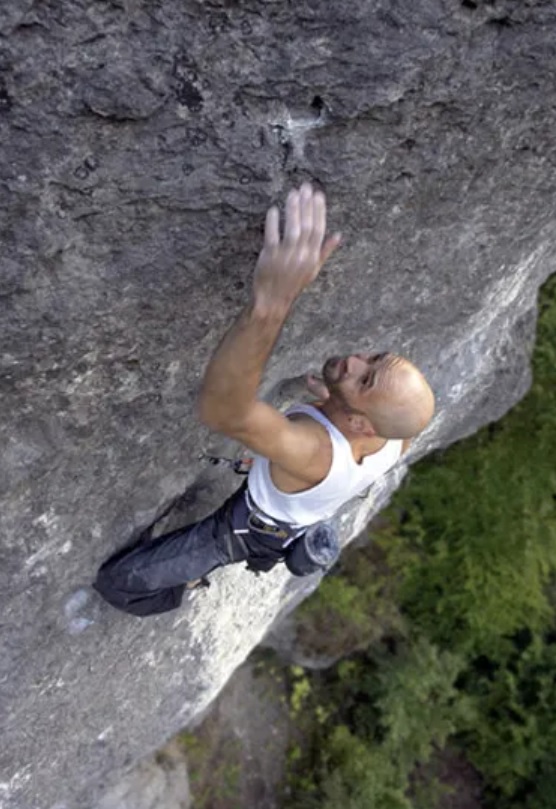 – Your top 5 routes in Frankenjura?
"Corona" 9a+
"The man that follows hell" 9a+
"Action Directe" 9a
"Sautanz" 7b+
"Kaum Zeit zum Atmen" 8a+
– Idols or climbers who inspired you?
Jerry Moffatt
– What could you say to give people to come to the Franken?
Very nice landscape and good beer.
– What about your projects this year?
Aha thats a secret. But trying at my limit as always!
Cover pic: Jochen Meyer