Nous vous le relations mardi matin, Seb Bouin vient de s'offrir la plus belle perf' française jamais réalisée en escalade sportive, avec la seconde ascension de "Move" 9b/b+ à Flatanger. Après Sharma, Megos, Ghisolfi et Ondra, il rentre dans le club très fermé des gens ayant clippé le relais d'une voie estimée plus dure que 9b. Un projet de longue date qui lui a demandé 5 voyages sur plusieurs années, de longs mois de préparation, des périodes de doute et une blessure à l'épaule en raison d'un crux assez traumatisant. Pour ce séjour, Seb a fait la croix assez rapidement, après 6 jours sur place, au 3ème essai du sol cette année, et dans des conditions très peu favorables le jour J !
Premier retour exclusif avec l'intéressé.
Qu'est-ce qui a fait la différence cette année ?
Cette année j'ai eu une bonne préparation repartie sur plusieurs mois à l'avance. J'ai privilégié la falaise tout en m'entraînant le soir. J'ai donc gardé beaucoup de plaisir à grimper tout au long de cette préparation, notamment en France et en Espagne où j'ai réalisé pas mal de performances. Je pense que cette année tout s'est bien goupillé. Tant la préparation, que le voyage en lui même. J'ai beaucoup appris des années précédentes. Le fait d'avoir enchaîné les voies à Oliana m'a aussi bien mis dans le contexte de réussite. Je pense m'être moins mis la pression que les années précédentes. J'ai pas mal relativisé en me disant que c'est une voie comme une autre qui me pose problème. Et il faut résoudre ce problème. Le plaisir était essentiel dans cette préparation qui va continuer pour d'autres objectifs.

As-tu changé des choses dans ton approche ou dans ton entraînement ?
J'ai abordé l'entraînement de façon semblable à avant, mais en même temps de manière différente. Je m'explique : les exercices ne différaient pas trop en soi. Ce qui a changé c'est la façon de les entreprendre, avec des temps forts, des temps de repos (ou j'ai quand même fait beaucoup d'erreurs), des temps qualitatifs avant les perfs, des temps quantitatifs. En gros la programmation. Mais je suis arrivé à la moduler et l'adapter en fonction de toutes les embûches sur mon parcours (en faisant encore pas mal d'erreurs). Je pense que c'est l'esprit de protection de soi (ne pas aller trop loin pour rien, être attentif à tous les signes corporels, essayer de se reposer au bon moment) qui à fait que je me suis moins blessé et que j'ai pu capitaliser tout l'entraînement des ces derniers mois.

La simplicité de l'entraînement m'a aussi permis de le faire perdurer pendant plusieurs mois. Je m'explique, j'ai une salle Altissimo (mon partenaire) à 5 min de la maison, de ce fait je pouvais me permettre de faire de très courtes séances, des séances après la falaise, de mixer comme je le voulais. La simplicité liée au contexte permet de reporter plus facilement les séances si on se sent crevé ou que des signes de blessure apparaissent. Cela a vraiment été la clef pour moi. Pouvoir adapter comme je le souhaite et quand je le souhaite. Ne pas se prendre la tête si on ne peut pas faire telle ou telle séance. Ne pas hésiter à annuler, reporter est vraiment une chose que j'ai appris récemment, et qui va permettre de me préserver longtemps j'espère.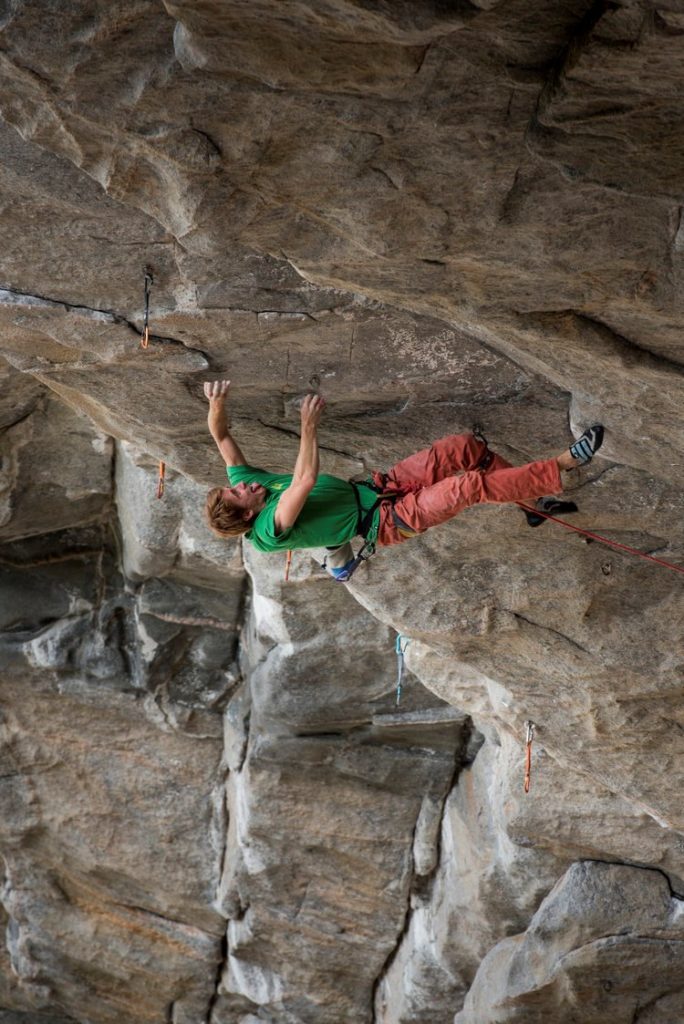 Un mot sur la chose la plus difficile à gérer dans cette voie et ce que tu en retires comme enseignement à chaud ?
Le plus difficile à gérer n'était pas pour moi directement lié à la voie, mais plutôt au contexte. Le fait d'être très loin de chez soi et de devoir rester longtemps seul sur place est dur à gérer mentalement. Jour après jour, échec après échec, il est de plus en plus dur de débrancher et d'y croire encore et encore. Alors que la même voie à côté de la maison serait beaucoup plus facile à gérer : on va bosser un coup, on va voir des potes, on change de falaise, on va se balader, etc… Et on revient encore plus motivé. Là c'est pas possible, perdu au fond de la Norvège, pas de voiture, pas moyen de déplacement à part le vélo. Cela a du bon, mais quand on est dans un contexte de bataille mentale, c'est quand même plus dur.

Pour parler de la voie, le plus dur est je pense d'arriver dans le crux , qui est après 45/50m de grimpe en 9a, assez frais et avec toute l'explosivité nécessaire pour faire cette fameuse section qui a donné le nom de la voie "Move".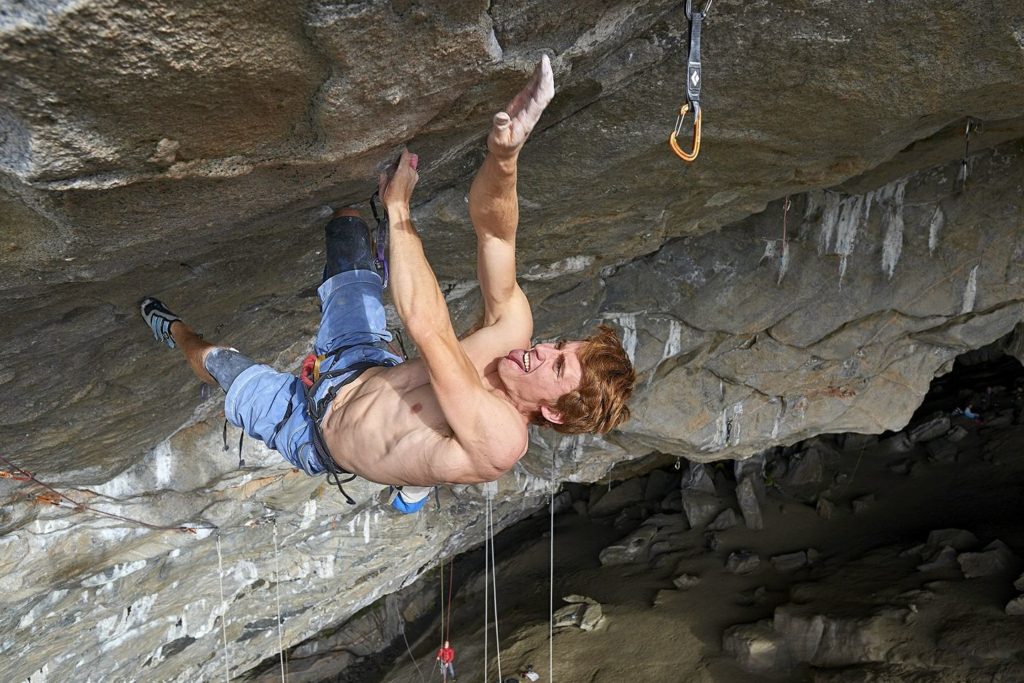 Un mot sur la cotation ?
Sur la cotation, c'est pour le moment la voie la plus dure que j'ai réalisée. Cette voie me convient parfaitement (type d'effort, mouvement, …). Hormis le crux en lui même… Je pense qu'il vaut mieux être petit pour ce crux. Il faut se contorsionner dans la lolote, et c'est assez traumatisant pour l'épaule et pour le dos. Donc à part cela la voie me correspond tout à fait. Si je compare au dernier 9b (qui est censé être dur) en Espagne, "Move" est un bon cran au dessus. Mais je n'ai pas d'expérience dans le 9b+, et il serait dur pour moi de me prononcer. Si il me fallait choisir entre 9b extrême et 9b+ facile, je choisirai 9b+ facile. Mais je pense que le 9b/+ est adapté. A voir avec les prochains répétiteurs.

Quel est ton ressenti général après cette croix ? Touches-tu tes limites ?
Je pense que je ne suis pas encore à ma limite dans ce style de grimpe. Lors de l'enchaînement, les conditions étaient vraiment nulles, c'était chaud et mouillé/humide. Je suis d'ailleurs tombé dans le 8b d'approche dans un premier essai en glissant sur une prise mouillée. Je suis reparti dans la foulée en gardant espoir même si c'était un peu suicidaire. La partie en 9a (le premier) était elle aussi mouillée, ce qui m'a fait arriver au dernier repos bien plus pété que d'habitude. Cependant j'ai mieux récupéré que d'habitude et je n'ai surtout pas fait d'erreur dans la suite. Donc je pense que je peux aller plus loin !

Photo de couverture : Raph Fourau
We were announcing the news 2 days ago, Seb Bouin just did French hardest sportclimbing send with "Move" 's second ascent in Flatanger (9b/+). After Sharma, Megos, Ghisolfi and Ondra, Seb enters in the private club of the climbers having clipped the anchor of a route with an estimated grade harder than 9b. A long time project which cost him 5 trips, long training periods, a lot of doubts and a shoulder injury due to the painful gaston crux move. This time all went well and Seb could send the route on his 6th day this trip, at the 3rd attempt from the ground this year. And the conditions were miserable the D-Day! First exclusive reaction with the man.

Which kind of things made the difference this year ?
This year I did a good preparation organized several months in advance. I chose to favour rockclimbing during the day and to train in the evening. I kept a lot of fun while my sessions all along this period, in particular in France and Spain where I did a lot of ascents. All went well this year. The preparation and travel. I learned a lot from past years. The fact to have sent some routes in Oliana this year kept me focus on the success mode. I think I put on myself less pressure than in other years. I put in perspective that it was a route which caused me trouble like any other. And you must solve this problem. The fun was important in this preparation which will continue for other goals.

Have you changed some essential things in your approach or your training ?
I kept the same training I planned in the past, but I approached it with another state of mind. I explain: the exercises were similar but the way to do them was different, with up and downs (where I also did mistakes), some quality time before sends, and quantity times. Let say the planning. But I managed to better adapt the training sessions to the little problems I could get on the way. I think the way to be careful with myself paid off: not pushing my limits further all the time, be careful with the signs of tiredness of my body, trying to rest during the good periods,… So I was less injured than other times, and I could take benefit of my training these past months.

The simplicity of the training permitted me to prolong it for several months. To be more precise, I train in a gym called Altissimo (my partner) 5 minutes from my home, so I could easily do short sessions, sessions after the crag, mix all I wanted. This simplicity due to the environment allows me to report some sessions when I was feeling tired or when first signs of injury were coming. It was the key for me: to plan as I wish and when I wanted. To not worry if I can't do this session or this one. To don't hesitate to cancel, to report that was really a thing I recently learned and I hope it will allow me to preserve myself for a long time.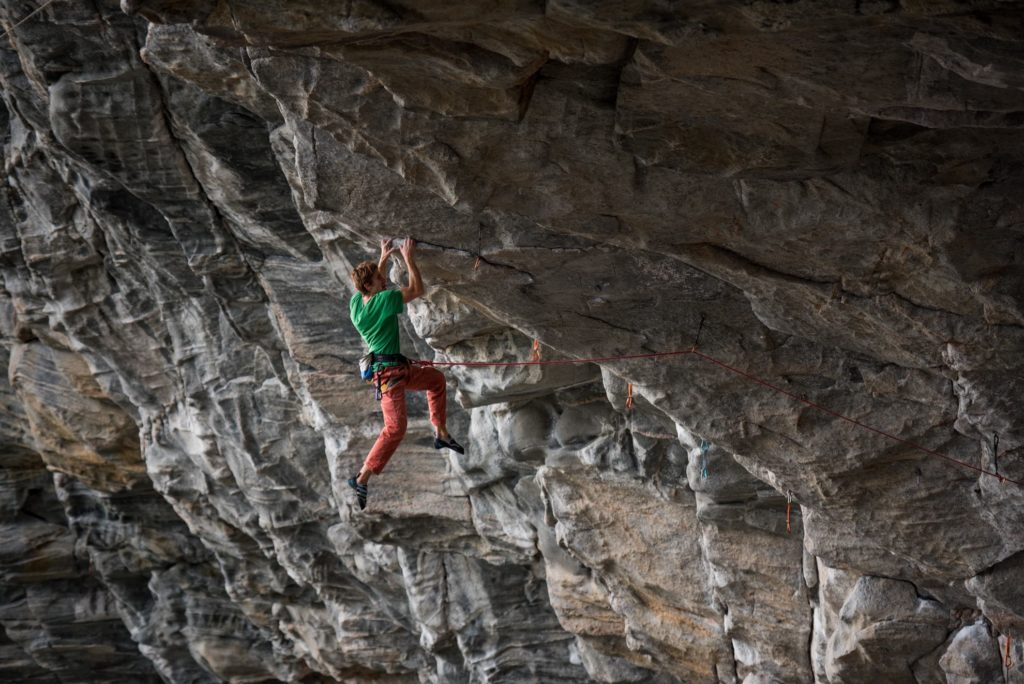 A word about the most difficult thing you need to deal with « Move » and the lesson you learned with this route ?
The most difficult thing to deal with wasn't directly in link with the route, it was more an environment problem. The fact to be far from your home and to stay alone a long time is hard to manage. Day after day, failiur after failure, it's harder to stay focus and to believe in you. The same route close to my home will have been easier to deal with. You will work it a little bit, then take good time with friends, change for some other crags, go hiking,… and you are back on it much more motivated. Here in Flatanger, it's not possible, you are lost in the middle of Norway with no car, no way to escape except by bike. There are some advantages but when you are engaging a mental battle it's harder.

About the route, the hardest is to arrive in the 45 meters crux fresh after having climbed a 9a. You need all your power for the final section which gave the name "Move".
What about the grade ?
About the grade, I would say it's the hardest route I have ever climbed. "Move" suits me well (effort, movements,…) except the crux… For the crux it's better to be short because you need to twist and to turn with the drop knee and it's painful for the back and the shoulder. If I compare to the last 9b I did which is hard for the grade (Mamichula), « Move » is one step harder. But I have no experience in the 9b+ range, so it's hard for me to give an opinion. If I should choose between a hard 9b and an easy 9b+, I will take easy 9b+. But I think 9b/+ is an appropriate grade. Let see with the next repetitors.


What's your post-send feeling ? Have you touched your limits ?
I think I haven't reached my limits in this style of climbing. During the send, the conditions were desperate. It was hot, humid, the rock was wet in several parts. I fell in the 8b approach at my first try, slippering due to a wet hold. I gave another try immediately even if it was risky. The first part was wet, and I reached the last rest very pumped compared to other goes. I recovered better than usual and I didn't do a mistake in the following section. So I feel confident, I can go further!

Cover pic: Raph Fourau