A peine arrivé en Norvège le week-end dernier, voilà que le français Seb Bouin enchaîne son gros projet de ces dernières années ! On en connaît un qui doit être content !
La voie "Move" peut être décomposée en deux 9a entrecoupés d'un mauvais repos sur un coincement de genou pour 50 m d'escalade très déversante. La seconde partie est dans un style très bloc pour seulement 12 mètres de long (9a). Elle comporte un mouvement d'épaule très violent qui constitue le gros crux de la voie. Seb s'était d'ailleurs blessé sur ce mouvement. Move a été libérée par Adam Ondra en 2013 et attendait donc depuis 5 ans une répétition. Cette voie devient évidemment la plus dure du palmarès du sudiste, et aussi la plus grosse perf en escalade jamais réalisée par un grimpeur français ! Bravo Seb !
En attendant sa réaction, on vous laisse patienter avec en fin d'article le film datant de l'été dernier où la coche n'était déjà pas loin…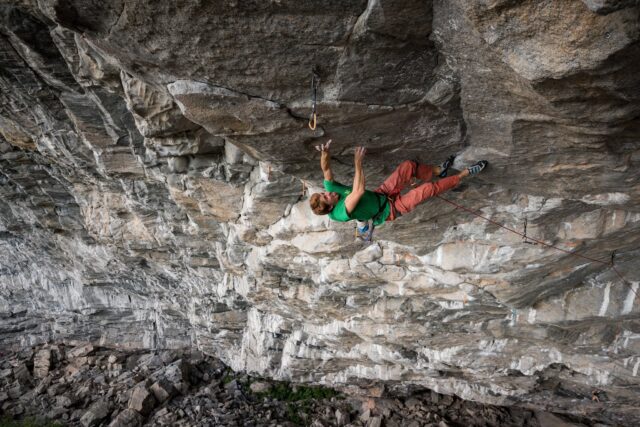 Just arrived in Norway last weekend, the French Seb Bouin has sent yesterday his big project ! We know someone who must be happy!
The route "Move" can be descriped as the succession of two 9a with a bad kneebar rest in between, which makes a total of 50 m of climbing in a big overhang. The second part is in a very bouldery style section with very intense movements (12 meters, 9a) , including a hard gaston move, the crux of the route. "Move" has been freed by Adam Ondra in 2013 and had been waiting for five years for a repeat. It's a huge achievement for Seb with the send of his hardest route and also the best performance reached by a French climber in the sportclimbing game. Congrats!
While waiting for the reaction of Seb, we let you wait with the movie from last summer where the sent was not far at the time.
Photos: Raphaël Fourau