Cela fait quelques semaines que le falaisiste chambérien Mathieu Bouyoud cumule les premières ascensions extrêmes au rocher de Beverau (ou Bevereau, les 2 orthographes existent), une falaise d'altitude dans le massif des Bauges (1200 mètres d'altitude), avec notamment les premières ascensions de "Bio Sharma Graphie" et "Y'à qu'à Faucon", toutes deux 9a. Hormis quelques grandes-voies déjà existantes dans le coin, ce secteur élitiste, une planche à couper au couteau de 35 mètres de haut, avait commencé à être développé en 2002 par David Laurent et une King Line avait été proposée il y a dix ans comme challenge voie ultime de la Bauges y Cimes 2013… puis la barre était retombée un peu dans l'oubli… jusqu'à ce printemps où de nouvelles lignes ont vu le jour. Mathieu nous fait le tour du proprio.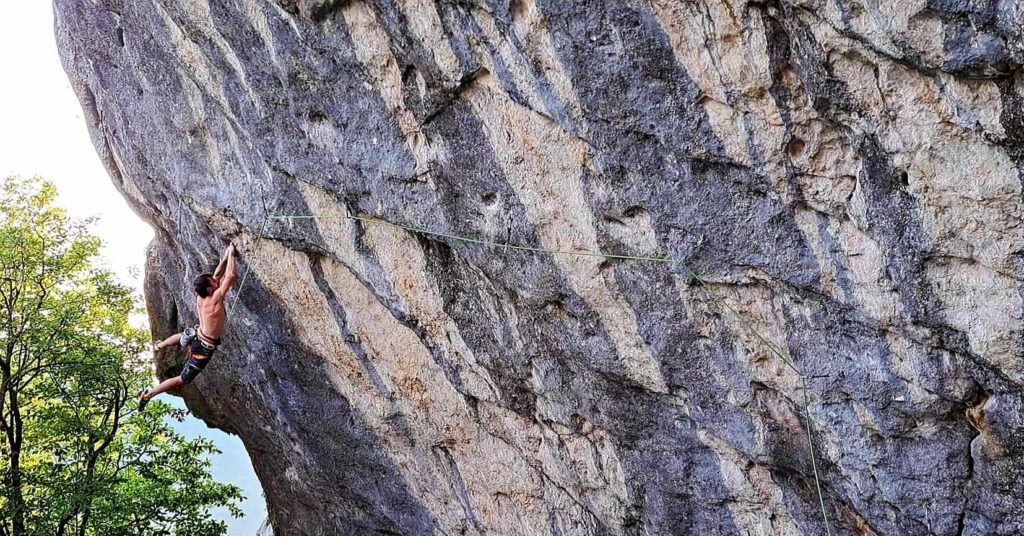 "Le rocher de Beverau est un panneau à 40° à côté du lac de la Thuile dans les Bauges, pas loin de la falaise d'Entrenants, une falaise vraiment en forme de triangle avec une seule voie qui va tout en haut. Il existait une voie d'artif de Benoit Robert, "Sandinista" que j'ai libérée en 2009, et puis ce projet de la Bauges Y Cimes 2013 que je viens de réaliser "Bio Sharma Graphie" (9a). Le deuxième 9a que j'ai libéré récemment, "Y'à qu'à faucon", propose un 8c+ indépendant avant de récupérer l'arête et aussi de terminer dans "Bio Sharma Graphie".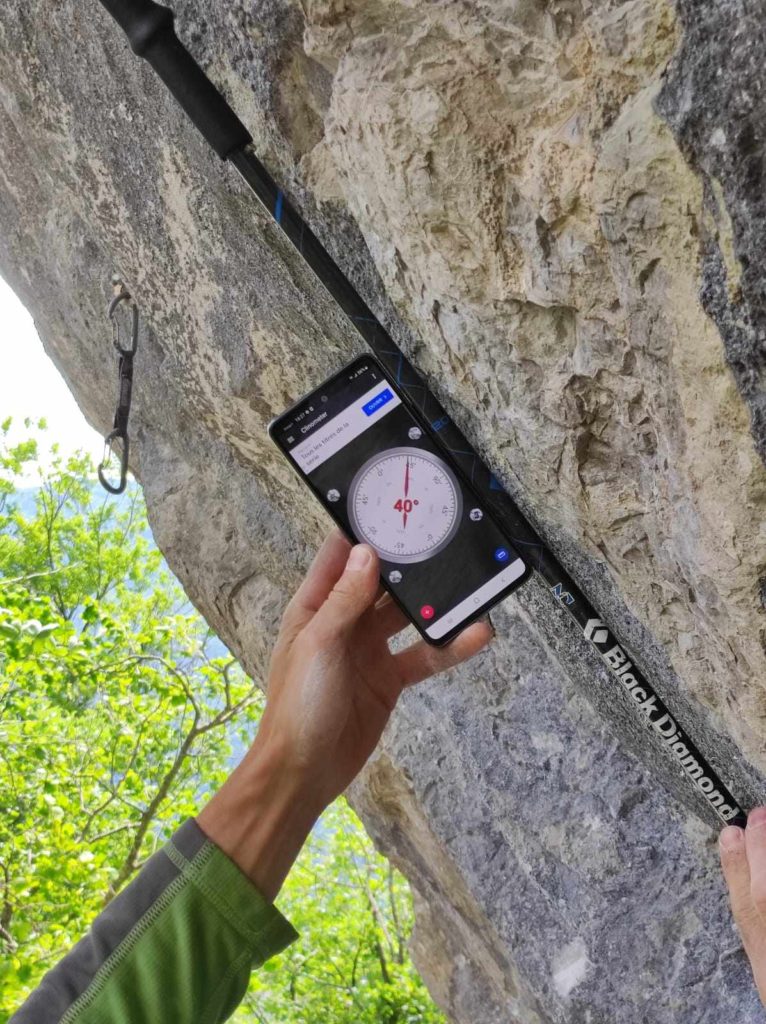 "Il y a maintenant une vingtaine de voies, avec un niveau très élevé : un 7a+ de chauffe et sinon ce n'est que du 8ème degré, avec les lignes les plus intéressantes dont le ticket d'entrée est 8b+, des lignes "espagnoles" : une escalade conti sur de grosses failles. Le style est sur-physique avec plein de mouvement d'épaules."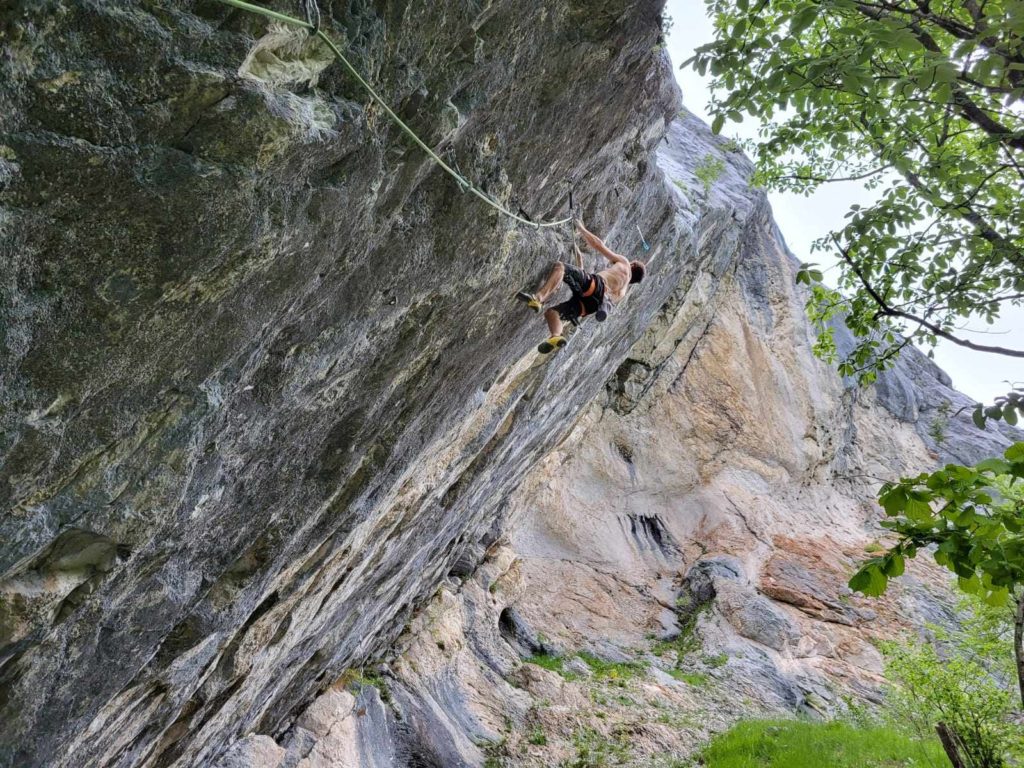 "Le pied de voie est à 1200 mètres d'altitude et c'est idéal par grosses chaleurs, par contre la falaise peut résurger longtemps après une période de pluie. Chose rare chez nous, il y a du vent, ce qui fait vraiment la différence niveau fraicheur. Niveau potentiel en revanche il n'y aura pas de voies plus dures car le rebord de gauche est tout lisse donc il manque des prises. Néanmoins il me reste encore une belle voie à réaliser, l'extension du 8c "Du Neuf pour les bœufs". De quoi m'occuper cet été à la maison !"

Affaire à suivre !

Crédit photos : Mathieu Bouyoud
It's been a few weeks since the French rock climber from Chambéry, Mathieu Bouyoud, claimed several extreme ascents at Beverau (or Bevereau, the 2 spellings exist), a crag at altitude in the Bauges massif (above Chambéry, at 1200 meters), with in particular the first ascents of "Bio Sharma Graphie" and "Y'à qu'à Faucon", both 9a. Apart from a few multi-pitch routes already existing in the area, this elitist sector, a 35-meter high triangular board had begun to be developed in 2002 by David Laurent, and a King Line was proposed ten years ago as a challenge, an ultimate route of the Bauges y Cimes 2013… Then the cliff had fallen back into oblivion… Until this spring when new lines were born. Mathieu gives us a tour of the place.
'The Beverau crag is a 40° panel next to the Lac de la Thuile in the Bauges, not far from the cliff of Entrenants. It is shaped like a triangle, with only one route going all the way up. There was an aid route by Benoit Robert, "Sandinista", which I released in 2009, and then this Bauges Y Cimes 2013 project which I have just completed "Bio Sharma Graphie" (9a). I recently freed another line, "Y'à qu'à faucon", which offers an independent 8c+ before connecting with the arête and finishing in "Bio Sharma Graphie".'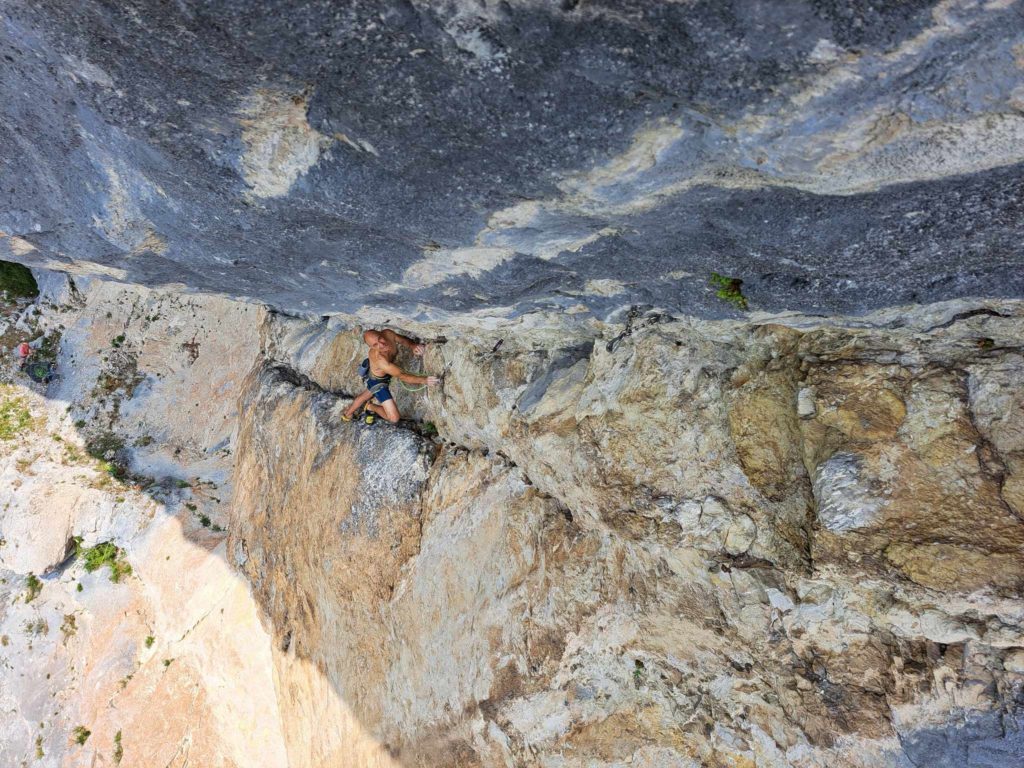 'There are now about twenty routes, of a rather high level: a 7a+ warm-up and otherwise it is only 8th degree lines, with the most interesting ones starting around 8b+. The style is quite 'Spanish': continuous climbing on big breaks. The style is over-physical with lots of shoulder movement.'
'The foot of the route is 1200 meters above sea level and it's ideal in hot weather because the cliff can stay wet for a long time after a period of rain. A rare thing for us, there is wind, which really makes a difference in terms of cool-ness. Potential level, on the other hand, there will be no harder routes because the left edge is very smooth so there are no holds. Nevertheless, I still have a good route to finish, the extension of the 8c "Du Neuf pour les boeufs". Something to keep me busy this summer at home!'

Pics: Mahieu Bouyoud