Une nouvelle voie dure vient d'être libérée à St-Léger du Ventoux ! Le jeune Sudiste Loïc Zehani, 17 ans vient de libérer une variante de départ de la classique 'Envoie dure Simone" en face Sud, et propose "Iron man" 9a. Cette directe de départ avait été ouverte par l'italien Alberto Gnerro l'an dernier. C'est déjà le second 9a de Loïc cette année qui avait réalisé la première de "L'évolution arc en ciel" à Orgon en janvier dernier.
– A quoi ressemble "Iron Man" ?
C'est tout le long quasiment en plafond avant de rejoindre la deuxième partie de "En voie dure Simone" ( au semi-repos de la jonction avec "Le zèle du poulet"). La partie équipée par Alberto Gnerro vaut à elle seule 8c+ à mon avis jusqu'au repos avec 3 sections blocs dures et pas vraiment de décontraction. En plus c'est une escalade assez complexe.
– Combien d'essais et quelles ont été les difficultés à surmonter ?
Il m'a fallu 6 séances . Les principales difficultés pour moi ont été la sortie du toit avec une bonne section bloc sur des prises assez plates mais aussi le fait que j'ai cassé 3 prises dans le toit ! C'est une superbe voie , à coup sûr qui sera une future classique des voies dures de St léger.
– Tu grimpes aussi en ce moment aussi dans la baume de Russan?
J'essaie « les yeux plus gros que le ventre » (version originale de Pierre Rouzo). Je pense que je suis pas loin de réussir mais ça risque d'être compliqué cette année car il fait trop chaud maintenant notamment dans la partie la plus dure qui passe au soleil à 11h du mat…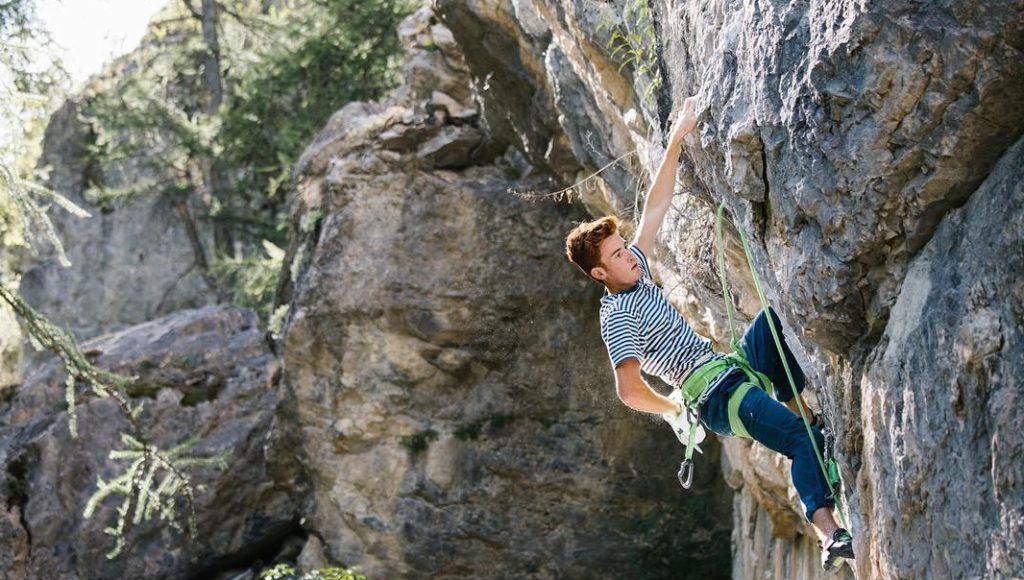 A new hard route is born in St-Léger du Ventoux, France! The young French gun Loïc Zehani, 17, just did the first acent of "Iron Man", 9a. The route is a direct start of classical "En voie dure Simone" classical 8c of the South Face. It was bolted last year by Italian Alberto Gnerro. It's Loïc's second 9a after "L'évolution arc en ciel" in Orgon in January.
– How is "Iron man"?
It's all the time in a roof until you reach the second part of "En voie dure Simone". This direct start bolted by Alberto Gnerro is around 8c+ until the second part with 3 bouldering part without rests. And it's a very tricky climbing.
-How many tries and how were the main difficulties?
6 days. The main difficulties for me have been the top out of the roof with a bouldery section on slopy holds, and also the fact I broke 3 holds in the roof! It's a beautiful route, for sure it will become a classic in this level in the future!
– What about you project in Russan cave?
I try "Les yeux plus gros que le ventre" (the original version of Pierre Rouzo gien around 9a/a+). I'm quite close but it's getting complicated for this year, it's hot now and the hardest part is in the sun after 11am.