Après Gérome Pouvreau et Romaric Geffroy c'est le fort grimpeur parisien Hugo Parmentier qui signe la 3ème ascension de "Mollasse'son", une voie en 9a équipée par Antonin Rhodes à Mollans sur Ouvèze. Hugo, qui avait réalisé ses deux premiers 8c+ à Entraygues le même jour fin août concrétise sa fulgurante progression de l'année passée avec ici son premier 9a.  "Mollasse'son" est marqué par un début très bloc (environ 7C/C+) puis remonte un dévers régulier et très résistant et impressionnant. On vous laisse apprécier la ligne avec la vidéo de Romaric en bas de l'article.
Voici son retour :
"Motivé par la vidéo de Romaric, je suis venu un weekend il y a 2 semaines avec Thomas Joannes. Je bougeais pas trop mal et la ligne me plaisait à 200%. Je suis reparti avec l'envie de revenir vite ! J'ai pris un peu de repos pour récupérer de l'entraînement en vue des France de Bloc. Avec le feu vert du coach j'ai pris la route pour Mollans vendredi. Samedi après une montée de calage et un bon gros fight je clippais le relais. En tout il m'aura fallu 8 montées pour cette base de rési et gainage sur réglettes. Très heureux d'avoir travaillé l'affaire et d'autant plus motivé de prendre goût à l'après travail. Des projets plein la tête. Je remercie vraiment mes partenaires pour leur soutien : Scarpa, Block Out, Petzl et Planetgrimpe."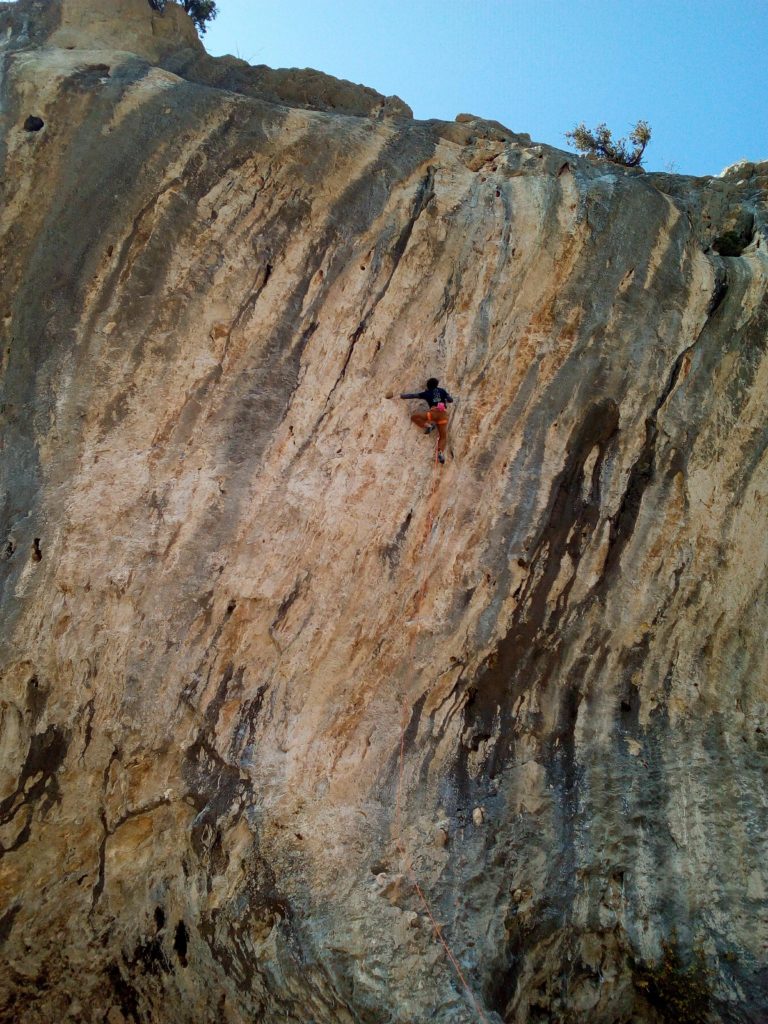 After Gerome Pouvreau and Romaric Geffroy, strong Parisian climber Hugo Parmentier signs the 3rd ascent of "Mollasse'son", a 9a route bolted by Antonin Rhodes in Mollans sur Ouveze, France. Hugo, who has sent his 2 first 8c+ last summer in the same day confirms here his nice progression with his first 9a. "Mollassse'son" proposes a very bouldery start (around 7C/C+) before a very overhanging and resistant part. You can appreciate the effort and the King line in the Romaric's video below. 
Here are his thoughts :
" The vid of Romaric gave me motivation, so 2 weeks ago I went during a week-end on the route with Thomas Joannes. I felt good feelings and the line pleased me a lot! I take a little rest for recovering before French bouldering nationals. With the permission of the coach, I took the road for Mollans on Friday. On Satursday, after a warm-up go, I did the route directly and clipped the anchor. Infinal, he took me 8 goes  for this resistance and bodytension testpiece. Very happy to have tried this route, very motivated to enter in the afterwork buisiness. Some projets are already in my mind! I thank my partners :  Scarpa, Block Out, Petzl et Planetgrimpe."
Photos : Didier Legall et Elisabeth Rambaud