Après une ribambelle de voies dures en 8c/c+ aux 4 coins du monde depuis plus d'une décennie, Quentin Chastagnier réalise la 3ème ascension de "Ametsa" sur le site grenoblois de l'Abattoir et s'accorde cette fois le 9a. C'est donc pour lui sa première voie en 9ème degré après avoir raboté de nombreux projets. Équipée par Flo Plaze, "Ametsa" propose une escalade à sections, très à doigts et puissante sur seulement 20 mètres de haut (le premier crux est estimé à 8A bloc). La première ascension a été signée par Nico Pelorson en 2016 et Romain Noulette avait répété l'affaire l'an dernier. Ci-dessous le retour de Quentin sur cette croix.
"Ça m'a pris 6 séances pour enchaîner cette voie vraiment classe et exigeante. Après ma première montée, il me manquait le mouvement dur du premier crux, donc je l'ai reproduit sur le pan pour l'intégrer. J'ai réussi 2 fois le pas du bas, la première fois avec une chute à 4 mouvements de la fin. La fois d'après s'est plutôt bien passée ! C'est vraiment une voie intéressante car les différents cruxs sont tous un peu aléatoires et exigeants, du coup il faut être bien concentré. Heureusement entre chaque section de bloc tu as des repos plus ou moins bons mais ça permet de bien temporiser !
Au niveau de la cotation, j'ai du mal à me dire que je peux faire un 9a en 6 séances mais vu que ça me convient vraiment bien, je le prends celui là !
En tout cas bien content de retourner dans cette bonne vieille cuvette et de grimper avec les copains dans ce style que j'affectionne particulièrement!
D'ailleurs en hommage la petite dernière de Tina dalle s'appelle " Bruit de cuvette" et je pense un 8c+ cuvettesque."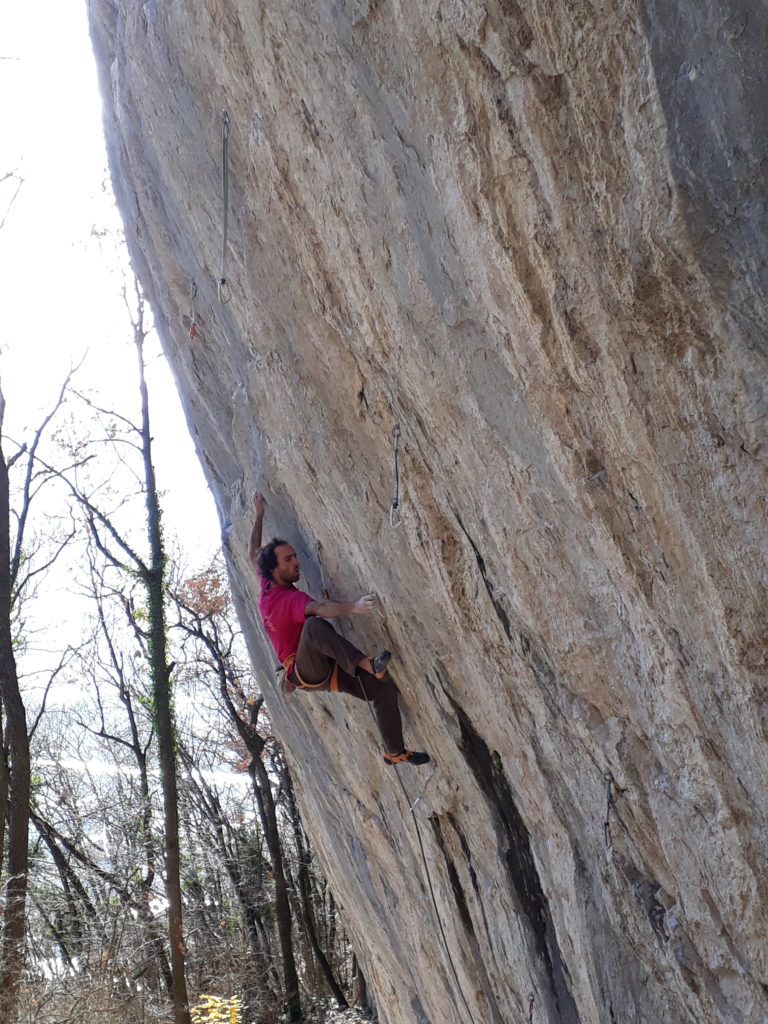 After a lot of hard routes in the 8c/c+ range (and a lot of 9a's downgraded) all over the world since a decade, French gun from Vercors, Quentin Chastagnier did the 3rd ascent of "Ametsa" 9a in l'Abattoir, a local crag located close to Grenoble, France. It's his first 9a. The route has been bolted by Flo Plaze. It's 20 meters long with 3 powerful and fingery sections. The first crux is around 8A boulder. The first ascent was done by Nico Pelorson in 2016 and Romain Noulette did the first repeat last year. Quentin's thoughts after his tick just below.
"It took me 6 sessions. It's a sustained but very interessant line because the crux are quite random and you need a lot of concentration and to climb well for catching it. I struggled with the hardest move of the crux. I reproduce and set it in my indoor wall as training. The first time I climbed the first crux at the beginning I fell 4 moves to the top. FOrtunately, the second time I climbed the firt crux I din't fall after! For the grade, it's hard to believe I can climb 9a in only 6 sessions, but the route suits my style so I take this time the 9a grade. It was nice to share some sessions with my old friends of Grenoble. In memory, the last route of Tina Dalle is named "Bruite de cuvette" and I think it's a local 8c+."