2018 ou l´année des records, avec encore un chrono qui vient de tomber cet été (le 27 juillet pour être exact) ! 2 heures et 4 minutes pour gravir en solo intégral les 1200 mètres de la face Nord des Grande Jorasses, un des sommets les plus difficiles des Alpes. Avec ce nouvel exploit, le guide de haute montagne et grimpeur Suisse Dani Arnold, du haut de ses 34 ans, récupère un second record sur les 3 sommets les plus difficiles des Alpes (Cervin, Eiger et Grandes Jorasses) au profit de son compatriote Suisse, le regretté Ueli Steck (Ce dernier a récupéré en 2015 le record sur l'Eiger pour 6 minutes seulement !)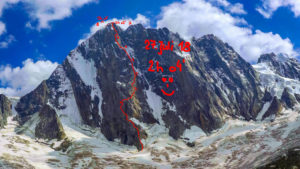 Ce nouveau record vient compléter son objectif de grimper les 3 plus majestueux sommets des Alpes. Son entreprise a débuté le 20 avril 2011 lorsqu'il a gravi en alpinisme (mixte, neige rocher et glace) l'Eiger en 2h28, puis en 2015, le Cervin en 1h46. A chaque fois, Dani a battu les records détenus par le spécialiste du " Free solo Speed climbing" Ueli Steck.
Au travers de son blog, il nous raconte son bonheur et les difficultés d'un tel projet: "Je me sens incroyablement content et très fier de cet achèvement. Lorsque que je regarde derrière moi, attendant longtemps le bon créneau afin de faire ce record, me voila enfin récompensé. Malgré le fait que ce soit assez difficile pour moi (la patience est certainement pas une de mes qualités) il fallait que tout soit pour le mieux: tous les petits détails comme grimper 2 mètres  plus à droite ou plus à gauche, semblent ridicules quand l'on parle d'une face de 1200 métrés, mais à la fin lorsque l'on met tous ces détails à la suite les un des autres, cela fait la différence."
Courant 2016 et 2017, Dani Arnold était déjà sur ce projet mais il était dans l'incapacité d'y venir a bout suite aux conditions climatiques non favorables. Son manque de patience et la remise en question qui en a suivi ont bien failli flui faire abandonner l'entreprise. Avant de tenter le record en solitaire, Dani a grimpé 3 fois la voie avec différents partenaires afin de faire du repérage de l'éperon Walker, appelée aussi Voie Cassin (Course d'alpinisme coté ED inf). Le dernier repérage a été effectué 2 semaines avant son record, il lui fallait seulement attendre les conditions parfaites sans présence de glace dans la voie, mais pas trop sèche non plus car sinon il y a des risques de chutes de pierre. " Environ 80 % de la voie de l'éperon Walker est en rocher, ce qui est un terrain plus difficile que de la glace pour une ascension rapide. La section la plus compliquée à gérer, est le dièdre Rébuffat car avec la fonte de la neige et glace, il est complètement mouillé."
Ici, le message en intégralité sur son blog.
2018 or the year of speed record, with an other chronos that just fallen after the speed record at The Nose from Alex Honnold! Since the 27th of July 2018, 2 hours and 4 minutes is the new record to climb the full step north face of The Grandes Jorasses, one of the most difficult summit of the Alps. With this new feat, the 34 years old Swiss mountain guide and climber Dani Arnold wins a second record on the 3 most difficult summits of the Alps (Matterhorn, Eiger and Grandes Jorasses) in favor of his swiss compatriot, the regretted Ueli Steck (Ueli recovered in 2015 the record on the Eiger for 6 minutes !)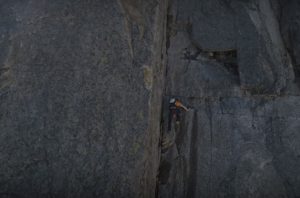 This new record completes his goal to climb the 3 most majestic peaks of the Alps. His project began on April 20, 2011 when he climbed in mountaineering (mixed, snow rock and ice) the Eiger in 2h28, then in 2015, the Matterhorn in 1:46. Each time he beat the records held by Ueli Steck, the free soloing speed specialist. Through his blog, he tells us his happiness and the difficulties of such a project: "I am feeling unbelievably happy and very proud of my achievement. Looking back, waiting such a long time for the right moment really paid off. Despite the fact that this was quite a struggle for me – as patience certainly isn't my strongest skills. However, everything needs to be right: little details, such as whether I should climb two meters more to the right or to the left, sound ridiculous when you're talking about a 1,200 meter face, but in the end, these details make the difference."
We learn that during 2016 and 2017, Dani Arnold was already on this project but he was unable to overcome it due to unfavorable weather conditions. One understands well its lack of patience and his doubts regarding finishing a project like this one. Before attempting this new free solo record, he climbed the historical route three times with different partners in order to find the perfect line on the Walker spur, also called Cassin route (Mountaineering cotation ED inf). Once he reclimbed the route  2 weeks before his record, he only had to wait the perfects conditions without ice in the route, but not too dry, otherwise there is a risk of falling rocks. "Around 80 percent of the Cassin route on the Walker Spur consists of rock, which is more difficult terrain than ice for a speed ascent. The most demanding section was the steep and technically complex Rébuffat corner, since this part was very wet due to meltwater. "
Here, the full text on his feeling on his blog.
Sources: Planet Mountain
Photo: Dani's personal website.
Website: https://www.daniarnold.ch/