Caroline Ciavaldini et James Pearson ont profité des restrictions printanières pour explorer de nouveaux terrains de jeu proches de chez eux dans le Gard… sous terre, avec l'ouverture d'une voie en trad dans les concrétions d'une grotte sèche ! Caroline revient sur cette aventure peu commune. Une alternative à la canicule dans le futur ?

"C'est Phil Bence qui nous a suggéré une grotte quasiment sous notre maison, la « Grotte de la Salamandre », à Méjannes-le-Clap, en plein cœur de la Garrigue, située à 26 km de chez nous à vol d'oiseau. C'est une grotte ouverte au public, un aven en réalité, c'est-à-dire un trou avec une petite cheminée qui s'ouvre vers la surface. Grâce à Pierre Bévengut et une équipe ouverte d'esprit et disponible, nous avons rapidement obtenu l'autorisation de tenter la première voie dans cette grotte, en suivant l'évidente « voie des loirs ». Chaque année, ces petits rongeurs descendent 50m sous terre, en suivant toujours exactement le même tracé, le long de draperies, jusqu'au sol de la grotte. Il paraissait évident de suivre leur exemple de bas en haut, et ce en « green climbing », en Trad, pour ne pas laisser de traces autres que notre magnésie.
Je me suis lancée pour ouvrir une première longueur, réalisant dès le 2ème mètre que ces petits loirs grimpent aussi bien que des écureuils, et bien mieux que moi. Pour la première fois de ma vie, j'avais la chance de mettre les mains sur des colonnes parfaites, des draperies blanches, brillantes de calcite sous ma frontale, qui avaient eu le privilège de pousser tout doucement pendant des milliers d'années sous terre, entièrement protégées des assauts du vent et de la pluie, modelant des formes d'une pureté inconnue à la surface.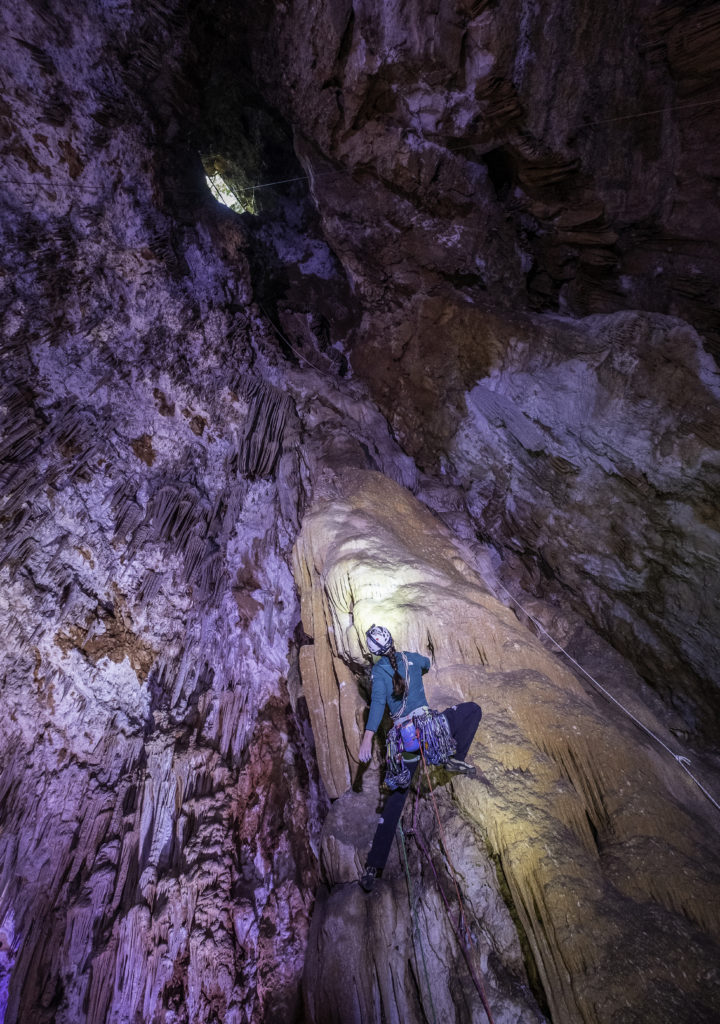 Placer des protections entre ces formations était un exercice nouveau, je glissais des coinceurs entre deux petites draperies, posant parfois 2, 3 Friends entre les doigts de 4 draperies parallèles, jamais vraiment certaine de leur résistance face à une chute, et convaincue que la meilleure solution était de ne pas tomber. Certes, ce rocher vierge était poussiéreux mais finalement presque comme n'importe quel caillou qui n'a jamais senti le toucher d'une grosse brosse.
Je voulais de l'aventure, j'en avais tout mon saoul, mettant 2 heures à venir à bout de mes 12 premiers mètres, pétée au possible en plantant mon relai de pitons, presque toute seule dans le noir de la grande salle silencieuse, avec James qui s'endormait presque à l'assurage sous moi. Il a pris le relais, alternant une grimpe extrêmement poussiéreuse à l'aplomb de l'aven et des équilibres magiques sur une immense draperie assez solide, pour finir après maintes hésitations par de beaux mouvements dans un dernier dévers, et un relai perché sur des stalagmites en pleine paroi.
Notre dernière longueur, les 20 derniers mètres vers la surface, fut finalement la plus normale. Nous retrouvions peu à peu le caillou blanc du calcaire de la région, compact et fissuré, plus facile à protéger. Après quelques mètres, James m'a rejointe en haut de l'aven, devant cet incroyable trou dans la Terre qui relie la grotte à la surface."

Photos: Phil Bence/ The North Face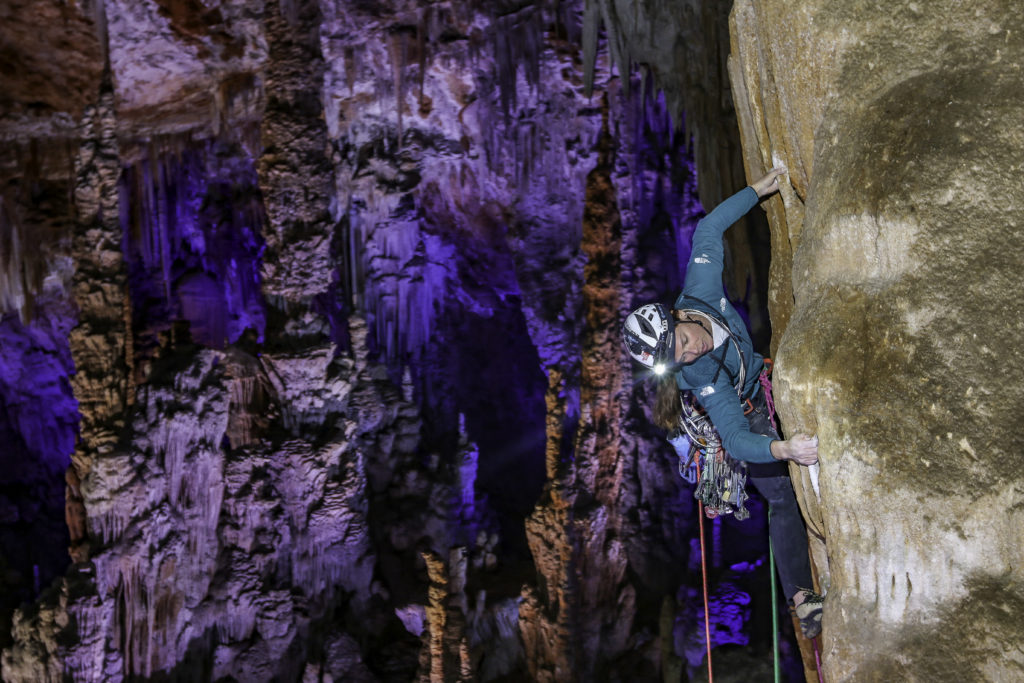 Caroline Ciavaldini and James Pearson took advantage of the spring Covid restrictions to explore new playgrounds close to their home… underground with the exploration of the concretions of a dry cave by opening a trad climbing route! Caroline gives us details about this unusual adventure. An alternative to the sumer heat wave in the future?

"It was Phil Bence who suggested a cave almost under our house, the " Grotte de la Salamandre", in Méjannes-le-Clap, in the heart of scrubland, located 26 km from our home. It's a cave open to the public, a chasm in reality, aka a hole with a small chimney that opens towards the surface. Thanks to Pierre Bévengut and an open-minded and available team, we quickly got permission to attempt the first route in this cave, following the obvious "dormouse route." Each year, these small rodents descend 50m underground, always following exactly the same route, along draperies, down to the floor of the cave. It seemed obvious to follow their example from the bottom up, and this in "green climbing", aka trad, so as not to leave any traces other than our chalk.

I started to open a first pitch, realizing from the 2nd meter that these little dormice climb as well as squirrels, and much better than me. For the first time in my life, I had the chance to put my hands on perfect columns, white draperies, shining with calcite under my headlamp, which had had the privilege of growing very slowly for thousands of years underground, fully protected from the onslaught of wind and rain, creating shapes of an unknown purity on the surface.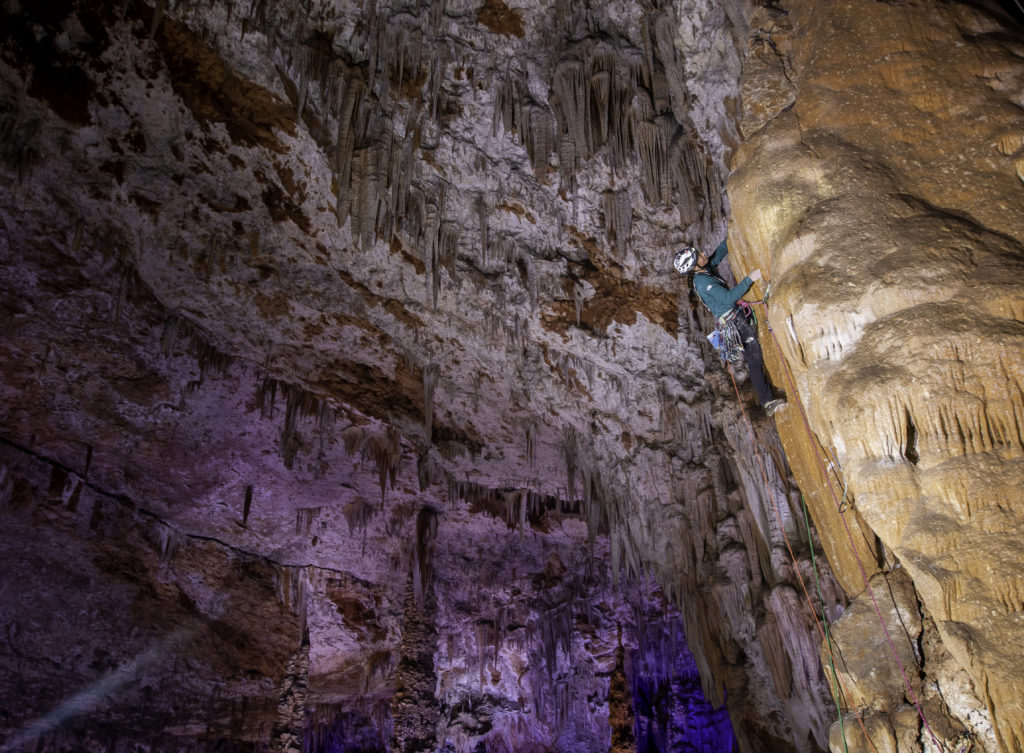 Placing gear between these formations was a new exercise, I slipped cams between two small draperies, sometimes placing 2, 3 Friends between the fingers of 4 parallel draperies, never really certain of their resistance in case of a fall, and convinced that the best solution was not to fall. This virgin rock was dusty, but ultimately almost like any pebble that has never felt the touch of an hard brush.
I wanted adventure, I got some, taking 2 hours to lead the first 12 meters, pumped as hell after putting up my anchor, almost all alone in the darkness of the large silent room, with James almost falling asleep under me. He took the lead for the following pitch, alternating an extremely dusty climb directly above the downhole and magical balances on an immense, fairly solid drapery, to finish after much hesitation with beautiful movements in a last overhang, and a belay perched on stalagmites in the middle of the wall.

Our last pist, the last 20 meters towards the surface, was finally the most normal. Step by step, we found the white rock of the limestone from above the surface, compact and cracked, easier to protect. After a few meters, James joined me at the top, in front of this incredible hole in the earth that connects the cave to the surface."

Photos: Phil Bence/ The North Face