Après plus de 50 sessions, le grimpeur italien Jacopo Larcher a réussi "Tribe", son projet trad de longue date situé à Cadarese en Italie. Cette voie de 25 mètres lui a demandé un long investissement ! Jacopo, au top de la polyvalence, a déjà à son actif pas mal de voies dures en escalade sportive (notamment "La Rambla"), en big wall ("Zodiac", "Magic Mushroom", …) et en trad ("Rhapsody", "Lapoterapia", "Gondo Crack",…). Alors on vous laisse alors imaginer le niveau de "Tribe" où il a mis le siège ! Jacopo, en toute modestie, ne souhaite pas donner de cotation à "Tribe". Cependant, nul doute qu'avec "The Recovery drink" en Norvège, "Meltdown" au Yosemite, "Zarathustra" dans le Tyrol ou "Rhaposdy" en Ecosse, "Tribe" est estimée comme une des voies en trad plus dures de la planète ! Nous sommes allés à la rencontre de Jacopo pour avoir davantage de précisions.
– Comment et quand as-tu découvert "Tribe" ?
J'ai découvert la ligne il y a 6 ans lors de mon premier séjour à Cadarese. Un ami m'a montré cette arête impressionnante pendant que nous montions au secteur principal et je suis tout de suite tombé amoureux de la voie. C'est une grosse proue déversante avec des fines réglettes plates horizontales et une grosse fissure plate au milieu. Dès la soirée, je suis descendu en rappel dedans et j'ai commencé à brosser, en espérant que ce soit grimpable. Au début je n'étais pas sûr du tout, les prises étaient relativement mauvaises et éloignées, spécialement dans la partie du haut qui paraissait très blanche, compacte et impossible à première vue.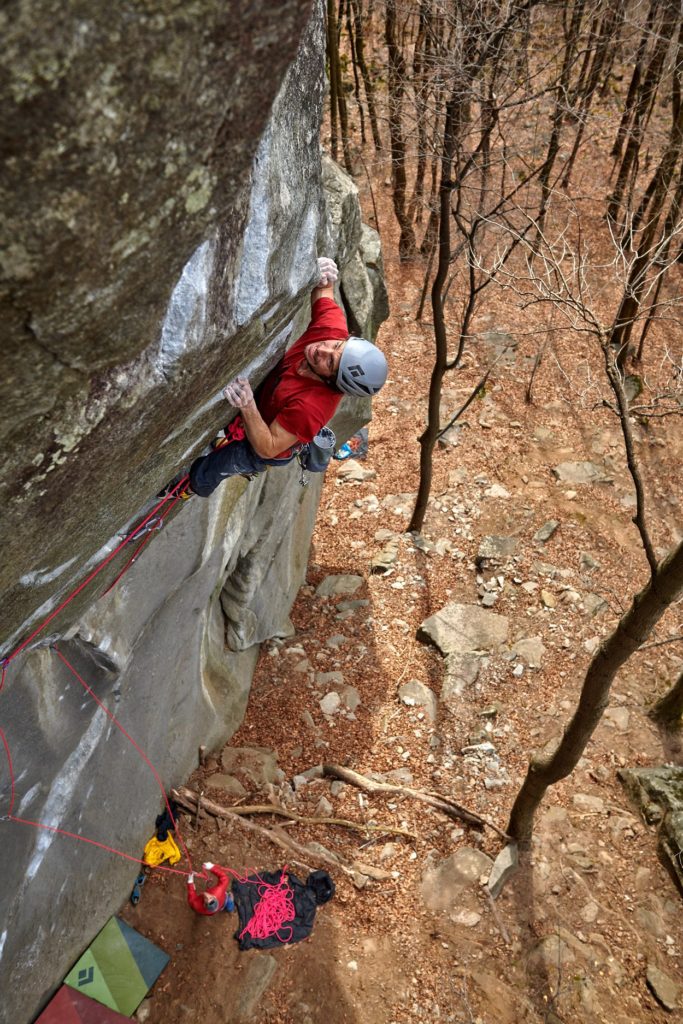 – A quoi ressemblent les principales difficultés de cette voie ?
Les 15 premiers mètres sont relativement faciles comparés au reste de la voie, mais il y a juste 2 protections et certains mouvements sont un peu cotons. Je pense que c'est bien de ne pas tomber dans cette section. Ensuite tu arrives à un repos sans les mains, et là tu places des coinceurs dans une fissure horizontale sous un toit. Les difficultés de la voie démarrent là.
Le premier crux est de la compression et se termine par un mouvement dynamique sur une fente plate qui est dure à atteindre. La chute est sûre, mais je suis tombé pas mal de fois la corde derrière la jambe la tête en bas. A cet endroit tu places 2 cams dans une fissure horizontale et tu poursuis sur l'arête jusqu'à un repos. La section suivante est pour moi le crux, les prises sont très plates et il y a un mouvement dur pour aller sur une pince en bidoigt avant de se jeter sur une bonne prise. J'ai réussi ce mouvement pour la première fois il y a deux semaines seulement et je n'ai jamais réussi à faire la voie en moulinette avant la réussite. Tomber ici n'est pas expo en revanche. De cette bonne prise tu peux mettre un petit coinceur et faire un mouvement un peu bizarre pour arriver à une grosse vire. je n'ai jamais testé la chute ici mais elle serait probablement assez longue et expo si le coinceur saute. La dernière partie est une fissure en 7b qui se protège avec des protections classiques. Je pense que la voie est assez sûre exceptée les 15 premiers mètres.
– Depuis combien de temps essayais-tu ? Reviens sur les différentes phases/périodes du processus jusqu'à la réussite.
Comme je l'ai évoqué plus haut, j'ai brossé la ligne il y a 6 ans et j'ai essayé un petit peu le jour de la découverte. Ensuite je n'ai pas essayé beaucoup pendant 2 saisons, j'allais juste jouer dedans en fin de séance. En 2016, je ne suis pas allé à Cadarese, mais l'année suivante j'ai passé 3 semaines dedans après mes réussites dans "La Rambla" et "Gondo crack". J'étais en très bonne forme mais je n'arrivais pas à faire les deux derniers mouvements difficiles. L'automne dernier je suis retourné de nouveau 3 semaines dedans et cette année de nouveau 3 semaines. C'est dur de dire combien de jours j'ai passé dans la voie, mais je n'ai jamais autant essayé une voie d'escalade. J'ai passé beaucoup de journées à essayer tout seul pendu sur ma stat', ce qui n'a probablement pas accéléré le processus. Je pense que j'ai effectué entre 10 et 15 tentatives du bas.


– Un mot sur le niveau? en terme de comparaison avec d'autres voies que tu as réalisé ? Pourquoi ne pas vouloir donner de cotation ?
J'ai réfléchi beaucoup au sujet de la cotation, mais au final j'ai décidé de ne pas en donner, comme c'est extrêmement bloc et dépendant des conditions. J'ai essayé la voie beaucoup de fois et maintenant c'est dur pour moi de le comparer avec d'autres voies. Le seul paramètre que je peux évoquer c'est le temps que j'y ai investi. Pour faire des voies comme "La Rambla" ou "Rhapsody" cela m'a pris un trip et là plusieurs années pour "Tribe". Peut-être mon anti-style, ou peut-être c'est plus dur, qui sait… De toute façon j'ai décidé de ne pas la coter car je ne suis pas d'accord avec la direction que l'escalade est en train de prendre de nos jours. On dirait que les cotations sont la chose la plus importante de notre sport et que le reste perd de l'importance. Pour moi cette voie dénote bien plus, ce n'est pas seulement un chiffre !
– Un mot sur la réalisation de la voie sportive "Futurama" par Babsi en même temps ? Le petit"Dreamcatcher" de Cadarese ?
"Futurama" est l'une des voies les plus cool en escalade sportive à Cadarese. Le cadre et les mouvements sont un peu similaires à "Dreamcatcher". Pendant les deux derniers mois, Babsi a eu des problèmes de dos et elle n'a pas pu grimper. Elle a regrimpé pour la première fois pendant ce trip et elle a réalisé la première répétition de la voie. C'était super cool car l'an dernier elle n'arrivait pas à faire le crux du haut et là elle l'a fait relativement facilement, bien que ce soit mouillé. Pour elle c'est définitivement plus dur car elle doit réaliser un gros mouvement et faire le crux dans une méthode différente. C'était vraiment si bon de la revoir grimper de nouveau sans douleurs !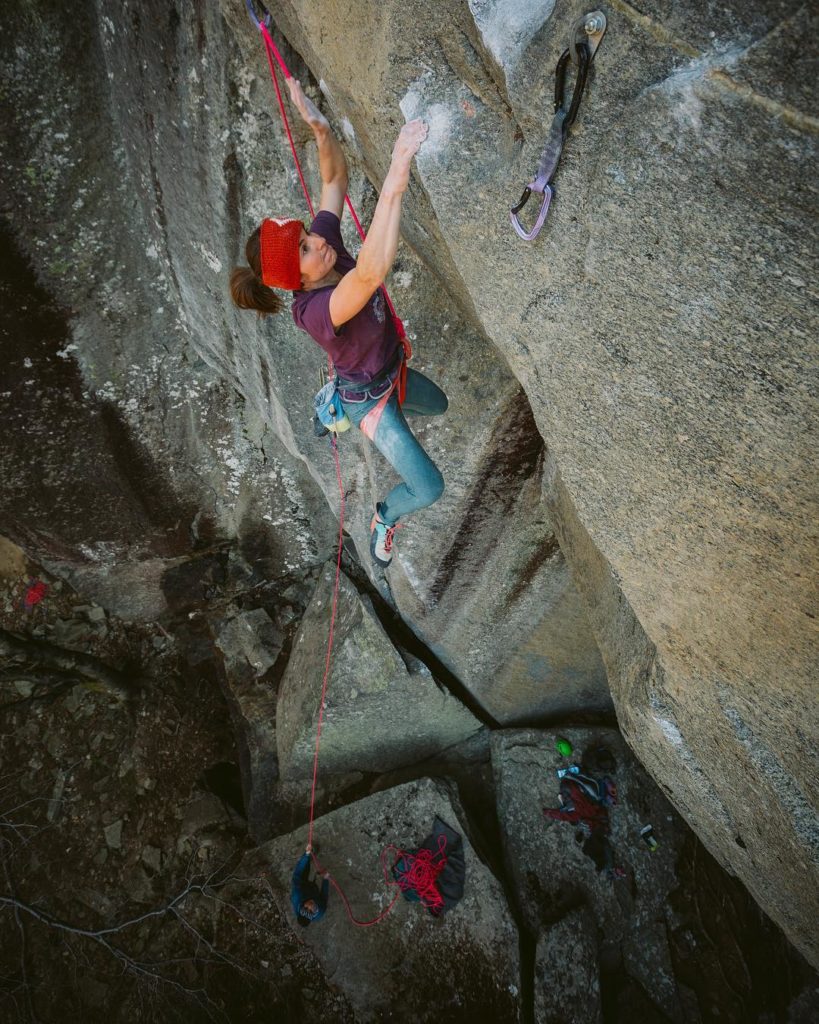 – Un mot sur vos projets cette année ?
On va probablement aller à St-Léger en avril puis dans le Yosemite en juin. Après cela ce sera le Pérou en juillet et l'Inde en octobre pour faire du big wall. Cela va être une année chargée !

Photo de couverture : Paolo Sartori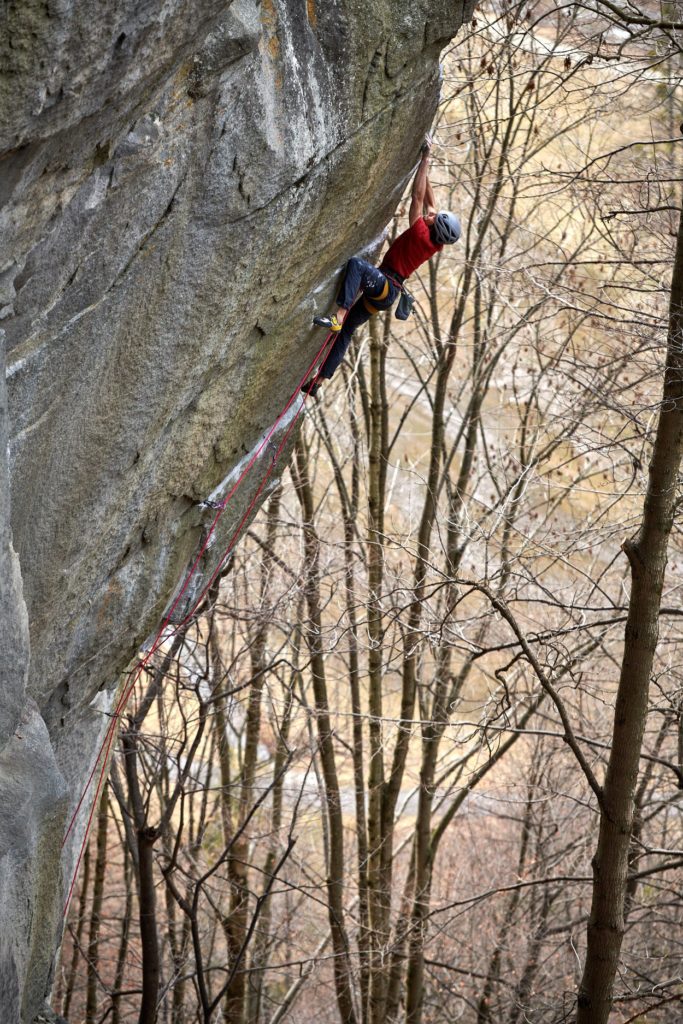 After more than 50 days on it, Italian climber Jacopo Larcher just sent "Tribe ", his trad climbing project located in Cadarese, Italy. This 25 meters route took him a lot of time! Jacopo, all rounder in different climbing disciplines, has also a lot of extreme ascents under his belt in sport climbing ("La Rambla "), in big wall ("Magic Mushroom ", "Zodiac ",…) and in trad climbing ("Rhapsody", "Lapoterapia", "Gondo crack",…), so imagine the difficulty of "Tribe", where he has put a lot of efforts!
In an humble and simple way, Jacopo doesn't want to grade « Tribe ». But it's for sure a contender for the hardest trad route in the world with "The recovery drink", "Meltdown", "Zarathustra" or "Rhapsody"! Here is an interview of Jacopo after his send.
– How and when did you discovered "Tribe"?
I found the line 6 years ago during my first trip to Cadarese. A friend showed me that impressive arete while hiking up to the main sector and I immediately felt in love with it. It's a big overhanging prow, marked only by some thin horizontal seems and a bigger slopy crack in the middle. That evening I immediately rapped down and I started to brush it, wondering if it was climbable. At the beginning I wasn't sure about it, as the holds were very bad and far apart. Especially the upper part looked very blank and impossible at first sight.
– Can you describe the main difficulties of the route?
The first 15 meters are quite easy compared to the rest of the route, but there are just 2 gear placements and some of the moves are a little bit insecure. I think it's better not to fall in that section. After that you reach a no hand rest, from where you can place some bomber gear in a horizontal crack below a roof; the difficulties of the route start there.
The first crux is all about compression climbing and ends with a dynamic move to a slopy slot, which is hard to hit. The fall is safe, but I fell a lot of time with the rope behind my leg and fell upside down. From there you place 2 cams in the horizontal crack and climb around the arete to a rest. The next section was the crux for me; the holds are very slopy and there is a hard move to get a two finger pinch from which you bump to a good hold. I did this move for the first time two weeks ago and I had never linked the route on top rope before the send. Falling up to this move is very safe. From the good hold you can place a small slider and do one last weird move to reach a big ledge. I've never tested the fall from there, but it would probably be very long and not so safe if the slider pops out. The last part is a 10 meters 7b crack, which is protected with bomber gear.
I think the route is quite safe, except for the first 15 meters, which are way easier (around 5.12-) compared to the rest of the climb.
– How many time did you spend attempting "Tribe?
I said, I brushed the line 6 years ago and I started to try it a little bit the same day. I didn't try it a lot doing the first 2 seasons, as I mostly played on it at the end of different climbing days. In 2016 I didn't go to Cadarese, but the following year I spent 3 weeks there focusing mostly on the project. It was just after having climbed "La Rambla" and "Gondo Crack"; I was in a very good shape, but I couldn't do the last 2 moves.
Last fall I spent again 3 weeks on the project and this year 3 more. It's hard to tell how many days I'd invested on the route, but I'd never tried a climb for so long. I spent a lot of days trying it alone with the static rope, which probably made the whole process a little bit slower.
I think I made something like 10-15 lead tries.

– A word about the level? Comparing to other trad routes you have already climbed? Why not giving a grade?
I thought a lot about the grade, but in the end I decided not to give one. It's a very tricky one to grade, as it's extremely bouldery and conditions depending; I tried it so many times that now it's hard for me compared it with other climbs. The only parameter I have is the time I'd invested; it took me one trip to do routes like La Rambla or Rhapsody, but multiple years to climb "Tribe". Maybe it's my anti-style, maybe it's just harder… who knows.
Anyways I decided no to grade it, because I don't agree with the direction climbing is taking nowadays; it seems like grades are getting the most important thing in or ""sport"" and all the rest is loosing importance. For me this route means a lot more, it's not only a number!

– In the same time, Babsi is back to buisiness with a repeat of "Futrama" sport route, presented as a little "Dreamcatcher"?
"Futurama" is one of the coolest sport climbs in Cadarese. The setting and moves are somehow similar to Dreamcatcher. During the last 2 months Babsi had again some back problems and she basically couldn't climb at all. She climbed again for the first time during this trip and she made the first repetition of the route. It was very cool, as last year she couldn't do the upper crux and this time she did it easily (even if it was wet). For her it's definitely harder as she can't make a big reach and has to climb the crux in a different and harder way. Anyways it's so good to see her climbing again without pain!

– What about your projects this year?
We will probably go to St. Leger in April and to Yosemite in June. After that I'll go to Peru in July and to India in October for some big wall climbing. It's going to be a busy year!
Cover pic: Paolo Sartori