Un an et demi après la première ascension de la voie de trad extrême "Tribe" par l'italien Jacopo Larcher, James Pearson vient de réaliser récemment la première répétition. Cette ligne de 25 mètres avec un final épicé sur une remontée d'arête se situe sur le site de Cadarese en Italie.

Voici la réaction de James :
"Cela fait environ 10 ans que je connais "Tribe". J'étais passé devant sur le chemin de la falaise et je me demandais s'il était possible de la gravir et la protéger. Mais bien que poser une corde statique dedans prenne 2 minutes, je n'avais en fait jamais pris la peine de m'y projeter. Je pensais qu'au fond, cette ligne était simplement impossible, comme tant d'autres Kinglines en trad que j'ai vues ces dernières années. J'ai suivi l'ascension de Jacopo avec beaucoup d'intérêt, avant tout pour réaliser que c'était possible, puis si sa persévérance dans le travail de la ligne demeurerait inchangée dans le temps.
Faire une première ascension est vraiment difficile, beaucoup plus difficile que de répéter, il a fallu à Jacopo beaucoup de curiosité pour d'abord vérifier la faisabilité de la ligne, puis beaucoup de courage pour rester tenace dans le processus et de le terminer.
Je voulais checker "Tribe" depuis la première ascension mais avec l'arrivée d'Arthur, nous n'avions pas la possibilité, l'énergie et le temps de nous investir dans un projet de la sorte.
Nous sommes arrivés à Cadarese et tout était vraiment très humide. Les premiers jours, j'ai peut-être réussi à essayer la ligne un heure ou une heure et demie, en fin de journée, une fois que les parties mouillées du haut avaient suffisamment séché et avant que cela ne recommence à suinter. Les conditions étaient plutôt mauvaises, mais j'ai réussi la plupart des mouvements et j'ai commencé à croire qu'un jour je pourrais être capable de gravir la voie.

Après avoir travaillé les mouvements pendant quelques jours, j'ai réussi la voie à ma 7ème tentative. Je suis tombé proche du sommet lors de nombreuses tentatives avant le succès, mais la nature aléatoire du pas de bloc final m'a posé problème, sans savoir vraiment pourquoi. Avec beaucoup de pluie prévue pour les jours suivants, j'avais plus ou moins perdu espoir, ce qui est probablement exactement ce dont j'avais besoin pour m'enlever toute la pression et juste me concentrer sur mon escalade.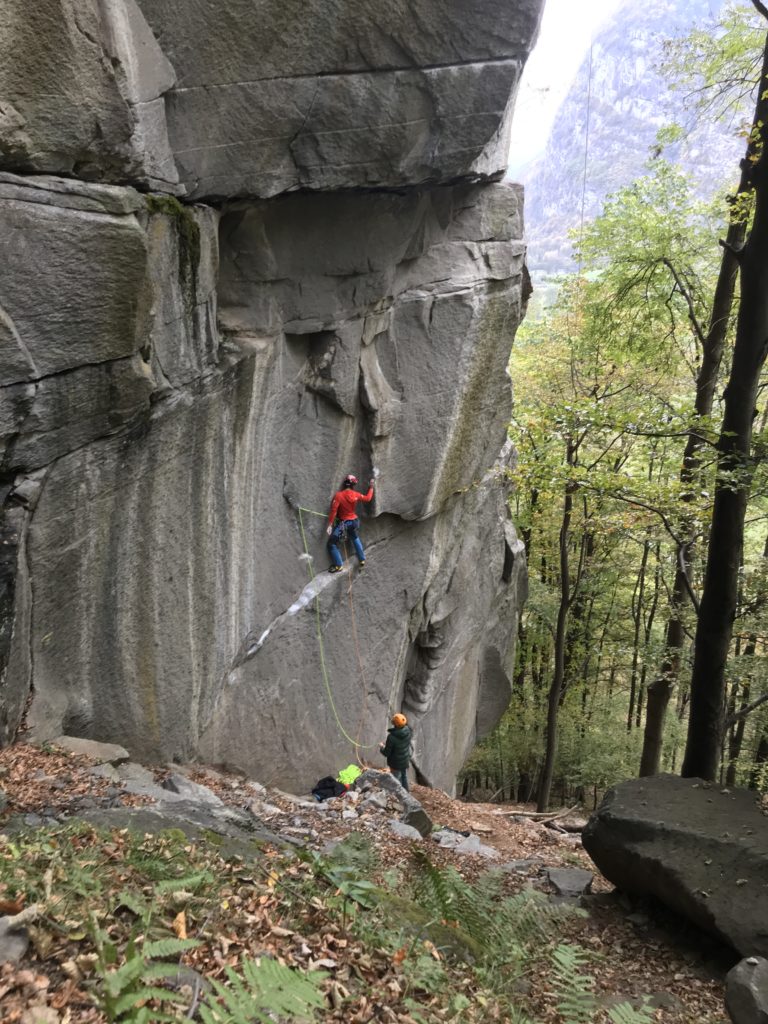 Bien que je ne puisse pas dire que j'ai mis les doigts dans toutes les voies en trad du monde, j'en ai quand même essayé pas mal, et j'ai passé beaucoup de temps à rechercher mon propre méga-projet. Pour moi, "Tribe" est de loin la série de mouvements la plus difficile que j'ai réalisée dans une voie en trad, et c'est un vrai miracle que la chose soit réellement possible sur protections. Il est rare de trouver un morceau de rocher suffisamment compact pour effectuer une série de mouvements durs soutenus, mais avec juste assez de placements décents pour le protéger.
"Tribe" serait une voie d'escalade sportive incroyable, et je suis sûr que du monde ferait la queue pour l'essayer. Mais ce qui la rend spécial, c'est le fait que personne n'ait à rajouter de points pour la grimper en sécurité. Mère nature nous a donné tout ce dont nous avions besoin, ici même… Une ligne incroyable, une série de prises et des endroits pour les protections, là où vous en avez besoin."

Photo de couverture : Tristan Hobson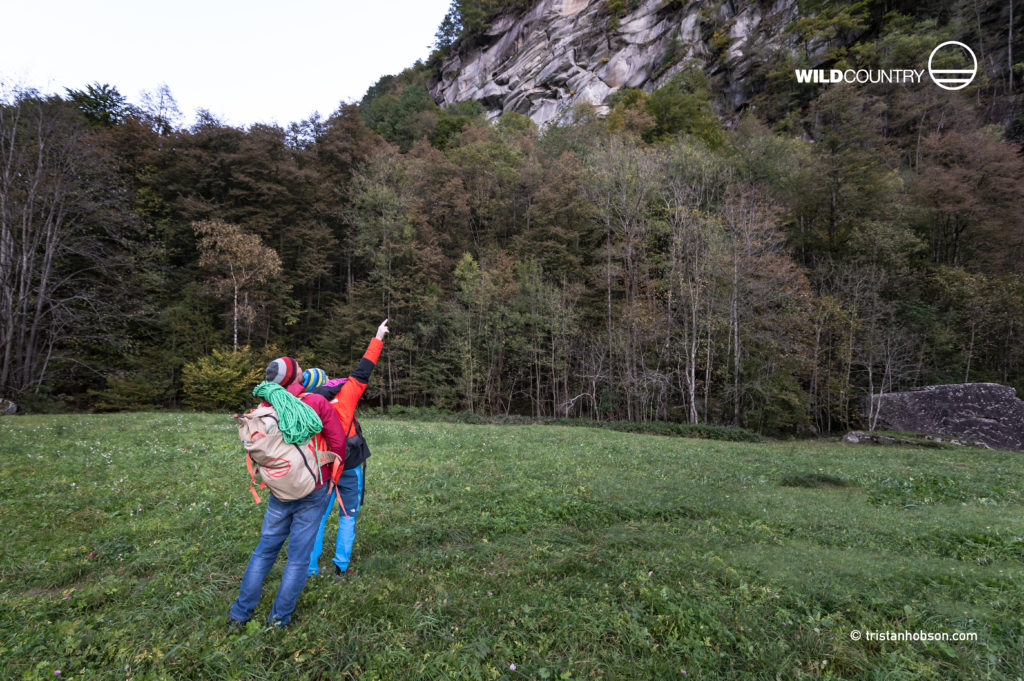 One year and a half after the first ascent of "Tribe", an extreme trad route by Jacopo Larcher, James Pearson did recently the first repeat. This 25 meters line with a spicy finish on an arete is located in Cadarese, Italy.

James reported:
"I've known about Tribe, or at least 'the big project at Cadarese' for about 10 years. I've walked past it many times on the way to the crag, and wondered if it was possible, to climb or protect. But, despite it only taking about two minutes to set up a static rope, I had never bothered to actually look at the thing. I guess deepdown I thought it probably was impossible, like so many other King trad lines I've looked at over the years.
I followed Jacopo's journey on the route with interest, first of all interested to see if it's possible, and later to see whether his conviction would stand the test of time and if he would put everything together. Climbing a first ascent is really hard, much much harder than making a repeat, it took a lot of curiosity for Jacopo to originally check out the line, and a lot of courage for him to stick with the process and finish it off.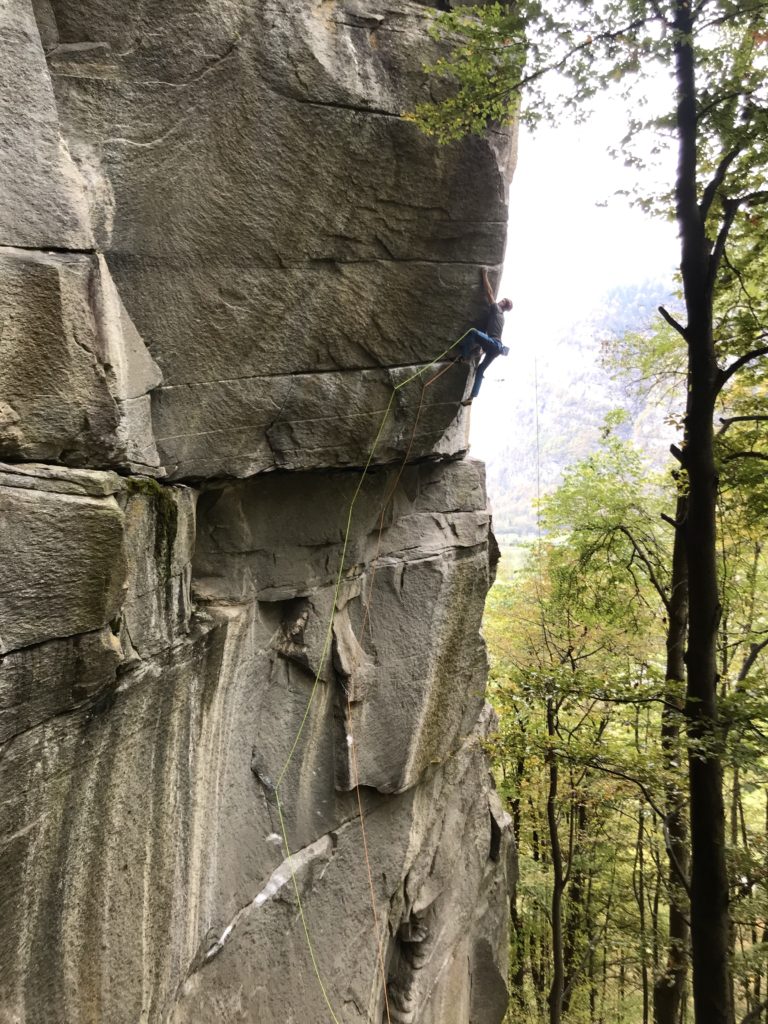 I've been wanting to check out Tribe ever since Jacopo made the first ascent, but since Arthur was born,we've not really had the ability/energy/time to get stuck into a project like that. We arrived in Cadarese and everything was really really wet. For the first couple of days I got maybe an hour to an hour and a half to try the route – at the end of each day once the seepage from above and dried enough, and before it started to seep again. The conditions were pretty bad, but I managed most of the moves, by the skin of my teeth, and started to believe that one day I might be able to climb the route.
After working the moves for some days, I climbed the route on my seventh lead attempt. I'd fallen pretty close to the top on numerous attempts before that, but the fickle nature of the final boulder problem often spat me off, despite not really knowing why. With lots of rain forecast over the coming days, I'd pretty much given up hope, which is probably exactly what I needed to take all the pressure off and just concentrate on climbing.
Whilst I can't say I've checked out every single trad route in the world, I have been on quite a few of them, and I've spent a lot of time searching for my own megaproject. For me, Tribe is by far the hardest series of moves I have ever done on a trad-route, and it's a real miracle that the thing is actually possible on gear. It's rare to find a piece of rock compact enough to make a series of sustained hard movements, but with just enough decent gear placements.
Tribe would already be an awesome sport route, and one I'm sure people would be queueing up to try to climb. What makes it really special however, is that no one needed to place bolts to climb it safely. Mother nature gave us everything that we need, right here… an amazing line, a cool series of holds, and gear placements, right where you need them."

Cover pic: Tristan Hobson