Après avoir été assez proche en juin, Cédric Lachat vient de réaliser la première répétition de la voie de Pirmin Bertle "La cène du lézard" à Jansegg en Suisse. Annoncée initalement à 9b, Pirmin a quelques temps plus tard revu le niveau de l'enchaînement à la baisse après une discussion avec Cédric, proposant 9a+. Voici la bafouille de Cédric sur sa réalisation, où il avoue avoir été gêné par l'obligation d'une éliminante à la fin de la voie.
"Malgré le fait que Jansegg est une falaise qui manque de hauteur, elle vaut quand même le détour. Il y a de tous les niveaux et surtout l'endroit est complètement magnifique. Les voies sont jolies à grimper mais c'est intense dans un style particulièrement dur et morpho. Pour "La cène du lézard, j'ai fait beaucoup d'essais finalement. Je suis venu au moins 10 fois, ce qui n'est pas trop dans mes habitudes. Il y a un mouvement où je manquais vraiment de force. Il a fallu un peu de temps pour que je m'y habitue. Après autant d'essais j'ai l'impression que c'est presque 9a mais vu le nombre de runs que j'ai fait je pense correct de laisser à 9a+ et on verra se que disent les prochains grimpeurs. Le début de la voie est vraiment joli et intense. Ensuite il y a une traversée avec un pas bloc ultra spécifique (celui qui m'a posé des problèmes). Et finalement on arrive à ce fameux jeté.. Que dire de cela. Le mouvement du jeté est vraiment beau et spectaculaire, c'est une chose qui est sûre. Donc il est super à réaliser et pas si facile. Mais c'est aussi le mouvement le plus nul qu'on peut trouver dans une voie ! Lors de ma première montée, si Pirmin n'avait pas été présent pour me dire que la voie passait par là, je serai passé 50 cm en dessus sur une vire et je n'aurai jamais fait ce jeté qui n'a aucun sens. Donc pour moi, la voie devrait s'arrêter au jeté et finir sur la vire. Là c'est un peu inventer une voie pour faire une ligne dure. Mais c'est discutable car avec le jeté la voie est cool et dure, c'est juste bizarre de se forcer à faire ce mouvement alors que la voie devrait finir là. Au début, je ne comprenais pas pourquoi je faisais ces mouvements. Et sans ce mouvement la voie serait juste 9a, et encore… Mais avant de dire un avis aussi critique, il fallait que je réalise la voie. Ceci étant la voie est quand même géniale, belle et dure. J'ai aussi essayé le départ que Pirmin a réalisé en 9b (ndlr : "La barrière") et j'ai pas bougé… Il y a un pas bloc vraiment dur et un peu morpho. Bref belle croix…"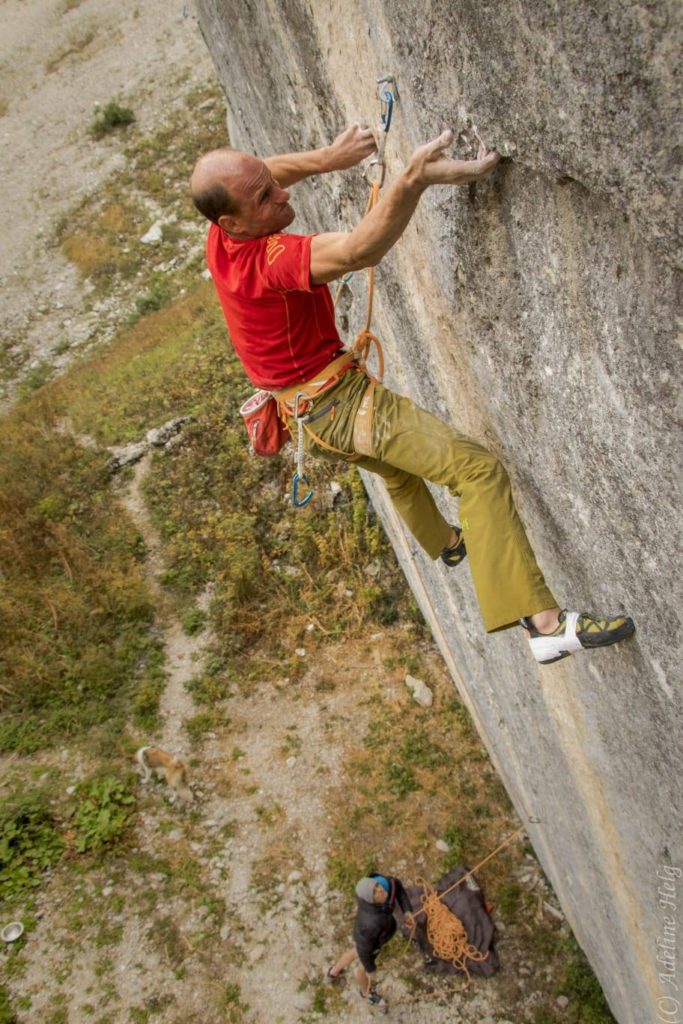 After getting close last June, Cédric Lachat just did the first repeat of Pirmin Bertle's "La cène du roi lézard" in Jansegg, Switzerland. First given 9b, Pirmin decided to downgrade it to 9a+ after a talk with Cédric. According to Cédric, whose thoughts about the send are below, he was a little bit bothered by a forced eliminate at the end the route.
"Despite Jansegg being a crag lacking in height, it's very beautiful. There is every level of climbing and it's a gorgeous place. The routes are very nice to climb, but it's very intense in a very hard and morpho style. For "La cène du lézard", I did a lot of tries in the end before sending. I came here at least 10 times, which is unusual for me! One move caused me trouble, I didn't have enough strength to master it. After a while, I finally got used to it. After so many tries, I think the send was easy for a 9a, but considering the number of goes I did, I think it probably deserves the 9a+ grade. We'll see what the next climbers think…The beginning is powerful and nice, then you have this traverse with this bouldery move, and finally you get to the final dyno…The move is pure and spectacular, it's great to do and hard, but…It's the crappest move you can find in a route! The first time I tried it with Pirmin, if Pirmin hadn't been there, I wouldn't have used this option. There is a ledge 50 centimeters up and it makes more sense to use that. For me the route should end at the dyno. As it is, it's like the route was defined just in order to climb something harder, eliminating… But it's hard to say because the dyno is very cool and hard… At the beginning I couldn't understand why I was climbing this way at the top. Without this move, the route would be given just 9a. But before giving such a critical take on it, I wanted to repeat it. That said, despite the eliminate climbing at the top, it's a hard and nice route. I also tried the harder start (the 9b called "La barrière") and I didn't manage to do the moves. There is a very bouldery and morpho crux. In short a nice send…"
Photos : Adeline Helg