Le mutant allemand Alex Megos a récemment passé quelques jours en Suisse, avec quelques répétitions de blocs durs dans sa besace comme "Dreamtime" ou "The story of 2 worlds". Après avoir assisté à la touchette de son pote Yannick Flohe lors de son enchainement éclair de "Dreamtime" et au déferlement critique évident qui a suivi la publication de son ascension sur les réseaux sociaux, Alex s'est penché sur l'envers du bloc mythique de Cresciano et sur "The story of 2 worlds". Ouvert par Dave Graham cette proue en compression propose différentes versions, différentes façons de le grimper (usage de la genouillère, départ assis strict ou non, méthodes, …). Alex s'est rendu compte que, comme c'est désormais souvent le cas, pour un même passage gravi, les difficultés des enchaînements peuvent s'avérer très disparates, alors même que tout le monde annonce la réalisation du même bloc. Alex en conclut que la communauté des grimpeurs ne se soucie pas assez des conditions de réalisation des performances qui demeurent sensiblement différentes pour un même passage… Alors que justement il nous semble aussi que le processus pour arriver à ses fins est la partie la plus importante et intéressante de la démarche dans les annonces de performances.
Rétablir en haut d'un bloc ou clipper un relais et annoncer un niveau est une chose, mais il ne faut pas oublier d'expliquer les conditions afférentes à la performance. Prendre du recul sur sa réalisation et se positionner au regard de l'éthique de l'activité semble crucial, d'autant plus pour les grimpeurs qui communiquent et médiatisent leurs exploits dans la sphère publique, à la recherche d'une reconnaissance sociale et financière.
Dans une ère ou la quête d'exploits personnels et de leur communication est de plus en plus prégnante (trop?), l'envie de buzz et de sensationnel autour des annonces de performances l'emporte souvent sur les explications précises des conditions de réalisation. Parfois, les manières de faire nous interrogent, que ce soit au niveau du respect de la nature et de l'environnement (grimpe de nuit, musique au pied des voies, aménagement de l'espace naturel comme une surface de réception en bloc, respect de la faune, déchets non ramassés, …), au niveau éthique (départ assis qui n'en sont pas, touchettes, …), du style (méthodes alternatives, usage d'un ventilateur, d'une genouillère, shunt de mouvements durs, usage abusif de la magnésie et de tickets, …) ou encore au niveau des cotations annoncées parfois fabuleusement élevé au regard des performances réalisées.
Par le biais de la communication des manières de faire et des éthiques initiées, c'est une partie de notre culture et de notre histoire qui se construit. Nous nous devons de l'entretenir, la préserver et l'enrichir. Sans leur contextualisation, impossible de continuer à fournir du sens à l'annonce des réalisations en escalade.

Voir aussi : Un ancien article écrit sur le sujet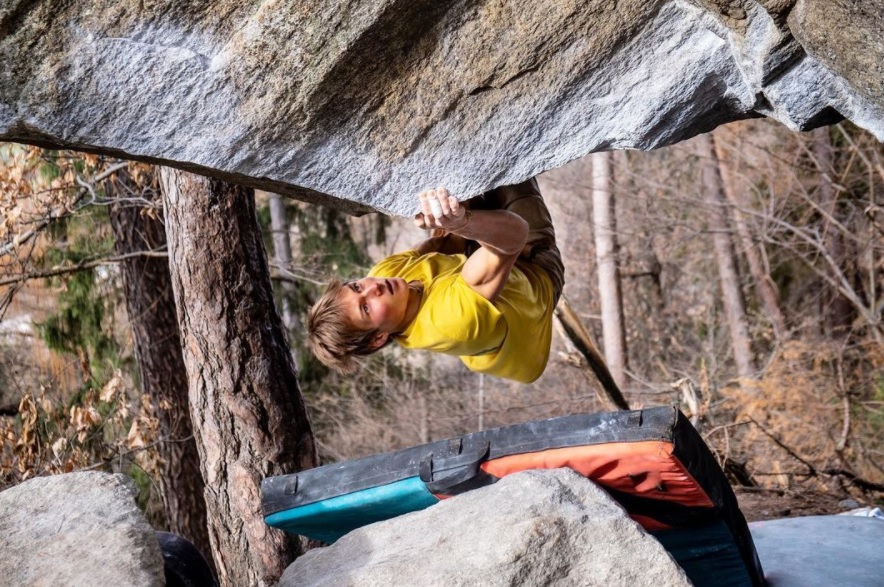 German beast Alex Megos recently spent few days in Switzerland, he managed to do quick repeats of hard boulders like "Dreamtime" or "The story of 2 worlds". After witnessing the dab of his friend Yannick Flohe during his ascent of "Dreamtime" and the obvious critical surge that followed the video's publication on social networks, Alex looked at the other side of the mythical boulder of Cresciano with "The Story of 2 Worlds". Opened by Dave Graham, this compression roof offers different versions, with different climbing styles (use of kneepad, strict sit-start or not, conventions, end, …). Alex realized that, as it's now often the case, for the same problem, the difficulties of the repeats can be very different, even every climber announces the same ascent with the same grade. Alex tries to convince us that the community of climbers does not care enough about the conditions for achieving performances which can be very different for the same climb… It also seems to us that the process is the most important part of climbing, and the most important and interesting approach in performance announcements.
Mantleling at the top of a boulder or clipping a anchor and announcing a grade is one thing, but explaining the conditions relating to its success and describing how the passage was climbed remain one of the essence of climbing. Taking a step back on our performance and positioning ourselves about to the ethics of the activity seem crucial, all the more for people who communicate and promote their climbs in the public sphere, in search of social and financial recognition.

In an era where the quest for personal achievement and its communication is more and more significant (too much?), The desire for buzz around performance announcements often outweighs the conditions of achievement. Sometimes, the ways of sending question us, whether at the level of respect for nature and the environment (night climbing, music at the crag, respect of wildlife, uncleaned waste, …), at the ethical level (sitstart that is not, dabs, …) or style (alternative betas, use of a fan, knee pad, skip hard movements, excessive use of chalk, …) or even at the level of the grades announced sometimes fabulously high in view of the witnessed performances.

Through the communication of manners and ethics used, it's a part of our culture and our history that is built. We owe it to ourselves to preserve it and to extend it. In order to be able to continue to relativize and to perceive a sense in the announcement of climbing achievements.