A mi-chemin entre Johannesburg et le Mozambique sur la route nationale 4, se trouve la localité de Emgwenya – anciennement Waterval Boven – qui héberge une séries de magnifiques barres rocheuses en grès orangé. A coup sûr un des musts en la matière!
Description: Alors que l'Afrique du sud est mondialement connu pour l'escalade en bloc sur le site de Rockland, avec ses paysages magnifiques et ses milliers de cailloux oranges, de l'autre coté du pays, se trouve une série de magnifiques barres rocheuses pour l'escalade sportive. Des falaises d'un grès compact, ocre orangé vous attendent et proposent aujourd'hui plus de 600 voies d'escalade sportives du 4 au 8c réparties sur plusieurs secteurs d'une hauteur maxi de 35m. Avant le développement en un site d'escalade sportive, les falaises de Boven étaient la Mecque des grimpeurs de trad sud-africains. Il ne sera donc pas surprenant si je vous dis que le style de grimpe en fissure est présent pour les voies de niveau modéré. Cependant, le développement de voies en escalade sportive a permis de rendre accessible les falaises à un plus large spectre de grimpeur et de diversifier les styles . On y trouve par exemple des murs verticaux avec des légers dévers sur réglettes mais aussi des gros toits sur bacs pour faire monter le lactique dans les avant-bras…
Saison: Question récurrente pour les grimpeurs qui veulent mettre toutes les chances de leur coté pour croiter: on peut y grimper toutes l'année grâce aux multiples orientations. Cependant, il est préférable de profiter de l'hiver locale pour faire des perfs, mais à 1500 mètre d'altitude, il peut faire frais. Le printemps et l'automne locale seront les meilleurs périodes pour la majorité d'entre nous, tandis que l'été, les fréquents orages peuvent être violents et mêlés à la chaleur.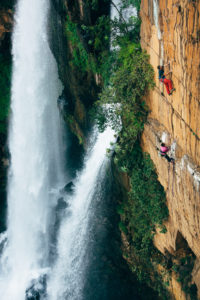 Sélection de voies: Le système de cotation est différent ici 6a = 18 ; 7a = 24; 8a=30; 
19 – Day of the Triffids
20 – Shout at the Devil
21 – Toolbox
22 – Endless Summer
23 – Superfly
24 – Rude Bushman
25 – Big Bad Wolf
26 – Yellow Polka Dot or As the world disappears
27 – Lotters Desire
28 – Bikini Red
29 – Snapdragon or Monster
30 – Jack of all Trades
31 – Godzilla
Y aller: Le plus simple est d'arriver à Johannesburg ou Pretoria puis de louer un véhicule pour rejoindre Emgwenya en moins de 3h en prenant la nationale 4 plein Est. La localité de Emgwenya est à mi chemin entre Pretoria et le Parc National Kruger. Il y a aussi la possibilité de voyager en train, bus ou taxi.
Dormir: Il y trois options:
Roc 'n Rope au village qui vous propose des maisons, des chambres, dortoirs ou vous aurez accès à une cuisine, un shop si besoin de matos oublié mais surtout la cuisine d'Alex (Française) qui saura vous régaler avec ses gâteaux délicieux et ses plats entre France et Afrique du Sud. 
Le camping Tranquilitas adventure Farm, juste au-dessus de la Falaise ou on peut planter sa tente. Il y est également possible d'y louer un bungalow, de cuisiner dans une salle abritée. 
Des AirBnB et des lodges.
A éviter: 
Les tiques, il y en a, donc vérifiez bien comme il faut et régulièrement, surtout après avoir marché dans la forêt et les herbes.
Les animaux dangereux, comme des scorpions mais rarement vus, des araignées rarement dangereuses et serpents qui peuvent être mortels, mais il y peu de chances que vous croisiez leur chemin.
Trainer la nuit: la régle de sécurité en Afrique du Sud, ne pas sortir la nuit. Dans la Localité d'Emgwenya, des locaux vous dirons qu'il n'y a pas beaucoup de risques surtout si c'est pour aller au restaurant de l'autre coté de la rue.
Aller aux secteurs de la cascade en voiture et laisser la voiture garée là bas toute la journée. On vous conseille de discuter avec les propriétaires de Roc'n Rope, ils sont arrangeants pour trouver une solution.  
Topo: Il n'existe pas de topo papier. Pour se procurer le topo pdf, rdv sur le site internet roc' nrope adventures ou climbingZA
A côté de la grimpe: En dehors de la grimpe et pour les jours de repos il est possible d'aller visiter le célèbre parc national de Kruger, le Swaziland, Blyde River Canyon, faire des randonnées à pied ou à cheval, pécher la truite local, ou encore du VTT ou de la moto.

Pour les courses il y a un petit supermarché dans la petite ville. Mais pas forcément des mieux achalandé. Si vous en avez la possibilité il y a plus loin la ville de Nelspruit à 1h de route où vous y trouverez tout ce que vous voulez comme à la maison, cinéma, grand magasin et Mac-Do pour ceux qui sont en manque et souhaite un régime haute performance.
A faire: Si possible, acheter dans le village, la communauté est principalement pauvre donc toute monnaie qui circule dans l'économie locale est la bienvenue.
Remerciements: Aux propriétaires de la Falaise qui nous permettent d'en profiter, aux ouvreurs et aux rééquipeurs qui prennent soins de l'entretien de la falaise ainsi que des accès, Alex&Gustav de Roc 'n Rope.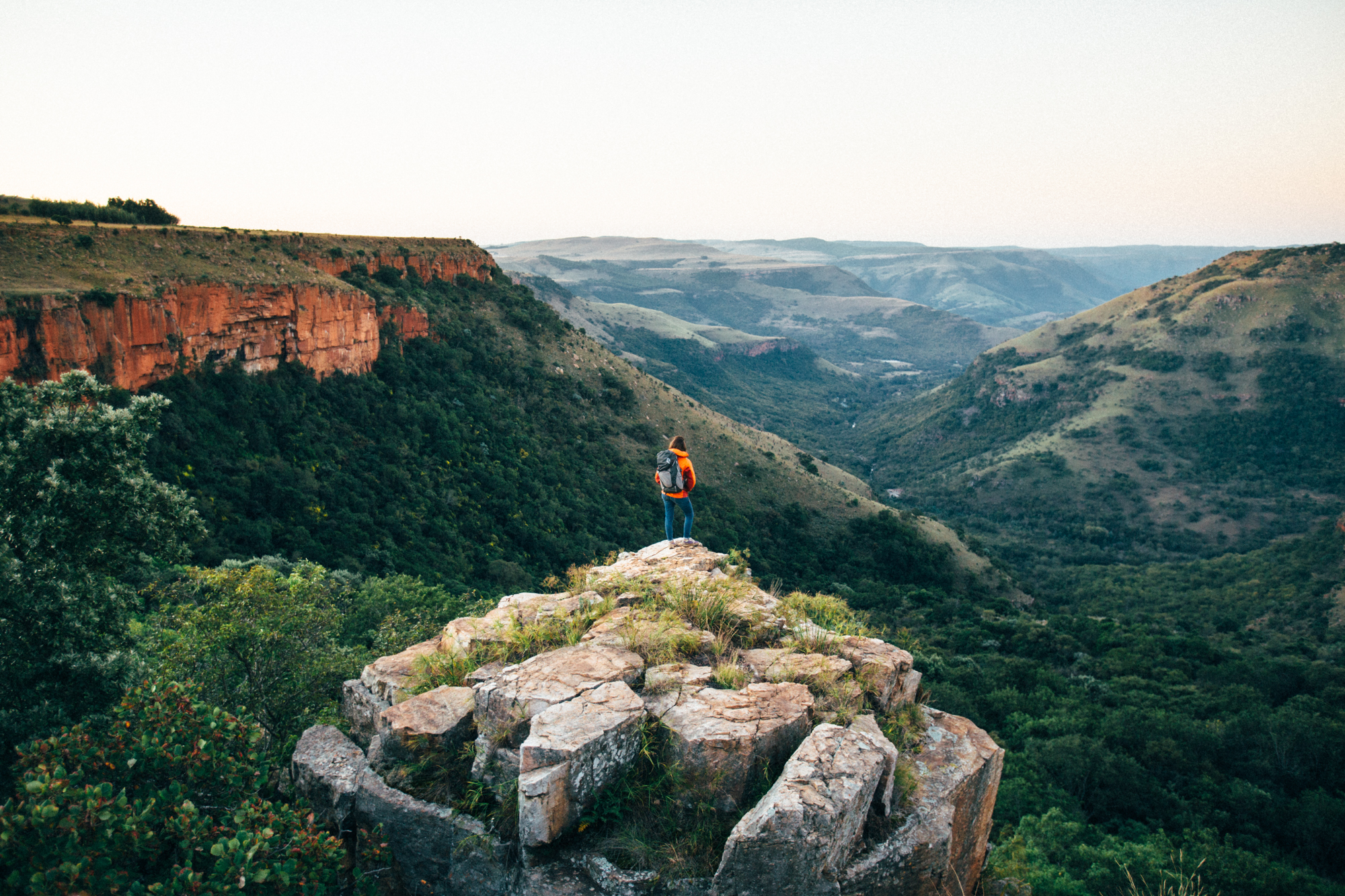 Half way between Johannesburg and Mozambic on national road number 4, is located the town of Emgwenya – first called Waterval Boven – where a lot of rocks in an orange sandstone can be found. For sure, a must in this type of rock!
Description: South Africa is famous for being the Boulder Mecca, Rocklands are full of magnificent landscapes and thousands of orange boulders. On the other side of the country, you can find a series of nice cliffs for sport climbing. Compact orange sandstone crags with more than 600 sport climbing routes from 4 to 8c spread over several sectors with a maximum height of 35m. Before the development of the Boven sport climbing site, the cliffs were famous for trad climbing. For this reason, the crack climbing routes are mostly of a moderate level. The more recent development of sport climbing routes made it possible to make the cliffs accessible to a wider spectrum of climbers and to diversify the styles. There are, for example, vertical walls with crimps but also large roofs with pumpy routes.
Season: the most common question of climbers wanting to have the best chance to send their project. Well, the answer is that you can climb here all year round thanks to the different orientations. However, it's better to take advantage of the local winter to make performances, but at 1500 meters above sea level, it can get cold. Spring and fall are the best seasons for most of us, while during the summer, frequent thunderstorms can be severe and are mixed with heat.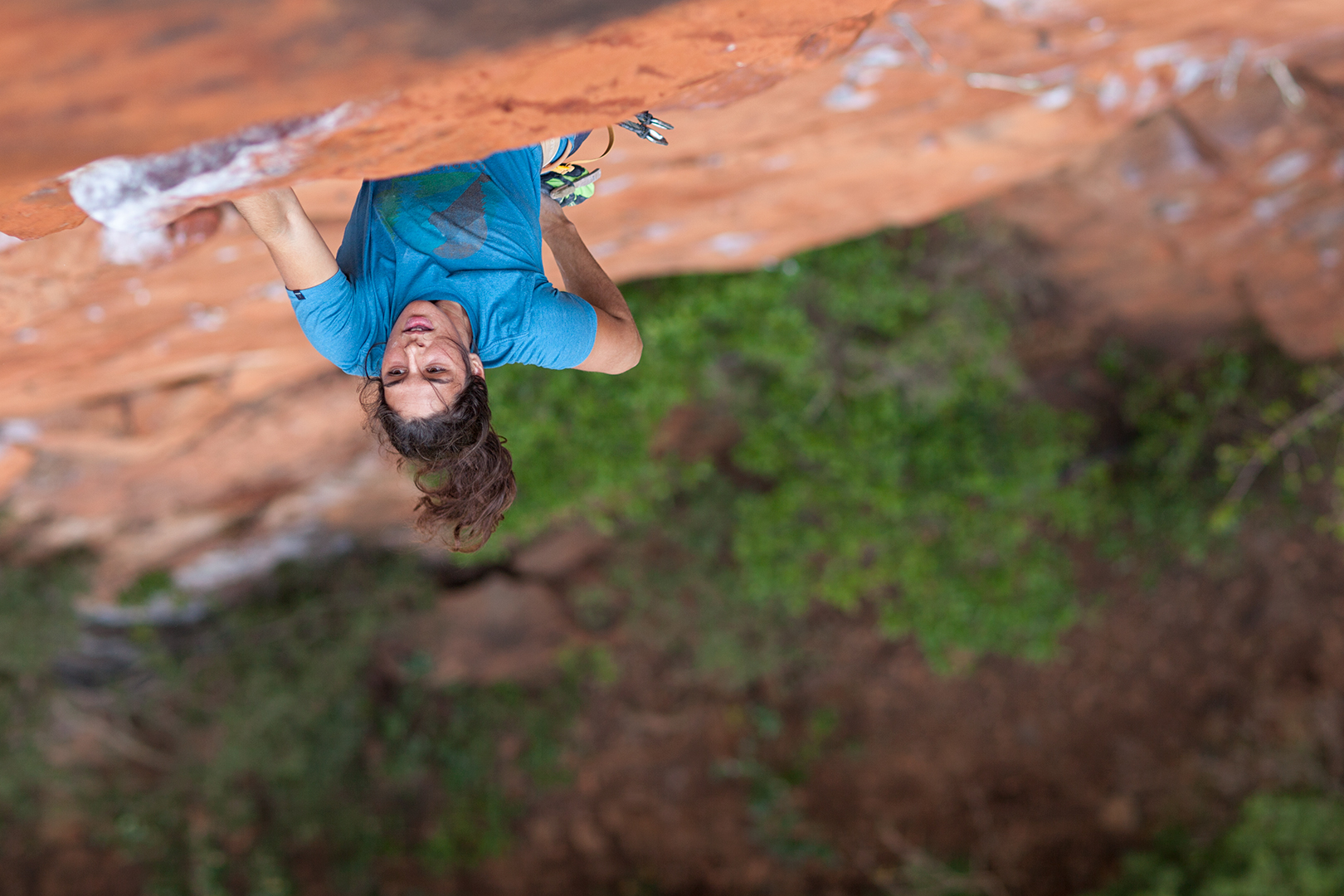 Ticklist:
Grade system is different here: 6a = 18 ; 7a = 24 ; 8a = 30;

19 – Day of the Triffids
20 – Shout at the Devil
21 – Toolbox
22 – Endless Summer
23 – Superfly
24 – Rude Bushman
25 – Big Bad Wolf
26 – Yellow Polka Dot or As the world disappears
27 – Lotters Desire
28 – Bikini Red
29 – Snapdragon or Monster
30 – Jack of all Trades
31 – Godzilla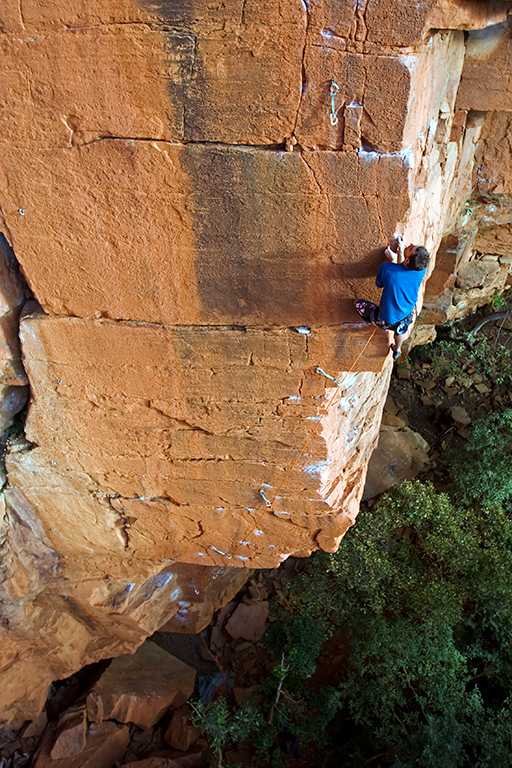 How to get there: The simplest way is to arrive at Johannesburg or Pretoria to rent a car and to drive to Emgwenya in less than 3 hours with the national road number 4. The town of Emgwenya is located midway between Pretoria and Kruger National Park. You can also travel by train, bus or taxi.
Accomodation: there are 3 main options available.
Roc'n Rope in the village which offers houses, rooms, dormitories. You will have access to a kitchen, a patio to reconnect to the world (internet!), a shop in case you have forgotten stuff and finally, the cuisine of Alex (French) who will feast you with its delicious cakes and dishes from between France and South Africa. Go to roc' nrope adventures and ask them all your questions, they will be happy to help you.
The Tranquilitas adventure Farm campsite, just above the cliff where can pitch their tent. It's also possible to rent a bungalow there, to cook in a sheltered room. Go to their website Tranquilitas
Some AirBnB and lodges.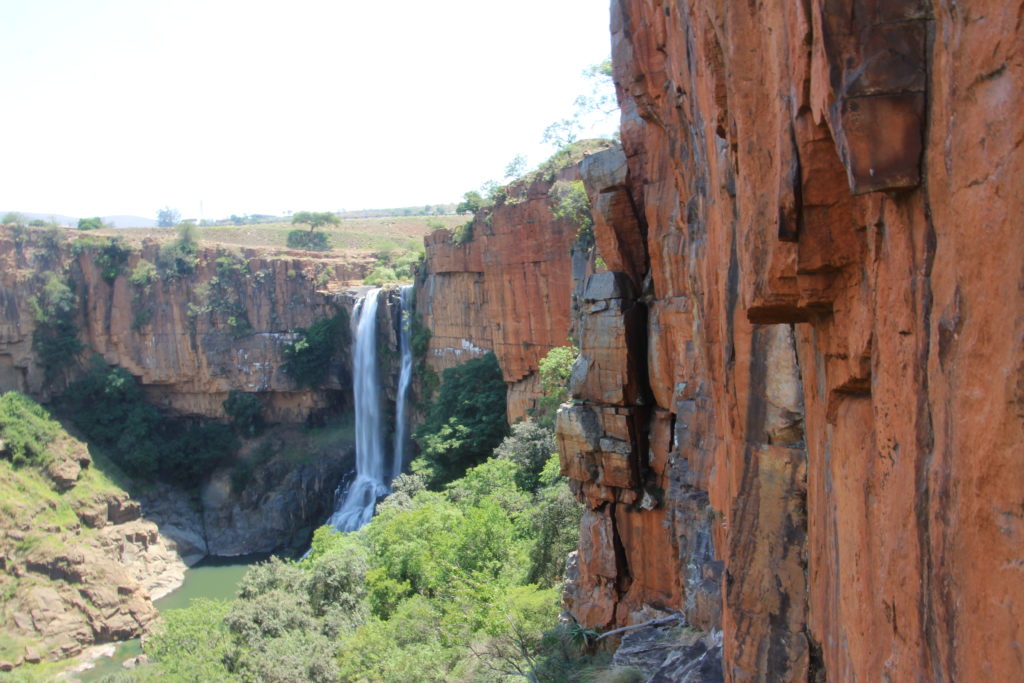 To avoid:
Ticks are present, so check your body carefully and regularly, especially after walking in the forest and grasses.
Dangerous animals, like scorpions but rarely seen, spiders rarely dangerous and snakes which can be fatal, but there is little chance that you will cross their path.
Hang out at night: The rule of safety in South Africa, do not go out at night. In the locality of Emmwenya, locals will tell you that there are not many risks especially if it's for going to the restaurant on the other side of the street.
If you want to climb at waterfall crags, it is not recommended to park your car there. We advise you to discuss with the owners of Roc'n Rope, they are accommodating to find a solution.
Topo: There is no paper topo. To get the pdf guide, go to the roc' nrope adventures or climbingZA websites
Beside climbing: For rest days it's possible to visit the famous Kruger National Park, Swaziland or Blyde River Canyon. You can go hiking, fishing the local trout or practice mountain biking or horse riding.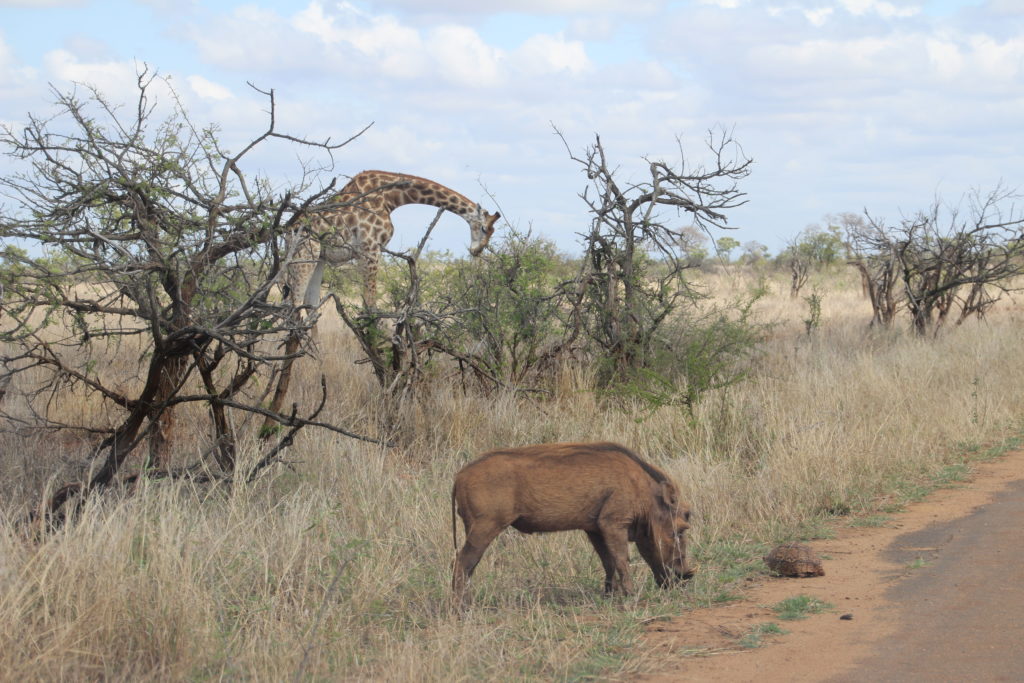 For shopping there is a small supermarket in the town. But not necessarily the biggest. If you have the possibility there is further the city of Nelspruit (at 1 hour drive) where you will find everything you want like at home, cinema, supermarket and Mac-Do for those who are in need and want a high-quality diet 🙂 
To recommend: If possible buy in the village, the community is mainly poor so any currency that come in the local economy is welcome.
Acknowledgments: To the owners of the cliff who allow us to take advantage of it, to the bolters and people who take care of the maintenance of the cliff as well as the accesses, Alex&Gustav from Roc'n Rope.
Cover Picture: Andrew Pedley in Rodan 8c, photo by Dirk Smith