*** Premier 8c pour Matteo Soulé, 13 ans :
Le jeune grimpeur Aveyronnais vient de réussir son projet de long terme sur la falaise de Cantobre, la connexion de "Résistance" qu'il essayait depuis l'an dernier.
"Un bon soulagement. Cette année, sous les conseils de mon nouveau coach, il fallait sortir de ma zone de confort et donc faire un gros travail en bloc avec pour objectif des voies courtes et dures ("Adieu Wolfgang", "Meh power", "Nadejda"…). Bref, forcer dans des mouvements extrêmes pour moi ! Au final je crois que j'ai bien progressé et j'avais à cœur de concrétiser mon projet de l'année dernière. Je suis retourné un coup en décembre dans "Résistance" et j'étais vraiment super bien dans tous les pas. Il fallait plus que finaliser l'histoire je me suis dit que ça allait pas trop traîner. Au final, j'ai quand même mis une dizaine d'essais supplémentaires pour retrouver le rythme dans cette voie, et arriver au mieux dans la section finale à petites prises de "Chaquaito" (ndlr : 8b+). Finalement aujourd'hui, je fais à mon troisième essai de la journée après un essai à tomber à deux mouvements de la fin du dur. C'était un essai par principe sans trop d'espoir avec la peau mâchée, plus trop d'énergie mais juste l'envie de faire. Bref trop content ! Maintenant, place à "Nadejda" (ndlr 8c+/9a) aux Joncas car j'ai réalisé tous les mouvements et c'est dément."

*** Premier 8c pour Maho Normand, 14 ans :
Le jeune grimpeur originaire du Var Maho Normand réalise son premier 8c à la maison avec "Ptérodactyle" en 10 essais. Maho avait déjà à son actif une dizaine de 8b/b+ dans le Sud de la France tous réalisés depuis qu'il a commencé à sortir dehors, il y a 6 mois !
*** Oriane Bertone, 14 ans, une nouvelle fois à Rocklands :
C'est désormais une habitude, Oriane Bertone visite Rocklands lors des vacances de Noël malgré les températures estivales. De gros projets sur le feu et l'expédition de deux nouveaux 8B bloc avec "Leopard cave extended" et "Hipster whale". Elle avait déjà essayé le premier bloc l'an dernier mais l'avait trouvé trop morpho. Affront lavé cette année ! Le second bloc a été réalisé de manière bien plus expéditive : en une heure après défrichage des méthodes. Il nous tarde de la voir s'attaquer à des projets plus extrêmes car la prodige originaire de La Réunion n'est clairement pas à ses limites !
*** Laura Rogora en forme en Catalogne :
La compétitrice italienne de 18 ans passe ses vacances de Noël en sierra de Prades. Laura coche à son second jour sur place "Pal Norte" 8c+/9a à Margalef (Espadelles) pour la première féminine de la voie. Quelques jours plus tard, on la retrouve pour le à vue de son premier 8b+, "L-ments" à Montsant. Hier, c'est de nouveau à Espadelles que Laura s'illustre avec le très déversant "La Bongada" 9a. Vu la rapidité de ses réalisations dans les environs du 9a (déjà cinq 8c+/9a et trois 9a), il serait aussi intéressant de la voir se frotter à plus dur !
Photo de couverture : Matteo Soulé dans "Résistance" – crédit : Matthias Paré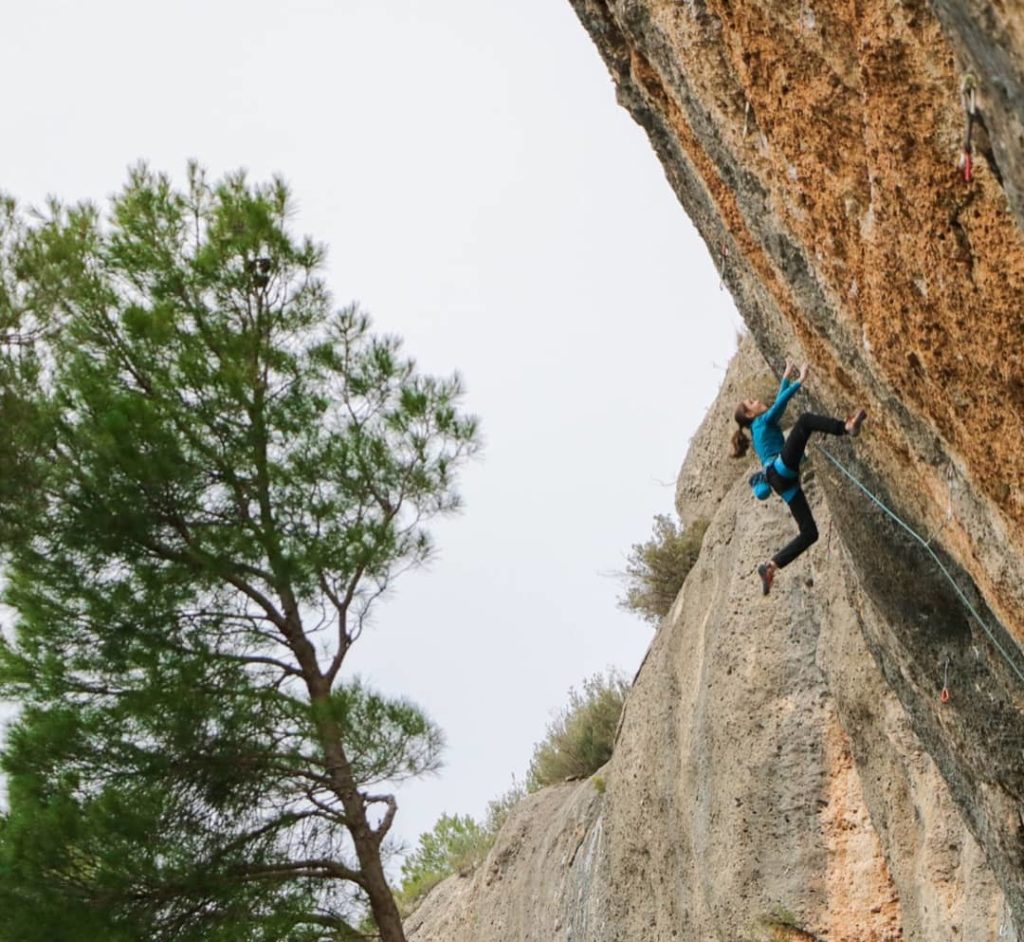 *** First 8c by Matteo Soulé, 13:
The young frenchie has ticked a long time project with the send of "Résistance", Cantobre, France. The route is a link of power endurance on pockets and crimps.
"It's a huge achievement for me. My new coach asked me to test me in harder, short and powerful routes out of my comfort zone. I tried again this project in December and needed 10 tries to find the rythm of the route and to arrive fresh in the crux of "Chacaito" (ndlr 8b+). I climbed the route yesterday at my 3rd go of the day, with the skin destroyed. I was not expecting too much, and it finally worked. Now I want to try seriously "Nadesja" 8c+/9a located in Joncas. I did all the moves and the route pleased me."

*** First 8c by Maho Normand, 14 ans :
The young climber from Toulon, France ticked his first 8c with "Ptérodactyle" in 10 tries. Maho has ever under his belt a dozen of 8b's in the South of France all done these 6 last months since he started to climb outside.
*** Oriane Bertone, 14, another time in Rocklands
She is used to, Oriane Bertone visited Rocklands during her Christmas break. Between tries in big projects, she sent 2 8B with "Leopard cave extended" (video up) and "Hipster whale". The first boulder was quite morpho last year for her and Oriane could finish it this time. The second boulder was sent directly after scoping the moves, after one hour work! We are psyched to see her working harder stuff at her limits!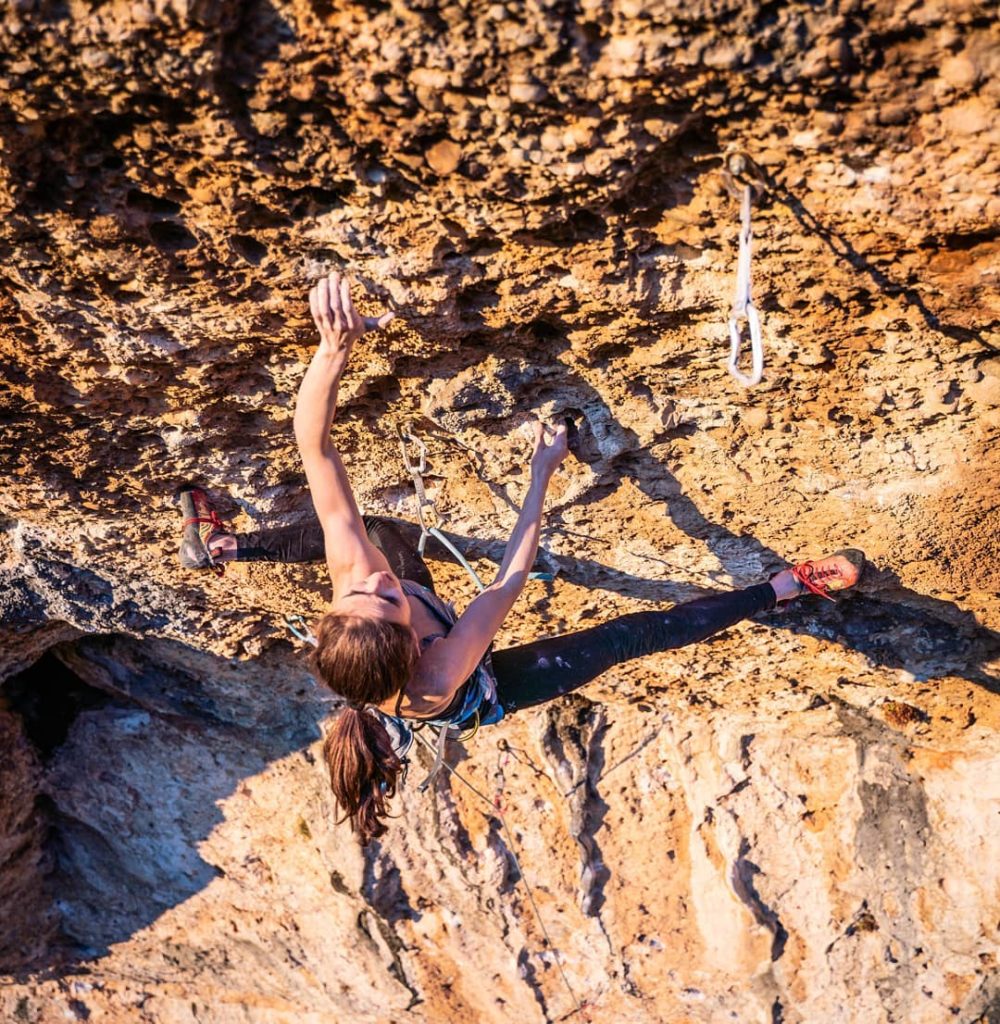 *** Laura Rogora in shape in Catalonia:
The Italian girl aged 18 is spending her Christmas vacations in Prades Mountains. She ticked at her second day climbing "Pal Norte" 8c+/9a in Espadelles (Margalef) for the first female ascent. later she onsighted her first 8b+ with "L-Ments" in Montsant. Yesterday, she also climbed quickly "La bongada" 9a in Margalef (Espadelles again). Like Oriane when you whitness her fast sends (5 8c+/9a and 3 9a under her belt) around the 9a barrer, it will be interesting to see her try harder climbs.
Cover Pic: Matteo Soulé, "Résistance" 8c, Cantobre, France – credit: Matthias Paré