Description : Située près d'un superbe village médiéval de l'Aveyron, la falaise de Cantobre offre une escalade très athlétique sur trous, un style particulièrement physique et agréable. La barre, aux formes très esthétiques, prend une forme de vague déversante haute de 30 mètres truffée de concavités. Une escalade dont le style peut se rapprocher parfois de la celui de la salle, certes moins exigeante techniquement qu'ailleurs et qui peut manquer par moment de piment, mais terriblement ludique et sympathique. En revanche, le ticket d'entrée reste élevé : il vous faudra grimper dans le 7ème degré pour pouvoir vous délecter des classiques des lieux. Le secteur Joe barre team offre cependant d'avantage de voies abordables dans le 6ème degré pour une inclinaison plus verticale.
Saison : Cette face Sud-Est offre de belles opportunités aux grimpeurs sur de belles journées hivernales, mais les températures y sont souvent très basses et le soleil se cache en fin d'après-midi. Du coup l'intersaison (automne ou début de printemps) est la meilleure période pour pouvoir lézarder avec des conditions. Il est possible de grimper là-bas en fin d'après midi par période estivale mais la collante ne sera pas au rendez-vous.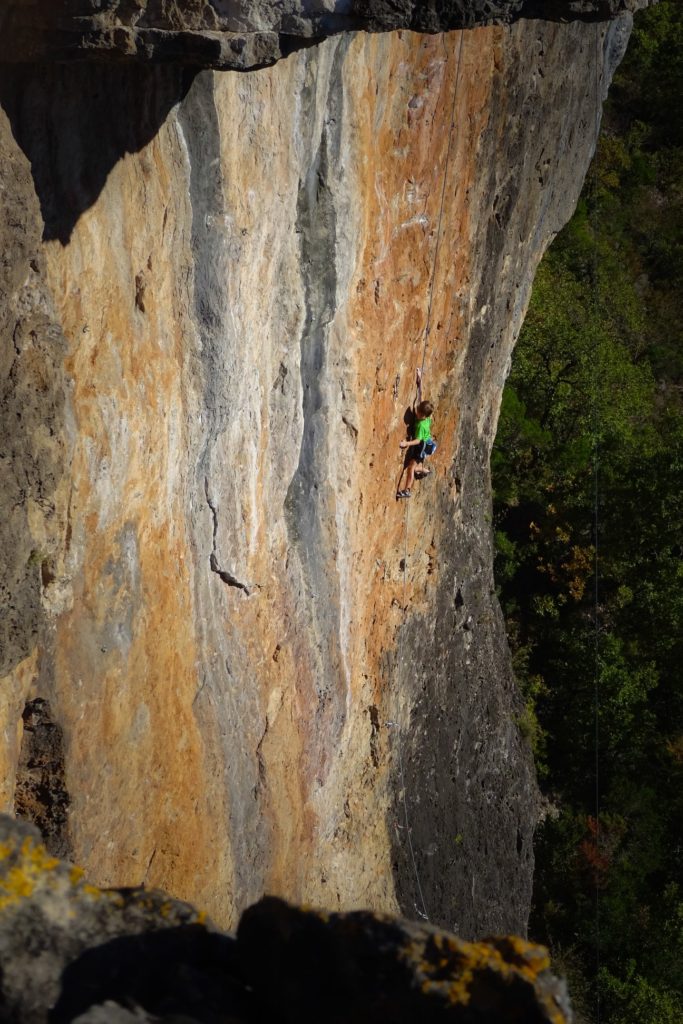 Sélection de voies :
– "Tati représente" 6a+
– "L'ascenseur au fond du précipice" 6b+
– "Joe barre team" 6c
– "Raph chauffe" 7a+
– "Les mains savonneuses" 7b
– "Turbulence" 7b+
– "C'est pas Noël pour Jean" 7c
– "Gazoline" 7c+
– "Les dernières plantations du Christ" 8a
– "Torticolis" 8a+
– "VO2 max" 8b
– "La breloque" 8b+
– "Salidad del sol" 8c+
Y aller : En quittant la D991 pour monter au village de Cantobre, emprunter la première intersection dans la montée après le pont qui contourne le village perché par le bas. Se garer proprement dans un renfoncement en bout de piste avant le champ. Traverser le champ, emprunter le petit pont au dessus du Trevezel avant de prendre à gauche et de monter vers la falaise à l'intersection suivante (10 petites minutes).
Dormir : De nombreux gîtes existent sur Cantobre. Les propriétaires de la falaise, Fred et Mauricette, viennent de proposer un nouvel hébergement chambre d'hôtes et camping au niveau du parking de la falaise, accompagné du bistro sur l'eau (à partir du printemps, pour la période estivale). L'idéal pour être sur place avec les commodités, et surtout pour pérenniser l'escalade dans les lieux !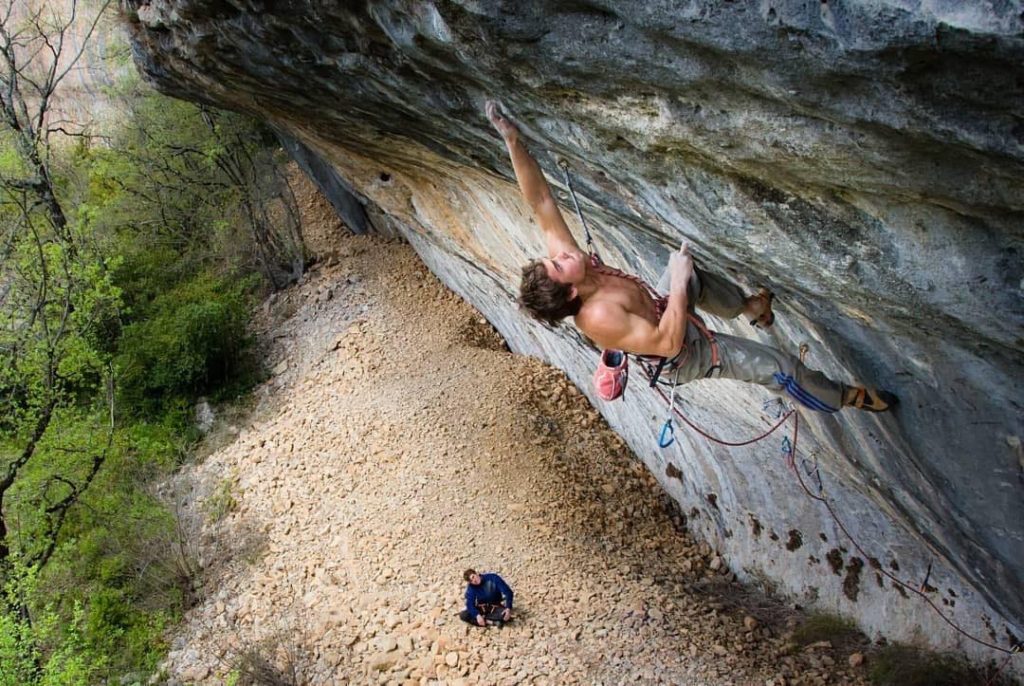 Topo : La Dourbie, CAF Millau, édition Causses et Cevennes, 2007. Un site web dédié existe avec les dernières actus et les réactualisations 
Manger et boire un coup : Le Sanglier Hilare à Nant et sa cuisine de terroir, la boulangerie Foissac et le pâtissier Auger toujours à Nant. Sinon, en faisant un peu de route, des tables de Millau comme Le Jeu de Paume ou La Mangeoire demeurent des valeurs sûres. Pour boire un coup en période estivale ,le bistro sur l'eau des propriétaires des lieux au début de la marche d'approche est sympa !
Eau : toutes commodités à Nant.
À côté de la grimpe : balades autour du village de Cantobre et dans la vallée de Trèves où se trouve un autre spot majeur du coin : la Verrière ; montée au roc Nantais ; visites de fromageries de brebis sur le Larzac ; pêche dans la Dourbie ; nombreuses randos VTT ; les cités templières du Larzac comme La Couvertoirade.
À éviter :
– Squatter avec son camion sur le parking de la falaise ou y mettre sa tente.
– Ignorer les locaux, qui sont ici particulièrement sympathiques et accueillants. Attention, l'esprit des locaux de Claret veille… Ici tout le monde se parle et s'encourage et on est vite intégré dans la "communauté".
– Ne pas strapper une articulation endolorie par le frottement dans les trous, ce sera rapidement le steak assuré !
– Ne pas brosser ses traits et les prises quand on en a fini avec une voie. Ici certaines parties de la falaise voient rarement la pluie.
– Faire ses besoins naturels trop près des sentiers (remarque valable dans tout site naturel d'ailleurs !)
– Faire plusieurs jours de suite au secteur Turbulence où vous régresserez rapidement dans la puissance de vos blocages. Ou comment se choper une tendinite au coude en une leçon !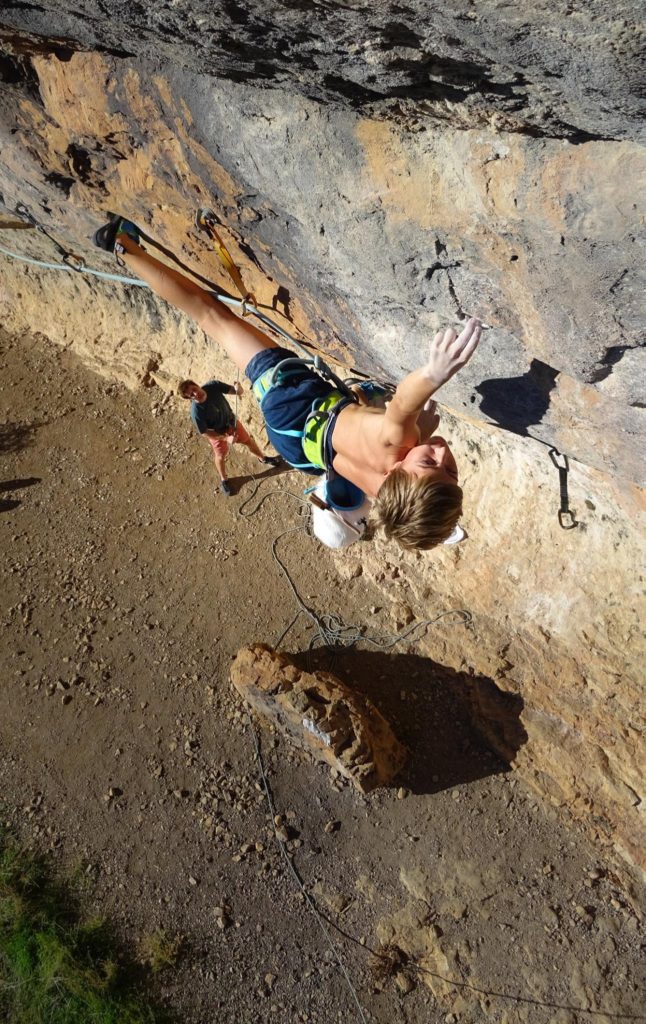 General Description: Located under a superb medieval village of the Aveyron region, the crag of Cantobre offers very athletic climbing on holes, a very physical but pleasant style. The cliff, very nicely shaped with pockets everywhere, is about 30 meters high: a style very close to indoor climbing, less technical than others but very friendly and playful. However, the level is quite high and you need to climb in the 7th grades to enjoy yourself in Cantobre's classic routes. The sector Joe Barre team offers easier routes in the 6th grade for a less overhanging wall.
Season: This southeast face offers some nice opportunities for the cold and dry winter days, but temps are often very low and the sun hides very quickly behind the hill at the end of afternoon. Mid seasons (Fall or Spring) are usually the best period for climbing here, you will enjoy both sun and good friction. You can also climb there in summer time, it's in the shade at the end of the afternoon, but friction will not be assured!
Ticklist:
– "Tati représente" 6a+
– "L'ascenseur au fond du précipice" 6b+
– "Joe barre team" 6c
– "Raph chauffe" 7a+
– "Les mains savonneuses" 7b
– "Turbulence" 7b+
– "C'est pas Noël pour Jean" 7c
– "Gazoline" 7c+
– "Les dernières plantations du Christ" 8a
– "Torticolis" 8a+
– "VO2 max" 8b
– "La breloque" 8b+
– "Salidad del sol" 8c+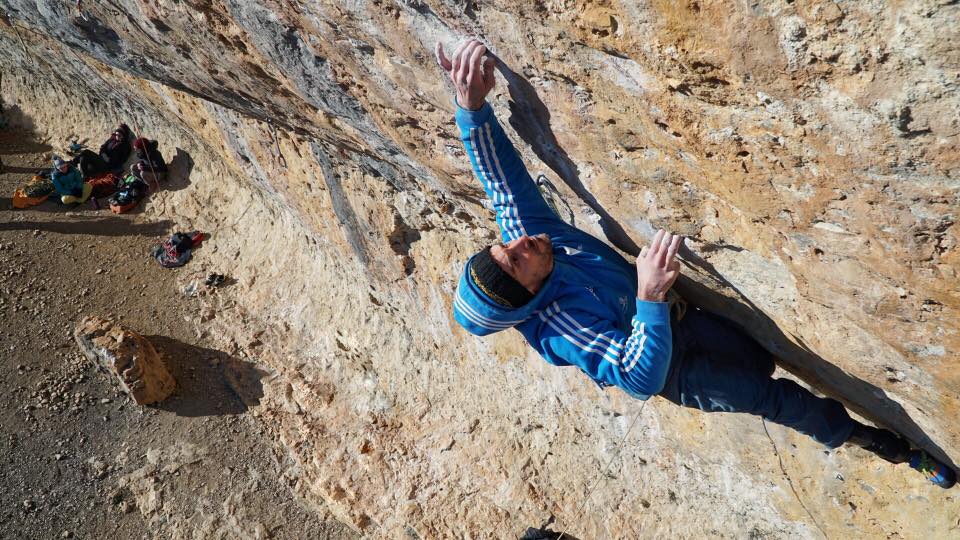 To get there: Leave the road D991 to go up to the village of Cantobre, take left to the first crossing after the bridge and turn around the village on a little road. Park at the end of the road close to a field. Cross the field and the river with the little bridge, then turn left straight up to the crag. (10 minutes)
Where to sleep: Numerous gites in the village. We advise going to the campground and guestroom of the crag's owners, Fred and Mauricette, close to the parking area for the cliff (starting in spring and into the summer season). The best place to be close and enjoy all facilities.
Guidebook : « La Dourbie », CAF Millau, édition Causses et Cevennes, 2007. A website dedicated to the place can be found here.
To get food and drink: Le Sanglier Hilare restaurant in Nant for tasting local food, Foissac and Auger bakeries in Nant, and good tables in Millau like Le jeu de paume or La Mangeoire. For a drink, the owners of the crag have a spot close to the river in the summer period.
Water: All facilities in Nant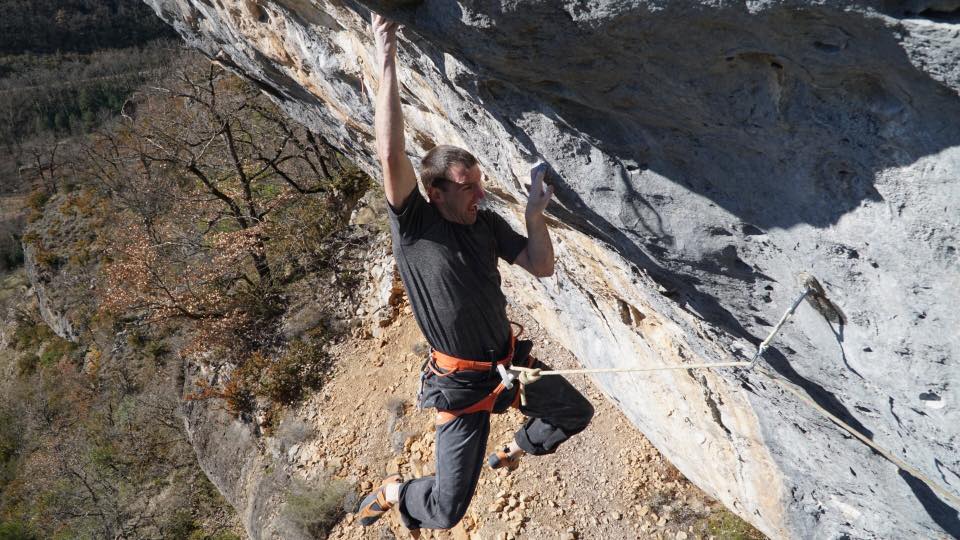 Aside from climbing: Walk around the village or Treves valley (where there is another nice crag, La Verrière), walk on the hill to the Roc Nantais viewpoint, visit sheep cheese factories on Larzac, go fishing in Dourbie, numerous bike loops, visit the old cities of Larzac like La Couvertoirade.
To avoid:
– Staying with your van or camping on the parking area of the crag.
– Being rude to local people at the crag. The people here are very friendly and cool. But Claret crag spirit is there… Everybody speaks together and supports each other. You are very quickly part of the community.
– Don't forget to strap your fingers when you feel the skin getting tired. Flappers come very fast !
– Don't forget to brush your ticks after your climb. Some parts of the crag are not cleaned by the rain.
– Relieving yourself close to the path (it's true for every place you visit!).
– Doing several days in a row in Turbulence sector, you will feel a physical and power regression. Beware of elbow tendinitis!