Le groupe Excellence de la FFCAM vient tout juste de rentrer de son voyage annuel. Après une première exploration l'an dernier, direction de nouveau cette année dans le cœur de l'Atlas marocain pour un trip bloc. Le but : continuer d'ouvrir des passages et développer un site de bloc non loin de la principale station de sports d'hiver du pays, Oukaïmeden, en compagnie notamment des grimpeurs locaux du CAF de Casablanca. Les secteurs du Col "Into the wild" ou "Indian creek" ont connu de récents développements. Le site recense pas moins d'une soixantaine de passages dans le 7ème et 8ème degré et une cinquantaine de blocs dans le 6ème degré répartis sur 5 secteurs.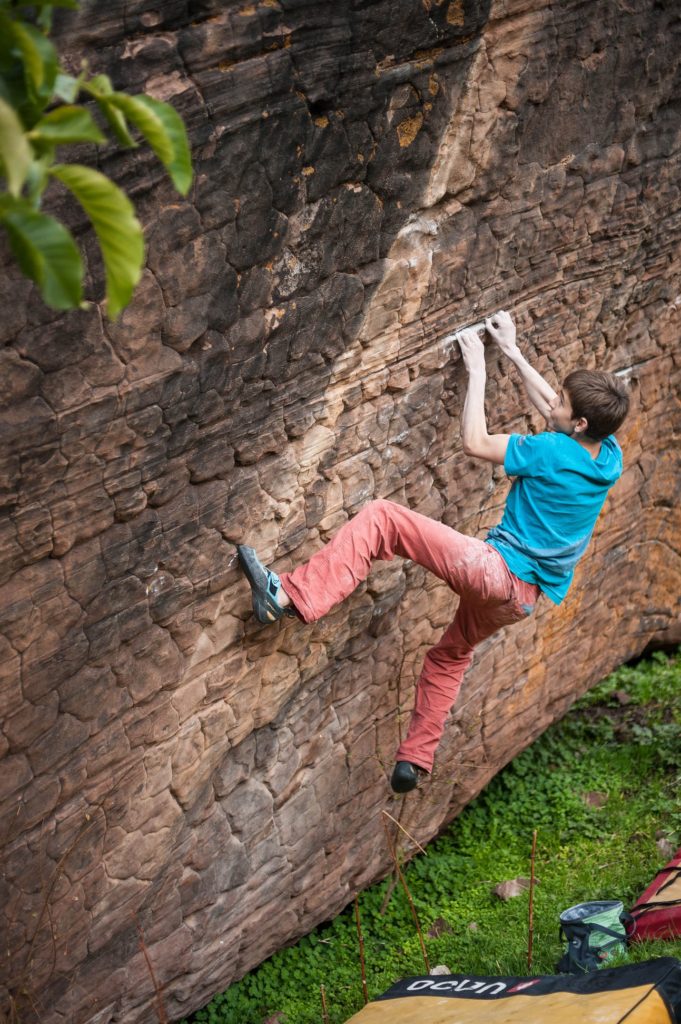 Le talent grenoblois Nicolas Pelorson, qui faisait partie de l'équipe, nous décrit : "Oukaïmeden est un site que se trouve à 1h30 au sud de Marrakech, dans les montagnes de l'atlas. (Je crois que c'est à 2800m d'altitude). Le spot est vraiment grand car nous n'avons grimpé que dans les spots adjacents au gîte alors que le chaos semble s'étendre sur de nombreux kilomètres. La roche, c'est un grès parfait pour grimper. Nous avons ouvert déjà pleins de lignes du 5 au 8B avec le groupe et nous avons essayé de nombreux projets en 8ème degré qui étaient trop durs pour se faire en un séjour. L'escalade y est très intéressante car les blocs sont souvent bien hauts et la proportion de blocs en dévers par rapport au nombre de blocs total est plus grande que dans un site lambda."
Titouan Dechamboux dans "Mauvais oeil" 7c+

Bonne journée au secteur "Into the Wild", avec l'ouverture de nouveaux blocs ("Carolinabis" 5c / "Chris Off" 7b+ / "La phobie des grandeurs" 7b+ / "Chou crâne" 8a), et la king line "Mauvais oeil" 7c+ (en vidéo ici).Demain, nous accueillons un groupe de lycéens de Marrakech, pour un moment d'échanges et de partage.Avec Tanguy Topin Léo Dechamboux Titouan Dechamboux Nico Pelorson Elsa Ponzo Tom Gerin Diégo Fourbet Cha FA Léo Berman Charlie Duclut Thomas KlwczLa FFCAMAvec le soutien de PetzlInstitut Français du Maroc

Publiée par Groupe Excellence Escalade FFCAM sur Vendredi 26 octobre 2018
A french group of climbers from FFCAM federation is just back from their annual trip. After a first exploration last year, the team is back this fall in Morocco, in the heart of Atlas for a bouldering trip. The goal : opening new lines and develop an area called Oukaïmeden, located in the principal ski station of the country. Many boulders and sectors have been opened. The place counts around 60 boulders in the 7th and 8th range, and around 50 boulders in the 6th range, with 5 different sectors. 
Nicolas Pelorson (french bouldering team) comments : "Oukaïmeden is an area which is located one hour and a half drive South of Marrakech in Atlas mountains at around 2800 m high. It's a very big place because we just climbed around our gite and the chaos looks very large, spread in numerous kilometers. The rock is perfect, it's a very friendly sandstone. We opened a lot of lines between the 5 and 8B range et we tried numerous projects, so hard for an unique trip. Climbing here is very nice, boulders are often high and the part of overhanging faces is important compared to other places."