Cédric Lachat a continué son petit bonhomme de chemin à Saint-Léger du Ventoux. Après avoir réalisé "Supercrackinette" fin 2020, c'est cette fois "Le Cadafist", autre voie extrême du secteur Praniania, qui a été répétée par le grimpeur pro Suisse en début de semaine. Cette ligne de 35 mètres se situe dans le grand dévers à droite de "Eagle-4". Équipée par Guillaume Lebret, la voie empile deux très grosses sections, la première en 8c/+ et la seconde en 8c. La voie a été libérée en 2017 par Gérome Pouvreau et proposée à 9a. David Firnenburg l'avait répétée l'année suivante. Il y a 2 ans, une colonnette a cassé dans le crux du milieu lors d'un essai à vue d'Adam Ondra. Seul Hugo Parmentier avait refait la voie, il y a un an, proposant 9a solide : la voie est désormais marquée par un sordide pas de bloc médian en croisé-décroisé sur colos fines les pieds à plat où il faut ensuite s'étendre latéralement dans un trou crochetant sur la gauche. Profitant d'une journée très ventée et maussade synonyme pour lui de collante, Cédric a plié la voie avec un run d'anthologie dont il a le secret, ne tombant pas dans la seconde partie de la voie après le pas de bloc. Une voie qui ne s'est pas laissé dompter et pour laquelle il propose une réévaluation à 9a/+.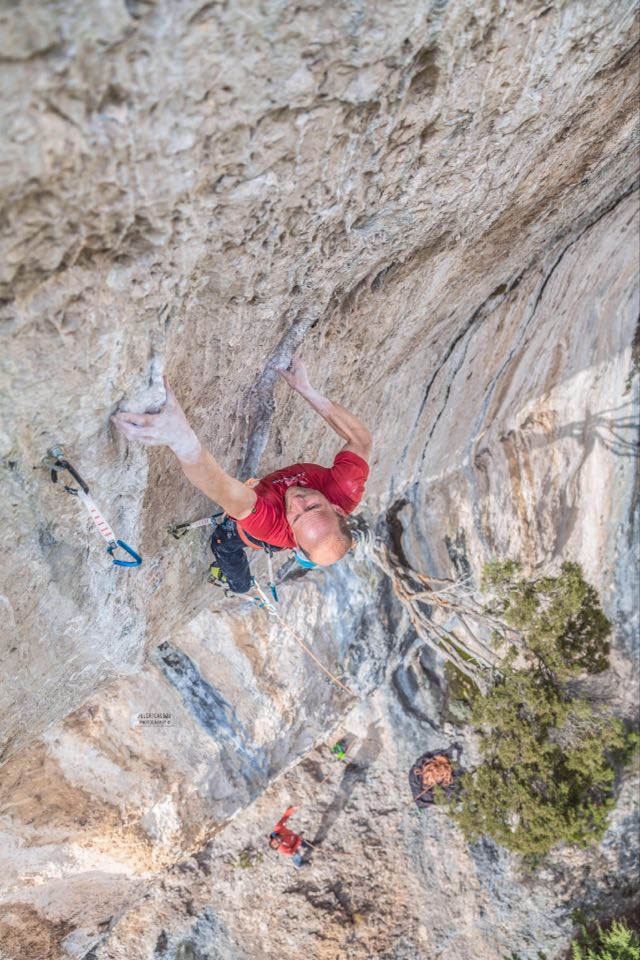 L'intéressé nous livre ses impressions :

"Je suis allé pour la première fois dans la voie il y a 4 ans après avoir réalisé la sortie à vue (ndlr : "Rêve de poutre" 8c) et j'étais tombé tout en haut du 9a. Je n'ai ensuite pas eu l'occasion d'y retourner immédiatement. Après la casse de la colonnette, je suis retourné dans la voie et je n'ai pas bougé. C'est Antoine Maire qui travaille aussi la voie qui m'a donné la méthode grâce à un talon salvateur pour le croisé. J'ai enfin réussi à concrétiser après une dizaine de séances supplémentaires. Je suis remonté dans "Supercrackinette", et même si le style est sensiblement différent, pour moi c'est pas loin du même niveau. Je pense que "Le Cadafist" mérite d'être recotée à 9a/+, les prochains répétiteurs affineront. Sans cette prise cassée et ce pas de bloc teigneux au milieu, ce serait pour moi une des plus belles voies de St-Léger !"

A 36 ans, le mutant Suisse semble toujours au sommet de son art. Il lui reste 2 lignes dures à plier dans ce secteur, "Eagle-4" (9b) qu'il est allé défricher, et "La Castagne" (9a+, une ascension, Adam Ondra en 2018), sans compter sur une nouvelle variante de sortie de gauche de "Supercrackinette" équipée il y a quelques jours par Quentin Chastagnier qui propose un nouveau challenge futuriste à ce secteur majeur.

Photos: Julia Cassou – JuliaCassou.com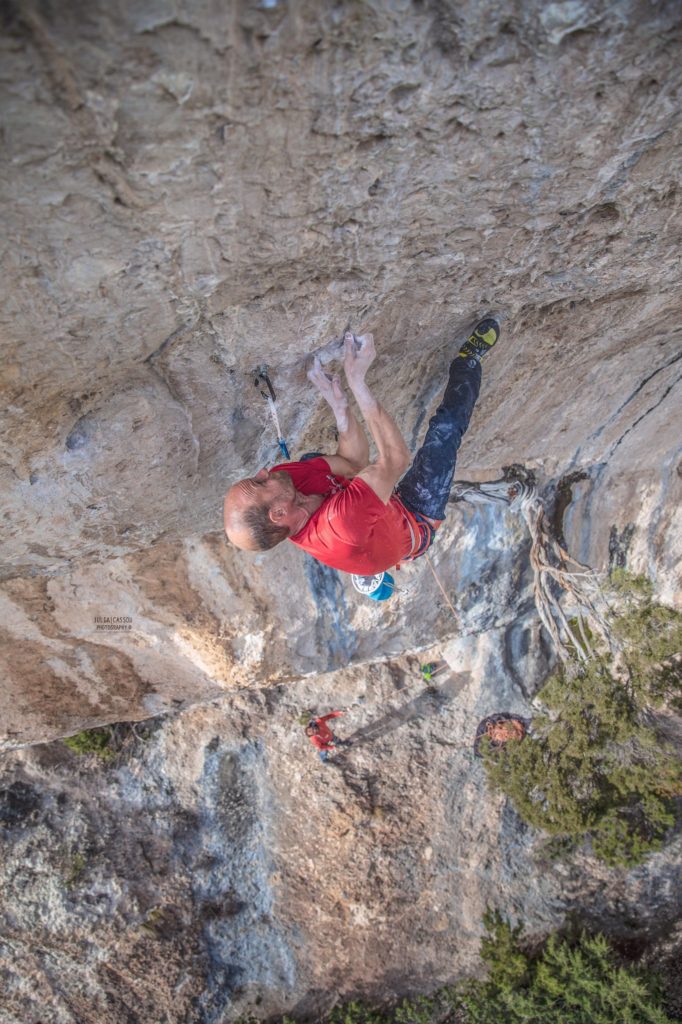 Cédric Lachat continues his return to form in Saint-Léger du Ventoux, France. After sending "Supercrakinette" at the end of 2020, this time Cédric ticked "Le Cadafist", another extreme line from the Praniania sector. This 35m-long line is located in the massive overhang to the right of "Eagle-4". Bolted by Guillaume Lebret, the route comprises two big 8c sections. 'Le Cadafist' was first freed by Gérome Pouvreau in 2017, who suggested 9a. David Firnenburg repeated it the following year. But 2 years ago a tufa broke in the middle crux while Ondra tried the route onsight. Only Hugo Parmentier had climbed the 'new' version, a year ago, proposing hard 9a: the route is now characterised by a nasty cross in-cross out boulder crux, on thin tufas and poor feet, before extending left off a sharp pocket. Taking advantage of a very windy and rainy day, which for him equates with sticky conditions, Cédric ticked the route this beginning of week. He gave it a good fight and suggests a slight upgrade to 9a/+.
Over to him:
"I first tried the route 4 years ago after onsighting the exit ("Rêve de poutre" 8c) and I'd fallen right at the top of the 9a. I was able to get back on it for a while after. Once the tufa broke, I got back on it but couldn't get anything done. It's Antoine Maire who gave me the beta, a life-saving heel in the cross. After a good 10 sessions on it I was finally able to make progress. I got back on "Supercrakinette", and even if the style is quite different, for me it's roundabout the same grade ballpark. I think "Le Cadafist" deserves to be bumped up to 9a/+, the next repeaters will tell us more. Without that broken hold and that tough boulder, for me it would be one of the nicest routes in St-Léger!"

Cédric is 36 years old and seems to be at the top of his game. He has two of the hardest lines left to climb in St-Léger, "Eagle-4" (9b) that he was eyeing at the end of the week and "La Castagne" (9a+, one ascent by Adam Ondra in 2018). A new futuristic line has also been bolted by Quentin Chastagnier here several days ago with the left anchor variation of "Supercrackinette", a new challenge is born in this superb area!

Photos: Julia Cassou – JuliaCassou.com