Décidément, les filles sont à l'honneur ces derniers jours à Fontainebleau ! Après Caro Sinno et "Mysterio" 8B voici que Charlotte André, 21 ans, membre de l'équipe de France de bloc fait parler d'elle avec une superbe réalisation à la clé !

Originaire du sud de la France et habituée des podiums des compétitions de bloc, Charlotte a profité du dé-confinement pour se tester sur quelques blocs référence de Bleau. Direction le Cuvier Rempart le week-end dernier, où elle réalise dans la séance "Verdict" 8A très dur à doigts, et trois des Big Five, "Tristesse", "Big boss" et "Fourmis rouges" 7C, preuve de sa bonne forme ! Un peu plus tard dans la semaine, au Petit Bois, Charlotte réussit une perf' géniale dans un bloc totalement dans son style : "Le mur du son assis" 8A+ flash ! Un mur réputé très à doigts ouvert par Nico Januel avec des prises rondes, des mouvements d'équilibre et des placements délicats pour un effort assez court, départ assis du 7C classique en départ debout.
C'est le second 8A+ flash féminin mondial ; jusqu'alors seule l'américaine Ashima Shiraishi avait réalisé une telle performance avec "Lethal design" à Red Rocks. Alex Puccio a réalisé plusieurs 8A flash mais jamais 8A+.
Nous avons posé quelques questions à Charlotte en attendant avec impatience la vidéo car la réalisation a été filmée.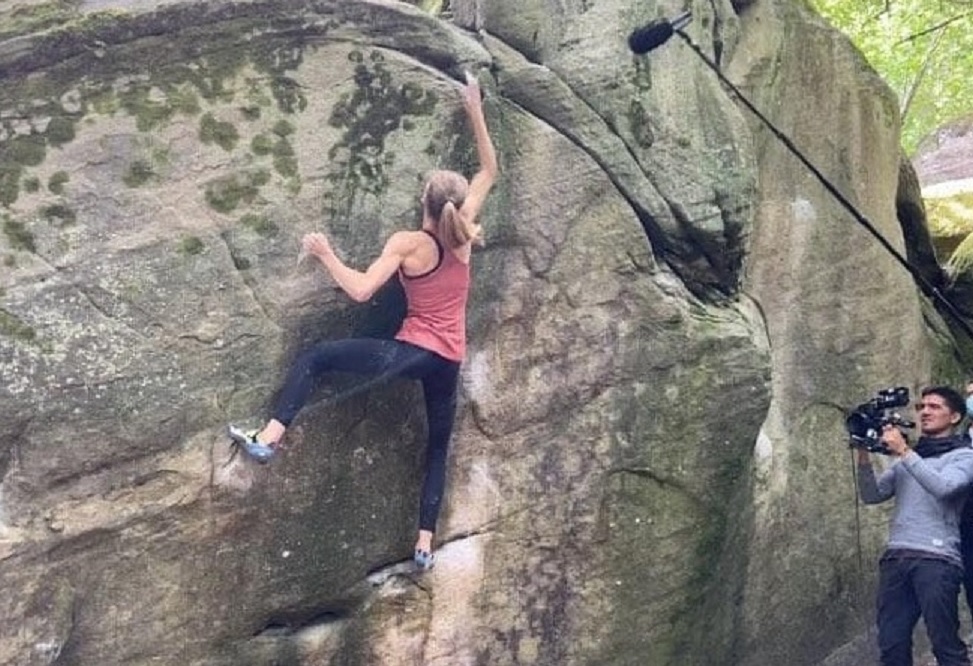 Était-ce prévu ou tu as décidé de tenter le flash au dernier moment ? Comment a mûri cette tentative ?
Je savais que j'étais forte en doigts en ce moment et Manu Cornu (mon copain) l'avait essayé la semaine précédente et m'avait dit : "vu comment tu tiens les prises tu vas randonner" Du coup j'ai mijoté un peu cela et je voulais aller l'essayer, mais je pensais pas du tout essayer de le flasher.
Puis il m'a bien tout expliqué. Juste avant de partir dedans j'étais dans l'optique d'essayer le départ debout puis il m'a dit d'éssayer direct du bas.
Et voilà j'ai fait !
Comment cela s'est passé dans le bloc ? Raconte un peu l'ascension. Les mouvements. Tes sensations.
Dans le bloc tout s'est plutôt bien passé, j'ai défoncé les arquées puis tout s'est bien déroulé.
J'ai juste eu une hésitation au dernier mouv' (Manu avait pas fait la fin donc il m'avait pas vraiment dit) : il y a deux rampes et je savais pas sur laquelle envoyer. Je voulais aller sur celle de droite et au dernier moment j'ai changé (et c'était le bon choix).
Ce qui est marrant c'est qu'on était en tournage pour une pub donc il y avait des caméras, des micros… normalement ça me fait plutôt perdre mes moyens et pas là donc c'est cool !
As-tu eu le temps de penser à la réussite pendant la grimpe ?
Pas du tout, pendant le bloc et quand c'était dur ! C'est tout court comme bloc et il faut serrer les prises et c'est tout, pas besoin de réfléchir. Je pensais a rien sauf viser et serrer la prise suivante.
Puis une fois que j'avais le bac, j'ai commencé à trembler pour le réta alors que c'est du 2. Je pense que j'étais en train de réaliser !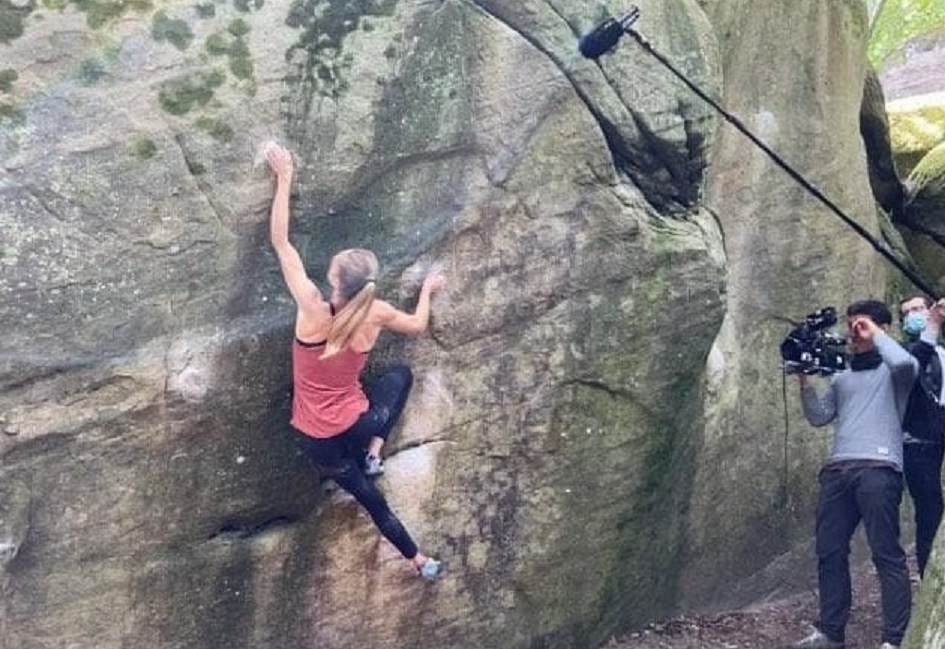 Que penses-tu du niveau du bloc ?
J'avoue que j'ai vraiment pas beaucoup d'expérience et que je ne suis pas très lucide sur ça (ma force doigt). Mais dans les blocs "à doigs" que j'ai pu faire en 7C ou 8A à Rocklands ou même Bleau oui c'est plus dur, hyper dur de donner un niveau surtout quand on n'a pas l'habitude et pas énormément de références.
C'est vrai qu'en plus c'est un style vraiment particulier, mais si je compare par exemple à Verdict (8A à Bleau sur des arquées) ou des 8A de Rocklands c'est sûr que c'est plus dur.
T'es-tu sentie à tes limites dans ce bloc ?
Je sais pas trop comment répondre mais plutôt non ça allait.
Je l'ai d'ailleurs refait juste après pour la vidéo. En faite c'est assez basique donc soit tu tiens les prises et tu as le niveau de le faire soit non.
D'autres projets ou objectifs à Fontainebleau ou ailleurs ?
J'aimerais bien faire les "Big Five", il m'en manque un il faut que j'aille l'essayer. Et bien sûr j'aimerai beaucoup faire un 8B. Mais bon il me reste max une semaine avant de rentrer chez moi à Marseille donc ça va être tendu mais pourquoi pas, on ne sait jamais !

Crédit photos : Block'Out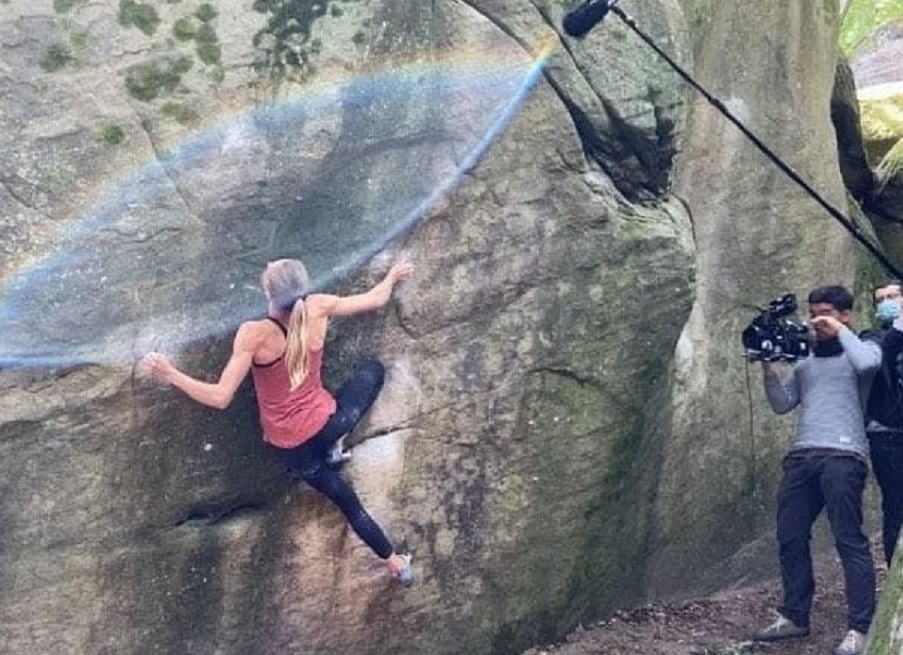 The vibe is for the girls now in Font! After Caro Sinno and "Mysterio" 8B, Charlotte André, 21, French bouldering team has striked this week!
Native from South of France, and used to podiums of bouldering comps, Charlotte took good times in the forest at the end of the lockdown. Last week-end, she first did a nice session in Cuvier Rempart with "Verdict" hard fingery 8A and 3 of the Big Five, "Tristesse", "Big boss" and "Fourmis rouges". Few days later she flashed a boulder problem in her style (finger power) : "Le mur du son assis" 8A+. This wall opened by Nico Januel is very fingery the effort is quite short with few hard moves of balance of poor feet. A huge performance, because it's the second female 8A+ flash after Ashima Shiraishi and "Lethal design" in Red Rocks. We asked few questions to Charlotte after this nice send, waiting for the film, coming soon.
How did you decide to try this boulder flash?
I know I was strong in the power finger style now and my boyfriend Manu Cornu who tried the boulder last week and said to me "it will be easy for you with your iron fingers".
So I was thinking about trying this problem but not trying flash. Then Manu gave me all the betas. Just before trying, I was thinking to climb the stand 7C but he adviced me to try directly the sit start. And it worked!
How was your climb during the send?
All went perfectly! I crushed the crimps and stayed on the wall. I hasitate at the last move because Manu didn't climb the top of the boulder, you have to dyno on the top with 2 sloper ledges. I was thinking going to the ledge of the right but I changed and went straight. It was the good choice. I was filming some climbs for an advertisement witha lle the micros, cams but it didn't disturb me. It's cool!
Are you thinking about the success during the climb?
Not at all, it was to hard. It's short and bouldery and you need to give all. I was focused on my climb, go to the next hold… When I get the good hold on top, I was starting to think, and I was starting to shake and to struggle in the easy mantle. I was starting to realize…
What do you think about the level of the climb?
I have few experiences in this level. and it's my style. But it's harder than the crimpy boulders I have done before in Font or Rocklands in the 7C/8A range. It's harder than "Verdict" fingery hard 8A I climbed few days ago.
Do you think you was on your limit?
I dunno but for me no. I was able to re-climb the problem just after for the film. It's quite basic. You arrive to hold the crimps or you cant' do it.
Other projects in Font?
I would like to finish the Big 5, just missed me one problem, I need to return there. I would like to send an 8B too. But one week left before leaving for my home in Marseille, I haven't a lot of time, but who knows?

Credit photos : Block'Out