Un peu moins d'un an après Lucien Martinez qui avait réalisé la première ascension, c'est au tour de Fabrice Landry de répéter "Chicken Deluxe" le très résistant 9a+ de Supermanjoc, le secteur de voies dures de Saint-Antonin Noble Val. Cette voie ouverte par Eric Siguier à 8c+ en 2002 a été débarrassée de ses prises en sika par Fabrice et Lucien pour un challenge bien plus difficile et naturel. Retour avec l'intéressé.
– Qui a eu l'idée initiale d'enlever ces 17 prises en sika de "Chicken" ? Comment est venue l'idée ?
L'idée initiale revient à Lucien qui m'a invité à poser un diagnostic sur les nouvelles sections. Cela m'a d'abord intrigué puis finalement j'ai trouvé l'idée très excitante ! On en a profité par retourner aussi dans "Mémorial GS", une autre voie avec des prises en sika pour laquelle on s'est posé la même question. Il faut dire que pour le coup, cette voie avait carrément perdu quelques prises et n'était plus réalisable en l'état. Mais bref, cette idée de retirer les prises en sika sur des voies oubliées et avec les années devenues partiellement impraticables a commencé à ce moment-là.

– Lucien a fait la FA il y a presque un an alors que vous essayiez tous les deux. Tu as continué à essayer seul derrière, pas trop dur ? Comment s'est passé le processus ?
J'aurais bien aimé concrétiser rapidement mais je n'étais pas prêt. En novembre, il faisait beaucoup trop froid et mes méthodes n'étaient pas encore affinées. C'est après l'enchainement de Lucien et avec l'esprit ailleurs que je suis remonté dedans pour enlever les dégaines. Et pour le plus grand malheur de Lucien, j'ai trouvé une méthode en fin de voie un peu plus facile. Bon après on n'en trouvera pas d'autres, on a bien poncé la voie pour se préserver des filous.

– Peux-tu décrire la ligne dans son état naturel, le crux, les sections ?
La ligne doit faire dans les 25 mètres tout le long en dévers entre 20° et 35°. Elle commence immédiatement par un 7A+ bloc à doigts pour poursuivre par le premier crux, un long 7C+ bloc et une première décontraction plutôt précaire. De là, on a grimpé moins de 10 mètres pour un 8c voie tassée et il faut poursuivre par le deuxième crux, un 8A bloc majestueux. A partir de ce moment, on change de filière, il faut absolument récupérer sur le repos qui suit avant de grimper quelques mètres et d'attaquer le dernier crux, un 7C bloc et profiter des derniers mètres faciles.

– Un petit mot sur la cotation ? Lucien avait hésité entre le 9a+ et le 9b ? Définitivement la voie la plus dure du Sud-Ouest ?
Alors pour la cotation, nous n'avons absolument aucun doute qu'elle se situe aux portes du 9b. C'est par prudence pour Lucien et me concernant par manque d'expérience que nous n'annoncerons pas le 9b. J'espère que ce choix ne sera pas contreproductif nous concernant, quand vous avez réalisé une voie, vous éprouvez beaucoup de plaisir quand elle est répétée et si possible pas 10 ou 20 ans après. En l'état, la cotation ne sera pas l'argument principal du prochain répétiteur.

– Quel est le prochain challenge pour vous ici ?
Les challenges à SuperManjoc ne manquent pas ! Lucien s'obstine dans « Suprême de Volaille » une variante de fin de Chicken Deluxe qui remplacerai le 7C bloc final par un 8b+ ! Me concernant, je pense jeter mon dévolu sur « Arqueur Vaillant rien d'impossible », une voie que nous avons équipée avec Lucien et qui doit valoir 9b.

Photos: Pierre Trolliet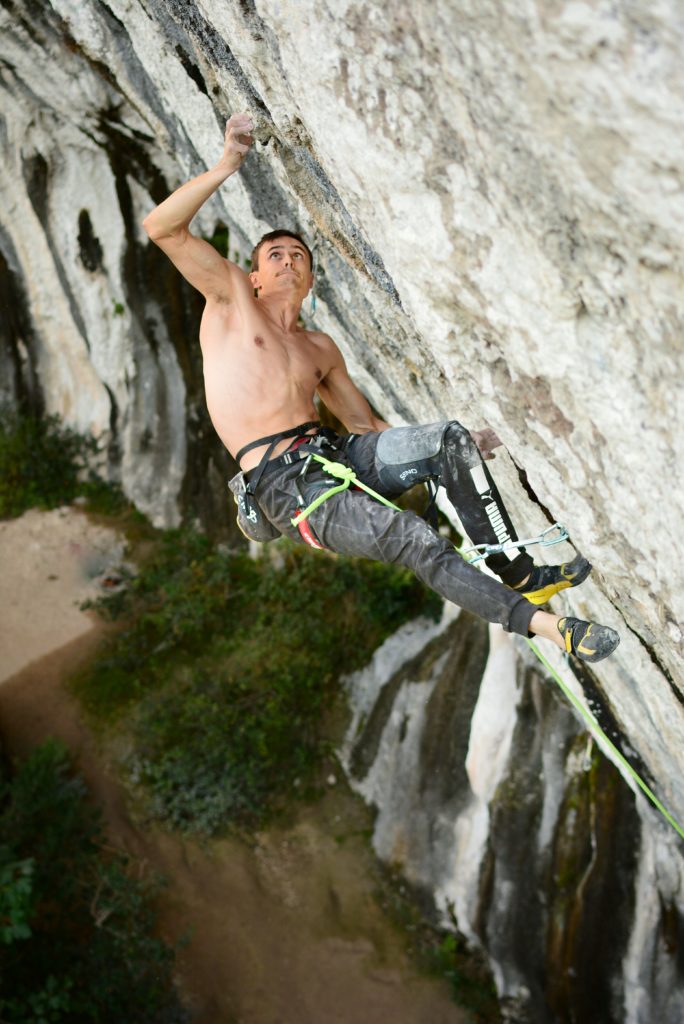 Just under a year after Lucien Martinez made the first ascent, it's Fabrice Landry's turn to repeat "Chicken Deluxe", the tough 9a+ located at Supermanjoc, Saint-Antonin Noble Val's hard-climbing sector. This route, opened by Eric Siguier at 8c+ in 2002, has been stripped of its sika holds by Fabrice and Lucien for a much more difficult and natural challenge. More details with Fabrice's interview.
– Whose initial idea was it to remove the 17 sika holds from "Chicken"? How did the idea come about?
The initial idea came from Lucien, who invited me to check the new sections. At first I was intrigued, but then I found the idea very exciting! We also took the opportunity to return to "Mémorial GS", another route with sika holds for which we asked ourselves the same question. It has to be said that this route had lost a few holds and was no longer doable in its current state. In short, the idea of removing sika holds from forgotten routes that had become partially unclimbed over the years was born.
– Lucien made the FA almost a year ago when you were both trying. You continued to try on your own afterwards, wasn't that too hard? How did the process go?
I would have liked to have done it quickly, but I wasn't ready. Last November, it was much too cold and my betas hadn't yet been refined. It was only after Lucien's sequence and with my mind elsewhere that I climbed back in to remove the quickdraws. And to Lucien's great misfortune, I found a slightly easier beta at the end of the route. Well, we're not going to find any others, as we've sanded the route down to keep out the tricksters.
– Can you describe the line in its natural state, the crux, the sections?
The line should be about 25 meters long all the way down, with an overhang of between 20° and 35°. It starts immediately with a fingery 7A+ boulder, followed by the first crux, a long 7C+ boulder and a first, rather precarious rest. From here, we've climbed less than 10 meters for an hard 8c route and have to continue with the second crux, a majestic 8A boulder. From this point on, the route changes, and it's imperative to recover on the rest that follows before climbing a few meters and attacking the last crux, a 7C boulder and enjoying the last few easy meters.
A word about the grade? Lucien had hesitated between 9a+ and 9b? Definitely the hardest route in the South-West of France?
So as far as the grading is concerned, we have absolutely no doubt that it's close to 9b. It's out of caution for Lucien, and out of a lack of experience for myself, that we won't be announcing the 9b. I hope this choice won't be counterproductive for us: when you've done a route, you get a lot of pleasure when it's repeated, and if possible not 10 or 20 years later. As it stands, reach a grade won't be the next repeater's main argument.
– What's the next challenge for you here?
There are plenty of challenges at SuperManjoc! Lucien is continuing to try "Suprême de Volaille", a variant of Chicken Deluxe that would replace the 7C final boulder with an 8b+! As far as I'm concerned, I'm thinking of "Arqueur Vaillant rien d'impossible", a route that Lucien and I have bolted and which should be worth 9b.

Photos: Pierre Trolliet