On vous avait déjà parlé du jeune prodige francilien de 22 ans Killian Chabrier. Ce grimpeur orléanais a quitté ses terres natales il y a 4 ans pour venir s'installer en région Parisienne, précisément à Massy pour s'entraîner et progresser en bloc. Killian vient de délaisser les salles d'entrainement et Bleau le temps de découvrir une des Mecque du bloc helvète, Cresciano. En une semaine sur place, le bilan des courses du trip suisse est flatteur, avec deux répétitions des ultra-classiques de la haute-difficulté mondiale "Dreamtime" et "The Story of Two Worlds" en deux jours de travail chacun, blocs qu'il propose de décoter à 8B+. Il s'en explique ci-dessous.

– Pourquoi avoir choisi ce trip à Cresciano ? Besoin de te frotter à des références ?
Tout d'abord ce trip n'était pas du tout prévu pour moi, je voulais m'entraîner pour les compétitions et n'avais pas prévu de voyager. Une semaine avant de partir, Guillaume Levernier mon coach me dit qu'une des personnes qui devait partir avec lui s'était blessée, et que si ça me chauffait il y avait une place. Je n'ai pas pu résister et j'ai sauté sur l'occasion (je pense que j'ai bien fait) ! J'ai toujours eu envie de faire les classiques qui ont influencé l'histoire de l'escalade ! Donc pour une première fois à Cresciano j'ai voulu essayer des blocs mythiques tels que ceux-ci. Au départ, je me suis donc mis en projet principal "Dreamtime" et en secondaire "The Dagger" à la base, mais qui est très vite devenu "The Story of Two Worlds".

– Après Clément Lechaptois tu es le 2ème français à rétablir en haut de "Dreamtime", bloc historique de Cresciano, considéré comme le premier 8C bloc de l'histoire. Qu'as-tu ressenti ?
Vraiment hyper content ! Surtout que la météo était plutôt incertaine, en arrivant je pensais seulement avoir 2 jours pour enchaîner. Lors de ma deuxième séance j'étais très mal embarqué pour le faire, je suis tombé 5-6 fois au grand mouvement qui est le crux. À mon 14ème essai de la séance je me sentais cuit physiquement et j'ai décidé de changer de préhension en mettant ma main gauche un peu plus à droite, et ça l'a fait direct ! Une sensation incroyable car mêlant pression et run a muerte, sûrement un de mes plus beaux souvenirs de grimpe !
– Tu as expédié le bloc en 2 séances. Tu avais déjà expédié « Off the Wagon » en quelques essais. Comment fais-tu pour réaliser des blocs de top niveau mondial en si peu de temps ?
Ahah question assez difficile à répondre ! Je pense plutôt que pour l'instant tous ces blocs n'étaient pas à mon niveau maximum et plutôt dans mon style. J'ai encore la possibilité de faire des erreurs dans mes runs et que ça marche quand même ! Sinon pour préparer ces séances, je regarde beaucoup de vidéos pour avoir un aperçu de toutes les méthodes possibles. En arrivant sur le bloc je touche toute les préhensions pour me familiariser avec. Je mets toujours un essai flash même dans mes projets max car cela ne coûte rien ! Après ce run flash je cale les mouvements et quand j'ai réussi tous les mouvements, même si je ne suis pas hyper calé je mets quelques runs pour essayer d'enchaîner.
– Que penses-tu de "Dreamtime" ?
"Dreamtime" est composé de deux parties, un début très à sensations pour rejoindre le debout, avec un talon dur à tenir que j'ai réussi à apprivoiser très vite et qui n'était pas du tout un crux pour moi. Cette section vaut environ 8A. Puis une deuxième section qui est le debout avec plusieurs méthodes, soit une "envoyade" que j'ai faite car je trouvais ça bien plus joli et dans mon style, soit une traversée sur micro arquées. Puis la fin après le crux est bien plus facile et quasi intombable quand elle est calée. Cette deuxième section, je l'évalue dans les 8A+. Un 8A sur un 8A+ donne quelque chose dans les environs de 8B+ donc j'ai choisi de le mettre à 8B+, après ce n'est que mon ressenti.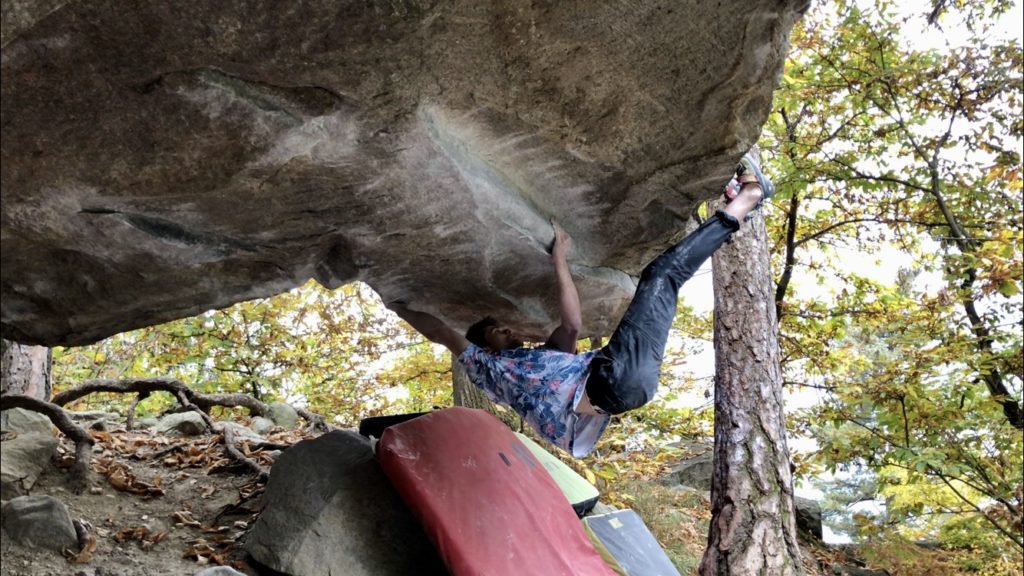 – Tu as ensuite expédié aussi « The story of Two worlds » 8C en 2 jours. Raconte-nous.
Pour ce bloc l'histoire est plutôt drôle. Je suis monté au secteur à mon troisième jour de grimpe vraiment fatigué pour essayer "The Dagger", le 8B/+ de fin. Je me suis échauffé dedans avec Camille Coudert, on a déchiffré assez vite les méthodes et j'ai enchainé à mon deuxième essai du bas, en environ 1h-1h30 max, échauffement compris. Et on s'est rendus compte qu'avec les méthodes de Megos, notre ressenti était que ça devait valoir plus 8A+ que 8B/+. Du coup, après l'avoir enchainé aussi rapidement, j'ai essayé le départ assis. Avec la fatigue j'ai pas pu caler le crux pour rejoindre le debout. À la deuxième séance j'ai très vite calé les mouvements du début, et sur un run pour caler les premiers mouvements je me suis retrouvé dans la fin et là la chute n'était plus une option et j'ai enchainé ! Pour les méthodes j'ai fait quasi exactement comme Megos et j'ai refusé de mettre une genouillère car je trouvais ça bien plus stylé sans ! Mais en échangeant avec Camille sur le début, la genouillère doit peut-être enlever un peu de difficulté au début mais rien de signifiant comparé aux nouvelles méthodes de fin. C'est pour cela que j'ai décidé de le décoter pour le mettre à 8B+, j'ai trouvé cette ligne aussi dure voire un peu plus facile que "Dreamtime" !

– Et le départ bas "low start" de Koyamada en 8C+ ?
Je n'ai pas essayé le départ de Koyamada car bien moins logique que le départ normal de visuel ; ça n'avait pas l'air de rajouter énormément à la suite, peut-être que cela le ferait passer à un 8B+ dur. Mais ce n'est qu'une supposition !

– Tu sembles loin de tes limites. As-tu des projets d'ampleur en milieu naturel pour cet hiver à Bleau ?
Oui, je sens que je suis loin de mes limites, je n'ai pas encore eu de projet où il faudrait que je m'entraîne spécifiquement pour pouvoir y arriver ! Cet hiver j'ai des projets comme "Big Island assis" et "Délire Onirique assis" à Bleau. Et surtout retourner au Val Bavona faire "Off the Wagon assis" et voir le vrai assis sans le wagon, je pense que c'est l'une des plus grosses FA à faire en Suisse, et de plus elle est vraiment dans mon style !

– Penses-tu t'essayer à des voies dures typées bloc pour profiter de ta forme actuelle ?
Mon seul projet en voie pour le moment est "Condé de choc" à Entraygues, un 9a vraiment court avec deux gros pas de bloc. Cette été j'étais vraiment bien dedans et je pense y retourner l'été prochain pour enchaîner !

Photos : Guillaume Levernier et Camille Coudert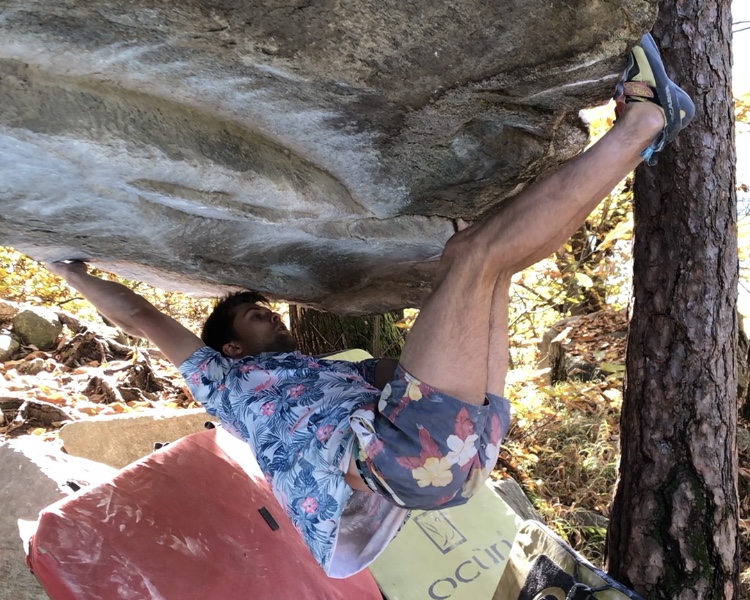 A while ago we told you about the young Parisian prodigy Killian Chabrier, 22. 4 years ago, he left his home for the greater Paris in order to train and improve further still in bouldering. Killian just gave the shoulder to indoor training and Font for one week in order to discover one of Switzerland's bouldering meccas, Cresciano. He managed to tick two of the major classics of the area, "Dreamtime" and "The Story of Two Worlds" and suggests a downgrade to 8B+ for both. He explains his thought process below.

– Why did you choose Cresciano? Psyched to check some references?
This trip was quite unplanned for me! I wanted to train for comps and didn't expect to come here! A week before departure, my coach Guillaume Levernier offered me to join them because one someone picked up an injury. So I couldn't resist and took the opportunity. I always wanted to try the classics which left a mark on climbing history. So for my first time in Cresciano I tried a few legendary boulders, and decided to select "Dreamtime" as my main project and "The dagger" as the second, but very quickly my second one actually became "The Story of Two Worlds".

– You climbed the boulder very quickly, in 2 sessions. You also climbed "Off the wagon" on a previous trip in just a few tries. How do you explain your ability to top out extreme boulders so fast?
Aha tough question! I think that the boulders I tried were not at my limit and also suited my style. I can still make mistakes on my goes and send! To prepare my sessions I watch a lot of videos to be clear on all the different methods. At the boulder, I touch every hold to get used to how they feel. I always give a flash burn, even on my big projects because why not! After the flash go, I check all the moves and once I have worked out all of them, even if my betas are not the best, I start from the ground.

– After Clément Lechaptois, you're only the second French guy to climb "Dreamtime", a historical testpiece of Cresciano, considered to be the first 8C in bouldering history. How do you feel?
Very happy of course ! The weather forecast was not in our side, getting there I was thinking we would have 2 days of climbing only. In my 2nd session things weren't shaping up very nicely, I fell 5-6 times on the large move, considered to be the crux. On my 14th go I started to be tired and decided to change my left hand position on the hold, a little bit more to the right and it worked straight away! An incredible feeling mixing pressure and a muerte, perhaps one of my best climbing memories.

– What do you think about "Dreamtime"?
"Dreamtime" could be divided into 2 parts, a start where you need accuracy into the stand, with a tricky heel hook that posed me no troubles though. This part is around 8A. Then the stand part with different betas possible, you can choose the spank, what I did because I found it nicer and in my style, or you can traverse on small crimps. Then the final section is easier, you can't fall once you know what to do. This second part is around 8A+ for me. So an 8A into an 8A+, in my opinion, gives you something around 8B+, so I chose this grade, but it's just my opinion.
– You also climbed "The Story of Two Worlds" in 2 days…
For this boulder, the story is funny: I got up to the sector on my third climbing day in a row, I was very tired, in order to check "The dagger", the final 8B/+. I warmed-up on it with Camille Coudert, we found all the methods very quickly and I did it at my second try from the start in around 1h-1h30. We realised that with Alex Megos' betas our feeling was climbing something in the 8A+ range, compared to the 8B/+. So after this quick intro, I tried the sit. Due to the tiredness I couldn't stick the crux to transition into the stand start. On my second session I quickly found my own betas in the sit, and on a run primarily meant to check my betas I surprisingly found myself in the top section. The fall wasn't an option and I sent it! For the betas, I did exactly the same as Alex Megos and refused to put on a kneepad, because I found the boulder more pleasant without. Talking with Camille about the start, the kneepad could probably shave off some difficulty at the beginning but nothing significant compared to the new ending. That's why I decided to downgrade it to 8B+. I found this line to be about the same difficulty as "Dreamtime", maybe even a little bit easier.

– Did you try Koyamada's low 8C+ version?
No, I didn't try this start. It's less logical than the normal start aesthetically speaking, and it seems to add nothing special, but maybe with this start you can climb a hard 8B+. But it's only a wild guess!

– You seem far from your limit. Have you got some big projects in the pipeline in Font?
Yes, I feel I can climb harder. I have not yet put my hands on a project where I needed to train specifically to send. This winter, "Big Island sit" ("aka "Soudain Seul") and "Délire onirique assis" are on my shortlist. I want to return to Val Bavona to try "Off the wagon sit" and check out the real sit without the wagon, one of the biggest first ascents left in Switzerland, plus it suits my style perfectly!

– What about some powerful extreme routes?
My only sport climbing project for the moment is "Condé de choc" in Entraygues, Briançonnais, a short 9a with 2 bouldery sections. This summer I felt quite well on it and I think I will return next summer to send it!

Pics : Guillaume Levernier et Camille Coudert