Il y a un mois, le crack des cracks Pete Whittaker empochait la première ascension en libre (FFA) de "Eigerdosis", 8c sur le Profile Wall de Norvège, devenu au fil des années son usine à projets. Pour ce faire, il démarra du relais de la L1 de "Norwegian Crown", une longueur qu'il enchaina en 2019, peu après avoir répété "Recovery Drink" 8c+, la célèbre ligne de Nicolas Favresse, quelques mètres à droite. C'est à ce moment là qu'il imagina "Crown Royale", 100m de long…
"Crown Royale", pour laquelle Whittaker n'a pas encore proposé de cotation, constitue la réalisation d'une vision qu'il eut en 2019 et consiste en l'enchainement en une seule longueur de l'intégralité de la falaise comme suit: le début de "Norwegian Crown", "Eigerdosis" et 40m de sortie "facile" autour du 7c. Tout cela sur coinçeurs bien entendu, sauf les 20 derniers mètres, que Whittaker a parcouru en solo intégral à cause du tirage passés les premiers 80m (pour une longueur totale de 100m donc).
Dans un entretien tout chaud avec Rob Greenwood de UKC, Pete Whittaker explique que la voie déverse à son maximum à 25 degrés et requiert un bagage technique assez complet, allant de toutes les tailles de fissures imaginables à des prises plus "classiques".
Concernant la cotation, qu'il espère mûrir dans les jours à venir, Whittaker estime que "Crown Royale" est à peu près au niveau de "Recovery Drink", voire un tantinet plus dure. Ira-t-il jusqu'au 9a, ou simplement 8c+? Nous vous tiendrons au courant.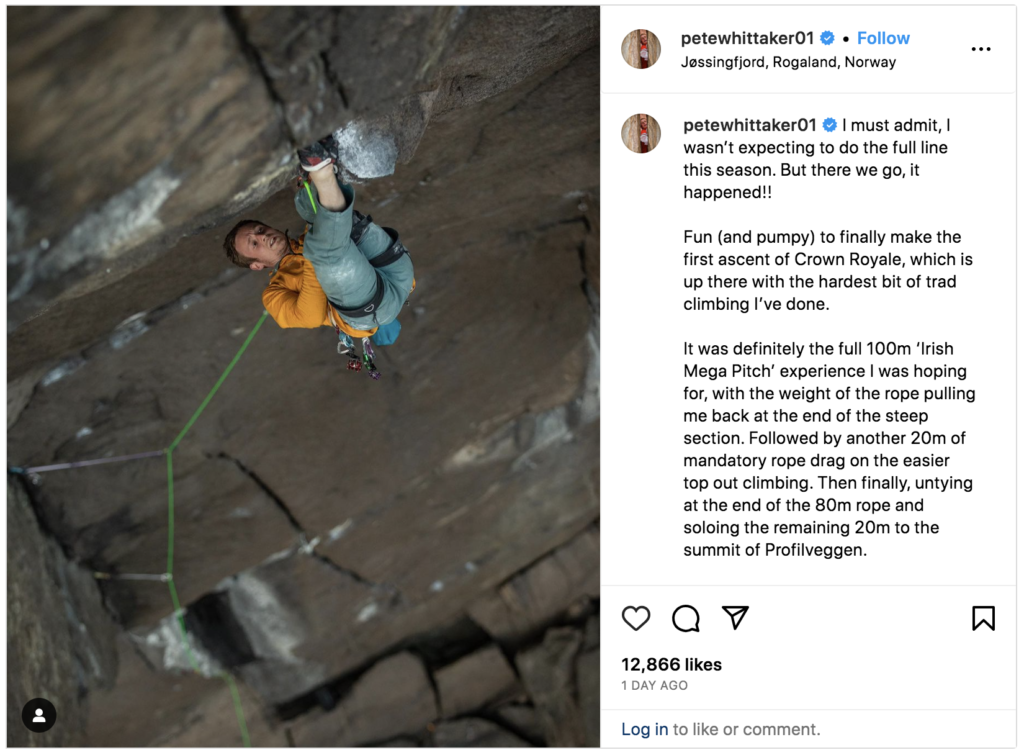 Photo: Jimmy Merin
A month ago, the crack of cracks bagged the first free ascent (FFA) of "Eigerdosis", 8c on the Profile Wall in Norway, which over the years has become his project factory. To do this, he started from the first belay of "Norwegian Crown", a pitch that he freed in 2019, shortly after repeating "Recovery Drink" 8c+, the famous Nicolas Favresse line, a few meters to the right. That's this moment he imagined "Crown Royale", 100 meters long…
"Crown Royale", for which Whittaker has not yet given a grade, constitutes the realisation of a vision he had in 2019 and consists of scaling in a single pitch the entire Profile Wall as follows: the start of "Norwegian Crown", "Eigerdosis" and 40m of "easy" ground (around 7c) to finish. All this on cams of course, except the last 20 meters, which Whittaker chose to free solo because of the rope drag after the first 80m (for a total length of, drum roll, 100m).
In a interview with UKC's Rob Greenwood, Pete Whittaker explains that the route overhangs at a maximum of 25 degrees and requires a fairly complete technical background, ranging from every imaginable size of cracks to more "classic" face climbing holds.
Regarding the grade, which he hopes to form an opinion for in the coming days, Whittaker believes that "Crown Royale" is roughly on the level of "Recovery Drink", if not a tad harder. Will he go up to 9a, or just 8c+? We will keep you posted.
Picture: Jimmy Merin