"Supercrackinette", voie équipée par Quentin Chastagnier au secteur Praniania de St-Léger du Ventoux, est devenue petit à petit le 9a+ référence du Sud de la France, notamment grâce à sa notoriété de premier 9a+ flash de l'histoire (Adam Ondra, 2018). Après Thomas Ballet qui était le dernier français à avoir clippé le relais l'an dernier, c'est au tour de Nico Pelorson de répéter la désormais célèbre voie de résistance.

– Qu'est-ce qui t'a motivé à venir essayer "Supercrackinette" ?
Ce qui m'a motivé, c'est cet effort assez radical : 30 mouvement difficiles sans repos. Ça donne des runs de 1 minute 30 en moyenne avec un effort vraiment sympa. Aussi, j'étais assez curieux de voir à quoi ressemble le premier 9a+ flash de l'histoire !

– Comment s'est passé le travail de la voie ? Qu'est-ce qui t'a posé problème ?
Nous étions pour 2 semaines à Saint-Léger. La première séance dans la voie, j'étais très bien alors je me suis dit que j'allais mettre un p'tit coup de collier pour l'enchainer rapidement. Au final j'ai pas pris assez de repos et je me suis trop fatigué la peau et les bras. À la fin des 2 semaines j'avais toujours pas réussi alors j'ai pris 5 jours de repos et je suis retourné une journée pour la faire.

– Niveau cotation, te valides-tu ton premier 9a+?
Pour la cotation, il s agit soit d'un 9a+ de bas de panier, soit d'un 9a très rude. Moi je ne me prononce pas, cela m'a valu bien trop de désagréments.

– Comment va la vie dans le Sud ? (ndlr : Nico a déménagé de Fontainebleau à Marseille l'an dernier) D'autres projets extrêmes en falaise ?
La vie dans le sud, c'est le paradis. Je profite de la mer, du soleil, des falaises, des Marseillais tout en travaillant un peu. Prochain projet, la dura dura en mars. Le bombé bleu, je vais y retourner, je suis assez bien dedans !

Pour en savoir plus sur le séjour de Nico, direction Grimper Magazine

Photo : coll. Lucien Martinez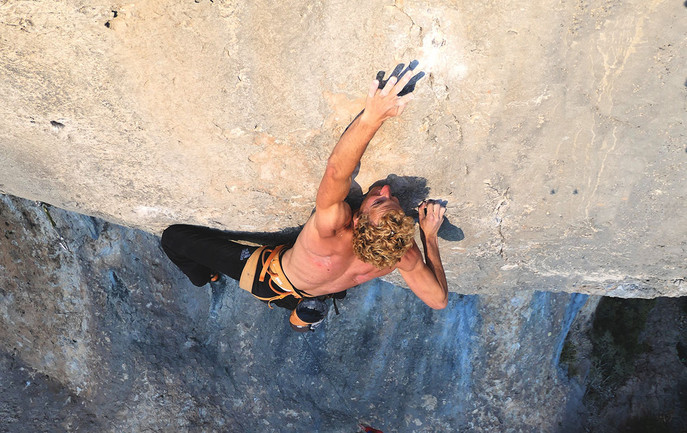 "Supercrackinette", a route bolted by Quentin Chastagnier in the Praniania sector of St-Léger du Ventoux, has gradually become the benchmark 9a+ of the South of France, in particular thanks to its notoriety as the first 9a+ flash in climbing history (Adam Ondra, 2018). After Thomas Ballet, who was the last French to clip the anchor last year, it's Nico Pelorson's turn to repeat the now famous route of resistance.

– What motivated you to come and try "Supercrakinette"?
What motivated me was this rather radical effort: 30 difficult movements without rest. It gives goes of 1 minute 30 on average with a really nice effort. Also, I was quite curious to see what the first 9a+ flash of the history looks like!

– How did the work of the route go? What gave you troubles?
We were for 2 weeks in Saint Leger. The first session on the route, I was very well on the route so I told myself that I was going to put a little effort in order to send it quickly. In the end I didn't take enough rest and I tired my skin and my arms too much. At the end of the 2 weeks I still hadn't succeeded so I took 5 days off and went back a day to do it.
– About the level, do you confirm your first 9a+?
For the grade, it is either a low-end 9a+, or a very rough 9a. I don't pronounce myself, this route costs me far too much inconvenience.
– How's life in the South? (Editor's note: Nico moved from Fontainebleau to Marseille last year) Other extreme projects on the crags around?
Life in the South is paradise. I take advantage of the sea, the sun, the cliffs, the people of Marseille while working a little bit. Next project is "La dura dura" in March. "Le bombé bleu", I'll go back, I'm pretty well in it!

Photo: Lucien Martinez